Big print-run debuts for entertaining spring reading.
Click here for additional new Prepub Alert columns
Benson, Jendella. Hope and Glory. Morrow. Apr. 2022. 400p. ISBN 9780063080577. $27.99. lrg. prnt. CD. CONTEMPORARY
An editor and writer for Black Ballad, a UK-based lifestyle platform by and for Black women, British Nigerian author Benson offers a debut novel featuring Glory Akindele, who has returned home from Los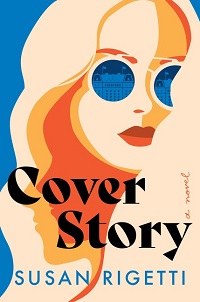 Angeles to London upon her father's death to find her family in disarray. Her sister has lost all ambition; her brother is in jail, angry that Glory didn't come to his trial; and her mother is devastated by both her husband's death and her son's imprisonment. Then Glory learns a shocking secret about her family. With a 75,000-copy first printing.
Bestor-Siegal, Amanda. The Caretakers. Morrow. Apr. 2022. 352p. ISBN 9780063138186. $27.99. lrg. prnt. CD. CONTEMPORARY
In the upscale Parisian suburb of Maisons-Larue, reserved American au pair Alena is accused of killing her charge, and the neighbors divide their blame between Alena and the victim's icily uninvolved mother. Those contributing to the conversation include au pairs Lou and Holly; teenage Nathalie, hungry for a mother's love; and Geraldine, worried about how her students are handling their friend's death. From an MFA candidate at the Michener Center for Writers; with a 100,000-copy first printing.
Fell, Blair. The Sign for Home. Emily Bestler: Atria. Apr. 2022. 416p. ISBN 9781982175955. $27. CD. CONTEMPORARY
Deafblind young Arlo Dilly, under the guardianship of a domineering uncle, is resigned to having lost the love of his life, a girl he met at a boarding school for the Deaf whose deeply expressive hands wove wonderful stories. At college, though, he starts wondering if perhaps he was misled by the hearing world about what happened to her. Soon, a ragtag bunch of friends, including his gay interpreter, are off on a mission to discover the truth. Award-winning actor/screenwriter/playwright Fell was twice awarded the Doris Lippman Prize in Creative Writing from the City University of New York for this debut and for a second novel, both in manuscript. He also works as an ASL interpreter for the Deaf.
Garmus, Bonnie. Lessons in Chemistry. Doubleday. Apr. 2022. 400p. ISBN 9780385547345. $28.95. lrg. prnt. Downloadable. CONTEMPORARY
It's the 1960s, and chemist Elizabeth Zott is getting pushback from her male-only colleagues at the Hastings Research Institute—except from misanthropic Nobel Prize contender Calvin Evans, who's enchanted by her mind. Meanwhile, Elizabeth has a surprise second calling; she becomes star of a hit TV cooking show called Supper at Six, mixing in chemistry ("combine one tablespoon acetic acid with a pinch of sodium chloride") as she subtly signals that women needn't accept things as they are. Sold in heated auctions to an eye-popping 34 countries so far, this debut promises to be really big.
McBrayer, Lauren. Like a House on Fire. Putnam. Apr. 2022. 320p. ISBN 9780593331828. $26. Downloadable. CONTEMPORARY
Restless after 12 years of marriage and motherhood, Merit returns to work, hired at a prestigious architecture firm by the dynamic and beautiful Jane despite a career hiatus. Jane nurtures Merit's career, and as true friendship emerges, Merit begins to wonder whether her true love in life is not her husband but Jane. McBrayer's first adult novel; she's written YA novels as Laura Miller and works in the development and production of original series for Spectrum.
Rigetti, Susan. Cover Story. Morrow. Apr. 2022. 368p. ISBN 9780063072053. $27.99. CD. CONTEMPORARY
As Susan Fowler, Rigetti authored the acclaimed memoir Whistleblower and was subsequently named 2017 Time Person of the Year as one of "The Silence Breakers" whose actions helped launch #MeToo. Here she turns to fiction with the story of an aspiring young writer ensnared by someone who at first looks to be a mentor. During a summer internship at ELLE, struggling NYU student Lora Ricci meets the charismatic Cat Wolff, who persuades her to drop out of school and work as her ghostwriter. Lora is at first dazzled by Cat's glamorous lifestyle, but eventually Cat's shady side emerges. With a 50,000-copy first printing.