From family life to coming of age, fun fiction for everyone.
Click here for additional new Prepub Alert columns
Brown, Eleanor. Any Other Family. Putnam. Jul. 2022. 320p. ISBN 9780593328545. $27. lrg. prnt. downloadable. FAMILY LIFE
In this latest from New York Times best-selling author Brown (The Weird Sisters), three sets of parents adopt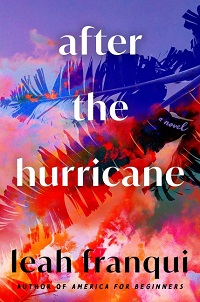 four biological siblings to keep them together after their grandmother's death. Hard-charging Tabitha took the twins and plans the group's many interactions, single-mother Ginger isn't sure she wants to be that close, and Elizabeth is unhappy after her own failed efforts to conceive and fears she's not cut out for mothering. Then the siblings' biological mom announces that she's pregnant again.
Chase, Eve. The Birdcage. Putnam. Jul. 2022. 400p. ISBN 9780525542414. $27. Downloadable. CONTEMPOARY
In this latest from Chase, author of the glue-you-to-your-seat LibraryReads picks The Wilding Sisters and Black Rabbit Hall, half-sisters Kat, Flora, and Lauren are summoned to Rock Point, their family's isolated Cornish summer home. They're reluctant to return—20 years ago, something terrible happened at Rock Point they want to forget—and it's soon apparent that someone sneaking about the house wants to spill their involvement in those events.
Cross-Smith, Leesa. Half-Blown Rose. Grand Central. Jul. 2022. 384p. ISBN 9781538755167. $28. Downloadable. CONTEMPORARY
Though she's still hurting from secrets revealed by estranged husband Cillian in a best-selling memoir, fortyish Vincent loves living in Paris, where she's an art lecturer with engaging friends and a prospective young lover named Loup. But she's compelled to see Cillian again at their son's wedding, and soon she's caught between the blandishments of Cillian and Loup. With a 30,000-copy first printing; from the multi-award-winning, multi-award-nominated author of This Close to Okay.
Deb, Sopan. Keya Das's Second Act. S. & S. Jul. 2022. 288p. ISBN 9781982185473. $26. FAMILY LIFE
Fiftyish Bengali American Shantanu Das is divorced from his wife, estranged from elder daughter Mitali, and deeply regretful that he rejected teenage daughter Keya, now deceased, after she came out. Then he discovers an unfinished manuscript that Keya was writing with her girlfriend, and as the anniversary of Keya's death approaches, the entire family becomes involved with a suggestion from Mitali's new boyfriend: to reconnect and make amends, they could stage the manuscript as a play. A fiction debut from New York Times reporter Deb (Missed Translations); with a 60,000-copy first printing.
Franqui, Leah. After the Hurricane. Morrow. Jul. 2022. 368p. ISBN 9780063204591. $27.99. CONTEMPORARY
After Hurricane Maria devastates Puerto Rico, disaffected young Elena Vega revisits the island in search of her father. Santiago had come to New York as a child and excelled academically despite a difficult upbringing; his own father had returned home bitterly, leaving him to be raised by a mentally unstable mother and tough grandmother. Eventually, Santiago also returned, struggling with a host of demons, and for Elena, tracking him down means learning about her family and heritage. From Puerto Rican–Jewish Franqui, author of Mother Land; with a 50,000-copy first printing.
Medoff, Jillian. When We Were Bright and Beautiful. Harper. Jul. 2022. 352p. ISBN 9780063142022. $26.99. lrg. prnt. FAMILY LIFE
Casey is convinced that younger brother Billy, a Princeton junior, would never have raped his former girlfriend, Diana, and joins her Upper East Side parents in their efforts to get him exonerated. But that could mean revealing some painful secrets of her own. Author of the best-selling This Could Hurt, Medoff pushes some hot buttons here; with a 75,000-copy first printing.
Montimore, Margarita. Acts of Violet. Flatiron: Macmillan. Jul. 2022. 336p. ISBN 9781250815064. $27.99. CD. CONTEMPORARY
A decade ago, magician Violet Volk managed a remarkable stunt onstage: she vanished, never to be seen again. But Violet has never been forgotten, and now the host of a podcast about her is angling to interview her quiet sister, Sasha. With the spotlight's constant glare and disturbing incidents like sleepwalking disrupting her life, Sasha decides that she herself must discover the truth about Violet, however painful. Following the best-selling debut, Oona Out of Order; with a 150,000-copy first printing.
Morrow, Rebecca. Corinne. St. Martin's. Jul. 2022. 432p. ISBN 9781250279996. $28.99. CONTEMPORARY
Thrown out of the fundamentalist church she had attended since childhood and estranged from her family, Corinne has created a new life for herself but still misses what she has left behind. Particularly Enoch Miller. Will she now risk her settled life for a man who can never be hers? From Morrow, the pseudonym for a best-selling author; with a 125,000-copy first printing.
Priscus, Sarah. Groupies. Morrow. Jul. 2022. 368p. ISBN 9780063218017. $27.99. CONTEMPORARY
When starry-eyed college dropout Faun lands in 1970s Los Angeles, she reconnects with childhood friend Josie and is introduced to the blazing rock band Holiday Sun, fronted by Josie's boyfriend. Faun is immediately taken with the groupies, from a rebellious high schooler to a drug-dealing new mother who dreams of stardom for herself, and begins capturing them on film. Just as her overall behavior veers into recklessness, Faun begins to realize how dangerous her new life is. From Canadian debuter Priscus, a Pushcart nominee; with a 75,000-copy first printing.
Shipman, Viola. The Edge of Summer. Graydon House: Harlequin. Jul. 2022. 336p. ISBN 9781525804816. $28.99; pap. ISBN 9781525811425. $16.99. CD. FAMILY LIFE
Sutton Douglas's seamstress mother was deeply loving and insistently secretive about her past, and after her death, Sutton packs up and heads for the Michigan resort town from whence her mother came to find out more about her. At an estate sale held by the recently widowed town matriarch, Bonnie Lyons, Sutton buys buttons resembling the sewing notions her mother used and draws close to Bonnie, tantalized by the possibility of connection. From the ever-popular Shipman, pseudonym for award-winning memoirist Wade Rouse.
Soomro, Taymour. Other Names for Love. Farrar. Jul. 2022. 256p. ISBN 9780374604646. $26. COMING OF AGE
In this debut from a British Pakistani lawyer-turned-writer, 16-year-old Fahad reluctantly travels with his father from London to rural Pakistan for what promises to be a challenging summer; his father isn't just reconnecting with family but hoping to toughen up the son he sees as too sensitive, hiring local teenager Ali to do the job. Instead, Fahad and Ali are mutually attracted, even as secrets about Fahad's father emerge that will return to haunt him decades later. Exploring issues of family and masculinity within the context of Pakistan's history; with a 75,000-copy first printing.
Sullivan, Mecca Jamilah. Big Girl. Liveright: Norton. Jul. 2022. 320p. ISBN 9781324091417. $27. COMING OF AGE
A Lambda Literary Award winner for her collection Blue Talk and Love, Sullivan offers full-length fiction featuring eight-year-old Harlemite Malaya, who's resistant to her prim mother's efforts to send her to Weight Watchers; she'd rather be painting in her room or indulging in street food with her dad. She must also cope with fierce pressures at her mostly white Upper East Side prep school. Eventually, family tragedy makes her rethink the source of her hunger and face down stigmas about women's bodies.