The eighth annual Andrew Carnegie Medals for Excellence in Fiction and Nonfiction ceremony and reception, held during the American Library Association (ALA) Annual Conference in Washington, DC, at the Renaissance Hotel, celebrated winning authors Rebecca Makkai (The Great Believers, Viking) and Kiese Laymon (Heavy: An American Memoir, Scribner).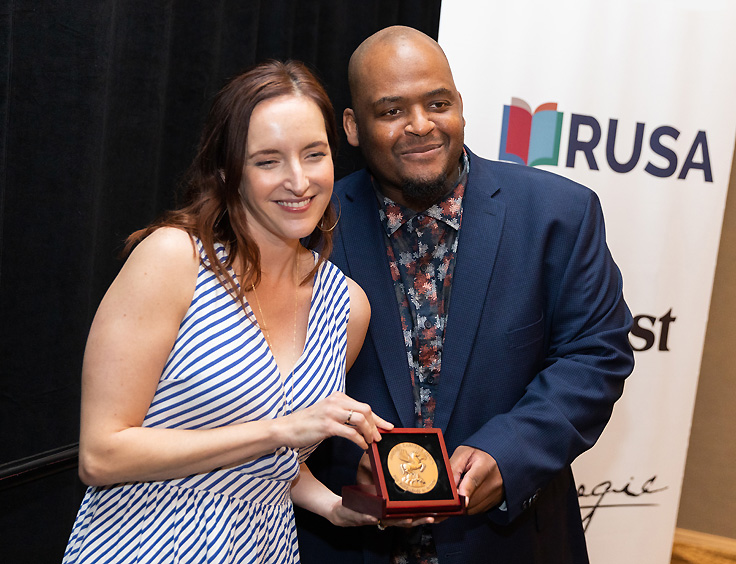 The eighth annual Andrew Carnegie Medals for Excellence in Fiction and Nonfiction ceremony and reception, held during the American Library Association (ALA) Annual Conference in Washington, DC, at the Renaissance Hotel, celebrated winning authors Rebecca Makkai (The Great Believers, Viking) and Kiese Laymon (Heavy: An American Memoir, Scribner). Accolades were offered as well to fiction finalists Washington Black (Esi Edugyan) and There There (Tommy Orange, both Knopf), and nonfiction finalists Dopesick: Dealers, Doctors, and the Drug Company that Addicted America (Beth Macy, Little, Brown) and The Line Becomes a River: Dispatches from the Border (Francisco Cantú, Riverhead). Laura Lippman, author of the upcoming Lady in the Lake (Morrow), was the featured speaker.
The award, cosponsored by Booklist and ALA's Reference and User Services Association (RUSA), and supported by a grant from Carnegie Corporation of New York, recognizes the "best of the best" of U.S. fiction and nonfiction published during the previous year, selected by library professionals. This year's event was sponsored by NoveList.
NoveList vice president Danielle Borasky opened the event with some thoughts on windows and mirrors—books that either reflect back the reader's own lived experience or that provide a glimpse into someone else's life. The concepts are used primarily to discuss young people's material, she said, but they apply to adults as well, and are increasingly critical to help expand readers' compassion. This year's fiction and nonfiction finalists, she noted, with their focuses on AIDS, race, slavery addiction, poverty, immigration, and greed and corruption, "offer us a rich set of windows and mirrors to think about."
The evening's speakers reiterated those ideas in a number of ways, holding up libraries as institutions to provide those windows and mirrors—and at the same time, calling on them to do better.
"In a world that makes [William Butler Yeats's] poem 'The Second Coming' sound a tad too positive," said Lippman ("The blood-dimmed tide is loosed, and everywhere/ The ceremony of innocence is drowned;/ The best lack all conviction, while the worst/ Are full of passionate intensity"), the work libraries do is more necessary than ever.
REREAD, REVISE
In Heavy, which won the L.A. Times Isherwood Prize for autobiographical prose and was named Best Book of 2018 by the New York Times, Washington Post, NPR, Southern Living, Entertainment Weekly, and more, Laymon writes of difficult childhood in Mississippi (the audiobook, which he narrated, was awarded Audible's Audiobook of the Year). The book's essays take a multilayered, honest look at masculinity, identity, sex, race, trauma, body image, and his complex relationship with his strong, often difficult single mother. Laymon, appropriately, brought his mother onstage and presented the award medal to her—"the person who deserves it most," he said.
Laymon nearly didn't make it to this point, he said, because of something that happened in a library: as a student at Millsaps College in Jackson, MS, 25 years ago, he was suspended for stealing a copy of The Red Badge of Courage from the library. That incident, he recalled, was the first time in his life when he felt like he disarmed his mother. "My mom's a fighter, and in that moment she could not fight," he said. "I felt like every moment since I left that room I've been trying to make that up to my mama."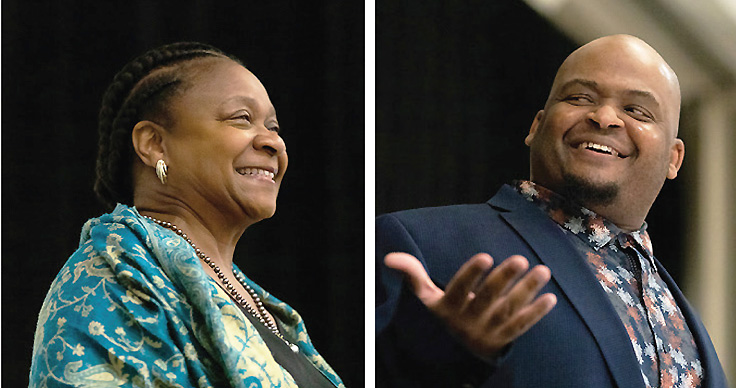 In his acceptance speech for the Carnegie Medal for Excellence in Nonfiction, Kiese Laymon (r.) gives credit to his mother (l.)
Now, it would seem, he's made some inroads in that direction. While Heavy has won a number of awards, Laymon said, the Carnegie Medal is perhaps the most important "because it was given to me by people whose only jobs in the world are to love books and love readers, and cultivate people so they can love books—and ultimately love other readers."
At the same time that he thanked librarians for welcoming him, he expressed a hope that libraries not rest on their reputations as inclusive spaces but do the work to be more open and accessible. "I think we might do ourselves a favor if we think about how we can make libraries more loving and liberatory spaces for children, instead of accepting this idea that they all are," he said. Stepping up is important, Laymon explained, but going the extra distance is even more so.
"My mother made me write, she made me read, but that's not why I'm here," he said. "I'm really here because she made me reread and she made me revise."
And her advice strengthened more than his writing, he added. "She taught me that revision is great on the page, but the revision we do in our relationships is the revision that matters the most."
STILL DOING BATTLE
Rebecca Makkai's The Great Believers won the Los Angeles Times and Chicago Review of Books awards and was a finalist for both the Pulitzer and National Book awards, as well as being named an LJ Best Book and a New York Times Top Ten book of 2018. The novel, set in 1980's Chicago and contemporary Paris, chronicles the devastation of the AIDS pandemic through a circle of friends and relations.
The novel, though engaging and entertaining, is also deeply political, and Makkai wasted no time in issuing a call to arms. "We are here, blocks from the White House, in the very strange year of 2019," she said, noting that parallels between the 1980s and today are inescapable. "Those desperate to retain the power they have…will always do two things, the first of which is that they will use for their own ends the most marginalized, most disenfranchised people, and the second is that they will try to control the narrative by deleting parts of it." There are currently over one million Americans with HIV, and 37 million globally, with an estimated 6,000 preventable AIDS deaths in this country alone, she stated; yet President Trump fired the remaining members of the Presidential Advisory Council on HIV/AIDS at the end of 2017 and has cut $1 billion in AIDS spending globally.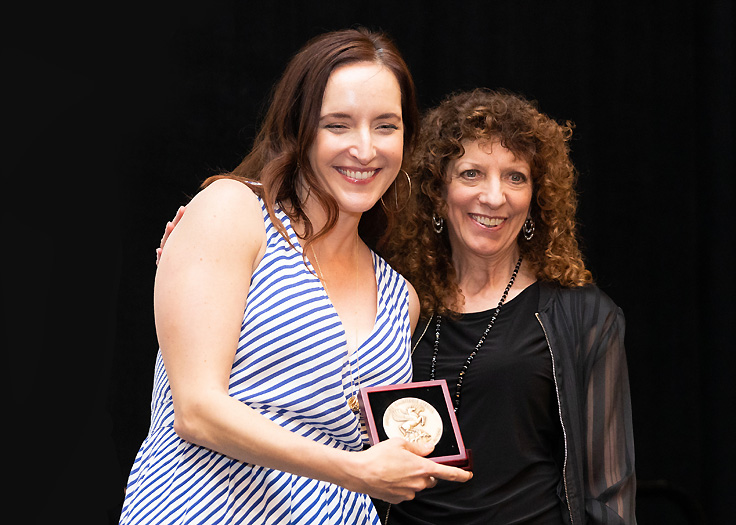 Rebecca Makkai (l.) receives the Carnegie Medal for Excellence in Fiction from Booklist adult books editor Donna Seaman (r.)
During the four years she spent researching the book, Makkai said, she was sustained by the voices of survivors but also the stories of activism and everyday bravery. Resources like the Gerber/Hart Library and Archives—the largest circulating library of gay and lesbian titles in the Midwestern United States—and Chicago Public Library's complete set of back issues of the Windy City Times, the city's biggest gay weekly paper, preserved the stories of those fighting on the front lines that she needed to tell her own. They provided not only primary source material, Makkai noted, but hope that direct action and speaking out can, indeed, move the needle.
To the librarians and archivists who helped collect those narratives, said Makkai, "First of all, I want to thank you for all the things that you have not thrown away when your boss told you to. And I want to thank you for being what libraries are more and more these days, which is a haven and a resource and a center for those on the margins."
She also implored them to continue collecting the stories of the second wave of the AIDS epidemic while survivors were still alive, as well as those impacted by "the additional epidemics—poverty, hunger, opioids, violence, fear, hopelessness—that are always going to be with us."
It is the responsibility of writers, librarians, and those who promote books, Makkai contended, to keep those erasures from happening. "The written and spoken word are, as it happens, our greatest tools against…demagoguery, against the sense that that people are disposable," she said.
"I did not understand when I began this book that I had been conscripted into battle. But I have been. And we all, in choosing a life of writing and publishing and guarding and distributing the written word, have been conscripted. This is a tremendous honor."
Photos © 2019 Stephen Gosling Photography