Leaders in economics, science, and war.
Click here for additional new Prepub Alert columns
Burns, Jennifer. Milton Friedman: The Last Conservative. Farrar. Nov. 2023. 592p. ISBN 9780374601140. $35. BIOGRAPHY
Copeland, Rob. The Fund: Ray Dalio, Bridgewater Associates, and the Unraveling of a Wall Street Legend.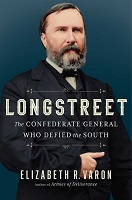 St. Martin's. Nov. 2023. 352p. ISBN 9781250276933. $32. CD/downloadable. BIOGRAPHY
Graydon, Samuel. Einstein in Time and Space: A Life in 99 Particles. Scribner. Nov. 2023. 384p. ISBN 9781982185107. $30. BIOGRAPHY
Stansifer, John. No Bullet Got Me Yet: The Relentless Faith of Father Kapaun. Hanover Square: Harlequin. Nov. 2023. 320p. ISBN 9781335006066. $30. BIOGRAPHY
Varon, Elizabeth. Longstreet: The Confederate General Who Defied the South. S. & S. Nov. 2023. 516p. ISBN 9781982148270. $35. BIOGRAPHY
In Milton Friedman, Stanford history professor Burns (Goddess of the Market) offers a full-scale biography of the influential economist, showing how his insistence that capitalism and freedom are closely linked created a new view of economics and a new type of U.S. conservatism (30,000-copy first printing). From Copeland, a finance reporter for the New York Times, The Fund analyzes Ray Dalio's 50-year success story as the billionaire founder of Bridgewater Associates, the world's largest hedge fund (350,000-copy first printing). Science editor at the Times Literary Supplement, Graydon emulates Craig Brown's 99 Glimpses of Princess Margaret to offer a different approach to Albert Einstein with Einstein in Time and Place, revealing him in unique moments as slacker student, ladies man, life of the party, and genius neighbor-next-door. Drawing on interviews with veterans, self-published war experiences, and key archival material, screenwriter Stansifer's No Bullet Got Me Yet chronicles Father Emil Kapaun, the most decorated chaplain in U.S. military history and a candidate for sainthood (40,000-copy first printing). University of Virginia history professor Varon profiles Confederate general James Longstreet, who joined Louisiana's integrated government and supported Black voting after the war, which brought forth cries from angry white Southerners that he was a traitor to his race.