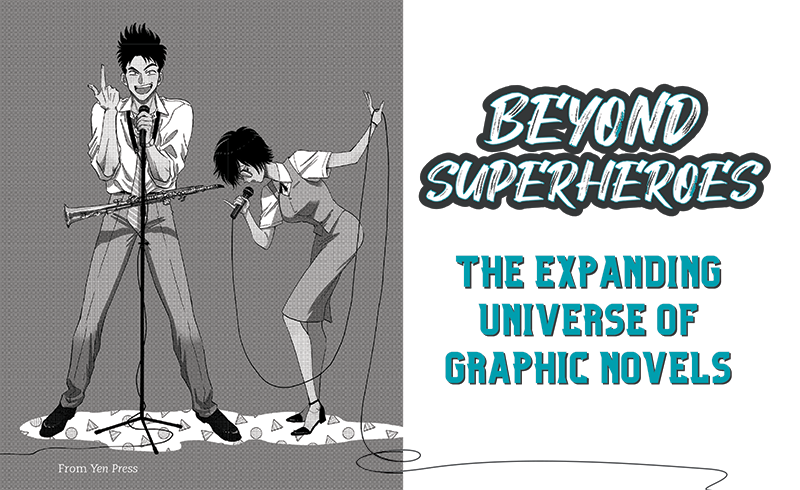 Graphic novel sales keep increasing as stories explore a growing range of personal identities, life experiences, and subject matter. Pioneering narratives by diverse artists draw audiences eager to see these stories told in the graphic novel format. "Fantasy will always be a staple, but we see a growing audience for contemporary stories that explore everyday experiences," says publicity director Tara Lehmann of Oni Press.
Yen Press's Mark de Vera notes that, two decades after manga's meteoric rise in the United States, longtime readers' tastes have matured and broadened. "We see a wider variety of manga doing well. Essay manga is doing well. LGBTQ+ is a big category right now," de Vera says. "For any underrepresented experience, there's a crowd that's been waiting for that story to be told."
According to NPD BookScan, adult graphic novel sales rose an astounding 107% from 2020 to 2021. Manga, termed "the 800 lb. gorilla" of adult fiction comics by comicsbeat.com, alone accounted for 17 million additional unit sales, an increase of 171%. Genres including crime/mystery (up 78%), LGBTQ+ (up 40%), and horror comics (up 35%) also enjoyed robust growth last year.
The publishers featured here are committed to prioritizing diverse creators and discovering an ever-expanding universe of storylines. "The power of graphic novel storytelling is in how inclusive and different it can be from the typical action-adventure storyline," says Nikita Kannekata, senior editor at Legendary Comics YA. "Storytelling is one of the ways people open up their worldviews."

Oni Press
Established 25 years ago in Portland, OR, Oni Press publishes award-winning original and licensed comic books and graphic novels like Adult Swim's Rick and Morty, Nickelodeon's Invader ZIM, Scott Pilgrim, and Wasteland. Each year, Oni releases approximately 40 original graphic novels and 60 single-issue series for children, middle grades, Y/A, and adults. And there's more to come.



A queer female detective searches for a missing person in Silk Hills created by Ryan Ferrier, Brian Level, Kate Sherron, and Crank!, May 2022, ISBN 9781637150382. Set in a small Appalachian town that's seen better days, this adult horror graphic novel is perfect for fans of Twin Peaks or the X-Files. The detective encounters a sinister deer, psychoactive moth dust, and a possible new romance as she tracks down the troubled son of a local bigwig.
Dutch artist and illustrator Floor de Goede attracted a loyal fan base with his autobiographical comic, Flo, which began in 2004. Dancing on the Volcano translated by Laura Watkinson, October 2022, ISBN 9781637150887, continues de Goede's story about his longtime relationship and the different sides of love. This gentle graphic memoir explores Flo's feelings about traveling without his partner for the first time. "This book is full of very sweet human moments," says Lehmann. "You can see and feel the emotion in every beat."
It Took Luke: Overworked and Underpaid by Mark Bouchard, illustrated by Bayleigh Underwood, lettering by Micah Meyers, October 2022, ISBN 9781637150849, is a futuristic, queer debut graphic novel starring a nonbinary exterminator struggling with a serious concussion and a relationship on the rocks. Readers will find out whether Sal can overcome professional burnout and rid the world of a body-snatching monster. "It's about an underpaid employee who wants to get off his last shift and get on with his life," says Lehmann. "Everyone can relate to that."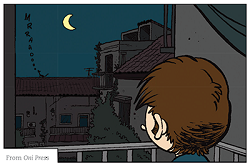 A classic Japanese folktale is beautifully retold in Issunboshi: A Graphic Novel created by Ryan Lang, October 2022, ISBN 9781637150818. When a demon plots to conquer the world, the only person who can stop him is a one-inch-tall would-be samurai. Hawaii-born Lang, a Disney animator, makes his graphic novel debut with this action-packed story about what it takes to be a hero. "The art is absolutely stunning," says Lehmann. "It's all black and white, but you don't miss the color. It's really beautiful."
Wild Vol. 1: Or So I Was Born to Be created by Cristian Castelo, October 2022, ISBN 9781637150931, tells the coming-of-age story of Wild Rodriquez, a high school student who dreams of joining a notoriously violent roller derby league. Wild soon finds herself on the derby track brawling with teams like the 8-Ball Bruisers and the elegant-but-deadly Matadors. "This story is inspired by Cristian's own experiences growing up as a Latino in California," notes Lehmann.

Legendary Comics YA
Founded in 2010, Legendary Comics is a division of Legendary Entertainment, which owns major television and film properties including Dune, Pacific Rim, and Lost in Space. Senior editor Nikita Kannekanti was working at Legendary Comics in 2018 when she recognized the potential for YA prose talent to create stories for graphic novels, and Legendary Comics YA was born. This new imprint is dedicated to telling inclusive, character-driven stories from diverse viewpoints. "Our goal is to publish different types of stories that people might not think of for graphic novels," says Kannekanti.

One such story is Championess by Tarun Shanker, art by Amanda Perez Puentes, April 2021, ISBN 9781681160764. The novel is inspired by the true story of Elizabeth Wilkinson, a female bare-knuckle boxer in 18th-century England. When debt collectors threaten her family with prison, Elizabeth turns to bare-knuckle boxing to pay the overdue bills. "Elizabeth is very driven to succeed, but she is not perfect," notes Kannekanti. "We get to explore these flaws as we follow her journey."
In The Heart Hunter by Mickey George, illustrated by V. Gagnon, August 2021, ISBN 9781681160740, immortal inhabitants of a cursed island wear their hearts outside their bodies. To retain their immortality, islanders hire assassins to kill off the only people who can make them mortal—their soul mates. "I love this book. It's one of the most visually stunning books we've put out," says Sarah Haskell, director of publishing sales and marketing. "It deals with love outside the traditional cisgender way of looking at it. Soul connections are not necessarily romantic."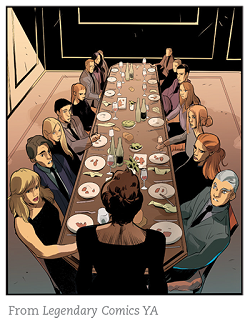 Author and Shakespeare aficionado Dana Mele offers a gender-bent and queer retelling of Hamlet in Tragic Volume 1 illustrated by Valentina Pinti, colors by Chiara De Francia, September 2022, ISBN 9781681160962. Protagonist Harper Hayes experiences hallucinations of her father following his mysterious death. Harper's father appears as his 17-year-old self who, as a star actor, played Hamlet on Broadway. Readers observe Harper coping with grief as she tries to figure out who killed her father. "Mental health plays a big role as Harper reexamines fraught relationships with her mother and uncle," says Kannekanti. "All the classic characters from Hamlet are adapted into this version."
Lupina Book Two: Wane by James Wright, art by Li Buzska, colors by Bex Glendining, November 2022, ISBN 9781681160993, continues the story of a girl raised by wolves after the murder of her parents. With the help of some mysterious monks, Lupa discovers the truth about where she comes from and who she really is. She meets her sisters, who, like her, are incarnations of a mighty goddess. "Wright builds on mythology introduced in the first books," explains Kannekanti. "As readers go deeper into the world, Wright distills it in a way that is easy to follow."
Fans can catch up with teenage super-sleuth Enola Holmes after the events depicted in the hit Netflix film Enola Holmes: Mycroft's Dangerous Game, story by Nancy Springer, written by Mickey George, illustrated by Giorgia Sposito, colors by Enrica Angiolini, August 2022, ISBN 9781681160887. Enola's creator provided this original story that bridges the first film's events with the highly anticipated sequel coming out in fall 2022. Readers who haven't seen the movie can also enjoy this stand-alone adventure featuring Sherlock Holmes's rebellious teen sister.

Yen Press
Originally founded in 2006, Yen Press became a joint venture between Hachette Book Group and Japanese media conglomerate Kadokawa Corporation in 2016. Now a leading publisher of Japanese manga in the United States, Yen Press publishes approximately 400 manga and graphic novel titles each year.
"Manga is more popular than ever and selling better than ever—and it's not just the teen power fantasies," says sales and marketing director Mark de Vera. "We see lots of different genres and categories performing well, so we are starting to publish a bigger variety of manga compared to the past."
One of the new genres taking off is essay mangas like Embrace Your Size: My Own Body Positivity (New edition) by hara, September 2022, ISBN 9781975347291. The author leads more mature readers through the plus-sized creator's journey with body positivity. In high school and college, she struggled with eating and weight issues before finding a healthy balance. This uplifting comic essay describes how the creator learned to love herself as she is. "This autobiographical category has really resonated with Manga fans," says de Vera. "Essay mangas deal with underrepresented real-life experiences like depression, homosexuality, and body image."
Originally a Chinese military fort, Kowloon Walled City became a densely-populated, mob-controlled enclave within British Hong Kong before demolition began in 1993. This infamous slum provides the dystopian setting for the slice-of-life stories in Kowloon Generic Romance, Vol. 1 by Jun Mayuzuki, August 2022, ISBN 9781975345785. Readers observe the daily lives and private feelings of the working people of the city, including one office worker with a crush on her colleague. "It has a slow-paced, artsy, cinematic vibe—like a Criterion Collection film," says de Vera.
Tales of the Kingdom, Vol. 1 by Asumiko Nakamura, August 2022, ISBN 9781975345860, features blue-eyed Adolte and purple-eyed Adarte in an historical fiction set in the Middle East. The two main characters walk different paths. One is a graceful hero, while the other is an enigmatic prisoner. One of Nakamura's previous titles, the homoerotic Doukyusei (Classmates), was made into a 2016 animated movie that earned 200 million JPY at the box office. "This is one of the most celebrated creators in literary and artistic manga," notes de Vera. "Her work is like looking at a collection of beautiful paintings."

Flying Eye Books
Founded in 2008, London-based Nobrow Press publishes about 30 books each year along with its children's imprint, Flying Eye Books. Nobrow is known for its risograph-inspired design aesthetic, environmental themes, nontraditional storytelling, and high production values. "Picture books and comics do not translate to eBooks like traditional novels," says Jacob Shapiro, US/Canada sales and marketing manager. "One of our core values is publishing books that are visually stunning. We want each physical book to be a beautiful object."
Nowhere Girl written and illustrated by Magali Le Huche, September 2022, ISBN 9781913123192, is a semiautobiographical graphic novel set in France during the 1990s. The story features middle-schooler Magali, who is struggling with adolescent social anxiety, depression, and a crippling fear of failure. Magali finds comfort and excitement in her celebrity crushes like Jesus and The Beatles. When the Fab Four appear to Magali in a vision, they help her escape her teenage stress through music. "Despite channeling upsetting topics, the narrative and overall mood is quite funny," notes Kelsey Taylor, sales, and marketing coordinator.
A great matriarch decrees that her successor will be selected by a contest of champions in Curse of the Chosen vol. 2: The Will That Shapes the World written and illustrated by Alexis Deacon, August 2022, ISBN 9781910620441. Fans have eagerly awaited the conclusion to this dark fantasy series that was first published six years ago. Like The Hunger Games or The Lord of the Rings, readers will find magic, politics, class struggles, and multiple warring cultures in this elaborate fantasy universe. "This graphic novel has a traditional fantasy inspiration to the art," says Shapiro. "Fans of science fiction and fantasy can really get lost in this world."
In Thieves written and illustrated by Lucie Bryon, October 2022, ISBN 9781838741198, characters Ella and Madeleine embark on a laugh-out-loud, romantic adventure. Popular French cartoonist Lucie Bryon, known as Luchie on social media, brings shōjo manga–inspired artwork to this queer high school romance. "The art elevates the story with realistic depictions of a teenager at a party—uncomfortable, and not knowing what's going on," says Shapiro.

Humanoids
Humanoids started as Les Humanoïdes Associés during an artistic revolution in 1970s Paris. Graphic novel artists Jean Giraud (known as Mœbius) and Philippe Druillet, along with writer Jean-Pierre Dionnet, joined forces to create the company to publish their own work. Now operating out of Paris and Los Angeles, Humanoids has published thousands of original titles, translating many of them for global distribution. Some, such as The Incal, have sold millions of copies worldwide.

About the publisher's mission, executive editor Jake Thomas says, "We want stories that push the genre to higher levels of quality and innovation. We want to find new, interesting stories from fresh voices and fresh perspectives."
During the 1917 Russian Revolution, Nestor Makhno defied the Bolsheviks and commanded the Revolutionary Insurgent Army of Ukraine. Mahkno: Ukranian Freedom Fighter by Philippe Thirault, art by Roberto Zaghi, translation by Nanette McGuinness, March 2022, ISBN 9781643379692, follows Makhno's exploits in this nonfiction work that was in development two years before Russia's recent invasion of Ukraine. Thirault examines the grand ideals and human failings of this real-life military strategist and revolutionary. In support of the people of Ukraine, a portion of the proceeds from this book will be donated directly to Ukrainian relief efforts through RAZOM (razomforukraine.org).
Retroactive, with story and art by Ibrahim Moustafa, colors by Brad Simpson, April 2022, ISBN 9781643375496, features the U.S. Bureau of Temporal Affairs, which controls top-secret time-travel activities. Veteran field agent Tarik Abdelnasser investigates mysterious counteragents who want to hijack time travel to change the future. "Ibrahim is great at taking a premise, pushing it, and finding all the fun corners of it," notes Thomas. "It's a smart, compelling story about big, crazy time travel with real emotional stakes."
A young doctor uses her new-found superhuman intellectual powers to track down other exceptionally gifted individuals in The Complete Omni by Devin Grayson and Melody Cooper, art by Alitha E. Martinez, September 2022, ISBN 9781643379630. Dr. Cecilia Cobbina travels the world to find out why so many other people are suddenly developing a variety of superpowers. "This is a high-stakes, action-adventure, sci-fi combo," says Thomas. "It's a dynamite book with a socially-conscious angle."
The Incal: Psychoverse by Mark Russell, art by Yanick Paquette, original work by Alejandro Jordorowsky and Mœbius, November 2022, ISBN 9781643375045, is the prequel to the best-selling Incal saga that was first published in the 1980s. Readers will learn the backstory of the incal—a crystal of infinite power—and the characters who want to possess it. "There's something new, strange, and beautiful on every page," says Thomas. "It's an absolute roller coaster and a real joy to read."
After suffering a devastating trauma, Wyatt arrives on campus for his first year of college in Fraternity by Jon Ellis, art by Hugo Petrus, colors by Lee Loughridge, August 2022, ISBN 9781643377681. Wyatt reunites with his old friend, Jake, who has joined a mysteriously sinister fraternity. "For all the crazy horror, blood, gore, and violence—it's an incredibly sweet story about friendship," says Thomas. "The final pages make me tear up every time."

Image Comics
Founded in 1992 by a collective of best-selling artists, Image Comics publishes 850 titles each year and is now the third-largest comics publisher in the United States. Creators retain their rights and creative control, attracting some of the industry's best talent to Image. The company has produced comics and graphic novels in nearly every genre and style. It offers science fiction, fantasy, romance, horror, crime fiction, historical fiction, humor, and more. Image supports artistic risk-taking and encourages creative innovators to push the medium in new directions.
A middle-school teacher moonlights as a bank robber-turned-superhero in Radiant Red by Cherish Chen, David Lafuente, and Miquel Muerto, September 2022, ISBN 9781534323209. With a nosy reporter on her doorstep, Satomi Stone must figure out what to do with $2.5million in cash hidden at her home. She must also face the Chicago criminals who want the money for themselves. An all-star creative team unites for this stand-alone story from the world of Image Comic's smash hit Radiant Black.
In Supper Club by Jackie Morrow, August 2022, ISBN 9781534324213, three high school seniors form a secret cooking club. This coming-of-age story combines culinary arts, comfort food, and strong emotions as Nora, Lili, and Iris prepare to enter college. Fans of The Baby-Sitter's Club will enjoy this fusion of feel-good friendship and adolescent angst. "Jackie Morrow's art and writing work in concert to create an incredibly evocative and relatable story about a group of friends finding their way to adulthood," says Matt Parkinson, vice president of sales and publishing planning.
Cartoonist Zoe Thorogood records a six-month period of emotional distress in It's Lonely at the Centre of the Earth, November 2022, ISBN 9781534323865. This experimental, semi-autobiographical graphic novel is an intimate look at an artist who must create for her own survival. "Zoe is such an incredible, enthusiastic talent—she said she had a book that was kind of bursting out of her," recounts publisher Eric Stephenson. "It was one of those instances in which creativity just takes over and drives the artist in a way that's both unexpected and exciting."
Twig by Skottie Young & Kyle Strahm, November 2022, ISBN 9781534323469, is an all-new epic fantasy adventure miniseries by Eisner Award–winning writer Young (I Hate Fairyland) and artist Strahm (Spread, Unearth). Fans of whimsical classics like Labyrinth or The Dark Crystal will enjoy accompanying Twig and other fantasy creatures on their quest to save the world. "Twig was a huge hit for us at comic shops," says Parkinson, who expects crossover appeal to a younger audience in addition to adults.
Sunburn is a coming-of-age story by Andi Watson and Simon Gane, November 2022, ISBN 9781534322332, featuring a teenager who lives a mundane life in gray, suburban England. When a family friend invites Rachel to spend the summer in Greece, she jumps at the chance to escape her dull life. "Simon's intricately drawn pages are a feast for the eyes," says Kat Salazar, vice president of publicity and marketing. "This artwork truly makes you feel like you're with Rachel in Greece."

SPONSORED CONTENT