The best databases of 2020 address the medieval world, social change, literature, and more.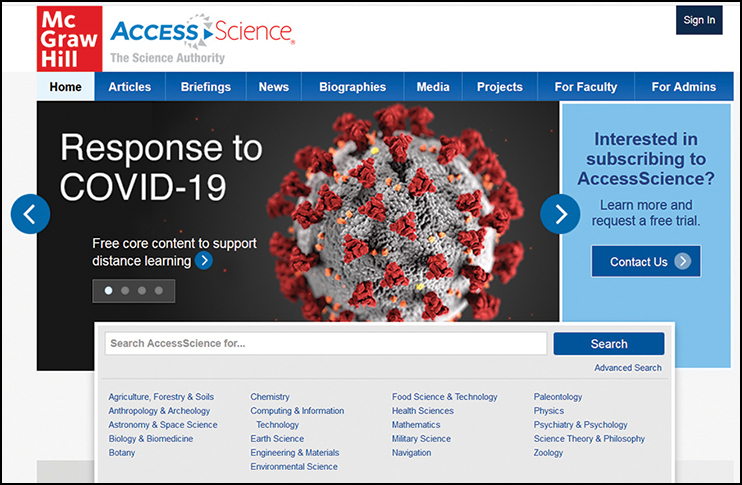 AccessScience. McGraw-Hill. accessscience.com
With more library users seeking reliable and current information about the pandemic, authoritative science reference is crucial. This offering covers not only health but a variety of science disciplines, from astronomy to zoology. Material comes from print works such as the McGraw-Hill Encyclopedia of Science & Technology and the McGraw-Hill Yearbook of Science & Technology; news items are sourced from Science News. Some content is more scholarly, but general users, including high school students, will find much of it accessible, too, making AccessScience a stellar selection for academic and public institutions alike.
Bloomsbury Medieval Studies. Bloomsbury. bloomsburymedievalstudies.com
This resource devoted to medieval history stands out from similar offerings with its global approach. The backbone of the collection, the Encyclopedia of the Global Middle Ages, is diverse in both regional coverage—the Maya civilization, Ethiopia, and the Korean Kingdom of Silla are just a few examples—and in theme: religious iconography, mental illness, disability, and queenship, among others. With a clean layout, superb organization, top-notch searchability, stunning images of historical objects, and excellent primary sources, this is an essential database for students seeking a thorough understanding of the period.
Mass Observation Project. Adam Matthew Digital. massobservationproject.amdigital.co.uk
Adam Matthew Digital has produced that rare history database that offers a sense of what people actually thought. Between 1981 and 2009, the University of Sussex chronicled Britain's social history by sending questionnaires several times a year to the general public, to gauge opinions on everything from the Falkland Islands crisis to the wedding of Prince Charles and Diana Spencer. Collecting the results of those questionnaires, this time capsule is a testament to the power of primary resources. Though currently the database has compiled only documents pertaining to the 1980s, it will eventually make available the questionnaires from the 1990s and 2000s, too.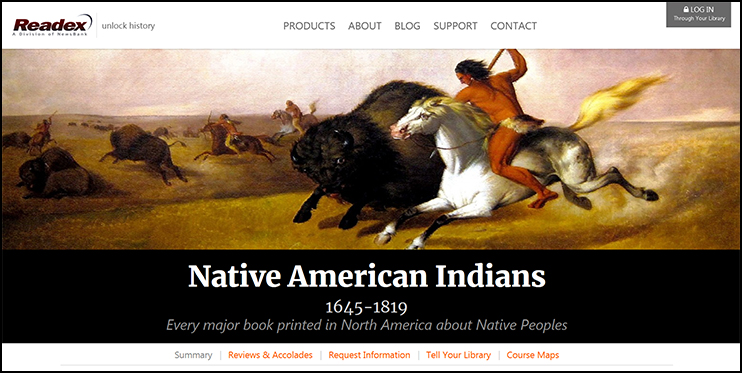 Native American Indians, 1645–1819. Newsbank/Readex. readex.com/products/native-american-indians-1645-1819
Captivity narratives, treaties, congressional acts, poetry, sermons, and more are among the 1,600-plus holdings in this database that explores the relationship between Native Americans and European settlers. The layout is simple and uncluttered, yet full of features that will be especially useful to beginning researchers, such as a detailed list of selected search terms with subcategories (under "displacement, removal, and the American frontier," users will find "land companies," "reservations," "Louisiana Purchase," and more). Scholars of American history will find this an enriching resource.
ProQuest One Literature. ProQuest. about.proquest.com/go/pq1lit
Though databases devoted to literature are many, this selection more than holds its own, boasting 500,000 literary texts, 1,200 scholarly journals, 20,000 ebooks, and 14,000 theses, as well as substantial multimedia offerings, including audio plays of Shakespeare and video and audio recordings of poets such as Seamus Heaney and Langston Hughes reciting their work. Content is admirably global and diverse, with collections highlighting Latin American women, Caribbean literature, and South and Southeast Asian literature, and the interface is elegant and easy to navigate.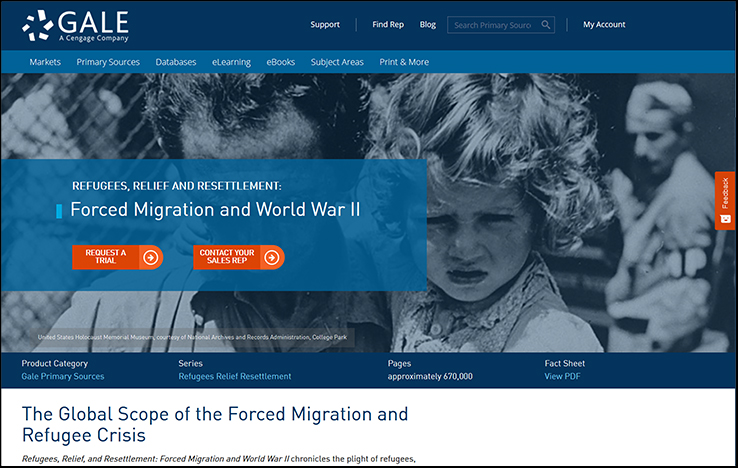 Refugees, Relief and Resettlement: Forced Migration and World War II. Gale. gale.com/c/refugees-relief-resettlement
Pulling material from the UK National Archives, the British Library, the U.S. National Archives, and World Jewish Relief, Gale offers a trove of primary source material that details the experience of displaced persons and refugees before, during, and after World War II. With numerous options for searching the collection, "topic finder" and "term frequency" features that help visualize search results, and beautifully reproduced documents, ranging from pamphlets to government reports to ephemera, this superb selection emphasizes the relevance of the plight of refugees to the present day.
---
Mahnaz Dar is Reference & Professional Reading Editor, LJ & School Library Journal.
---
READ THE FULL SUITE OF BEST REFERENCE SELECTIONS: