From Sara Baume to Miguel Syjugo.
Click here for additional new Prepub Alert columns
Baume, Sara. Seven Steeples. Mariner: HarperCollins. Apr. 2022. 192p. ISBN 9780358629238. $24. LITERARY
Shortly after meeting, Bell and Sigh move together to the remote Irish countryside, intent on dumping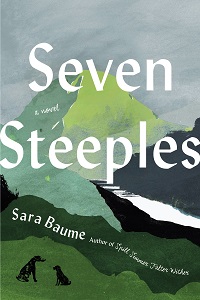 their standard-issue lives and the friends and family to whom they no longer feel close. After this dramatic break, they never get around to climbing the gently sloping mountain right outside their window, instead focusing on building a life not defined by society but rituals of their own. From the author of the Rooney Prize–winning, Costa First Novel short-listed Spill Simmer Falter Wither.
Celt, Adrienne. End of the World House. S. & S. Apr. 2022. 320p. ISBN 9781982169480. $26. CD. LITERARY
San Francisco–based best friends Bertie and Kate are in Paris enjoying a last big get-together before Kate moves to Los Angeles when a stranger offers them a private tour of the Louvre. Soon they find themselves alone in the museum, then separated, as events keeps repeating in an endless loop (think Groundhog Day) and Bertie tries to exert some control and get back to Kate. From the author of the NPR best-booked The Daughters; with a 40,000-copy first printing.
Chaon, Dan. Sleepwalk. Holt. Apr. 2022. 320p. ISBN 9781250175212. $27.99. LITERARY
Bearing so many aliases that he calls himself the Barely Blur, near-future antihero Will Bear lives off the grid, doing odd jobs for a shadowy organization whose function he hardly knows while tooling around in his camper van with a beloved rescue dog and starting to fear that his only friend is no longer trustworthy. Then he gets a call on one of his many burner phones from a woman claiming to be his daughter. From the author of the PW best-booked Ill Will and National Book Award finalist Among the Missing; with a 100,000-copy first printing.
Close, Jennifer. Marrying the Ketchups. Knopf. Apr. 2022. 320p. ISBN 9780525658870. $27. Downloadable. LITERARY
In this latest from the author of the best-selling Girls in White Dresses, a Chicago restaurant family is thrown by three unexpected events—the Cubs (thankfully) win the World Series, Donald Trump (not so thankfully) is elected president, and grandfather Bud, founder of the burger-famous JP Sullivan's, suddenly dies. Now everything is up for grabs. Gretchen suspects her longtime 1990s cover band is going nowhere, older sister Jane wonders if her husband is cheating on her, and rock-steady cousin Teddy is dumped by a boyfriend who, alarmingly, keeps showing up at PJ's, where Teddy is manager.
Hartnett, Annie. Unlikely Animals. Ballantine. Apr. 2022. 368p. ISBN 9780593160220. $27. Downloadable. LITERARY
After debuting with the winsome, multi-best-booked Rabbit Cake, Hartnett returns with the story of med school dropout Emma Starling, who has returned home to Everton, NH, to care for her ailing father. In the throes of an unnamed and mysterious neurological disease, Clive Starling sees small creatures that aren't there and heeds the ghost of a naturalist who welcomed wild animals into his home. More persuasively—and more disturbingly—he believes that Emma's missing former best friend is still alive, and Emma goes in search of her.
Huneven, Michelle. Search. Penguin Pr. Apr. 2022. 400p. ISBN 9780593300053. $26. Downloadable. LITERARY
Done with a book tour, food writer Dana Potowski cautiously agrees to join her Unitarian Universalist congregation's search committee for a new minister, secretly deciding to write a memoir about the experience, replete with recipes. A smash hit, her book profiles both the committee members and the candidates, who range from a baker and to a microbrewer to a reverend who's both a self-proclaimed witch and an environmental activist. The candidates represent very different directions for the congregation, and Dana ends up impassioned about the direction she wants. Huneven has the chops to write this narrative, as she's both a National Book Critics Circle finalist for the novel Blame and a James Beard Award winner for her journalism.
Rock, Peter. Passersthrough. Soho. Apr. 2022. 240p. ISBN 9781641293433. $26. LITERARY
At age 11, Helen vanished in Mount Rainier National Park while camping with her father, Benjamin, and though she was found and reunited with her family after a week, she remains estranged from her father for 25 years. Finally, they are ready to reconnect, even as Benjamin meets a strange woman and child who push him to understand more about Helen's experience by leading him to the creepy, bone-laden Sad Clown Lake. From the author of My Abandonment, made into the film Leave No Trace, and PEN/Faulkner finalist The Night Swimmers.
Roorbach, Bill. Lucky Turtle. Algonquin. Apr. 2022. 416p. ISBN 9781643750972. $27.95. LITERARY
Being sent to a reform camp in Montana is a slap on the wrist for privileged 16-year-old Cindra, given the crime she committed. There she falls for smart, wilderness-ready camp employee Lucky and eventually escapes with him into the Rocky Mountains, though their idyllic life there cannot last. Cindra is white, Lucky is biracial, and that many people (including Cindra, initially) are uncertain of his ethnicity is the author's very point in a book examining ongoing prejudice. From Flannery O'Connor Award–winning, Kirkus Prize finalist Roorbach.
Syjuco, Miguel. I Was the President's Mistress!! Farrar. Apr. 2022. 432p. ISBN 9780374174057. $30. LITERARY
The most celebrated movie star in the Philippines, Vita Nova once consorted with the country's president, and she's about to release a memoir that shovels the dirt on sex, power, and how sex and power corrupt absolutely at the top. The characters here include not just the president but his devout Muslim arch-enemy in the senate, a reporter hungry for one last headline, a bishop hungry for sex, a rich boy whose dynasty is about to end, and more. From the author of Ilustrado, winner of the Man Asian Literary Prize and the Grand Prize at the Palanca Awards in the Philippines.