Humanism, spoken word as phenomenon, your brain on art, and more.
Click here for additional new Prepub Alert columns
Bakewell, Sarah. Humanly Possible: Seven Hundred Years of Humanist Freethinking, Inquiry, and Hope. Penguin Pr. Mar. 2023. 496p. ISBN 9780735223370. $30. PHILOSOPHY
Covering seven centuries of humanist thought, this hefty volume ranges from Erasmus and Christine de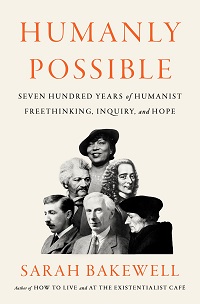 Pizan, to anatomists and agnostics, to Voltaire and Zora Neale Hurston as it elucidates a wide range of sources that, whether emphasizing the scientific, the cultural, or the moral, consider how best to live. It should therefore fit in nicely with Bakewell's dazzling Duff Cooper/NBCC-honored How To Live and New York Times best-booked At the Existentialist Café.
Bennett, Joshua. Spoken Word: A Cultural History. Knopf. Mar. 2023. 304p. ISBN 9780525657019. $30. Downloadable. SOCIAL SCIENCE/LITERATURE
Slam champion and all-'round astonishing poet Bennett opens his investigation of the spoken-word phenomenon with its roots in the Black Arts movement and Black culture, then moves on to the influential Nuyorican Poets Café, the growth of slam, and the helping hand lent by social media. Dartmouth professor Bennett grounds his writing in scholarship; poet Bennett grounds his writing in a lifetime's journey with his art. Look for his forthcoming LJ-starred collection The Study of Human Life.
Cohen-Solal, Annie. Picasso the Foreigner: An Artist in France, 1900–1973. Farrar. Mar. 2023. 624p. tr. from French by Sam Taylor. ISBN 9780374231231. $35. BIOGRAPHY/FINE ARTS
A distinguished biographer of Jean-Paul Sartre, Leo Castelli, and Mark Rothko, French historian Cohen-Solal takes a new approach to art titan Picasso, highlighting the prejudice the Spanish artist encountered as a foreigner in France and the police surveillance visited on him owing to his radical politics; he was even denied French citizenship as the Nazis were bearing down on France. With a 20,000-copy first printing.
Darkshire, Oliver. Once Upon a Tome: The Misadventures of a Rare Bookseller. Norton. Mar. 2023. 256p. ISBN 9781324092070. $27.95. MEMOIR
An antiquarian bookseller with London's Henry Sotheran Ltd., among the world's oldest bookstores, Darkshire captures the joys of selling often obscure if thunderously exciting tomes to fussy, feisty collectors in an offbeat memoir billed as a distinctive, laugh-out-loud coming-of-age tale. Readers even get to meet the store's resident ghost, the late Mr. Sotheran, done in by a tram.
Fernández, Nona. Voyager: Constellations of Memory. Graywolf. Feb. 2023. 136p. tr. from Spanish by Natasha Wimmer. ISBN 9781644452172. pap. $15. LITERATURE
Observing that her ailing older mother's brain scan recalled the glittery night sky, National Book Award finalist Fernández ( The Twilight Zone) connects the dots to examine the nature of personal and communal memory. She's particularly interested in understanding what people want to remember and what they want to forget, asking her country, Chile, to look squarely at its own history—as readers will know from her fiction.
Hessel, Katy. The Story of Art Without Men. Norton. Mar. 2023. 512p. ISBN 9780393881868. $45. FINE ARTS
An art historian who founded @thegreatwomenartists on Instagram and the podcast of the same name, Hessel celebrates too often little-known women artists from the 14th to the 21st centuries, ranging from late Renaissance court painter Sofonisba Anguissola to Harriet Powers, a folk artist and quilt maker enslaved from birth in the United States. Along the way, readers will encounter non-Western, queer, and marginalized artists, textile workers and photographers, and more.
Janovitz, Bill. Leon Russell: The Master of Space and Time's Journey Through Rock & Roll History. Hachette. Mar. 2023. 448p. ISBN 9780306924774. $31. Downloadable. BIOGRAPHY/MUSIC
An iconic musician, composer, and performer who founded Shelter Records, Leon Russell is perhaps not as well known as the many recording artists with whom he worked or whose careers he influenced, from Frank Sinatra to the Beatles to Elton John. Janovitz (Rocks Off), a founding member of the band Buffalo Tom, seeks to give Russell his due. With a 20,000-copy first printing.
Kem with David Ritz. Share My Life: A Journey of Love, Faith and Redemption. S. & S. Mar. 2023. 320p. ISBN 9781982191245. $28.99. CD. MEMOIR
Raised in Detroit by distant, troubled parents, artist Kem learned quickly that "hard things are better left unsaid," which left him homeless at 19 as he coped with internalized pain by using drugs. Here he recounts his journey from that hard beginning to renown as an R&B singer/songwriter with multiple Grammy Awards to his credit.
Lee, Debra. I Am Debra Lee: A Memoir. Legacy Lit: Hachette. Mar. 2023. 256p. ISBN 9780306828591. $29. Downloadable. MEMOIR
From her shy and proper childhood in Greensboro, NC, Lee moved on to Brown University and Harvard Law School and finally rose to become the CEO of Black Entertainment Television, breaking race and gender barriers along the way. Her story is interleaved with career advice of special interest to Black women seeking leadership roles. With a 100,000-copy first printing.
Magsamen, Susan & Ivy Ross. Your Brain on Art: How the Arts Transform Us. Random. Mar. 2023. 288p. ISBN 9780593449233. $30.
Founder of the International Arts + Mind Lab at Johns Hopkins University School of Medicine, Magsamen joins with Google designer Ross to explain how we react biologically to a striking painting or ravishing piece of music. And that, in turn, reveals how art can help us heal from trauma. Welcome to the exciting new science of neuroaesthetics.
Penaluna, Regan. How To Think Like a Woman: Four Women Philosophers Who Taught Me How To Live a Life of the Mind. Grove. Mar. 2023. 320p. ISBN 9780802158802. $28. PHILOSOPHY
Plunging into the study of philosophy, Penaluna ended up embittered by its implicit rejection of women's intellect. Then she discovered epistemologist Damaris Cudworth Masham; English novelist, dramatist, and philosopher Catharine Cockburn; and philosopher/rhetorician Mary Astell, sometimes called the first English feminist, all of whom she presents with Mary Wollstonecraft as leading 1660s–1770s women philosophers who taught her to love the discipline again.
Waldstreicher, David. The Odyssey of Phillis Wheatley: A Poet's Journeys Through American Slavery and Independence. Farrar. Mar. 2023. 352p. ISBN 9780809098248. $30. LITERATURE
In Slavery's Constitution, Waldstreicher, Distinguished Professor of History at the CUNY Graduate Center, unpeeled the U.S. Constitution to reveal enslavement at its heart. Here he unpeels the life and work of seminal Black American poet Phillis Wheatley, revealing how her writing prompted argument and counterargument about race, subjugation, and British rule and what it ultimately meant for the institution of enslavement during a fight for independence.