Literary biography, literary collections, Kiki de Montparnasse, and Edie Sedgwick.
Click here for additional new Prepub Alert columns
Alsadir, Nuar. Animal Joy: A Book of Laughter and Resuscitation. Graywolf. Aug. 2022. 320p. ISBN 9781644450932. pap. $17. LITERATURE
Ball, Jesse. Autoportrait. Catapult. Aug. 2022. 144p. ISBN 9781646221387. $20. LITERATURE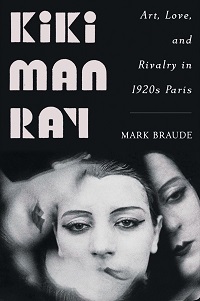 Braude, Mark. Kiki Man Ray : Art, Love, and Rivalry in 1920s Paris. Norton. Aug. 2022. 256p. ISBN 9781324006015. $30. BIOGRAPHY/ART
Crawford, Robert. Eliot After "The Waste Land." Farrar. Aug. 2022. 608p. ISBN 9780374279462. $35. BIOGRAPHY/LITERATURE
Kenan, Randall. Black Folk Could Fly: Selected Writings by Randall Kenan. Norton. Aug. 2022. 272p. ISBN 9780393882162. $27.95. LITERATURE
Lowell, Robert. Memoirs. Farrar. Aug. 2022. 464p. ed. by Steven Gould Axelrod & Grzegorz Kosc. ISBN 9780374258924. $35. LITERATURE
Mayes, Frances. A Place in the World: Finding the Meaning of Home. Crown. Aug. 2022. 304p. ISBN 9780593443330. $28. LITERATURE/TRAVEL
Morris, Heather. Listening Well: Bringing Stories of Hope to Life. St. Martin's. Aug. 2022. 320p. ISBN 9781250276919. $29.99. LITERATURE
Rodgers, Mary & Jesse Green. Shy: The Alarmingly Outspoken Memoirs of Mary Rodgers. Farrar. Aug. 2022. 480p. ISBN 9780374298623. $30. MUSIC/MEMOIR
Wohl, Alice Sedgwick. As It Turns Out: Thinking About Edie and Andy. Farrar. Aug. 2022. 272p. ISBN 9780374604684. $28. BIOGRAPHY/PERFORMING ARTS
With Animal Joy, poet/psychoanalyst Alsadir, a National Book Critics Circle finalist for the collection Fourth Person Singular, gets serious about studying the importance of laughter (30,000-copy first printing). Long-listed for the National Book Award and a Granta Best of Young American Novelists, Ball was inspired by French writer/artist Édouard Levé's memoir (written at age 39) to offer his own frank Autoportrait in his 39th year. In 1920s Paris, Kiki de Montparnasse was a model, muse, and friend to cultural greats and an artist, cabaret star, and driving force in her own right, as Braude (The Invisible Emperor) highlights in Kiki Man Ray. With Eliot After "The Waste Land," award-winning scholar/poet Crawford follows up his highly regarded Young Eliot (10,000-copy first printing). Standing as both memoir and memorial, Black Folk Could Fly is a first selection of personal nonfiction from the late author/mentor Kenan, whose award-winning works powerfully communicate his experience of being Black, gay, and Southern. Lowell's Memoirs collects the complete autobiographical prose of the great poet, including unpublished early work (10,000-copy first printing). What is home but A Place in the World, and Tuscany celebrant Mayes's new book explores what home really means in all its variations. As Morris explains in her first book of nonfiction, she came to the writing career launched with the multi-million-copy best-selling The Tattooist of Auschwitz by Listening Well (50,000-copy first printing). Composer of the Tony-nominated musical Once Upon a Mattress, author of the novel Freaky Friday and the follow-up screenplay, and chair of the Juilliard School, Rodgers has a lot more to discuss in Shy than being the daughter of Richard Rodgers (25,000-copy first printing). Addressed to Wohl's brother Bobby, who died in 1965, As It Turns Out reconstructs the life of their sister, the iconic actress/model Edie Sedgwick made famous by Andy Warhol (30,000-copy first printing).