Arts, music, dance, and literature.
Click here for additional new Prepub Alert columns
Bringley, Patrick. All The Beauty in the World: The Metropolitan Museum of Art and Me. S. & S. Feb. 2023. 240p. ISBN 9781982163303. $27.99. CD. MEMOIR/ART
Bringley was working in editorial events at The New Yorker when his older brother was diagnosed with terminal cancer, and he quit to find comfort in the most beautiful place he could think of: New York's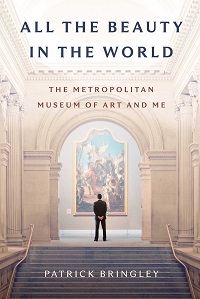 Metropolitan Museum of Art. There, he served as a guard for 10 years, joining a subculture ranging from artists to immigrants that proved both safe haven and ultimately mirror of the larger world he would reenter. Billed as both working memoir (e.g., Lab Girl) and a fabulous look at art.
Brown, Nic. Bang Bang Crash. Counterpoint. Feb. 2023. 224p. ISBN 9781640094406. pap. $16.95. MEMOIR/MUSIC
As a young man, Brown was living his dream as a rock'n'roll drummer, successfully landing a big record deal and an interview in Rolling Stone. Then he realized it really wasn't his dream and enrolled in the Iowa Writers' Workshop; he's since published novels like the LJ-starred Doubles and serves as fiction editor of the South Carolina Review. Be inspired.
Field, Patricia. Pat in the City: Musings from a Life of Fashion, Style, and Breaking All the Rules. Dey Street: Morrow. Feb. 2023. 288p. ISBN 9780063048324. $35. CD. MEMOIR/FASHION
From a Queens childhood as the daughter of Greek and Armenian immigrant parents, to owner of an iconic East Village boutique that served as home base for a loose-knit crowd of artists and seekers, to her Emmy Award–winning costume design for Sex in the City and Academy Award–nominated work for The Devil Wears Prada, vibrantly red-haired Field has been remaking fashion while making a startling life for herself over decades. With a 40,000-copy first printing.
Gilman, Priscilla. The Critic's Daughter: A Memoir. Norton. Feb. 2023. 288p. ISBN 9780393651324. $28.95. MEMOIR
Gilman's account of an idyllic childhood shattered by divorce has a literary twist: her father was distinguished drama critic and Yale School of Drama professor Richard Gilman and her mother the influential literary agent Lynn Nesbit. Here the author recounts coming to terms with her parents' empty marriage and her father's double life while struggling to protect him from his own demons.
Middleton, William. Paradise Now: The Extraordinary Life of Karl Lagerfeld. Harper. Feb. 2023. 464p. ISBN 9780062969033. $28.99. CD. MEMOIR/FASHION
Formerly fashion features director for Harper's Bazaar and the Paris bureau chief for Fairchild Publications, fashion journalist seems well situated to write a biography of renowned fashion designer Karl Lagerfeld. During his time in Paris, Middleton both interviewed and socialized with Lagerfeld, which should give this book an extra edge. With a 35,000-copy first printing.
Puchner, Martin. Culture: The Story of Us. Norton. Feb. 2023. 368p. ISBN 9780393867992. $35. CULTURE
In this celebration of art as the means of conveying purpose and meaning in life, Puchner, a Harvard professor of English and comparative literature, argues that the best artworks partake of past insights and cross-cultural exchange. He makes his point by ranging across loss and rediscovery, innovation and appropriation, from the plays of ancient Greece and Wole Soyinka, to Chinese travel journals and Arab and Aztec libraries, to an Indian statuette found at Pompeii.
Robb, Alice. Don't Think, Dear: On Loving and Leaving Ballet. Mariner: HarperCollins. Feb. 2023. 320p. ISBN 9780358653332. $28.99. CD. DANCE
After training at the School of American Ballet, founded by George Balanchine and the associate school of the New York City Ballet, Robb ( Why We Dream) left to study at Oxford. To her dismay, she discovered that the regimentation she had sought to escape—the valuation of certain body types and the emphasis placed on toughing it out and doing what you're told—are found in the larger world as well. With a 50,000-copy first printing.
Schulman, Michael. Oscar Wars: A History of Hollywood in Gold, Sweat, and Tears. Harper. Feb. 2023. 608p. ISBN 9780062859013. $35. lrg. prnt. CD. FILM
A staff writer at The New Yorker and author of the New York Times best-selling Her Again: Becoming Meryl Streep, Schulman limns the history of the Academy Awards over nine decades by highlighting 11 turning points, ranging from the Hollywood blacklist and issues surrounding Citizen Kane to the Shakespeare in Love vs. Saving Private Ryan brouhaha and the 2015 #OscarsSoWhite campaign. With a 75,000-copy first printing.
Thomson, David. Acting Naturally: The Magic in Great Performances. Knopf. Feb. 2023. 288p. ISBN 9780593319291. $30. FILM9780593319291
So you want to be a shining star—or even a bit player—in the film industry firmament? What better than a deep study of leading lights like James Dean, Nicole Kidman, Denzel Washington, Louise Brooks, Riz Ahmed, Sir Laurence Olivier, Viola Davis, and Jean Seberg? And who better to lead the class than film critic Thomson, author of The Biographical Dictionary of Film?
Warner, Joel. The Curse of the Marquis de Sade: A Notorious Scoundrel, a Mythical Manuscript, and the Biggest Scandal in Literary History. Crown. Feb. 2023. 304p. ISBN 9780593135686. $28.99.
Written in 1785 by the imprisoned Marquis de Sade, The 120 Days of Sodom flitted through Europe as a tiny scroll until its eventual publication in 1904. Much noise was made when rare-manuscripts dealer Gérard Lhéritier purchased the original scroll in 2014 and brought it back to France, but allegations that he ran his company as a Ponzi scheme brought even more scandal to the already scandalous book. From journalist Warner.