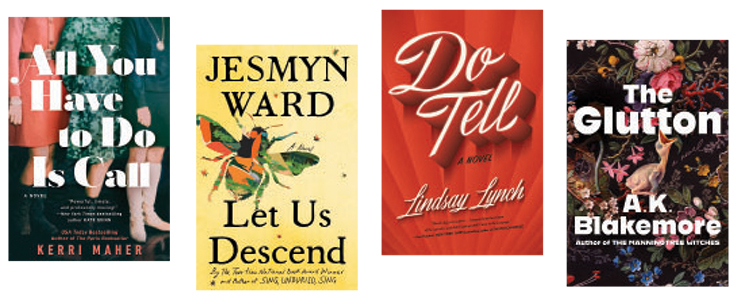 LJ's second historical fiction preview illuminates several new developments in the genre. After interviewing publishers and scanning catalogues, we see witch-adjacent stories and nostalgia fiction (novels set in the 1970s and '80s) as the two top trends to note this season. World War II remains a cornerstone setting, while novels set in times of conflict other than world wars are stretching the parameters of the genre. Bold women continue to dominate as protagonists. As LJ has reported in other previews, what seems like the trend of the year—genre blending—is also at work in historical fiction. From sweeping sagas to literary gems, remarkable voices take readers from ancient times to the 20th century. Click here for a downloadable spreadsheet of titles.
EVERY WITCH WAY
Sarah Cantin, executive editor at St. Martin's Press, foresees a new subgenre: witch lit. "Some titles are emerging in the fantasy space, but…I'm also seeing it in historical fiction, where writers use real-life witch trials as a jumping-off point for a larger story about…patriarchal society." Margaret Meyer's The Witching Tide (Scribner) details a tragic and deadly witch hunt in 1645. Lucy Barker's debut summons The Other Side of Mrs. Wood (Harper), whose lucrative craft of tapping into the occult takes a deadly turn when a rival medium appears on the scene.
Genre blends are knocking at the witches' door, as Karen Kosztolnyik, VP and editorial director at Grand Central Publishing, points out, "much like [Amiee Gibbs's debut] The Carnivale of Curiosities is doing, with it being set in a historical time period but chock-full of so many other elements, like gothic romance, fantasy, and horror." Musician and composer Mat Osman's The Ghost Theatre (Overlook) will send readers on a wild ride through theater, magic, and the dangers of love in Elizabethan London. In Maddalena and the Dark (Flatiron), Julia Fine pens a historical gothic about two girls in a 1700s Venice boarding school drawn together by magic and music. Alice Hoffman blends her signature magical realism with history in The Invisible Hour (Atria), where a young woman discovers Nathaniel Hawthorne's The Scarlet Letter and detects many parallels between this classic and her life inside an oppressive cult in Western Massachusetts.
NOT-SO-ANCIENT HISTORY
St. Martin's Cantin says, "Nostalgia seems to be driving some of the newer historical fiction—particularly for decades in the more recent past, like the 1970s." She adds that the period was "defined by this surreal sense of upheaval and progress mixed with disenchantment and malaise, and that feels increasingly relevant to our current moment." The Sunset Crowd (St. Martin's) by Karin Tanabe, for example, captures what Cantin terms "those colliding forces perfectly, as it follows a group of global, eclectic friends who are caught up in the sex, drugs, and rock and roll of 1977 Hollywood." Kerri Maher's All You Have To Do Is Call (Berkley) explores the bravery of a group of Chicago housewives who form the Jane Collective to fight for women's right to choose. Colson Whitehead uses the turbulence of the era as the backdrop in Crook Manifesto (Doubleday) a continuation of his highly entertaining Harlem saga featuring former fence Ray Carney. James McBride, with his characteristic compassion, takes readers to a small town in Pennsylvania with explosive secrets that go back decades in The Heaven & Earth Grocery Store (Riverhead).
HISTORY REVEALED
This year, numerous titles provide insight into cultures around the world. An African princess who once was an enslaved child given to Queen Victoria's court features in Denny S. Bryce's The Other Princess (Morrow). Vanessa Riley brings Haiti's Queen Marie-Louise Coidavid to life in the Queen of Exiles (Morrow). Zadie Smith's first historical novel, The Fraud (Penguin Pr.), is based on the true story of the Tichborne legal case in Victorian England.
Compelling new stories comingle immigrant experiences across large distances and expansive timelines. Pauls Toutonghi's The Refugee Ocean (S. & S.) moves from Aleppo on the brink of war to Lebanon to Havana to the suburbs of Washington, DC. A Council of Dolls (Mariner) by Mona Susan Power, an enrolled member of the Standing Rock Sioux Tribe, spans three generations of Yanktonai Dakota women, told in part by the dolls they carried.
The complexities of love are explored in Emma Donoghue's Learned by Heart (Little, Brown) about two young women in the 19th century who are forced to hide their feelings for each other while attending a British boarding school. Tan Twan Eng's The House of Doors (Bloomsbury) exposes the fragility of marriage, long-held secrets, and sexual identity when writer Willie Somerset Maugham arrives at a friend's house in Penang in the 1920s.

WORLD WAR II
World War II is a predominant subgenre of historical fiction. Why does it captivate? Emily Krump, VP and editorial director at Morrow, speculates that the stories "are ultimately hopeful—terrible sacrifices [were] made, but it was in the name of a greater cause, where good ultimately triumphed over evil." That concept inspired Lauren Grodstein to write We Must Not Think of Ourselves (Algonquin), a heartrending love story of Jewish prisoners who defy their captors to secretly record and archive the brutality in the Warsaw Ghetto. In The Glass Château (Morrow), set immediately after the end of World War II, Stephen P. Kiernan paints the picture of a Jewish man seeking redemption after serving as an assassin for the Resistance. Stefan Hertmans expertly blends fact with fiction in The Ascent (Pantheon; tr. from Dutch by David McKay), about a house in Ghent previously occupied by an SS officer and his family.
The ways women are affected by and participate in wars continue to power World War II narratives. Kristin Harmel's The Paris Daughter (Gallery) is an unforgettable story of two young mothers forced to make difficult choices to keep their daughters safe during the war. In Amanda Barratt's The Warsaw Sisters (Revell), siblings Antonina and Helena Dąbrowska join secret resistance organizations to fight the Nazis who have invaded their beloved homeland.
Betsy Gleick, publisher/editorial director at Algonquin, has been "seeing more WWII stories set in Asia." One example of this is Heather Morris's Sisters Under the Rising Sun (St. Martin's), a story of unbreakable bonds between two women captured by the Japanese who fight for survival at the brutal Camp Palembang. Heather B. Moore's Under the Java Moon (Shadow Mountain) explores the Japanese invasion of Indonesia, which sent 100,000 Dutch citizens to POW camps.
Two new tales set on the high seas during World War II include Hazel Gaynor's The Last Lifeboat (Berkley), the harrowing story of a teacher and her students fighting for survival after their ship is torpedoed by Nazis; and Jenni L. Walsh's Unsinkable (Harper Muse), a story of courage and friendship about two women who survive a shipwreck together.
THE CIVIL WAR
World wars are not the only conflicts explored this season. The period before the Civil War, the war itself, and the Reconstruction era offer a rich historical backdrop filled with dramatic events and societal upheaval, serving as a powerful lens through which writers explore themes of identity, love, loss, power, and justice. Jesmyn Ward's Let Us Descend (Scribner) delivers a haunting and powerful story told through the voice of a young, enslaved Black woman as she is forced to journey from the rice fields of the Carolinas to the markets of New Orleans where people are sold and into the hellish landscape of a Louisiana sugar plantation. Katherine Vaz writes a sweeping love story of two Portuguese refugees who escape religious violence only to be thrust into war in Above the Salt (Flatiron). James Lee Burke's Flags on the Bayou (Atlantic Monthly) is an action-packed narrative set in 1863 Louisiana, where an enslaved woman goes on the run when she's accused of murder. And Paulette Jiles's Chenneville (Morrow) takes readers on the odyssey of a Union soldier who seeks vengeance for the brutal murder of his family. Loving Frank author Nancy Horan's The House of Lincoln (Sourcebooks Landmark) gives voice to a 14-year-old Portuguese immigrant who works in Abraham Lincoln's Springfield, IL, household. Where would Lincoln have been without Ulysses S. Grant? Both steered the country through a fiery historical time, which is portrayed in The General and Julia (Atria) by Jon Clinch.
WOMEN SPIES
Genre blends continue with a number of novels starring defiant women enmeshed in espionage. Nonfiction author Pamela R. Winnick turns to fiction with The Spymaster's Mistress (SparkPress), in which a young Jewish woman works as a secret agent for the United States during the American Revolution but falls in love with her target, risking both their lives. Katherine Reay's A Shadow in Moscow (Harper Muse) toggles between the lives of mother and daughter spies during the long stretch of the Cold War. Beatriz Williams transports readers to mid-century New England with a tale of intrigue and love in The Beach at Summerly (Morrow). A double agent risks the lives of two women SOE operatives during World War II in the tension-filled The Paris Agent (Graydon House) by Kelly Rimmer. Set in New York during the height of the Great Depression, The Jazz Club Spy (Gallery) by Roberta Rich introduces a young Russian immigrant who moonlights as a spy in order to seek justice for her family.
FORMIDABLE WOMEN
Unflinching and tenacious women characters stand out in scores of new novels. The First Ladies (Berkley) by Marie Benedict and Victoria Christopher Murray features First Lady Eleanor Roosevelt and civil rights activist Mary McLeod Bethune. The President's Wife (Sourcebooks Landmark) by Tracey Enerson Wood is a portrait of Edith Wilson, a bold first lady who protects her husband, Woodrow Wilson, and her country at all costs. Rachel Cantor offers a reimagined story of the Brontë siblings in Half-Life of a Stolen Sister (Soho). The Majority (Riverhead) by Elizabeth L. Silver reveals what ambitious women face in a man's world, as readers follow one woman's struggle to become a U.S. Supreme Court justice. Based on a true story, Ruth P. Watson's A Right Worthy Woman (Atria) introduces Maggie Lena Walker, who becomes the first Black woman to establish a bank in the United States. Jennifer Chiaverini's Canary Girls (Morrow) brings to life the World War I story of "munitionettes," unheralded women who built the bombs in Britain's arsenals and experienced unexplained illnesses from chemical exposure. Lauren Groff's newest, The Vaster Wilds (Riverhead), set in 17th-century Jamestown, VA, considers colonialism and its effect on a servant girl who flees into the wild. Lisa See's latest, Lady Tan's Circle of Women (Scribner), is based on the true story of a brave woman physician in 15th-century China whose medicinal solutions are still used today.
LET'S HEAR IT FOR THE BOYS
Ron Rash returns with an examination of friendship and rivalry among men in the 1951-set The Caretaker (Doubleday). Elena Hershey, associate director of publicity at Doubleday, says, "This story stands to have broad appeal; set in the heart of Appalachia, it combines two perennially commercial angles, a wartime backdrop, and a love triangle." The Romantic (Knopf) by William Boyd immerses readers in the travels and adventures of Cashel Ross, from birth to death, spanning many countries. Set in 1798 France, The Glutton (Scribner) by A.K. Blakemore is a disquieting tale about a man whose insatiable appetite leads to tragedy. Tania James's Loot (Knopf), set in India, England, and France during colonial times, is the tale of a young man's dream to make his mark on the world. Ken Follett returns with a fifth Kingsbridge novel, The Armor of Light (Viking), which plunges readers into 18th-century Europe as Napoleon plots to become emperor of the world.

WESTWARD BOUND
Several historical stories travel to the American West this season. In Kathleen Grissom's Crow Mary (Atria), a Crow woman who marries a white fur trader witnesses the slaughter of 40 Nakota people and risks her life to save five women kidnapped during the massacre. In Straw Dogs of the Universe (Catapult) by Ye Chun, a Chinese daughter trying to find her immigrant father offers an insightful perspective from those who helped build the American West. The Prospectors (Morrow) by Ariel Djanikian is a rag-to-riches saga of a family dramatically reshaped by the Klondike Gold Rush.
DUAL TIMELINES
Long a favored trope in historical fiction, dual timelines provide great insight into how past events influence current experiences. The Wind Knows My Name (Ballantine; tr. from Spanish by Frances Riddle) by Isabel Allende tells the important story of two families decades apart, forced to leave their homeland in order to survive. The saga Counting Lost Stars (Morrow) by Kim van Alkemade moves between the Hague in 1941 and New York City in 1960. Kat Devereaux's debut, Escape to Florence (Harper), tells the exhilarating story of two women, separated by many years, whose fates converge in Florence. Katherine Howe brings a remarkable story to light in A True Account: Hannah Masury's Sojourn Amongst the Pyrates, Written by Herself (Holt), about a history professor who reconstructs the story of a woman's adventure as a sea rover in the age of piracy.
WORTH A THOUSAND WORDS
A micro-trend in the genre this season uses fine art as a crucial plot point. Claire McMillan's Alchemy of a Blackbird (Atria) explores the lives of iconic 20th-century artists Remedios Varo and Leonora Carrington as they move from muses to masters of surrealism. Jeanne Mackin examines Pablo Picasso's life and many paramours during the 1920s in Picasso's Lovers (Berkley). Cities of Women (Keylight) by Kathleen B. Jones stars women artists in medieval times. Looted art is the central device in Laura Morelli's The Last Masterpiece (Morrow), as two women race across Italy to find priceless masterpieces stolen by Nazis.
NO BUSINESS LIKE SHOW BUSINESS
Entertainment tales continue to enchant. In The Brightest Star (HarperVia), Gail Tsukiyama reimagines the life of Anna May Wong and the actress's fight against racism, segregation, and abuse to become the first Chinese American movie star. Debut novelist Lindsay Lynch lifts the curtain on the golden era of the movie business in Do Tell (Doubleday), about a gossip columnist who gets entangled in the trial of the century after she publishes allegations about an A-lister's sexual assault. On the other coast, readers jump to New York City in Eliza Knight's Starring Adele Astaire (Morrow), which has Fred's famous big sister dancing across the pages. In Fiona Davis's upcoming The Spectacular (Dutton), a 1950s Radio City Rockette finds herself in the crosshairs of a serial bomber who targets Gotham venues.
EXHILARATING NEW VOICES
Retha Powers, VP and executive editor at Henry Holt Publishing, says, "The beauty of historical fiction is that periods can be revisited time and again via new writers and characters with varied perspectives. These new perspectives offer a deeper understanding of the intimate experience of lived history." This season, notable debut authors offer unflinching narratives of turbulent history, use family lore to craft stories of love and loss, and add dimension to well-documented events. Wendy Chin-Tanner was inspired by her father to write King of the Armadillos (Flatiron), the story of a young Chinese immigrant to the United States in the 1950s who contracts leprosy and is confined to a federal institution. For Tiya Miles, an award-winning author and historian, it was frustration in her own research that led her to write her first novel, The Cherokee Rose (Random), in which three women come together while visiting a Georgia plantation. Every Rising Sun (Holt) by Jamila Ahmed offers a newly empowered version of Scheherazade, the legendary weaver of stories. Anita Gail Jones's multigenerational epic, The Peach Seed (Holt), is set in 1800s Senegal and the American South. Alex Hay uses humor and intrigue to illustrate the inequality of class structure in The Housekeepers (Graydon House).
ON THE WARD
Night Watch (Knopf) by Jayne Anne Phillips is set during the chaotic aftermath of the Civil War when a mother and daughter find refuge in a hospital for those with mental illness. They come to terms with their past so they can reclaim their future. Also set in a hospital is The Madwomen of Paris (Ballantine) by Wunderland author Jennifer Cody Epstein. In 1890s Paris, two women are diagnosed with hysteria and fall under the influence of a powerful doctor in a notorious institution.
BIBLIOPHILE READS
Books about books continue to appeal, which is no surprise to Susanna Porter, VP and executive editor of Ballantine/Bantam/Dell. "We readers love books, old ones and new ones, and the very thought of a 19th-century bookstore or a Paris library or an English bindery…makes us happy." The Bookbinder (Ballantine) by Pip Williams transports readers to England during the height of World War I and into the life of a young woman working in a bookbindery while secretly yearning for an education. In The Air Raid Book Club (Morrow) by Annie Lyons, a widow and the teenager she befriends form a book club to help neighbors and bookstore customers weather the London Blitz.
PAST IS PROLOGUE
Historical fiction is on the move, inventing new subgenres, expanding its range, and exploring even more deeply fan-favorite time periods. As Scheherazade illustrates, there is no end to the stories to be told, the power they wield, or the methods of their telling.
---
Virginia Grubbs and Jill Maguire are part of the Reader Services and Collection Development team at Darien Library, Darien, CT. They are both avid historical fiction fans and have served as moderators for Library Journal's Day of Dialog. In addition, they participate in the Connecticut Library Consortium's Readers' Advisory Roundtable and are members of the ALA.