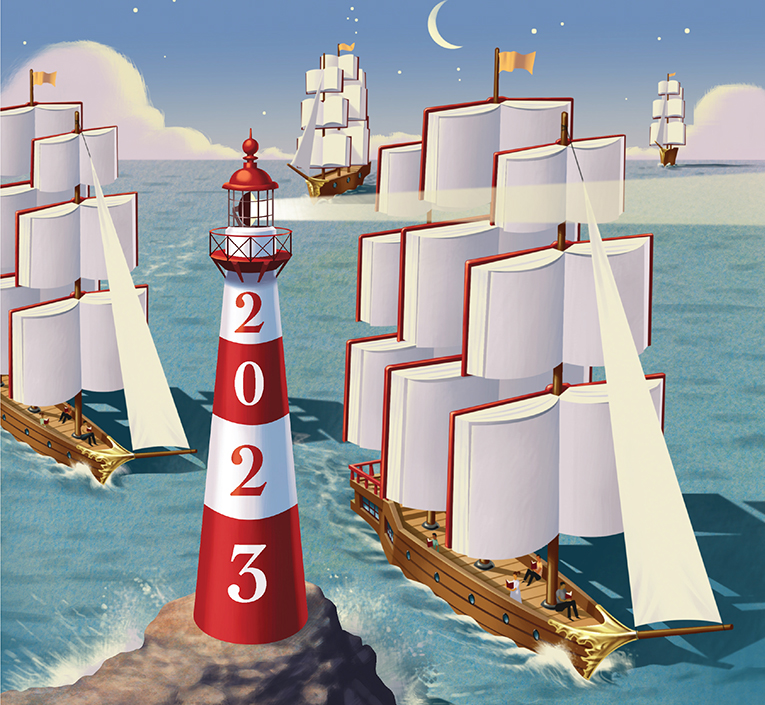 Illustration ©2023 Jim Tsinganos
In our fourth annual books preview, LJ presents 400+ titles in fiction, nonfiction, and poetry. The aim is to capture top titles and top trends, and the authors here—literary stars, scholars, and experts—are generally best-selling, award-winning, and/or award-nominated or worthy of being so, perhaps in the coming year. Click here for a downloadable spreadsheet of titles (based on currently available publisher information).
---
FICTION
COLONIAL/POSTCOLONIAL
Leila Aboulela's River Spirit (Grove, Mar.) limns an orphan's coming of age during Sudan's 1880s fight for independence. In Nguyễn Phan Quế Mai's Dust Child (Algonquin: Workman, Mar.), a U.S. soldier returns to Vietnam decades after the war, even as the scorned son of a Black U.S. soldier seeks his father. Ben Fountain's Devil Makes Three (Flatiron, Sept.) reveals power plays both local and regional as Haitian president Jean-Bertrand Aristide falls in a coup d'état. Siddhartha Deb's The Light at the End of the World (Soho, May) expertly compresses two centuries of India's history—and its future possibilities—into four sometimes fantastical sections and a coda. Debuter Kevin Jared Hosein's Hungry Ghosts (Ecco, Feb.) is family drama set in 1940s Trinidad as British and U.S. imperial power wanes. In debuter Eleanor Shearer's River Sing Me Home (Berkley, Jan.), a Barbados woman searches for the children taken from her when she was enslaved.
---
MEMOIRIST TO NOVELIST
In Hang the Moon (Scribner, Mar.), the second novel from Glass Castle author Jeannette Walls, a feisty young woman returns to her Prohibition-era hometown years after being thrown out by her family. H Is for Hawk author Helen Macdonald joins with Black Irish musician Sin Blaché to write the speculative Prophet (Grove, Aug.), with two intelligence officers trying to grasp how memories are being weaponized. Wild Game author Adrienne Brodeur plumbs the scratchy bonds between two Cape Cod siblings in Little Monsters (Avid Reader: S. & S., Jul.).
---
U.S. HISTORICAL
Daniel Mason's North Woods (Random, Sept.) chronicles the families inhabiting a New England home over centuries. Lauren Groff's The Vaster Wilds (Riverhead, Sept.) follows a servant girl who abandons a U.S. colonial settlement for the wilderness. Nancy Horan's House of Lincoln (Sourcebooks Landmark, Jun.) presents the aspiring president's Springfield, IL, household through the eyes of a Portuguese immigrant housemaid. In Jayne Anne Phillips's Night Watch (Knopf, Sept.), a mother and daughter seek refuge after the Civil War in the Trans-Allegheny Lunatic Asylum. In Charles Frazier's The Trackers (Ecco, Apr.), a New Deal assignment has Val Welch painting post-office murals in Dawes, WY, where his involvement with a wealthy ranching couple spells trouble. Marie Benedict & Victoria Christopher Murray's The First Ladies (Berkley, Jun.) vivifies the relationship between First Lady Eleanor Roosevelt and civil rights activist Mary McLeod Bethune. Alice McDermott's Absolution (Farrar, Nov.) portrays women impacted by the Vietnam War.
---
WORLD HISTORICAL
Three titles—Jennifer Saint's Atalanta (Flatiron, May), Costanza Casati's Clytemnestra (Sourcebooks Landmark, Mar.), and Natalie Haynes's Stone Blind, about the Medusa (Harper, Feb.)—reveal how popular feminist retellings of Greek mythology have become. In Salman Rushdie's Victory City (Random, Feb.), a goddess speaks through a nine-year-old girl in 1300s India to found a city where women and men are equal. In Lisa See's Lady Tan's Circle of Women (Scribner, Jun.), an arranged marriage threatens the aspirations of a young woman trained by her grandmother to be a physician in 15th-century China. William Boyd's The Romantic (Knopf, Aug.) follows County Cork–born adventurer Cashel Greville Ross across continents, ever haunted by his one true love. In Sarah Penner's The London Séance Society (Park Row: Harlequin, Mar.), Parisian spiritualist Vaudeline D'Allaire and her assistant encounter trouble in 1870s London. In Tania James's Loot (Knopf, Jun.), a young Indian man apprenticed to a French clockmaker must rescue a tiger automaton looted from his homeland by British troops. Set in 1800s Canada, Kai Thomas's In the Upper Country (Viking, Jan.) braids together the history of Black and Indigenous peoples in North America as a newcomer explains why she killed a bounty hunter. In Pip Williams's The Bookbinder of Jericho (Ballantine, Aug.), World War I changes everything for a young woman drudging through work at Oxford University Press's book bindery. In Jenny Erpenbeck's 1980s East Berlin–set Kairos (New Directions, Jun., tr. Michael Hofmann), 19-year-old Katharina's affair with a much older writer is backdropped by the dissolution of the German Democratic Republic.
---
WORLD WAR II HISTORICAL
In Pam Jenoff's Code Name Sapphire (Park Row: Harlequin, Feb.), German refugee Hannah Martel has a difficult choice to make after joining the resistance in Brussels. Brianna Labuskes's The Librarian of Burned Books (Morrow, Feb.) moves from Nazi resisters in 1933 Berlin to the German Library of Burned Books in 1936 Paris to efforts in 1944 to fight the censorship of U.S. soldiers' reading. In Madeline Martin's The Keeper of Hidden Books (Hanover Square: Harlequin, Aug.), practical Zofia and dreamy, half-Jewish Janina build an underground library in German-occupied Warsaw. Inspired by his mother's experiences, Luis Alberto Urrea tracks two Red Cross volunteers across war-shattered Europe in Good Night, Irene (Little, Brown, May).
---
BLACK HISTORY IN FICTION
In debuter Jamila Minnicks's Moonrise over New Jessup (Algonquin: Workman, Jan.), tension rises in all-Black 1950s New Jessup, AL, which has traditionally favored self-determination over integration. James McBride's 1970s-set The Heaven & Earth Grocery Store (Riverhead, Aug.) concerns residents of a Black and immigrant Jewish community, a deaf child they sought to protect, and a just-discovered skeleton. Moving from the Great Migration to early 2000s Brooklyn, Denene Millner's One Blood (St. Martin's, Sept.) parses the lives of a birth mother, an adoptive mother, and the child in question. In Tracey Rose Peyton's Night Wherever We Go (Ecco, Jan.), six enslaved women on a Texas plantation resist plans to impregnate them. Sadeqa Johnson's The House of Eve (S. & S., Feb.) intertwines the stories of 15-year-old Ruby, whose college ambitions are threatened by an affair, and Howard University student Eleanor, looking for acceptance from her boyfriend's elite Black family. In Brendan Slocumb's Symphony of Secrets (Anchor, Apr.), a scholar discovers that distinguished white 20th-century composer Frederick Delaney lifted much of his music from gifted Black jazz singer Josephine Reed. A Black baby girl in North Carolina is endowed with the spiritual responsibility of healing three generations of her family in Zelda Lockhart's Trinity (Amistad, Jul.). Two 1980s Brooklyn girls draw together in Vanessa Miller's inspirational The Light on Halsey Street (Thomas Nelson, Sept.).
---
CONTEMPORARY BLACK FICTION
In Anise Vance's Hush Harbor (Hanover Square: Harlequin, Sept.), a resistance group takes over an abandoned housing project in Bliss City, NJ, after police shoot an unarmed Black teenager. A sub-Saharan immigrant to the United States is mysteriously spirited home and ends up searching for his brother in Maya Binyam's Hangman (Farrar, Aug.), a book that reveals the impossibility of finding Black refuge. In Tembe Denton-Hurst's Homebodies (Harper, May), Mickey Hayward loses her cherished media job and writes a blistering manifesto detailing the racism and sexism she's experienced in her industry, which goes viral. In Monica Brashears's House of Cotton (Flatiron, Apr.), broke 19-year-old Magnolia accepts a gold-lined "modeling" job at a funeral home that becomes ever stranger. All debuts.
---
CONTEMPORARY ISSUES
In America Fantastica (Mariner: HarperCollins, Oct.), Tim O'Brien's first novel in two decades, the cross-country pursuit of a bank-robbing former journalist reveals a lot about the Trump-era United States. In Eleanor Catton's Birnam Wood (Farrar, Mar.), the guerrilla gardening group Birnam Wood gets the chance to create a sustainable farm on abandoned land. In Stephen Markley's The Deluge (S. & S., Jan.), committed climate activist Kate Morris wrestles with multiple crises in an extreme weather–fraught United States. A stark condemnation of the U.S. penal system, Nana Kwame Adjei-Brenyah's Chain-Gang All-Stars (Pantheon, May) features two women gladiators battling for their freedom in a for-profit private prison industry. Loved, hated, and very near the end of her life, Justice Sylvia Olin Bernstein tells her own story in Elizabeth L. Silver's The Majority (Riverhead, Jul.). Golden State author Lydia Kiesling's Mobility (Crooked Media: Zando, Aug.) discloses the geopolitical tensions of the early 2000s as it tracks Bunny Glenn from her teenage years in Azerbaijan with her Foreign Service family through her career in the oil industry. In Isabella Hammad's Enter Ghost (Grove, Apr.), actress Sonia Nasir returns home to Palestine and finds herself roped into a West Bank production of Hamlet.
---
INDIGENOUS EXPERIENCES
Books in multiple genres highlighting Indigenous experiences include Waiting for Wovoka: Envoys of Good Cheer and Liberty (Wesleyan Univ., Mar.), with author Gerald Vizenor, of the Minnesota Chippewa Tribe, fictionalizing his great-uncles to show how Indigenous peoples have shaped U.S. history. In Margaret Verble's Stealing (Mariner: HarperCollins, Feb.), a Cherokee girl is taken away to a Christian boarding school intent on expunging her heritage. Debra Magpie Earling, who is Bitterroot Salish, corrects the standard narrative about Sacajewea in The Lost Journals of Sacajewea (Milkweed, May). In his debut, Swim Home to the Vanished (Harper, Jun.), Diné author Brendan Shay Basham braids together a young man's flight from home after tragedy and the Long Walk, the deportation of the Diné from their lands. Mona Susan Power's A Council of Dolls (Mariner: HarperCollins, Aug.) chronicles three generations of Yanktonai Dakota women. Following his smash-hit debut thriller, Winter Counts, David Heska Wanbli Weiden revisits the Rosebud Indian Reservation with Wisdom Corner (Ecco, Nov.). In Cherie Dimaline's VenCo (Morrow, Feb.), a young Métis woman connects to a network of witches hoping to reunite the legendary seven spoons, thus allowing women to reclaim their rightful power. From debuter Jessica Johns, a member of the Sucker Creek First Nation, horror story Bad Cree (Doubleday, Jan.) sends a young Cree woman home to her family for help with her increasingly disturbing dreams. Set in an alternate 1840s New England, Moniquill Blackgoose's To Shape a Dragon's Breath: The First Book of Nampeshiweisit (Del Rey: Ballantine, May) features an Indigenous teenager honored by her people when she bonds with a baby dragon, but horrified by her repressive dragon school, run by Anglish conquerors.
---
IMMIGRANT EXPERIENCES
Isabel Allende's The Wind Knows My Name (Ballantine, Jun., tr. Frances Riddle) blends the stories of a boy placed on a Kindertransport train in 1938 Vienna and a girl pulled from her mother at the U.S. border in 2019 Arizona. In Pauls Toutonghi's The Refugee Ocean (S. & S., Nov.), a Lebanese woman who once aspired to studying music joins her fiancé in revolutionary Cuba, while decades later a Syrian piano prodigy must flee to the United States. Cristina García's Vanishing Maps (Knopf, Jul.) tells the story of Cuban matriarch Celia del Pino's family, scattered to the United States, Germany, and Russia. In DK Nnuro's What Napoleon Could Not Do (Riverhead, Feb.), Ghanian computer programmer Jacob wants to join his sister in the United States, but his wealthy Black Texan brother-in-law counters with tales of the country's deep-seated racism. In Bisi Adjapon's Daughter in Exile (HarperVia, Jan.), Lola leaves Senegal with her U.S. Marine beau but finds life in the United States harder than anticipated. In Joe Milan Jr.'s The All-American (Norton, Apr.), Korean American high school senior Bucky Yi is suddenly deported to South Korea, a country with which he is wholly unfamiliar.
---
LGBTQIA+ EXPERIENCES
In Edmund White's The Humble Lover (Bloomsbury, May), high-society octogenarian Aldwych West falls for gorgeous New York City Ballet soloist August Dupond, with complications. Thomas Mallon's Up with the Sun (Knopf, Feb.) limns show-business tensions and the suppression of gay rights as he revisits the life and murder of 1950s–60s actor Dick Kallman. In Bryan Washington's Family Meal (Riverhead, Oct.), queer TJ and Cam bond while growing up, and years later must navigate their estrangement. German British author Isabel Waidner's Goldsmiths-winning Sterling Karat Gold (Graywolf, Feb.) deals kaleidoscopically with multiple contemporary issues, particularly the problems confronting nonbinary migrants. In Jenny Fran Davis's Dykette (Holt, May), partners Sasha and Jesse escape Brooklyn for a complicated country holiday with two distinguished older lesbians. In Byron Lane's Big Gay Wedding (Holt, May), Barnett Durang has yet to tell his mother that he's getting married at her Louisiana farm.
---
LATINX/LATIN AMERICAN PERSPECTIVES
In Esmeralda Santiago's Las Madres (Knopf, Aug.), Luz returns home to Puerto Rico with friends and family in 2017, hoping to recover memories lost in a terrible accident there in 1975. YA author/poetry slam champion Elizabeth Acevedo goes adult with Family Lore (Ecco, Aug.), the story of a Dominican American family as told through its women. In Candelaria (Astra House, Oct.), a debut from poet Melissa Lozada Oliva, a Guatemalan grandmother searches for her family after a Massachusetts earthquake. In Melissa Rivero's Flores and Miss Paula (Ecco, Dec.), a Peruvian immigrant mother and her contrary millennial daughter try to make peace. John Manuel Arias's Where There Was Fire (Flatiron, Sept.) opens with a blaze at one of the American Fruit Company's banana plantations in 1968 Costa Rica that has long-term consequences for Teresa Cepeda Valverde's family.
---
ASIAN AMERICAN PERSPECTIVES
When successful Chinese American novelist Athena Liu dies in an accident, white rival June Hayward steals her new work in R.F. Kuang's Yellowface (Morrow, May). Debuter E.J. Koh's The Liberators (Tin House, Nov.) sweeps through four generations of a Korean family, while Ye Chun's Straw Dogs of the Universe (Catapult, Nov.) focuses on a Chinese father and daughter in 19th-century California. Matthew Salesses's The Sense of Wonder (Little, Brown, Jan.) stars Won Lee, the first Asian American in the NBA. In Mai Nguyen's Sunshine Nails (Atria, Jul.), the family nail salon of Vietnamese refugees Debbie and Phil Tran is threatened by the fancy chain salon that pops up across the street. Debuter C.K. Chau's Good Fortune (HarperVia, Jul.) sets Pride and Prejudice in contemporary New York's Chinatown.
---
AFRICAN PERSPECTIVES
In Leila Slimani's Watch Us Dance (Viking, Jun., tr. Sam Taylor), biracial siblings in late 1960s Morocco (their father is Moroccan, their mother French) deal very differently with the era's uncertainties. Ayobami Adebayo's Nigerian-set Spell of Good Things (Knopf, Feb.) brings together two contemporary Nigerian families. The inaugural title in Roxane Gay's new imprint, Ani Kayode Somtochukwu's And Then He Sang a Lullaby (Roxane Gay: Grove Atlantic, Jun.) features a young Nigerian man at university who's pulled toward the openly gay Segun—but then the country's notorious antigay laws descend. In Fatin Abbas's Ghost Season (Norton, Jan.), a badly burned corpse discovered on the border between northern and southern Sudan could mean trouble for a motley crew at the local NGO.
---
WOMEN'S PERSPECTIVES
In Louisa Hall's Reproduction (Ecco, Jun.), a novelist writes a modern Frankenstein after abandoning her book about Mary Shelley, which focused on pregnancy and childbirth. In Charmaine Craig's My Nemesis (Grove, Feb.), a white woman named Tessa must look beyond her assumptions after rudely accusing friend Charlie's biracial Asian wife of being "an insult to womankind." Debuter Selby Wynn Schwartz's After Sappho (Liveright: Norton, Jan.) sifts together the stories of women intent on living their own lives at the turn of the 20th century. Sharon Dodua Otoo's Ada's Room (Riverhead, Mar., tr. Jon Cho-Polizzi) features four Adas: a 15th-century West African woman who confronts a trader of enslaved people, Victorian England's Ada Lovelace, a concentration camp inmate, and a resident of contemporary Berlin. In Kate Myers's Excavations (HarperVia, Jul.), four very different women at an archaeological dig in Greece unexpectedly become friends. With I'm a Fan (Graywolf, Sept.), the story of a young woman in a toxic relationship, debuter Sheena Patel rips into issues of class, social media, and male power.
---
JOURNEYS
In Aleksandar Hemon's The World and All That It Holds (MCD: Farrar, Jan.), gentle-souled Rafael Pinto and man-of-action Osman abandon World War I's trenches and travel the world together. In Kate Morton's Homecoming (Mariner: HarperCollins, Apr.), Jess returns to Australia to discover that her family is associated with a long-ago crime. David James Duncan's long-awaited Sun House (Little, Brown, Aug.) sends three disillusioned souls on a solace-seeking journey to Montana's Elkmoon Beguine & Cattle Company. In Max Porter's Shy (Graywolf, May), a teenager sneaks out of a home for "disturbed young men," hoping to silence the voices in his head. In Justin Torres's Blackouts (Farrar, Oct.), the protagonist tends a dying man in the desert who will task him with a significant project. In Deborah Willis's Girlfriend on Mars (Norton, Jun.), Amber Kivinen is competing to win a seat on the first human mission to Mars.
---
DISCOVERIES
In Sebastian Barry's Old God's Time (Viking, Mar.), a retired policeman in seaside Ireland wrestles with an old case, even as the new neighbors remind him of the family he lost. The widow of convention-smashing artist X is in for a surprise after committing to writing her biography in Catherine Lacey's Biography of X (Farrar, Mar.). In Rebecca Makkai's I Have Some Questions for You (Viking, Feb.), Bodie Kane returns to teach at the boarding school where a classmate was murdered and begins wondering whether justice was served. In Patrick deWitt's The Librarianist (Ecco, Jul.), a retired librarian's life and complicated past open up when he begins volunteering at a senior center. Nathaniel Hawthorne's The Scarlet Letter speaks directly to the young heroine of Alice Hoffman's The Invisible Hour (Atria, Aug.), who lives in a repressive religious community.
---
BIG QUESTIONS
Karl Ove Knausgaard's The Wolves of Eternity (Penguin Pr., Sept.) considers what we owe ourselves and what we owe others. Yan Lianke's Heart Sutra (Grove, Mar., tr. Carlos Rojas) features a debate at Beijing's National Politics University among representatives of Buddhism, Daoism, Protestantism, Catholicism, and Islam. In Han Kang's Greek Lessons (Hogarth, Apr., tr. Deborah Smith & Emily Yae Won), a teacher in Seoul who's losing his eyesight bonds with a student consumed with grief who cannot speak. In Michiko Aoyama's What You Are Looking For Is in the Library (Hanover Square: Harlequin, Sept., tr. Alison Watts), librarian Sayuri Komachi always asks what patrons are looking for and then gives them something else they really need.
---
DYSTOPIAN/OFFBEAT
In C Pam Zhang's Land of Milk and Honey (Riverhead, Sept.), a chef flees Earth's smoggy, food-scarce desolation to serve amazing dishes at a mountaintop retreat for the elite, but is that ethical? In Ramona Ausubel's The Last Animal (Riverhead, Apr.), a team intent on bringing back the woolly mammoth from extinction is divided by the discovery of a baby mammoth's body, pristinely preserved. With another pandemic looming, failed marine biologist Neffy volunteers for an experimental vaccine trial in Claire Fuller's The Memory of Animals (Tin House, Jun.). Brando Skyhorse's My Name Is Iris (Avid Reader: S. & S., Aug.) envisions a near-future America mandating identification wristbands for second-generation immigrants. In I Am Homeless If This Is Not My Home (Knopf, Jun.), Lorrie Moore plumbs love and mortality while interweaving vanished journals, a visit to a dying brother, and the questionable deaths of a therapy clown and an assassin. In Elliot Ackerman's Halcyon (Knopf, May), U.S. government scientists in an alternate 2004 may have discovered a cure for death. In debuter Paz Pardo's The Shamshine Blind (Atria, Feb.), Argentina won the Falklands War with weapons that can spark human emotion, later leading to a conspiracy in the backwater United States. In Mathias Énard's Annual Banquet of the Gravedigger's Guild (New Directions, Sept., tr. Frank Wynne), an anthropology student discovers a town where life and death take a yearly truce to feast. In debuter Ayesha Manazir Siddiqi's The Centre (Gillian Flynn: Zando, Jul.), a Pakistani translator attends a London-based language school promising rapid fluency but finds there's a price to pay.
---
END OF DAYS
In Richard Ford's final Frank Bascombe novel, Be Mine (Ecco, Jun.), Frank spends his twilight years tending a son diagnosed with ALS. In Lee Smith's Silver (Algonquin: Hachette, Apr.), a curmudgeonly older man refuses to let his life dim, instead setting off on a last glorious journey. In Geetanjali Shree's International Booker Prize–winning Tomb of Sand (HarperVia, Jan., tr. Daisy Rockwell), the life of grieving Indian widow Ma is transformed by the gift of a beautiful cane. In Sean Michaels's Do You Remember Being Born (Astra House, Sept.), the life of aging, intentionally isolated poet Marian Ffarmer is transformed by the gift of a poetry bot. Jonathan Evison's Again and Again (Dutton, Nov.) stars cranky nursing-home resident Geno, who insists he's lived many lives and is still searching for his true love.
---
LOVE & MARRIAGE
Nathan Hill's Wellness (Knopf, Sept.) stars Jack and Elizabeth, who fall deliciously in love as 1990s art-ambitious college students, then as a long-married couple realize that they must sort out their lives to find each other again. In Ann Napolitano's Hello, Beautiful (Dial, Mar.), reserved William finds true love with effervescent Julia until trouble from his past intervenes. In Elizabeth Berg's Earth's the Right Place for Love (Random, Mar.), young Arthur Truluv tries to contain his crush on gorgeous Nola McCollum while steering clear of his violent war-veteran dad. In Emma Fedor's fantastical At Sea (Gallery, Mar.), the man Carla loves mysteriously disappears with their baby. A Hong Kong professor falls in love with a mechanical ballerina in Dorothy Tse's Owlish (Graywolf, Feb., tr. Natascha Bruce). In The Good Part (Putnam, Nov.), a romcom from Sophie Cousens, 26-year-old Lucy wishes she could skip over life's hard parts and wakes up happily married at 40.
---
FAMILY
In J. Ryan Stradal's Saturday Night at the Lakeside Supper Club (Pamela Dorman: Viking, Apr.), husband-and-wife Ned and Mariel Praeger face crises regarding the Minnesota family restaurant businesses each has inherited. From a top Australian author and one of the publisher's lead titles of the year, Helen Garner's The Children's Bach (Pantheon, Oct.) features a staid married couple with two sons, one with disabilities, who awaken to bohemian possibilities. Paul Murray's The Bee Sting (Farrar, Aug.) seeks to discover what went wrong with the Barnes family, while Tracey Lange's The Connellys of County Down (Celadon, Aug.) also showcases good family intentions gone awry. A.B. Yehoshua's The Only Daughter (HarperVia, Apr.) features Rachele Luzzato of Padua, Italy, preparing for both her bat mitzvah and her role as the Madonna in her school's Christmas play. Debuter Diane Marie Brown's Black Candle Women (Graydon House: Harlequin, Feb.) features four generations of New Orleans women under a voodoo curse. Susannah B. Lewis's Della and Darby (Thomas Nelson, Feb.) features twins in small-town Mississippi sorting out their relationship. In Jillian Cantor's The Fiction Writer (Park Row: Harlequin, Nov.), a wealthy man hires the protagonist to discover whether Daphne du Maurier plagiarized Rebecca from his grandmother. Ruth Madievsky's All-Night Pharmacy (Catapult, Jul.) features an unnamed narrator searching for her vanished sister through a hazy LA underground. In Banana Yoshimoto's The Premonition (Counterpoint, Oct., tr. Asa Yoneda), Yayoi seeks to recover an important childhood memory by moving in with a mysterious aunt. Debuter Asale Angel-Ajani's A Country You Can Leave portrays the struggle between Black biracial Lara and her secretive Russian-born white mother.
---
MOTHERHOOD
A single mother who has worked hard to give her children what she never had finally enters a state hospital with depression in Mona Simpson's 1970s-set Commitment (Knopf, Mar.). Jean Kwok's The Leftover Woman (Morrow, Oct.) features two very different women contending with motherhood in New York. From Mothering author Ainslie Hogarth, Normal Women (Vintage, Oct.) follows a young mother caught up in the search for a missing sex worker. In Chandler Baker's creepily funny Cutting Teeth (Flatiron, Jul.), three women worrying about being subsumed by motherhood are distracted by a schoolteacher's death, with their literally bloodthirsty four-year-olds among the suspects. A woman secretly watching the grandchildren she's never met struggles to understand why she and her beloved daughter have become estranged in Hila Blum's How To Love Your Daughter (Riverhead, Jul., tr. Daniella Zamir). In Christine Platt & Catherine Wigginton Greene's Rebecca, Not Becky (Amistad, Dec.), a Black mother and a white mother working to create a friendship pull together over the removal of a Confederate statue in town.
---
COMMUNITY
After the sensational Harlem Shuffle, furniture-store owner and ex-fence Ray Carney returns with more 1970s Harlem adventures in Colson Whitehead's Crook Manifesto (Doubleday, Jul.). After the sensational Cutting for Stone, Abraham Verghese returns with a family drama unfolding within the Christian community of Kerala on southern India's Malabar Coast in The Covenant of Water (Grove, May). Richard Russo returns with more stories about upstate New York's North Bath in Somebody's Fool (Knopf, Jul.). Andre Dubus III again vivifies working-class New England in Such Kindness (Norton, Jun.). Jonathan Lethem can't let go of Brooklyn, tracking one neighborhood's story of community, crime, and gentrification over a half-century in Brooklyn Crime Novel (Ecco, Oct.). Brandon Taylor visits a group of young men and women in Iowa City on a search for self in The Late Americans (Riverhead, May). Steven Rowley visits a group of old college friends whose bond is about to be wrecked by a secret in The Celebrants (Putnam, May). Lindsay Hunter visits two suburban families whose superficial peace is about to be wrecked by one woman's hard-headed choices in Hot Springs Drive (Roxane Gay: Grove Atlantic, Nov.). Celebrated short story writer Karin Lin-Greenberg visits a shuttering mall in her debut novel, You Are Here (Counterpoint, May). Tyriek White's We Are a Haunting (Astra House, Apr.) opens with an East New York neighborhood, and especially a mother and her teenage son, shattered by the death of a beloved doula serving Black women. In Sunny Hostin's Summer on Sag Harbor (Morrow, May), successful financier Olivia seeks renewal by moving to a summer home in SANS (Sag Harbor Hills, Azurest, and Nineveh), a quiet Hamptons enclave for the Black elite since the 1930s.
---
HOLLYWOOD
Gail Tsukiyama's The Brightest Star (HarperVia, Jun.) reimagines the life of Anna May Wong, James Ellroy's The Enchanters (Knopf, Sept.) reimagines Hollywood's reaction to Marilyn Monroe's death, and Tom Hanks's The Making of Another Major Motion Picture Masterpiece (Knopf, Mar.) tracks a tender family story behind a multimillion-dollar superhero action film. Behind-the-scenes screenwriters find inspiration in Karma Brown's What Wild Women Do (Dutton, Nov.) and Curtis Sittenfeld's Romantic Comedy (Random, Apr.), while a novelist rebels when Hollywood hacks try to turn the androgynous, eco-crusading protagonist of her feminist novel into a vampy teen in Julia Langbein's American Mermaid (Doubleday, Mar.).
---
MYSTERY
Tiger mom Amy Chua crafts a first mystery with The Golden Gate (Minotaur: St. Martin's, Sept.). Other notable mysteries include Walter Mosley's Every Man a King: A King Oliver Novel (Mulholland: Little, Brown, Feb.); Naomi Hirahara's post–World War II Evergreen (Soho, Aug.); "Maisie Dobbs" author Jacqueline Winspear's series starter, The White Lady (Harper, Mar.); Reese Witherspoon Book Club–honored Balli Kaur Jaswal's Now You See Us (Morrow, Mar.); Edgar winner Angie Kim's second novel, Happiness Falls (Hogarth, Sept.); Ariel Lawhon's The Frozen River (Doubleday, Nov.), based on an 18th-century trial; and Australian best-selling Tea Cooper's The Butterfly Collector (Harper Muse, Nov.). Plus Hannah Morrissey's When I'm Dead (Minotaur: St. Martin's, Nov.), Samantha Jayne Allen's Hard Rain (Minotaur: St. Martin's, Apr.), and Eli Cranor's Ozark Dogs (Soho Crime, Apr.), all second novels from first-time stars.
---
THRILLERS
Martin Cruz Smith's Independence Square: Arkady Renko in Ukraine (S. & S., May) takes the eponymous hero to Kyiv in search of an acquaintance's anti-Putin daughter. Other notable thrillers include James Lee Burke's Civil War–set Flags on the Bayou (Atlantic Monthly, Jul.); New Yorker–boosted British author Mick Herron's The Secret Hours (Soho, Sept.); Douglas Preston flying solo with Extinction (Forge, Oct.), then rejoining Lincoln Child in Dead Mountain (Grand Central, Aug.); Mary Higgins Clark & Alafair Burke's Where Are the Children Now? (S. & S., Apr.); and Justin Cronin's dystopian stand-alone, The Ferryman (Ballantine, May). David Joy's Those We Thought We Knew (Putnam, Aug.) features tensions surrounding a North Carolina community's Confederate monument, Kevin Powers's A Line in the Sand (Little, Brown, May) features a former Iraqi interpreter, and Michael Bennett's Better the Blood (Atlantic Monthly, Jan.) features Maˉori detective Hana Westerman. With Age of Vice (Riverhead, Jan.), Deepti Kapoor launches a trilogy about a corrupt New Delhi family, while Joseph O'Connor's My Father's House (Europa, Feb.) focuses on real-life Monsignor Hugh O'Flaherty's efforts to smuggle refugees from the Vatican during World War II. Kia Abdullah's Perfectly Nice Neighbors (Putnam, Nov.) concerns a Bangladeshi family contending with a white racist neighbor, Barbara Abel's big screen–slated Mothers' Instinct (HarperVia, May, tr. Susan Pickford) concerns two families sundered by a child's death, and S.A. Cosby's All the Sinners Bleed (Flatiron, Jun.) concerns the newly elected Black sheriff of a small Southern town. Kelly Rimmer's The Paris Agent (Graydon House: Harlequin, Jul.) follows two female SOE agents in World War II France, while Jake Tapper's 1970s-set All the Demons Are Here (Little, Brown, Jul.) centers on a senator's wayward children.
---
SFF/HORROR
Big-name SFF titles include Annalee Newitz's The Terraformers (Tor, Jan.), R.A. Salvatore's Lolth's Warrior (Harper Voyager, Aug.), John Scalzi's Starter Villain (Tor, Sept.), Martha Wells's Witch King (Tor.com, May), E. Lily Yu's Jewel Box: Stories (Erewhon, Feb.), S.L Huang's The Water Outlaws (Tor.com, Jun.), Cory Doctorow's Red Team Blues: A Martin Hench Novel (Tor, Apr.), and Cadwell Turnbull's We Are the Crisis (Blackstone, Nov.). Horror highlights include Cassandra Khaw's The Salt Grows Heavy (Tor Nightfire, May), Darcy Coates's The Twisted Dead (Poisoned Pen: Sourcebooks, Feb.), Catriona Ward's Looking Glass Sound (Tor Nightfire, Aug.), and Our Share of Night (Hogarth, Feb.), by Mariana Enriquez (text) & Pablo Gerardo Camacho (illus.). Also look for New York Times best-selling author Edan Lepucki's Time's Mouth (Counterpoint, Aug.), a California-set venture into time travel, and debuter Amiee Gibbs's historical fantasy Carnivale of Curiosities (Grand Central, Jul.).
---
SHORT STORY COLLECTIONS
Big-name offerings include Margaret Atwood's Old Babes in the Wood (Doubleday, Mar.), Joyce Carol Oates's Zero Sum (Knopf, Jul.), Kate Atkinson's Normal Rules Don't Apply (Doubleday, Sept.), Steven Millhauser's Disruptions (Knopf, Aug.), Tessa Hadley's After the Funeral and Other Stories (Knopf, Jul.), and Jeanette Winterson's The Night Side of the River (Grove, Oct.), plus works by two recent National Book Award finalists: Alejandro Varela's The People Who Report More Stress (Astra House, Apr.), and Jamel Brinkley's Witness (Farrar, Aug.). Exciting new voices include Kenan Orhan's Turkish-set, absurdist-touched I Am My Country (Random, Apr.), Hong Kong–born French poet/musician Fiona Sze-Lorrain's Dear Chrysanthemums: A Novel in Stories (Scribner, May), and Nishanth Injam's buzzy debut, The Best Possible Experience (Pantheon, Jul.).
---
FACT REIMAGINED
In This Other Eden (Norton, Jan.), Paul Harding persuasively reimagines the racially integrated community thriving on Maine's Malaga Island until the early 1900s. Zadie Smith's The Fraud (Penguin Pr., Sept.) considers who gets to speak and who gets believed, drawing on a trial that upended Victorian England. Juan Gabriel Vásquez's Retrospective (Riverhead, May, tr. Anne McLean) revisits Colombian film director Sergio Cabrera and the ideological endeavors that shaped him. Actor Paterson Joseph's The Secret Diaries of Charles Ignatius Sancho (Holt, Apr.) brings to life the 1700s abolitionist (and composer) who became the first Black person to vote in Britain. Rachel Cantor brings us the Brontë sisters in Half-Life of a Stolen Sister (Soho, Jul.). In the multi-award-winning The Postcard (Europa, May, tr. Tina Kover), French author Anne Berest builds on her family's receipt of a mysterious missive to reconstruct the history of her forebears, many lost in the Holocaust.
---
NONFICTION
HISTORY: THE BIG PICTURE
Naoíse Mac Sweeney's The West: A New History in Fourteen Lives (Dutton, May) argues that Western civilization is not a single culture stretching back to ancient Greece, a concept conjured by collective imagination. Other key titles include Simon Winchester's Knowing What We Know: The Transmission of Knowledge; from Ancient Wisdom to Modern Magic (Harper, Apr.); Simon Sebag Montefiore's The World: A Family History of Humanity (Knopf, May); Martin Puchner's Culture: The Story of Us, from Cave Art to K-Pop (Norton, Feb.); Peter Frankopan's The Earth Transformed: An Untold History (Knopf. Apr.), showing the impact of climate change over time; Jonathan Kennedy's Pathogenesis: A History of the World in Eight Plagues (Crown, Apr.); and Neil Howe's The Fourth Turning Is Here (S. & S., Jul.), a follow-up to 1997's best-selling The Fourth Turning about historical cycles, that places us in the chaotic end state of one cycle.
---
WORLD HISTORY
Chad L. Williams's The Wounded World: W.E.B. Du Bois and the First World War (Farrar, Apr.) limns Du Bois's bitter disappointment that support for the war did not win Black Americans their rights. Other key titles include Sanghera Sathnam's UK best-selling Empireland: How Imperialism Has Shaped Modern Britain (Pantheon, Feb.); David Blackbourn's revisionist Germany in the World: A Global History, 1500–2000 (Liveright: Norton, Jun.); David Grann's The Wager: A Tale of Shipwreck, Mutiny and Murder (Doubleday, Apr.), chronicling a British warship's scandalous 1740s wreck; and Timothy Garton Ash's post–World War II Homelands: A Personal History of Europe (Yale Univ., Mar.). Azam Ahmed's Fear Is Just a Word chronicles violence in Mexico and one woman's crusade to avenge her murdered daughter, while Julia Ioffe's Motherland (Ecco, Dec.) presents modern Russia through its women. Other key titles include Brad Meltzer & Josh Mensch's The Nazi Conspiracy: The Secret Plot To Kill Roosevelt, Stalin, and Churchill (Flatiron, Jan.), George Black's The Long Reckoning: A Story of War, Peace, and Redemption in Vietnam (Knopf, Mar.), Tania Branigan's Red Memory: The Afterlives of China's Cultural Revolution (Norton, May), Justice Malala's The Plot To Save South Africa: The Week Mandela Averted Civil War and Forged a New Nation (S. & S., Apr.), Ghaith Abdul-Ahad's A Stranger in Your Own City: Travels in the Middle East's Long War (Knopf, Mar.), and Douglas Preston's The Lost Tomb (Grand Central, Dec.), the thriller-writer's first historical-nonfiction collection.
---
BLACK HISTORY
Michael Harriot corrects white-shaped mythologies about U.S. history while putting Black Americans at its center in Black AF History: The Un-Whitewashed Story of America (Dey Street, Sept.). Rachel Swarns's The 272: The Families Who Were Enslaved and Sold To Build the American Catholic Church (Random, Jun.) unearths of the history of the families sold off by the Jesuits to support its mission. Nick Tabor's Africatown: America's Last Slave Ship and the Community It Created (St. Martin's, Feb.) and Hannah Durkin's The Last Slaves (Amistad, Sept.) tell the story of the Clotilda, which illegally brought the last group of enslaved people from Africa to the United States in 1860. In Flee North: A Forgotten Hero and the Fight for Freedom in Slavery's Borderland (Celadon, Sept.), Scott Shane highlights abolitionist Thomas Smallwood, who named the Underground Railroad. Rev. Wheeler Parker Jr. & Christopher Benson's A Few Days Full of Trouble: Revelations on the Journey to Justice for My Cousin and Best Friend, Emmett Till (One World: Penguin Random, Jan.) comes from the last living witness to Emmett Till's lynching. Paul Kix's You Have To Be Prepared To Die Before You Can Begin To Live: Ten Weeks in Birmingham That Changed America (Celadon: Macmillan, May) recounts the Southern Christian Leadership Conference's 1963 campaign to end segregation in Birmingham.
---
CURRENT ISSUES
Ijeoma Oluo's Be a Revolution (HarperOne, Sept.) probes antiracist activism in the United States today. Joe Sexton's The Lost Sons of Omaha: Two Young Men in an American Tragedy (Scribner, May) examines white bar owner Jake Gardner's shooting of Black protestor James Scurlock during protests in Omaha, NE, following George Floyd's murder. Leah Rothstein & Richard Rothstein's Just Action: Creating a Movement That Can End Segregation Enacted Under the Color of Law (Liveright: Norton, Jun.) examines how segregation can be dismantled. Other key titles include Héctor Tobar's Our Migrant Souls: A Meditation on Race and the Meanings and Myths of "Latino" (MCD: Farrar, May), Tracy Kidder's Rough Sleepers: Dr. Jim O'Connell's Urgent Mission To Bring Healing to Homeless People (Random, Jan.), Mona Gable's Searching for Savanna: The Murder of One Native American Woman and the Violence Against the Many (Atria, Apr.), journalist Monica Potts's The Forgotten Girls: A Memoir of Friendship and Lost Promise in Rural America (Random, Apr.), Michael Waldman's The Supermajority: The Year the Supreme Court Divided America (S. & S., Jun.), Jeffrey Toobin's Homegrown: Timothy McVeigh and the Rise of Right Wing Extremism (S. & S., May), Matthew Desmond's Poverty, by America (Crown, Mar.), and Jeanna Smialek's Limitless: The Federal Reserve Takes on a New Age of Crisis (Knopf, Feb.). Bryce Andrews's Holding Fire: A Reckoning with the American West (Mariner: HarperCollins, Feb.), Paul Auster's Bloodbath Nation (Grove, Jan.), and Cameron McWhirter & Zusha Elinson's American Gun: The Story of the AR-15, the Rifle That Divided a Nation (Farrar, Sept.) show how guns have shaped the United States.
---
U.S. POLITICS
Chris Whipple's The Fight of His Life: Inside Joe Biden's White House (Scribner, Jan.) and Franklin Foer's The Last Politician (Penguin Pr., Sept.) plumb the Biden presidency. Robert Kagan's Everything Is at Stake: The Crisis of Our Lifetime (Knopf, Sept.) considers the threat Trump poses in the next election, while former Department of Homeland Security chief of staff Miles Taylor's Blowback: A Warning To Save Democracy from the Next Trump (Atria, May) considers the dangers of Trumpism generally. Sen. Amy Klobuchar revisits her life in The Joy of Politics: Surviving Cancer, a Campaign, a Pandemic, an Insurrection, and Life's Other Unexpected Curveballs (St. Martin's, May).
---
BIOGRAPHY
Dual biographies include Joy-Ann Reid's Medgar and Myrlie (Mariner: HarperCollins, Oct.), about assassinated civil rights leader Medgar Evers and his activist wife, Myrlie; and South African writer Jonny Steinberg's Winnie and Nelson: Portrait of a Marriage (Knopf, May), showing how the marriage of Winnie and Nelson Mandela reflects South African history and tensions within the antiapartheid movement. Chun Han Wong's Party of One: The Rise of Xi Jinping and China's Superpower Future (Avid Reader: S. & S., May) was written in Hong Kong after the Chinese government refused to renew the Wall Street Journal reporter's press credentials. Other biographies: Jonathan Eig's King: A Life (Farrar, May), Larry Rohter's Into the Amazon: The Life of Cândido Rondon, Trailblazing Explorer, Scientist, Statesman, and Conservationist (Norton, Apr.), Richard Norton Smith's An Ordinary Man: The Surprising Life and Historic Presidency of Gerald R. Ford (Harper, Apr.), Anna Funder's Wifedom: Mrs. Orwell's Invisible Life (Knopf, Aug.), and Sara B. Franklin's The Editor: How Judith Jones Shaped Food and Culture in America (Atria, Nov.).
---
SCITECH
Top science titles include Dan Egan's The Devil's Element: Phosphorus and a World Out of Balance (Norton, Mar.), Thomas Hertog's On the Origin of Time: Stephen Hawking's Final Theory (Bantam, Apr.), and Phil Plait's Under Alien Skies: A Sightseer's Guide to the Universe (Norton, Apr.). Top tech titles include Frances Haugen's Every Choice Matters: How I Found the Strength To Tell the Truth and Why I Blew the Whistle on Facebook (Little, Brown, May); Taylor Lorenz's big players' assessment, Extremely Online (S. & S., Oct.); and AI company founder Mustafa Suleyman's Containment Is Not Possible (Crown, Oct.), about the dangers posed by fast-developing technologies. Serafina El-Badry Nance's Starstruck: A Memoir of Astrophysics and Finding Light in the Dark (Dutton, Jun.) and Aomawa Shields's Life on Other Planets: A Memoir of Finding My Place in the Universe (Viking, Jun.) celebrate astrophysics while recounting discrimination they've faced as women scientists of color. Rising-star scientist Cat Bohannon turns up with Eve: How the Female Body Drove 200 Million Years of Evolution (Knopf, Sept.).
---
THE NATURAL WORLD
David Lipsky's The Parrot and the Igloo: Climate and the Science of Denial (Norton, Jul.), Elizabeth Rush's Antarctica-set The Quickening: Creation and Community at Ends of the Earth, and marine biologist Ayana Elizabeth Johnson's What If We Get It Right: Visions of Climate Future (One World, Sept.) confront climate catastrophe. Timothy C. Winegard trots out The Horse (Dutton, Dec.), while Kim Wickens gives us Lexington: The Extraordinary Life and Turbulent Times of America's Legendary Racehorse (Ballantine, Jul.), the subject of Geraldine Brooks's novel Horse. Baby birds—a screech owl and a magpie, respectively—star in ecologist Carl Safina's Alfie and Me (Norton, Sept.) and painter/poet Frieda Hughes's George: A Magpie Memoir (Avid Reader: S. & S., Jun.). See also Katie Holden's The Language of Trees: A Rewilding of Literature and Landscape (Tin House, Apr.), Allen Crawford's A Wild Promise: An Illustrated Celebration of the Endangered Species Act (Tin House, Jul.), marine biologist Hannah Stowe's Move Like Water (Tin House, Sept.), Susan Casey's The Underworld: Journeys to the Depths of the Ocean (Doubleday, Aug.), and, on the Black relationship to nature, Camille T. Dungy's Soil: The Story of a Black Mother's Garden (S. & S., May) and A Darker Wilderness: Black Nature Writing from Soil to Stars (Milkweed, Feb.), edited by Erin Sharkey.
---
MEDICAL
Epidemiologist Michael Osterholm & documentarian Mark Olshaker's The Big One (Little, Brown Spark, Dec.) prepare us for the coming pandemics. Biochemist Katalin Karikó explains how her research (and longtime perseverance) led to the COVID vaccine in Breaking Through (Crown, Oct.). Ilana Yurkiewicz's Fragmented: A Doctor's Quest To Piece Together American Health Care (Norton, Jul.), Ricardo Nuila's The People's Hospital: Hope and Peril in American Medicine (Scribner, Mar.), and Angela Marshall's (with Kathy Palokoff) Dismissed: Tackling the Biases That Undermine Our Healthcare (Kensington, Mar.) challenge the U.S. healthcare system.
---
CULTURAL CONVERSATIONS
Celebrated poet Terrance Hayes uses illustrated prose to discuss poetry in Watch Your Language: Visual and Literary Reflections on a Century of American Poetry (Penguin Poets, Jul.), while poet/critic/slam champion Joshua Bennett investigates the spoken-word phenomenon in Spoken Word: A Cultural History (Knopf, Mar.). Brian Teare's Poem Bitten by a Man (Nightboat, Sept.) is a full-length poetic essay examining the ties binding disability, race, and queerness. Other key titles include Mario Vargas Llosa's The Call of the Tribe (Farrar, Jan., tr. John King), Nona Fernández's Voyager: Constellations of Memory (Graywolf, Feb., tr. Natasha Wimmer), Tsitsi Dangarembga's Black and Female: Essays (Graywolf, Jan.), Sarah Bakewell's Humanly Possible: Seven Hundred Years of Humanist Freethinking, Inquiry, and Hope (Penguin Pr., Mar.), and Jenn Shaplan's Thin Skin (Pantheon, Aug.), on our entanglement in the world. See also David Waldstreicher's The Odyssey of Phillis Wheatley: A Poet's Journeys Through American Slavery and Independence (Farrar, Mar.), Whiting Award winner Vanessa Angélica Villarreal's Magical/Realism: Essays on Music, Memory, Fantasy, and Borders (Tiny Reparations, Nov.), and Farah Karim-Cooper's The Great White Bard: How To Love Shakespeare While Talking About Race (Viking, Aug.), from the codirector of education at Shakespeare's Globe Theatre.
---
CREATIVES SPEAK
Writers' memoirs include Shane McCrae's Pulling the Chariot of the Sun: A Memoir of a Kidnapping (Scribner, Aug.), about the award-winning biracial poet's kidnapping as a child by his white-supremacist grandparents; MacArthur Fellow Cristina Rivera Garza's Liliana's Invincible Summer: A Sister's Search for Justice (Hogarth, Feb.), a meditation on her sister's 1990 murder by a former boyfriend; and novelist Laila Halaby's The Weight of Ghosts (Red Hen, Sept.), about her 21-year-old son's death at a time of national upheaval. Plus Donna Leon's Wandering Through Life (Atlantic Monthly, Sept.), Kwame Alexander's Why Fathers Cry at Night: A Memoir in Love Poems, Recipes, Letters, and Remembrances (Little, Brown, May), Rose Styron's Beyond This Harbor: Adventurous Tales of the Heart (Knopf, Jun.), and Morrie Schwartz & Rob Schwartz's The Wisdom of Morrie (Blackstone, Apr.), from the subject of Mitch Albom's Tuesdays with Morrie. Performers' memoirs include Elliot Page's Pageboy (Flatiron, Jun.), Willie Nelson's Energy Follows Thought: The Stories Behind My Songs (Morrow, Oct.), Chita Rivera's Chita: A Memoir (HarperOne, Apr.), and Jada Pinkett Smith's Untitled memoir (Dey Street, Fall).
---
THE POWER OF MEMOIR
Nobel Prize winner Annie Ernaux's Look at the Lights, My Love (Yale Univ., Apr., tr. Alison L. Strayer) follows her visits to a single superstore in Paris, a "great human meeting place." In Father and Son (Knopf, Sept.), Jonathan Raban relates his battle during post-stroke rehabilitation to his father's fighting during World War II. As related in Sink (Grand Central, Feb.), Joseph Earl Thomas rose from a bullied, battered childhood to Pokémon champion and University of Pennsylvania doctoral candidate. More accounts of rising above hard childhoods include Goldie Taylor's The Love You Save (Hanover Square: Harlequin, Jan.), No Visible Bruises author Rachel Louise Snyder's Women We Buried, Women We Burned (Bloomsbury, May), Michelle Miller's Belonging: A Daughter's Search for Identity Through Love and Loss (Harper, Mar.), and The Hard Parts: A Memoir of Courage and Triumph (Scribner, Feb.), from decorated Winter Paralympian Oksana Masters, with Cassidy Randall. More big memoirs: Tom Brokaw's Never Give Up: A Prairie Family's Story (Random, Jun.), Anna Lekas Miller's Love Across Borders: Passports, Papers, and Romance in a Divided World (Algonquin, Jun.), Miles Lagoze's Whistles from the Graveyard: My Time Behind the Camera on War, Rage, and Restless Youth in Afghanistan (One Signal: Atria, Nov.), Stephanie Land's Untitled memoir (One Signal, Sept.), Christie Tate's B.F.F.: A Memoir of Friendship Lost and Found (Avid Reader: S. & S., Feb.), and An Unspeakable Hope: Brutality, Forgiveness, and Building a Better Future for My Son (Atria, May) by Leon Ford, with Jeffrey Renard Allen.
---
UKRAINE IN CONTEXT
Harvard Ukrainian expert Serhii Plokhy chronicles Russia's invasions of Ukraine in The Russo-Ukrainian War (Norton, May). Other key titles include award-winning journalist and best-selling author Mikhail Zygar's War and Punishment: Putin, Zelensky, and the Path to Russia's Invasion of Ukraine (Scribner, Jul.); Ukrainian novelist Serhiy Zhadan's account of the war's early days, Sky Above Kharkiv: Dispatches from the Ukrainian Front (Yale Univ., May); journalist Benjamin Hall's Saved: A War Reporter's Mission To Make It Home (Harper, Mar.), about surviving injury received while covering the war; celebrated Czech/French novelist Milan Kundera's A Kidnapped West: The Tragedy of Central Europe (Harper, Apr., tr. Linda Asher), arguing that the "small nations" of Ukraine, Poland, etc., are culturally European; and Jacob Mikanowski's Goodbye,
Eastern Europe: An Intimate History of a Divided Land (Pantheon, Jul.).
---
POETRY
OPENING THE DOOR
Poets connecting our inner selves to the outer world (and beyond) include Ann Lauterbach, whose Door (Penguin Poets, Mar.) investigates the many thresholds we cross. Marilyn Hacker's Calligraphies (Norton, Apr.) honors exiles, refugees, and anyone else balancing precariously on life's knife edge, while Ben Lerner swings from the containedly personal to the embracingly political in The Lights (Farrar, Sept.). Hannah Sullivan's Was It for This (Farrar, Jan.) piercingly limns heart, mind, and soul, then leaps to our collective experience. In musically astute, you-are-there language, Maureen N. McLane gauges our shifting moods and wants, then lifts us into the world in What You Want (Farrar, May). Deborah Landau's Skeletons (Copper Canyon, Apr.) wittily shows how, in our death-haunted loneliness (especially during COVID lockdown), we still reach for flowers, light, and love. April Bernard searches for something transcendently beyond everyday skirmishes in The World Behind the World: Poems (Norton, Mar.), Ruth Ellen Kocher sees the human body as mediating between the everyday and a larger beyond in godhouse (Omnidawn, Apr.), and Ange Mlinko draws lines between past and present, the ordinary and the transcendent, in Venice (Farrar, Apr.). In A Fire in the Hills (Red Hen, Apr.), Afaa Weaver seeks to define himself in relation to his environment, particularly as a Black man in the United States. Confronting his ghosts, Brandon Shimoda reveals how our past informs our present (and future desires) in Hydra Medusa (Nightboat, Jun.).
---
PLACE/NATURE
B.H. Fairchild's An Ordinary Life (Norton, Jan.) clarifies the gorgeousness within the everyday, focusing on small-town and blue-collar life. Former NEA chair Dana Gioia revisits the Los Angeles of his youth in Meet Me at the Lighthouse (Graywolf, Feb.), while Patricia Spears Jones invites us to visit her in Brooklyn with The Beloved Community (Copper Canyon, Sept.). Winner of the Max Ritvo Poetry Prize, Jackson Holbert's Winter Stranger (Milkweed, Jun.) uses spare language to portray a Washington countryside beset by hopelessness and addiction. Pattiann Rogers's Flickering (Penguin Poets, Apr.) continues her sensitive exploration of the human-wilderness connection, while Eleni Sikelianos's Your Kingdom (Coffee House, Jan.) revels in our deep-seated origins in the natural world.
---
GRIEF
In Peter Gizzi's Fierce Elegy (Wesleyan Univ., Aug.), poems on ferocious heartbrokenness also attest to joy. Bread Loaf director Jennifer Grotz's Still Falling (Graywolf, May) delivers the gut-punch pain of death, disappointed dreams, and done relationships. Bob Hicok's Water Look Away (Copper Canyon, Aug.) offers a love story ending in a wife's suicide. In the Levis Prize–winning Romantic Comedy (Four Way, Mar.), queer poet James Allen Hall seeks to redefine himself as he revisits sexual assault and addiction, while Aaron Smith mourns his mother's death and elucidates his struggles as a gay man in Stop Lying (Univ. of Pittsburgh, Jan.).
---
PERSONAL/CONNECTION
Terrance Hayes's So To Speak (Penguin Poets, Jul.) embeds us in a complex world of eager children, frightened tree frogs, and George Floyd's death (see his Watch Your Language in Nonfiction). Shane McCrae's The Many Hundreds of the Scent (Farrar, Oct.) uses classical allusion as he reconstructs a painful childhood (see his Pulling the Chariot of the Sun in Nonfiction). In Above Ground (Little, Brown, Mar.), Clint Smith shows how fatherhood has reconfigured his sense of the world. Debuter Maggie Millner's Couplets: A Love Story (Farrar, Feb.) investigates coming out, Lamba Award–winning Ana Božičević's New Life (Wave, Apr.) underlines constant self-discovery, and Katie Farris's Standing in the Forest of Being Alive (Alice James, Apr.) probes her cancer diagnosis at age 36 during pandemic and political upheaval. Elisa Gonzalez's Night Trains (Farrar, Sept.) balances between loving this world and rejecting its cruelties. Drawn from the publisher's in-house catalogue, The World Has Need of You: Poems for Connection (Copper Canyon, Apr.) presents solace in hard times.
---
SOCIAL FORCES
In Redaction (Norton, Feb.), poet/attorney Reginald Dwayne Betts and artist/filmmaker Titus Kaphar (both MacArthur Fellows) join forces to highlight the injustices of the U.S. justice system, using the technique of redaction—blotting out lines in legal documents—to reveal key words that clarify the erasure of Black lives and Black rights. Nicole Sealey uses the same technique to reshape the Justice Department's report on Michael Brown's 2014 shooting death in The Ferguson Report: An Erasure (Knopf, Aug.). In Promises of Gold (Holt, Feb., tr. David Ruano), José Olivarez considers how forces like gender, capitalism, and religion shape our every act of love. Leslie Sainz's Have You Been Long Enough at Table (Tin House, Sept.) explores the Cuban American experience from a feminist perspective, while Melania Luisa Marte's Plantains and Our Becoming (Tiny Reparations, Aug.) visits Haiti and the Dominican Republic to illuminate experiences of the Black diaspora. Providing historical perspective, Ishion Hutchinson memorializes the West Indian soldiers who served during World War I in School of Instructions (Farrar, Nov.), Paisley Rekdal's West: A Translation (Copper Canyon, May) portrays the plight of Chinese workers on the transcontinental railroad, and Craig Santos Perez continues his study of Guåhan (Guam), its indigenous Chamoru people, and the consequences of empire in From Unincorporated Territory [åmot] (Omnidawn, Apr.). Similarly, Sally Wen Mao's The Kingdom of Surfaces (Graywolf, Aug.) sees the glow through history of porcelain, silk, and pearls in terms of empire's bleak power.
---
IDENTITY
In Sage (Norton, May), Marilyn Chin investigates her identity as a self-described "activist-subversive-radical-immigrant-feminist-transnational-Buddhist-neoclassical-nerd poet," while Monica Youn's From From (Graywolf, Mar.) explores the Asian American experience, particularly in terms of the objectifying question, "Where are you from from?" Morgan Parker and Mahogany L. Browne, Lincoln Center's inaugural poet-in-residence, explore Black womanhood in, respectively, You Get What You Pay For (One World, Oct.) and Chrome Valley (Liveright: Norton, Feb.). A. Van Jordan celebrates (and commemorates) Black youth in When I Waked, I Cried To Dream Again (Norton, Jun.), while Kweku Abimbola considers Black possibility and Black death in light of Ghana's Akan child-naming tradition in Saltwater Demands a Psalm (Graywolf, Apr.), winner of the Academy of American Poets First Book Award. Loss is also plumbed in Karisma Price's I'm Always So Serious (Sarabande, Feb.), explored within the context of Black family. In Trace Evidence (Tin House, Mar.), Charif Shanahan uses strong, limpid language to explore racism, queer desire, and his biracial identity (his father is Irish American and his mother Moroccan). Subhaga Crystal Bacon's Transitory (BOA, Sept.) limns gender identity while honoring 46 transgender and gender-nonconforming people murdered in the United States and Puerto Rico in 2020. JJJJJerome Ellis's Aster of Ceremonies (Milkweed, Jul.) is next in "Multiverse," a series written and curated by the neurodivergent. Erin Adair-Hodges's Every Form of Ruin (Univ. of Pittsburgh, Feb.) counters the Oresteia, understanding Clytemnestra's rage and resistant to diminishing the experiences of women and others of marginalized gender, including nonbinary individuals and femmes.
---
IDENTITY: ART & RITUAL
From the Upper Skagit and Nooksack Indian peoples, Sasha taqwšeblu LaPointe uses folklore, ritual, and contemporary art to help tell her journey of healing in Rose Quartz (Milkweed, Mar.), while J. Michael Martinez uses the life of fabled singer-songwriter Ritchie Valens to explore issues of race, identity, and sexuality in Tarta Americana (Penguin Poets, Sept.). Oliver de la Paz's The Diaspora Sonnets (Liveright: Norton, Jul.) revisits his Filipino family's difficult search for home in the United States as he refreshes a traditional form. Trevor Ketner's The Wild Hunt Divinations: A Grimoire (Wesleyan Univ., Mar.) comprises sonnets anagrammed line by line from Shakespeare's and exploring queer desire.
---
THE LONG VIEW
In To 2040 (Copper Canyon, Apr.), Jorie Graham looks forward, both broadly and intimately envisioning a changed and challenging world, while Fred Moten's perennial fashion presence falling (Wave, May) purveys a presence packed with both the past and a shimmering suggestion of the future. Evie Shockley's suddenly we (Wesleyan Univ., Mar.) considers who we are so that we can discover who we might become. The title poem of Ranjit Hoskote's Icelight (Wesleyan Univ., Apr.) features a Neolithic cave dweller, but all his speakers confront a world taking shape before them.
---
WOMEN'S VOICES
In A Film in Which I Play Everyone (Graywolf, Sept.), Mary Jo Bang tells multiple stories of struggling women, all of which she sees as hers. In Tanya (Knopf, Mar.), Brenda Shaughnessy pays tribute to women artists and mentors who opened the world to her. Chronicling her mother's emigration from Vietnam to the United States as a retold "Little Red Riding Hood" fairy tale, Jessica Q. Stark condemns the use of violence to control women in Buffalo Girl (BOA, Apr.). Natalie Eilbert's Overland Girl (Copper Canyon, May) mourns violence toward women and nature.
---
SUMMING IT UP
Works by recently deceased giants of poetry include Les Murray's Continuous Creation: Last Poems (Farrar, Apr.) and Adam Zagajewski's True Life (Farrar, Feb., tr. Clare Cavanagh). Other career-illuminating titles: Ellen Bryant Voigt's Collected Poems (Norton, Feb.), Jane Hirshfield's The Asking: New and Selected Poems (Knopf, Sept.), and Rigoberto González's To the Boy Who Was Night: Poems: Selected and New (Four Way, Mar.). Joshua Bennett & Jesse McCarthy's Minor Notes, Vol. 1 (Penguin Classics, Apr.) launches a series reclaiming the work of Black poets from the 19th and 20th centuries.
---
NATIONAL POETRY SERIES
Tennison S. Black's Survival Strategies (Univ. of Georgia, Sept.) tracks the speaker's difficult upbringing in the Sonoran Desert. Courtney Bush's I Love Information (Milkweed, Aug.) sparkles with a string of vividly delivered data. Adrienne Chung's Organs of Little Importance (Penguin Poets, Oct.) recognizes the importance of stray thoughts, feelings, and memories in rounding out who we are. Alisha Dietzman's Sweet Movie (Beacon, Oct.) uses the language of multiple art forms to explore limits to our actions, especially within the context of women's religious communities. Olatunde Osinaike's Tender Headed (Akashic, Dec.) explores Black identity and masculinity within the context of relentless self-discovery.