Public libraries are using new vendor solutions to enhance local schools' ebook and audiobook collections, creating a new generation of library users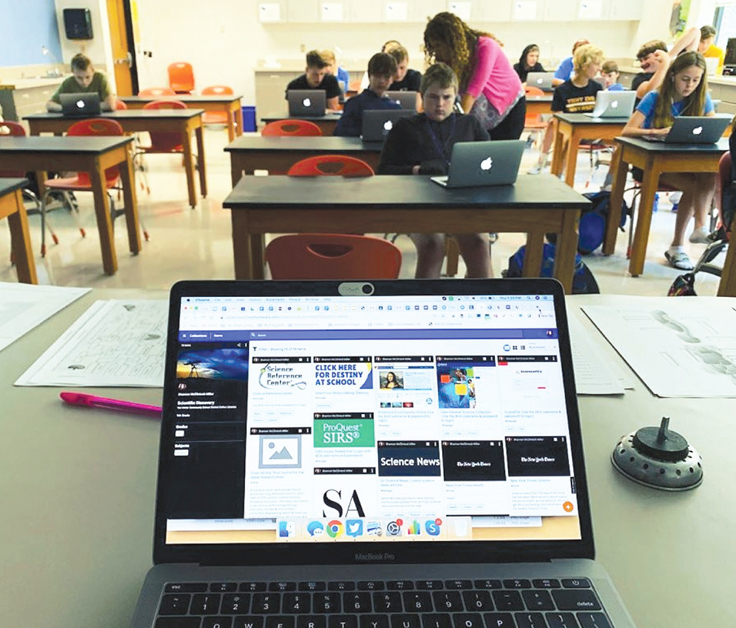 Partnerships with local schools are increasingly crucial for public libraries—to achieve shared goals from grade level reading; to stop summer slide; to provide homework help, tutoring, and access to technology which can help level the playing field for students without home computers or internet access; to make up for gaps in underfunded school libraries; to achieve economies of scale; and to bring new users to the public library.
The ConnectEd initiative has seen districts around the country make it a goal to get every student a public library card or equivalent, and increasingly schools and public libraries are sharing physical collections. But technical and legal challenges have made sharing digital materials complex. Recently, OverDrive and Follett/Baker & Taylor have introduced separate programs designed to make it easier for libraries to share digital collections with local K-12 schools as well.
"We've [always] wanted to work with our school districts as much as we can," says David Cooksey, performance and innovation manager for San Antonio Public Library (SAPL). "All of their students are our patrons."
SORA TAKES FLIGHT
Last year, OverDrive began enabling public libraries to share selections of children's and YA ebooks and audiobooks with local K-12 schools using its new Sora app. Registered students can check out any of the shared content, even if they do not have a public library card.
"It's all about giving the kids access," Cooksey says. "Getting a library card or getting to the library is hard for some of these kids."
Harlandale Independent School District (ISD), TX, was the first local system to partner with SAPL on the Sora program; it launched last August. Lisa Kulka, Harlandale's libraries and instructional materials coordinator, echoed Cooksey's comment about library cards.
"It's a real barrier for a lot of our students," Kulka says. "It's a variety of things—getting parents to take their kids to the library…. Fines are also a barrier. Parents are afraid of their students racking up fines, which is another part of the beauty of ebooks; there are no fines."
Although the partnership is still new, Kulka describes an immediate impact on students' access to content.
"When I came to this district and started trying to figure out what we needed, one of the things that stood out early on was that we had a real dearth of ebooks," she says. "We had brand new Texas state school library standards [in 2018], and when I compared our collection to what the state was saying we should have, we didn't come close…. Now, through this partnership with [SAPL] we have access to over 56,000 juvenile and YA books, which means that our students have so much more choice than they had before."
This includes access to more Spanish language materials in a city where many students are bilingual.
"It's a real challenge for school libraries to collect Spanish language materials, so that was an aspect of this partnership that we found intriguing, and that ISDs are finding really, really useful," Jennifer Velasquez, coordinator of teen services for SAPL.
In turn, increased circulation generated by the schools "has helped us justify expanding our collections of those materials as well," Cooksey adds.
Kulka says that SAPL has been responsive to wish lists sent by Harlandale.
"For us, it becomes a way to improve equity of access in our community," says Velasquez. "We're in a situation where…school districts that have the means to purchase their own digital collections do so. What we're trying to do is fill the gap for school districts" that don't have sizable budgets for digital resources.
Interest in these types of partnerships has been building during the past couple of years, as public libraries look to reach more people in their communities and continue growing circulation, says David Burleigh, director of brand marketing and communication for OverDrive.
"There's a couple of ways to do that," Burleigh says. "From an authentication standpoint, some libraries have given all of their local school's [students] library cards…. Others have taken a student ID number…and made that act as their library card." By contrast, the Sora partnerships simplify authentication issues, although the available shared content is restricted to OverDrive collections.
While Cooksey and Velasquez both emphasized that the Sora partnerships were focused on providing access to students, and not necessarily generating new library card signups, Kulka noted that the program appeared to be introducing many parents and students to the resources available at SAPL.
FULL STACK
Initially developed in 2014, Baker & Taylor's Community Sharing Program has evolved into a comprehensive digital content partnership solution for public libraries and K-12 schools. Follett's acquisition of Baker & Taylor in 2016 facilitated seamless integration with Follett's widely-deployed Destiny Library Manager ILS for school libraries. Destiny is designed for integration with multiple third-party vendors, so the program can utilize ebooks, audiobooks, and other digital resources licensed via Baker & Taylor, OverDrive, MackinVIA, and other providers. Students can then access any of this shared content with a single sign on in Destiny. Like the Sora partnerships, Community Sharing does not require students to have a public library card.
Amandeep Kochar, executive VP and GM for Follett and head of Baker & Taylor's public library sales, publisher services, and product and technology operations, says that the partnership model reflects the recently combined company's holistic view of literacy.
"We're deeply committed to the cause of literacy-enabled community outcomes," he says. "The whole reason we put the two [companies'] technology groups together was to enable our public and school library platforms to talk to each other."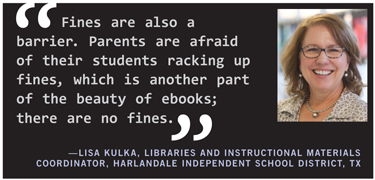 Most K-12 schools and public libraries are enthusiastic about working together, but sharing agreements can pose some behind the scenes challenges, says Kochar.
"In our experience, we've never had a community that has said 'no, we don't want to do this,'" Kochar says. But, "you've got to have the ILS companies collaborating with the digital content companies, collaborating with the local school administration and the local public library administration."
Even in cases where Baker & Taylor was already a content provider for both a public and K-12 school library interested a sharing arrangement, "the administrations many times did not have a formal engagement program between themselves. So we had to broker those conversations, and many times there needed to be an [intragovernmental] agreement."
The program is now live in 21 communities in North America, and the company is "actively engaged" with 40 more that are considering deployment, Kochar says. "We've really started to gain traction in the past three years."
In the program's first iteration in 2015, Johnson County Library, KS, made ebooks and other content including curriculum-support materials and homework help available to local schools.
"We had an 80 percent increase in the public library's overall digital circulation the first year it was launched, and year over year, we've had a 21 percent increase in the utilization of children and teens' materials, and a 47 percent increase in pre-K through five materials. Over the past three months, this has resulted in 15,000 additional checkouts," Kochar says.
"That's between 31 and 35 million additional words read," as a result of the partnership, Kochar says. "We are getting more kids reading more. The intellectual quotient of that person, that school, that community is increasing."
In the case of Houston Public Library and Houston ISD, where elementary, middle, and high schools launched Community Sharing in 2018, "our results over the past three months show a 113 percent increase in utilization of the public library's children's materials, and 20 percent increase in teen materials, resulting in 3,000 additional checkouts," Kochar says.
GETTING THE WORD OUT
Both the Sora and Community Sharing programs are designed to make public library content easy for students to access, but these partnerships present an opportunity for outreach, encouraging students, teachers, and parents to explore the new resources.
Fresno County Public Library (FCPL), CA, launched Sora partnerships with the Fresno, Central, and Selma Unified School Districts (USD) last summer, and sent a press release to local news outlets announcing the programs after the start of the new school year. This resulted in a television news item produced by Fresno's ABC affiliate, highlighting the new ebooks and digital audiobooks now available to local students, according to Thomas Wood, collection development librarian for FCPL.
In November, FCPL added a dedicated Sora section to the "eBooks & Downloads" page on its website, with a list of participating school districts and instructions for installing the Sora app and adding FCPL. And early this year, Wood says that FCPL is planning to roll out print promotional materials that will be distributed to branches and at outreach events.
Fresno USD is using the Peachjar electronic flyer platform to send information about the partnership to all of the district's 74,000 students and their parents. The district has also incorporated information about digital content available through FCPL into training sessions related to its eLearning Companion Device Initiative, which provides students with Lenovo tablets pre-loaded with educational apps.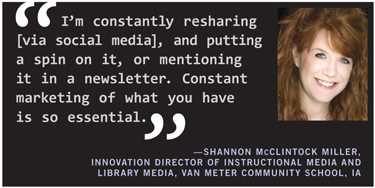 "Our plan, clearly, is that this is a multi-year effort, because it has to be," to ensure its sustained success, says Tom Nixon, manager, online learning and library services for Fresno USD.
At Harlandale, "our librarians have been promoting this very well on their [21] campuses…. Our district has a Facebook page, and they've been promoting it on there. Newsletters have gone out district-wide…. We had a local news station that did a little feature on it and promoted it…. We have district family nights, and we've had a table where we're presenting to families and parents," demoing materials including ebooks and readalongs.
The San Antonio Public Library Foundation has committed to providing additional funding for marketing materials as well. Cooksey notes that posters in schools, or even physical bookmarks that highlight the availability of ebook collections, can also help raise awareness. Those materials, he says, can ultimately help with word-of-mouth promotion.
"It's really going to be, as one student finds it and loves it, telling another student," Cooksey says.
Shannon McClintock Miller, innovation director of instructional media and library media at Van Meter Community School, IA, 2014 LJ Mover & Shaker, and author of The Library Voice blog, says that continuous promotion of resources, especially new resources, is always important.
"I'm constantly resharing [via social media], and putting a spin on it, or mentioning it in a newsletter," Miller says. "Before a break, I'll [post] on our Facebook, Instagram, or Twitter, 'don't forget that you can access resources that we have at school or resources that we have at the public library as well'…. Constant marketing of what you have is so essential."
QUICK RESULTS
The partnerships with FCPL launched last summer, and were gaining momentum toward the end of 2019, Wood says. "We had about 6,200 checkouts of OverDrive materials via Sora last year, and about 70 percent of those came during the last three months of the year," he explains. "We're hoping that more and more schools will be able to team up with us in 2020."
Nixon says that Fresno USD "had a tiny implementation of OverDrive prior to the start of this school year." But the district "went big" last summer, significantly expanding its own ebook collection in addition to partnering with FCPL. By winter break, the district had circulated 45,000 ebooks and audiobooks through Sora, and was up to 9,000 unique users—individual students who had checked out at least one item. This represents 12 percent of the district's students, indicating that the new ebook collection is off to a good start.
"We consider those big numbers, and they're certain to grow," Nixon says, adding that he is particularly interested in the growth of categories such as digital audiobooks and digital readalong books, which the district's libraries had not offered before. "We've been pushing those strongly, because we believe it's one area for growth."
Going forward, these types of partnerships could also help schools and public libraries avoid resource duplication and coordinate funding for shared resources. In the meantime, they will help introduce a new generation of readers to the content that is already available through their local library.
"Children, the young, need to find the library where they are," says Cooksey. "We have to be out there where they are right now [to ensure] the long term success of libraries."