Click here for additional new Prepub Alert columns
Doctorow, Cory. The Lost Cause. Tor. Nov. 2023. 368p. ISBN 9781250865939. $29.99. SF
Hamilton, Laurell K. Slay. Berkley. (Anita Blake, Vampire Hunter, Bk. 30). Nov. 2023. 416p. ISBN 9780593637845.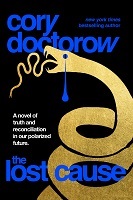 $28. FANTASY/PARANORMAL
Johansen, Erika. The Kingdom of Sweets: A Novel of the Nutcracker. Dutton. Nov. 2023. 368p. ISBN 9781524742751. $28. FANTASY/EPIC
Kawaguchi, Toshikazu. Before We Say Goodbye. Hanover Square: Harlequin. (Before the Coffee Gets Cold, Bk. 4). Nov. 2023. 320p. tr. from Japanese by Geoffrey Trousselot. ISBN 9781335009111. $21.99. CD. MAGIC REALISM
Lares, Mariely. Sun of Blood and Ruin. Harper Voyager. Nov. 2023. 384p. ISBN 9780063254312. $32. CD. FANTASY/HISTORICAL
Marske, Freya. A Power Unbound. Tor.com. (Last Binding, Bk. 3). Nov. 2023. 432p. ISBN 9781250788955. $28.99. Downloadable. FANTASY/GASLAMP
Roberts, Nora. Inheritance. St. Martin's. (Lost Bride Trilogy, Bk. 1). Nov. 2023. 432p. ISBN 9781250288325. $30. CD/downloadable. FANTASY/ROMANCE
Wells, Martha. System Collapse. Tordotcom. (Murderbot Diaries, Bk. 8). Nov. 2023. 256p. ISBN 9781250826978. $21.99. SF/ACTION & ADVENTURE
Thirty years hence, ameliorating climate change isn't quite a Lost Cause, with millions participating in disaster relief and helping move whole cities inland, but some old timers hang on to their hatred and their red hats, denying these efforts; Doctorow scores a 100,000-copy first printing. In No. 1 New York Times best-selling Hamilton's Slay, Anita Blake faces her toughest task ever—introducing her deeply religious family to her fiancé, the newly crowned vampire king of America. Departing from her "Queen of the Tearling" series, Johansen reimagines the beloved Nutcracker tale, with Clara's scorned sister Natasha finally getting her moment when she travels to The Kingdom of Sweets one Christmas eve and meets the Sugar Plum Fairy, far more powerful than godfather Drosselmeyer and not altogether sugary. Next in Kawaguchi's internationally best-selling series, Before We Say Goodbye introduces us to new visitors at Café Funiculi Funicula, the Tokyo café that allows customers to travel through time, thus reenvisioning their lives (125,000-copy first printing). In Sun of Blood and Ruin , debuter Lares blends Mesoamerican mythology and Mexican history to reconfigure Zorro as a warrior sorceress, plumbing the Spanish colonization and genocide of the Aztec empire (40,000-copy first printing). Her engagement broken, Sonya MacTavish is stunned to learn that her father had a twin who's just died and as Inheritance left her a haunted house on the Maine coast complete with a family curse dating from a bride's murder in 1806; Roberts gets a million-copy first printing. Three-time Aurealis Award short-listed Marske wraps up her "Last Binding" trilogy with A Power Unbound, as Jack Alston, Lord Hawthorn, joins forces with resistant writer/thief Alan Ross to short-circuit a dangerous ritual that threatens all of Britain's magicians (100,000-copy first printing). In this latest addition to Wells's million-copy best-selling series, ART's crew and the humans from Preservation are worried that Murderbot is facing a System Collapse—just when they need to protect a newly colonized planet from the Barish-Estranza corporation (300,000-copy first printing).