When the Democratic nominee for state representative in Ohio's 99th district was forced to withdraw from an upcoming election after her home was redistricted by 20 feet, Kathy Zappitello stepped into the race, largely to oppose pending censorship legislation introduced by her opponent that would "prohibit teaching, advocating, or promoting divisive concepts."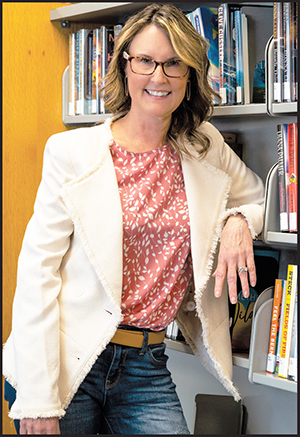 CURRENT POSITION
Executive Director, Conneaut Public Library, OH
---
DEGREE
Bachelor of General Studies/English, Kent State University at Ashtabula, OH, 2013
---
FOLLOW
---
Photo by Dave Clayman

Showing Up
"Sometimes others see leadership in you before you feel or see it within yourself," says Kathy Zappitello of her library career. She grew up in a small, rural town across the street from the public library, and her best friend's mom was the head librarian. After she moved back as a young adult, the library reached out to ask her to step into the interim director role, and she never left the field. "The profession chose me," she says. She's been active in the larger library world as well, serving as 2020–21 president of the Association for Small and Rural Libraries.
Yet Zappitello made some big choices in the past year—ones that would have taken her away from the library work she loves—to serve the greater good. In summer 2022, Abby Kovacs, the Democratic nominee for state representative in Ohio's 99th district, was forced to withdraw from the upcoming election after her home was redistricted by 20 feet. Her opponent, Sarah Fowler Arthur, had introduced House Bill 327 in 2021—censorship legislation that would "prohibit teaching, advocating, or promoting divisive concepts" (the bill died in the House).
Zappitello did not hesitate. Within a week, she announced that she would step into the race in November, leaving her role as Conneaut Public Library director to serve as state representative. She had no political experience, but she knew how to effect change in her community and work with a wide range of stakeholders, and she went all in with a campaign based on accountability, strengthening infrastructure, and communication—the need to have difficult conversations in schools, libraries, and communities.
Fowler won the seat, and Zappitello returned to the library. And while it hasn't been easy to step back into the directorship after getting a taste of what political action looked like, she does not regret her decision. "I can't imagine a scenario where I didn't run," she says.
Zappitello believes that this is the time for people to step up, actively participate, and insert themselves in the conversations about intellectual freedom. "We need to be involved," she says. "We'd best be looking at every piece of legislative action that's taking place. Do we have time for it? No. But it's important." She is currently keeping her eye on a proposed state flat tax, which could greatly cut the funding Ohio public libraries have benefited from for years.
"The public library has a great opportunity to grow the next generation of civic leaders," she says. "Specifically, small and rural libraries need their communities to understand and to uphold barrier-free access to the human record, without exception."