The Ives Squared Library, part of the New Haven Free Public Library, is one of six winners of our New Landmark Libraries for 2019. The $1.5 million renovation aimed to launch a nexus of creativity based on design thinking. Community co-creation led the visioning process that resulted in the 4,700 square foot 21st century Maker space and public salon.
"We are known as the welcoming front door that offers the curious plentiful opportunities to learn new skills, connect with mentors, and unleash creativity," says Martha Brogan, city librarian of the New Haven Free Public Library, CT. A historic building with storied architectural roots, the library recently unveiled a small but mighty interior renovation, as part of a state-wide economic revitalization effort, to help stimulate a new wave of invention and civic engagement.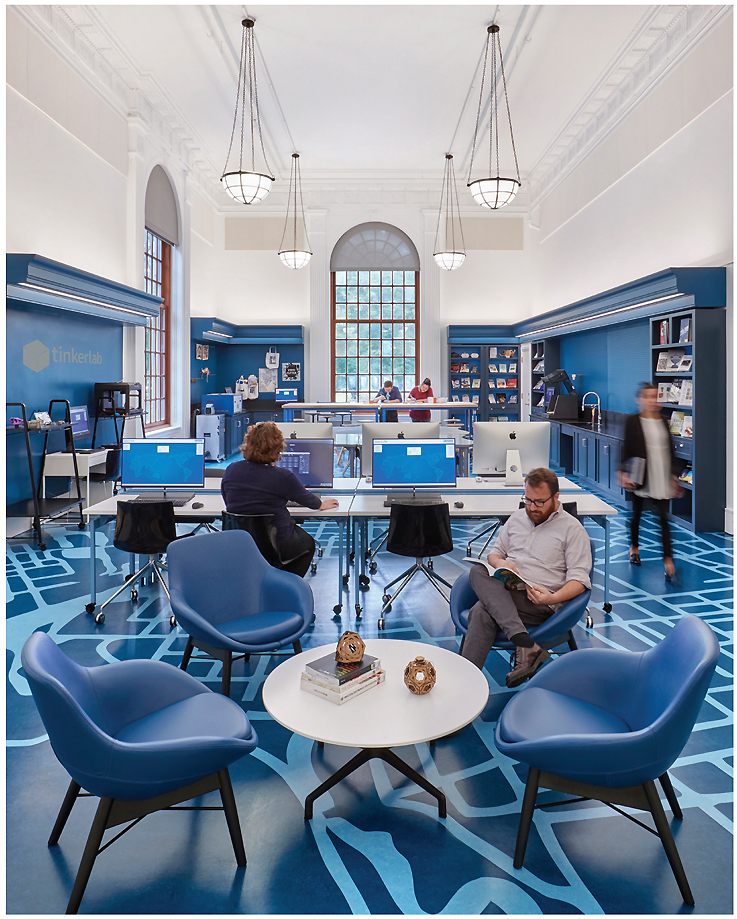 VISIBLE ENERGY

Dynamic finishes lend excitement to the Ives Squared Library's Tinker Lab. Photo by Garrett Rowland
Brogan enlisted the design services of Margaret Sullivan Studio to design a four-month-long visioning and programming study, hinged on community co-creation. More than 200 people, from city leaders and community partners to underserved residents, came together to define the vision, mission, and experiences they wanted to inform the services, technology, and space that makes up Ives Squared, a nexus of creativity based on design thinking. The 4,700 square foot space offers community members varied and engaging opportunities to take an idea from conception to prototype and implementation.
The renovation was timely; it came online as the state and a network of entrepreneurs launched its Innovation Places grant competition. In partnership with the city, Ives Squared was adopted as an anchor institution for the program and now participates in the Elm City Innovation Collaborative.
ELEGANT EFFICIENCY
The interior renovation has respectfully updated the 1907 Cass Gilbert-designed reading room, an exemplar of neo-classical design, into a 21st century makerspace and public salon. Creatively embedded acoustical paneling on the upper walls of the double-height space and in the Tinker Lab mitigate machinery noise from CNC routers and 3D printers. The original bookshelves, with elegant cornices, were preserved; they now showcase 3D prints and supplies. Elegantly modern but evocative flooring treatments guide users through areas that offer specialized services. In a nod to another Cass Gilbert work, the Woolworth Building, a rich cobalt blue anchors the space and allows patterns to visually communicate the distinct sections within it. The transformed reading room connects seamlessly to a 1990s addition, also renovated to host a cafe that opens into an enclosed greenspace.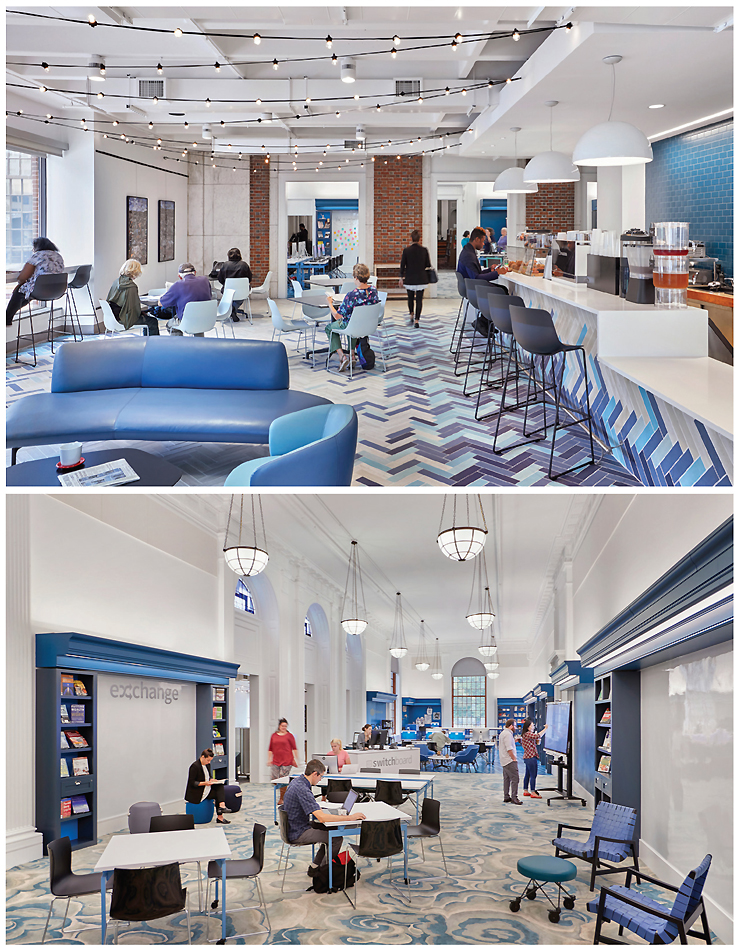 VIVID SURROUNDINGS

The library has a Vibrant Café (top) and a flexible social space called the Exchange (bottom). Photos by Garrett Rowland
Every inch of Ives Squared serves as part of an integrated whole: the Switchboard area supports the "explore" stage of design thinking and offers a concierge experience for users looking for both library and regional services and resources; the Exchange offers flexible social space for collaboration and co-working; multiple seating areas are available for both short and long projects; and flexible technology is available throughout; a curated collection of recent publications covers topics such as social entrepreneurship and business planning; and the Thinker Lab offers a traditional makerspace experience, with 3D printers, a laser cutter, and a vinyl cutter, among other tools. Library staff teach regular sessions and a tiered program offers certification for people who want to use the equipment during regular hours. Finally, the cafe and patio offer a place to connect with others and, since opening, have hosted over 30 programs with more than 400 attendees.
While referencing the building's history, the renovation created a new kind of work environment that is people-driven. "Constructed through community-driven design thinking workshops, Ives Squared intentionally fosters the conditions for New Haven's evolving knowledge economy to be anchored and practiced at the library," says designer Margaret Sullivan.
---
VITALS
---
ARCHITECTS

Margaret Sullivan Studio, Buchana Architects (architect of record)
---
CATEGORY Renovation
---
COST $1,551,000
---
SIZE 4,700 square feet
---
DATE 2018
---
AWARDS IMLS National Medal 2019