ALA Annual reflected a wide range of up-to-the-minute—and often serious—concerns for those working in libraries
The 2019 American Library Association (ALA) Annual conference, held in Washington, DC, from June 20–25, saw sunny skies and a general mood of engagement. Appropriately to both the setting and the uncertain times, there was a strong focus on inclusion and social justice, both inside and out of the Walter E. Washington Convention Center—from speakers to sessions to ad hoc protests.
Attendance was robust, with a final tally of 21,460—14,633 librarians, library workers, and supporters, and 6,827 exhibitors, reflected by a busy and energetic exhibit hall (see LJ's vendor coverage). This was well up from last year's gathering in New Orleans, which saw a combined total of 17,599, and only slightly fewer than the 2017 conference in ALA's hometown, Chicago, which logged 22,702 attendees.
LJ brought festivities of its own, including a buzzing party in honor of the 2019 Movers & Shakers (M&S). "We know that you are the people who are making libraries thrive," LJ Editorial Director Rebecca T. Miller told the enthusiastic crowd. An early Saturday Breakfast of Champions celebrated LA County Library, the 2019 Gale/LJ Library of the Year.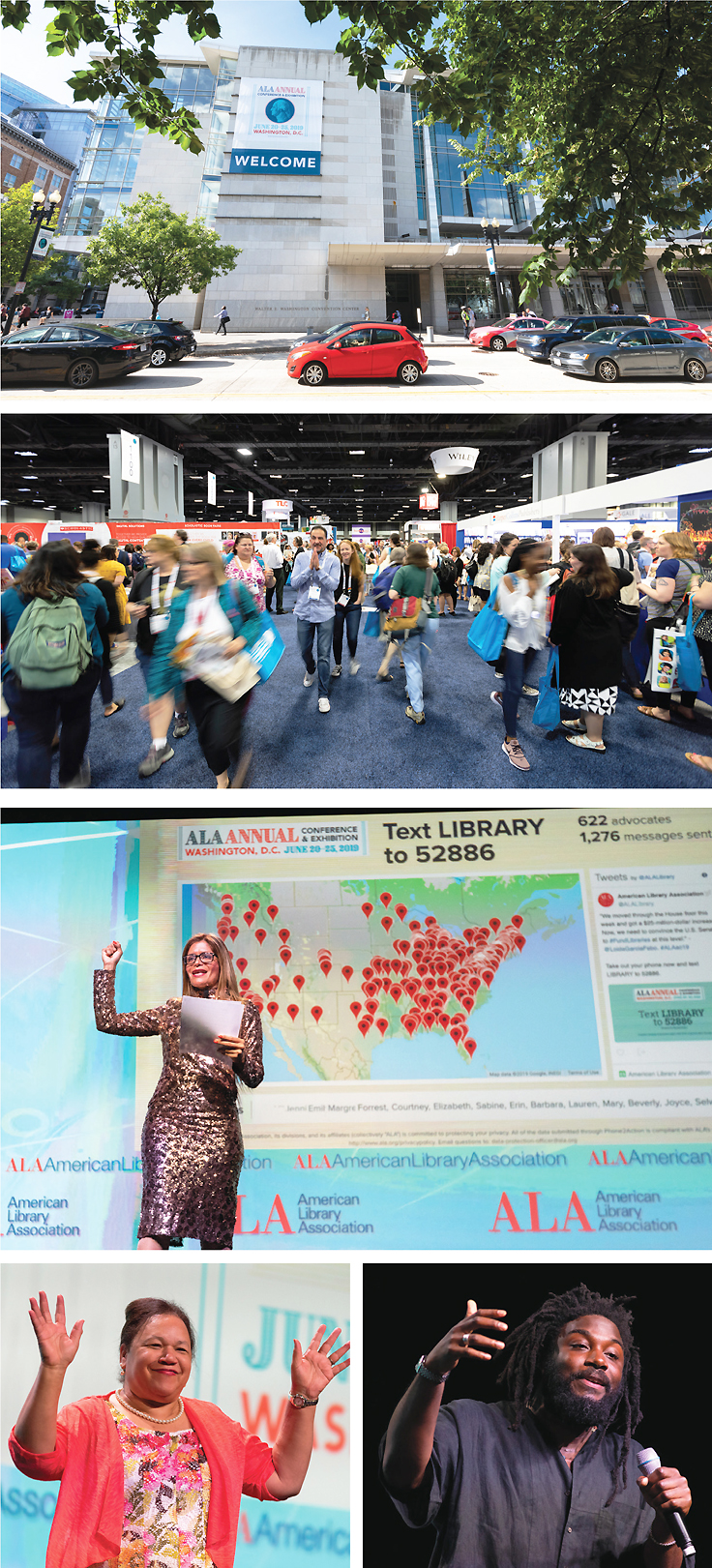 MEETING AND GREETING

The 2019 conference got off to a strong start. Top row: the Walter E. Washington Convention Center, base camp for the conference. Second row: crowds hit the exhibit floor on opening night. Third row: ALA Immediate Past President Loida Garcia-Febo led the Opening General Session. Bottom, l.-r.: ALA President Wanda Kay Brown welcomed the crowd; opening keynoter Jason Reynolds celebrated libraries as sacred spaces. Photos ©2019 Stephen Gosling
THE POWER OF SPEECH
This year's speakers comprised literary lights and public figures, including the President's Program speaker, author Nnedi Okorafor, and CBS Sunday Morning correspondent Mo Rocca, whose closing keynote was moderated by LJ Prepub Alert editor Barbara Hoffert. YA author and poet Jason Reynolds's opening keynote celebrated libraries as sacred spaces, and exhorted the audience to use the conference as a blueprint for reimagining their libraries and roles.
Sonia Sotomayor, associate justice of the U.S. Supreme Court, opened the auditorium speaker series in conversation with her Philomel Books editor, Jill Santopolo. Sotomayor discussed her books, career, love of learning, and faith that citizens have the power to shape justice, while walking the aisles and giving out selfies, handshakes, and hugs (see full coverage).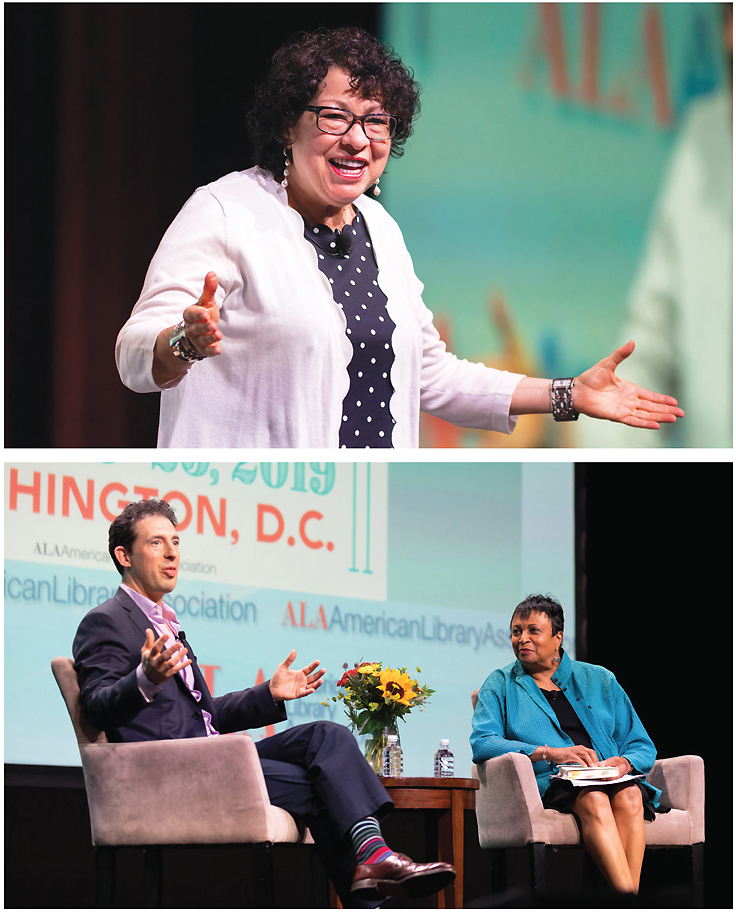 EXPANSIVE POINTS

Featured speakers discussed libraries, community, and beyond. Top: Supreme Court Associate Justice Sonia Sotomayor gave wise words and hugs. Bottom: sociologist Eric Klinenberg shared the stage with Librarian of Congress Carla Hayden. Photos ©2019 Stephen Gosling
Sociologist Eric Klinenberg (Palaces for the People: How Social Infrastructure Can Help Fight Inequality, Polarization, and the Decline of Civic Life, Broadway Bks.) spoke with Librarian of Congress Carla Hayden about the need for improved library infrastructure. Hayden added that we need more advocates outside of the library, and more books like Klinenberg's.
Author, actor, and activist George Takei continued the speaker series, recalling the internment of Japanese Americans during World War II and his experiences—the focus of his upcoming graphic memoir, They Called Us Enemy (Top Shelf). Takei urged the crowd to exercise their power for change by voting (see full coverage).
Conferencegoers exercised their powers of speech as well. After hearing that the Central Intelligence Agency (CIA) had a recruitment booth, a group from Librarians for Democracy staged a protest against the CIA's presence. In a statement, organizers explained that "The Central Intelligence Agency stands in direct opposition to our core values.... That is why today, we join those librarians who came before us as we stand up to oppose CIA recruitment at the ALA Annual Conference." A resolution on recruitment at ALA meetings went before the ALA membership but did not proceed to ALA Council (see full coverage).
Outspokenness reached beyond the convention center as well. On Monday evening, a crowd of ALA attendees gathered outside the White House to protest immigrant prison camps. More than 120 library professionals joined members of REFORMA (the National Association to Promote Library and Information Services to Latinos and the Spanish Speaking) and its Children in Crisis (CIC) Project.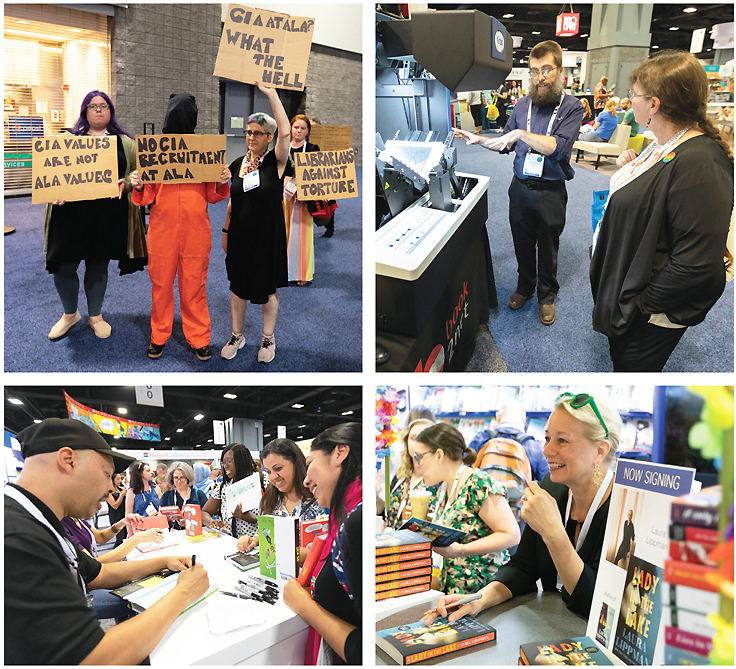 NEWS FROM THE FLOOR

Top row, l.-r.: protesters got their message out on the exhibit floor; vendors such as Book2net demoed products. Bottom row, l.-r.: authors signing books for enthusiastic fans included Jerry Craft and Laura Lippman. Photos ©2019 Stephen Gosling
COUNCIL CONSIDERS CHANGES
It wasn't business as usual for Council. The body kicked off its first session with a two-hour discussion on the role of the council in equity, diversity, and inclusion through a social justice lens, facilitated by consultant DeEtta Jones. The meeting then considered two resolutions on such issues: one on the free speech of Palestinian supporters, which was referred to the committee on legislation, and one to rename the Melvil Dewey medal in light of Dewey's history of racism, anti-Semitism, and sexual harassment, which passed by an overwhelming margin.
At its second convening, Council heard preliminary recommendations from the Steering Committee on Organizational Effectiveness (SCOE) for an ambitious revamp of ALA. If ultimately approved by Council these would, among other impacts, end Council itself. Instead, the ALA Executive Board would work with three committees (policy development, finance and audit, nomination and leadership development), three assemblies (division leadership, round table leadership, and chapter leadership), and a variety of advisory communities, task forces, and other volunteer opportunities. The goal is to bring in thousands instead of merely hundreds of voices, according to SCOE spokespeople. However, at a separate SCOE feedback session later in the conference, concerns were raised about the number of appointed, rather than elected, voting board members and the much-reduced number of people who would have a vote in ALA decision-making.
At its third and final session, among other business, Council unanimously passed a resolution on library service for children in migrant detention centers—calling for an end to the camps and, failing that, to allow library service—to applause. A resolution on ebook pricing for libraries also passed, calling for a working group to be formed, and asking publishers for a variety of purchase and licensing options, as well as urging Congress to take action.
ACTIONABLE INFORMATION
ALA's Washington Office offered an informational session titled "173 Days of Congress," looking at the past six months of legislation and news from the Hill, as well as upcoming issues and advocacy strategies that library allies can adopt (see full coverage).
"Ensuring Everyone Counts (and Is Counted) in the 2020 Census" discussed the implications for libraries. Panelists from state and local libraries, local government, and the Annie E. Casey Foundation emphasized the importance of getting an accurate count and how libraries can help, from providing Internet access—this census will be the first to be completed largely online—to offering information, public awareness, and training for census takers. "Besides voting, the second most important right you have in this country is to be counted," pointed out Arlington County, VA, assistant county manager and director of communications and public engagement Bryna Helfer.
In "Censorship Beyond Books," Kristin Pekoll, assistant director of ALA's Office for Intellectual Freedom (OIF) moderated a panel of librarians highlighting a range of challenges such as resources for immigrant or DREAMer students, Drag Queen Story Time, and a Black Lives Matter display, and how they were handled. OIF hosted another panel, "Controversial Speaker Planned for Your Library Event? Things To Consider," which discussed strategies and communications plans for events that could potentially reach crisis levels (see full coverage).
"Libraries+: Innovative Examples of a Transformative Trend" highlighted collocated partnerships such as Las Vegas–Clark County Library District's One-Stop Career Centers; the Free Library of Philadelphia's South Philadelphia Literacy Center (public library, pediatric clinic, community health center, and recreation center); and the Culture House, part of Missoula Public Library, MT (science museum, Maker Space, children's museum, and library under one roof).
"Confronting White Nationalism in Libraries" brought together a panel of public, high school, and university librarians and civil rights activists to examine how libraries can contend with the threat. Speakers also offered a look at "Confronting White Nationalism in Schools: A Toolkit" from the Western States Center, which helps educators focus on the potential targeting of youth for recruitment.
"Immigrants, Refugees and Displaced Persons in Public Libraries: What We've Learned, Where We're Heading" looked at the findings of a year-long exploration by ALA's Public Programs Office of programs and services that support immigrant, refugee, and displaced persons populations, including a landscape review, site visits, and consultation. The session highlighted opportunities, challenges, resources, ways to address gaps in services, and potential partnerships.
"Social Workers in Public Libraries: Lessons Learned" showcased the experiences of staff administering four longstanding programs at DC Public Library, San Francisco Public Library, Denver Public Library, and Brooklyn Public Library. Panelists offered a range of useful advice on how to navigate city agencies, ways to combat public perceptions, and how to fund a program; an active question and answer session indicated that this isn't only a big-city issue.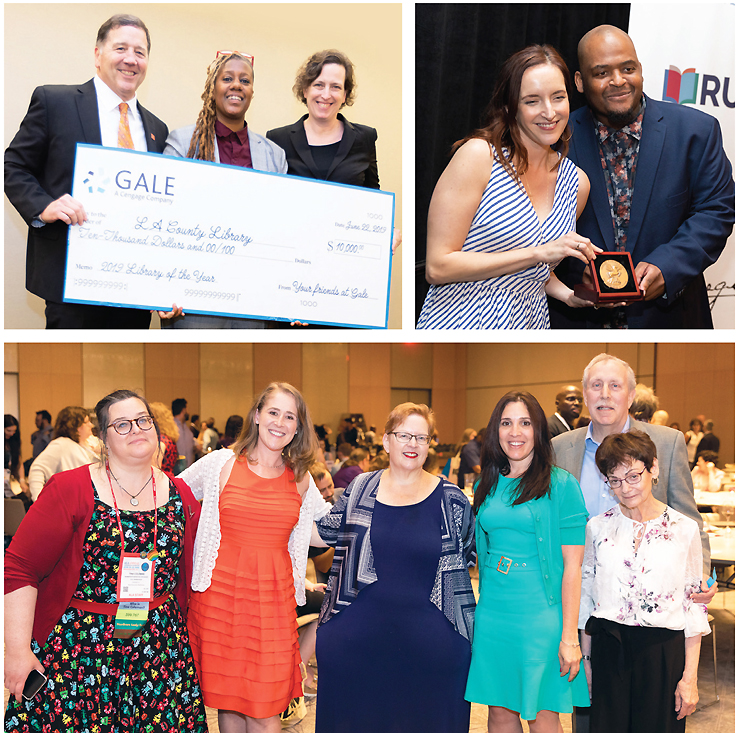 WINNING SMILES

Award recipients included libraries, authors, and graphic novel librarians. Top row, l.-r.: At a reception for 2019 Gale/LJ Library of the Year winner LA County Library, director Skye Patrick (c.) received a check from Gale's Brian Risse (l.) and LJ Editorial Director Rebecca T. Miller. At the Andrew Carnegie Medals for Excellence in Fiction and Nonfiction ceremony, winning authors Rebecca Makkai (The Great Believers) and Kiese Laymon (Heavy: An American Memoir) proudly displayed their award. Bottom: At the Will Eisner Graphic Novel Grants for Libraries reception, Tina Coleman (l.) from ALA Graphic Novels & Comics Round Table congratulated winners (l.-r.) Rachel Podpaly, Jerilynne Stewart, and Laura Panter, along with sponsors Carl and Nancy Gropper. Photos ©2019 Stephen Gosling
BOOK TALK
Books got their fair share of attention as well. Among standout panels, "When You Can't Go Home Again: Refugee and Exile Authors in the U.S." featured author Grace Talusan (The Body Papers, Restless Bks.). Restless Books editor and marketing director Nathan Rostron spoke on finding literature by and about refugees, noting that children's books are leading the way, while professor Karen Fisher of the University of Washington Information School shared the challenge of establishing refugee camp libraries.
At Saturday's Reference & User Services Association (RUSA) panel, "Give Them What They Want: Reader-Focused Collection Development," readers' advisory (RA) specialist Becky Spratford led a lively discussion on smart collection choices, with panelists weighing in on floating collections, dynamic displays, curation through a diversity lens, and community outreach. There was agreement across the board that a "reader first" strategy results in deeper collections, greater patron satisfaction, and improved RA.
ALA's Graphic Novels and Comics Round Table (GNCRT) President's Program, "State of the Comics Union: Past, Present, Future," recapped the history of comics in libraries and brought together a stellar panel of comic artists. Jaime Hernandez (Love and Rockets; Tonta), Jason Lutes (Berlin; Jar of Fools), and Raina Telgemeier (The Baby-Sitters Club) joined moderator and GNCRT president-elect Amie Wright (a 2017 LJ M&S) to discuss their varied careers (see full coverage).
The GNCRT also oversees the Will Eisner Graphic Novel Grants for Libraries, whose winners were honored at a reception. Other book awards ceremonies included the Andrew Carnegie Medals for Excellence in Fiction and Nonfiction (see full coverage) and the Youth Media Awards. The Library of Congress hosted a gala 50th Anniversary event for the Coretta Scott King (CSK) Book Awards with Hayden, National Ambassador for Young People's Literature Jacqueline Woodson, and authors Kwame Alexander and Andrea Davis Pinkney. (This year's CSK recipients were Claire Hartfield, author of A Few Red Drops: The Chicago Race Riot of 1919, and Ekua Holmes, illustrator of The Stuff of Stars.)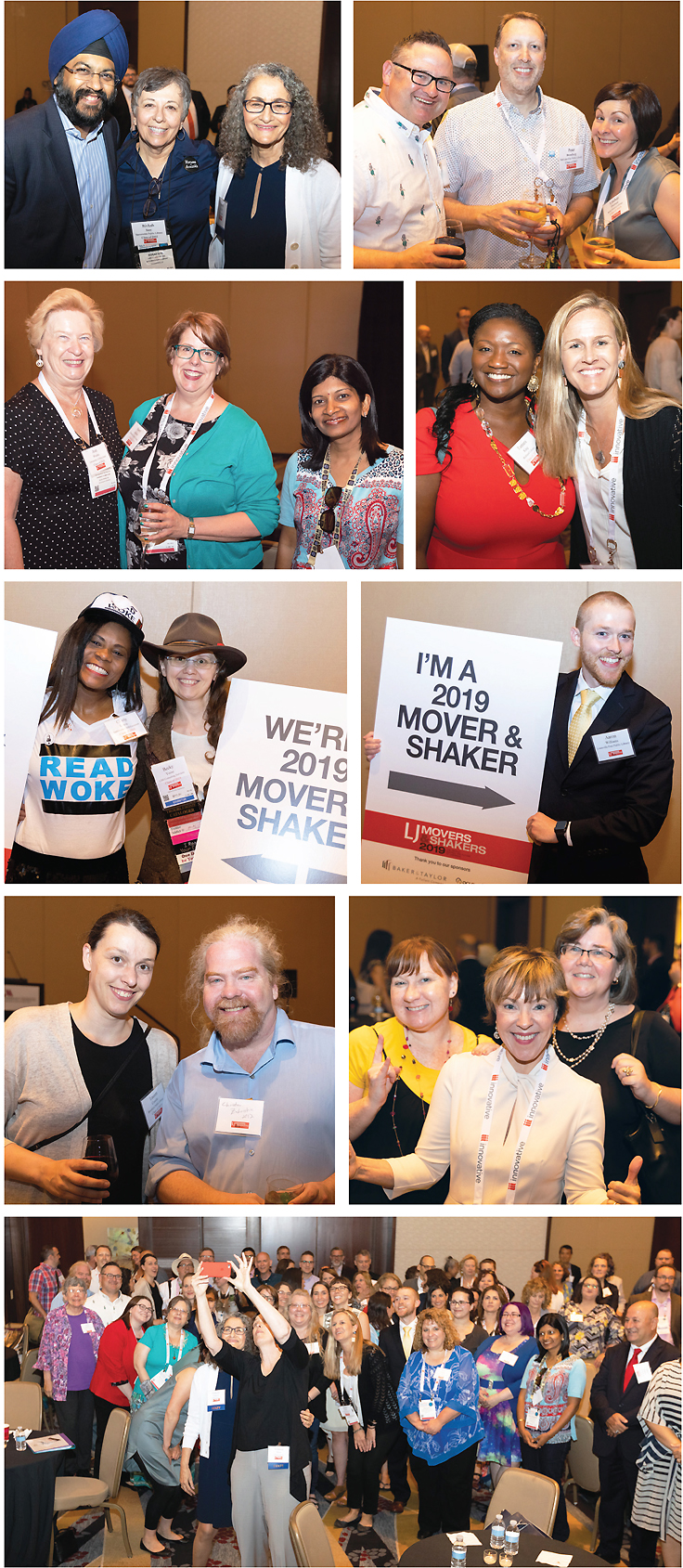 MOVING RIGHT ALONG

LJ feted past and present Movers & Shakers with a reception. Top row, l.-r.: Baker & Taylor's Aman Kochar (l.) with Rivkah Sass (Movers Class of 2002, c.) and Movers Project Manager and Cofounder Francine Fialkoff (r.); 2018 LJ Librarian of the Year Lance Werner (2016), with Peter Bromberg (2017) and Lindsey Dorfman (2019). Second row, l.-r.: Ann Carlson Weeks (2016, l.) with Carol Jackson and Mega Subramaniam (both 2019); Tamara M. King (l.) and Jennifer Thrift (both 2019). Third row, l.-r.: 2019 Movers pointed out their status: Cicely Lewis (l.) with Becky Yoose; Aaron Williams. Fourth row, l.-r.: Lauren Comito (2015, l.) and Christian Zabriskie (2012); Laverne Mann (2009, l.) with Michele Stricker (2019) and Jeanne Marie Ryan (2018). Fifth row: Miller (with cell phone) corralled the group for a commemorative selfie. Photos ©2019 Stephen Gosling
TRENDING TECH
The Library Information Technology Association's annual Top Tech Trends panel featured Matthew Hunter, digital scholarship technologist for Florida State University; Terry Lawler, adult services manager for Phoenix Public Library (PPL); Lavoris Martin, director of library technical services for the University of Arkansas, Pine Bluff; Ricardo Viera, CIO for Orange County Library System, FL; and Matt Enis, senior editor, technology for LJ. James Neal, senior program officer for the Institute of Museum and Library Services, moderated.
Viera began with a presentation on the rapid evolution of artificial intelligence (AI), and future use cases for libraries such as holograms of historical figures who could hold interactive conversations. He also discussed network security issues, noting that city governments, libraries, and other public institutions are facing a growing number of ransomware and phishing attacks.
AI will likely have an impact on the future of work, privacy, policing, and more, Enis added. Libraries are beginning to study trends through programs such as the "AI and Digital Citizenship" initiative by the Urban Libraries Council and new spaces such as the AI Lab at the University of Rhode Island's main library. Separately, he discussed online disinformation campaigns and the continued importance of digital literacy programs.
Martin focused on the expanding role of data analytics in library management, as well as the need for data curation and data mining services for researchers at university libraries. She also discussed how many vendors are migrating library services to the cloud. Systems librarians must be prepared to audit these services and potentially help write contracts that ensure compliance with library policies.
Tech skills are vital, but many children in both urban and rural communities aren't learning the skills they need prior to middle school, Lawler noted. PPL's Little Bytes program addresses this by teaching simple logic and sequencing concepts to kids as young as four. Separately, she discussed the need for libraries to offer STEM (science, technology, engineering, and math) programs tailored to girls.
Hunter closed out the series of presentations with a discussion on libraries supporting humanities scholarship and pedagogy with emerging technologies such as virtual reality and 3-D scanning. He also discussed the need for visual data literacy education at the university level, covering potential topics such as Geospatial Humanities, Introduction to Data Visualization (or, "How To Spot a Lying Graph"), and Design(-thinking) Principles.
From protests to parties to a wide-angle look at how to be increasingly inclusive, the conference offered a snapshot of what is on the minds of library workers, leaders, and supporters—as well as a range of useful tools for getting where they want, and need, to be.