Readers unwilling to engage with disagreeable or unlikable characters need not apply; a ­moving noir that reminds us that no one who draws breath has nothing left to lose; breakneck action, mystery, magic, and thoughtful sf collide in this omnibus collection; this one is sure to become a favorite among history buffs and war fiction fans; this type of weird horror is where Hine excels; 300 fans looking for something with a similarly propulsive narrative may be disappointed; the first truly essential graphic novel to tackle American life since 2016
Aaron, Jason (text) & Ron Garney & Matt Milla (illus.). Men of Wrath. Image. 2018. 144p. ISBN 9781534308596. $19.99; ebk. ISBN 9781534312791. Rated: Mature. DRAMA/SOUTHERN GOTHIC
After discovering his girlfriend is pregnant, Ruben Rath turns to a life of crime in order to provide for his family. Before long, he's in over his head and on the run from some truly terrifying criminals. What his enemies don't know is that Ruben is the latest in a century-long line of vicious, terrifying men, none more brutal than his own father, Ira, one of the most dangerous and unrelenting assassins ever to appear in fiction. Will Ira save his son or hunt him down in order to collect a hefty bounty? Can Ruben find a way to bring a legacy of violence to an end in order to insure his unborn child a better future? Aaron (Thor, Vol. 1: God of Thunder Reborn) is well known for writing monumental superhero adventures, but here, he and collaborator Garney ( Daredevil; Wolverine) deliver an unsparingly gritty and captivating Southern noir. Collects single issue 1–5.
VERDICT Readers unwilling to engage with disagreeable or unlikable characters need not apply, but crime fiction fans with strong constitutions will welcome this volume with enthusiasm.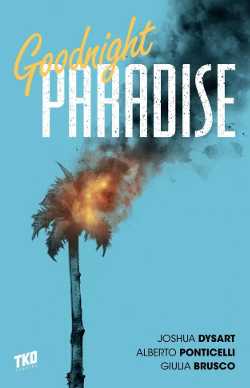 Dysart, Joshua (text) & Alberto Ponticelli & others (illus.). Goodnight Paradise. TKO. Jan. 2019. 176p. ISBN 9781732748507. pap. $17.99. Rated: Mature. CRIME FICTION/NOIR
Eddie is an alcoholic, homeless, mentally ill lifelong resident of Venice Beach, CA, a beachside town that has long served as a refuge for transients and runaways. After he discovers the body of a brutally murdered teenage girl named Tessa discarded in a dumpster, he becomes obsessed with bringing her killer to justice. Was Tessa's death a result of her keeping company with addicts and criminals on the fringe of society, as the police suggest? Or was she the victim of a sinister plot hatched by greedy developers drawn to the beach by an influx of money from big tech companies? Writer Dysart ( Imperium) brings a delicate touch and deep compassion for his characters to this spin on a murder mystery. Illustrator Ponticelli ( Anthony Bourdain's Hungry Ghosts) brilliantly captures both the grimy splendor of Venice Beach and the day-to-day reality of life for those who call the town home. ­
VERDICT A ­moving noir that reminds us that no one who draws breath has nothing left to lose.
Ellis, Warren (text) & Declan Shalvey & Jordie Bellaire (illus.). Injection: Deluxe Edition. Vol. 1. Image. 2018. 400p. ISBN 9781534308626. $49.99; ebk. ISBN 9781534312814. Rated: Mature.
ACTION & ADVENTURE/MYSTERY
Years ago, a gifted scientist, a brash hacker, the world's greatest detective, a secret agent, and a man who may or may not be a wizard formed a think tank. After predicting that technological innovation was on the verge of stagnation, they combined their specialties to develop an artificial intelligence and set it loose into the Internet in hopes of inspiring a more interesting future. For all their talents and best intentions, they didn't foresee how horribly their experiment would turn out. Now they're tasked with investigating and foiling their creation as it runs amok, disrupting the world financial system, inspiring acts of terror, and maybe even awakening long-hidden supernatural terrors. Author Ellis (The Wild Storm, Vol. 2) and illustrator Shalvey (Savage Town), with colorist Bellaire (Redlands), work together wonderfully in presenting the adventures of these diverse, flawed, quirky characters who are forced to cope with the unexpected consequences of cutting-edge technology.
VERDICT Breakneck action, mystery, magic, and thoughtful sf collide in this omnibus collection of three previously released volumes, rounded out by pages of the author's script and the artist's sketchbook.
Ennis, Garth (text) & Steve Epting & Elizabeth Breitweiser (illus.). Sara. TKO. Jan. 2019. 154p. ISBN 9781732748538. pap. $17.99. Rated: Teen+. HISTORICAL FICTION
In 1942, as Leningrad enters its second winter under siege, a team of seven elite female snipers resist Nazi forces. Sara, the deadliest shot among her peers, is a legend on both sides of the conflict. But is she driven by patriotism and an allegiance to Soviet ideals, or something darker? Ennis ( A Walk Through Hell, Vol. 1) has written countless war stories over his long, highly acclaimed career, but this might be his finest contribution to the genre, as emotionally wrenching as it is horrifically violent. Illustrator Epting (Velvet: Deluxe Edition) delivers stunning action sequences and evocative landscapes, but it's his ability to capture an array of complicated emotions in the faces of his characters that lingers. It's hard to believe these two creators haven't been working together for decades, and readers can only hope this is the beginning of a long, fruitful partnership.
VERDICT At times as bracing as a Russian winter and absolutely haunting, this one is sure to become a favorite among history buffs and war fiction fans.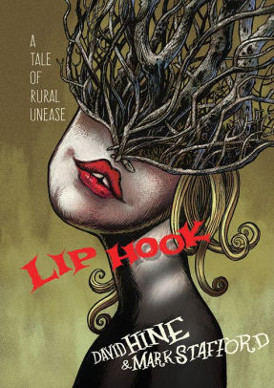 Hine, David (text) & Mark Stafford (illus.). Lip Hook: A Tale of Rural Unease. SelfMadeHero. 2018. 168p. ISBN 9781910593578. pap. $22.99. Rated: Teen+. HORROR
Somewhere in the British Isles lies a village called Lip Hook. Its inhabitants live in fear of both the toxic swamp gas that occasionally emerges from a nearby marsh and the cruel Lord Huxley, owner of the local ­insect factory. Vince and Sophia, fugitives seeking a place to lie low following a heist, wander into the town after turning down a dead-end road, taking up residence at the local inn. Before long, most of the men in Lip Hook are taken with Sophia, and soon she begins the process of reviving an ancient cult centered on a mystical goddess who, according to legend, once ruled the area. Writer Hine and illustrator Stafford, who previously collaborated on The Man Who Laughs, weave a tale out of elements drawn from noir, horror, and New Age mysticism, complemented by artwork that brilliantly brings a dingy, eerie aspect to cartoonish figures. The effect is totally original and thoroughly disquieting.
VERDICT Hine has built a strong following through his extensive work in mainstream comics over the past decades, but this type of weird horror is where he excels.
Jensen, Jeff (text) & Jonathan Case (illus.). Green River Killer: A True Detective Story. 2d ed. Dark Horse. Feb. 2019. 240p. ISBN 9781506710815. $24.99; ebk. ISBN 9781506710877. Rated: Teen+. TRUE CRIME
In 1983, Det. Tom Jensen joined a task force charged with capturing the most prolific serial killer in U.S. history, Seattle's Green River killer. Twenty years later a man named Gary Ridgeway is identified and charged with the murders of nearly 50 women and girls. He offers to lead police to the final resting places of some of his as-yet undiscovered victims as part of a deal to avoid receiving the death penalty. Unable to resist an opportunity to gain closure on the case that defined his career, Tom comes out of retirement to assist in the search. Writer Jeff Jensen, Tom Jensen's son, accompanied by artist Case (both, Before Tomorrowland), juxtaposes scenes detailing the hunt for Ridgeway with moments from the 180 days his father spent interviewing the killer in 2003, resulting in an intimate and loving portrait of his father's life and quest for answers, as well as a horrifying exploration of the unknowable and inexplicable nature of real evil. VERDICT Even the best-read fans of true crime tales might find themselves shaken and considering a move into a fortified bunker after spending some time with Ridgeway in this skillfully told, chilling nonfiction account.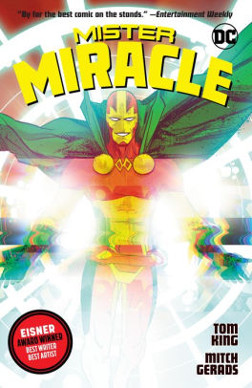 King, Tom (text) & Mitch Gerads (illus.). Mister Miracle. DC. Feb. 2019. 320p. ISBN 9781401283544. $24.99. Rated: Teen+. SUPERHERO
As a newborn baby, Scott Free, heir to the throne of New Genesis, was ransomed to the despotic villain Darkseid to bring an end to an interplanetary war. After years of torture at the hands of his captors, Scott, along with the love of his life, Barda, managed to flee to Earth, where he eventually became part-time superhero and full-time world-famous escape artist Mr. Miracle. He can slip any trap and overcome any obstacle, but when he discovers that he's about to become a father, just as tensions reignite on his home planet, Scott realizes that his traumatic past is more difficult to escape than any handcuffs and that life itself is the ultimate deathtrap. Author King (The Vision) and regular collaborator Gerads (The Sheriff of Babylon) reimagine this classic creation by the legendary Jack Kirby as a man struggling to come to terms with his past in order to create a better future.
VERDICT Alternately heartbreaking, thrilling, and very funny, this is a tale of superheroics that for all its interstellar action argues that the struggle to become a happy, functioning adult is the most colossal challenge of all.
Miller, Frank (text) & Alex Sinclair (illus.). Xerxes: The Fall of the House of Darius and the Rise of Alexander. Dark Horse. Mar. 2019. 112p. ISBN 9781506708829. $21; ebk. ISBN 9781506709055. Rated: Teen+. FANTASY
Legendary creator Miller (Batman: The Dark Knight; The Master Race ), aided by colorist Sinclair (Astro City; Batman), returns to the world of 300 for this companion to that classic series. Opening a few years before the Spartan defeat at the Battle of Thermopylae, the work begins by depicting the Athenian rebellion against the invading Persian Empire. After the Persian leader, King Darius, is killed in battle, Miller shifts focus to the king's son, Xerxes. As years pass, Xerxes expands his empire to include most of the known world, and is renowned as a god walking among mortal men, as is his son and heir following his death. Miller's genius for prose that is at once snappy and gritty remains intact, and his decision to blend carefully rendered depictions of ancient warfare with peculiarly exaggerated figures is effective. But for all his technical achievements, it seems Miller loses patience with his own story halfway through, as the plotline gives way to skimming through history until Alexander the Great finally appears and pledges to build an empire of his own.
VERDICT Any new work by Miller is more than welcome, but 300 fans looking for something with a similarly propulsive narrative may be disappointed.
Miura, Kentaro. Berserk: Deluxe Edition. Vol. 1. Dark Horse. Mar. 2019. 696p. tr. from Japanese by Jason DeAngelis. ISBN 9781506711980. $49.99. Rated: Mature. manga
Guts, aka the Black Swordsman, is a heavily scarred mercenary with a metal arm that doubles as a crossbow and an almost comically enormous sword capable of vanquishing entire hordes of enemies with a single stroke. Guts is cruel, vile, and cursed by both a tragic past and a mysterious magical sigil, which is too bad for his numerous adversaries, including several savage and nightmarish demonic monsters, with which he comes into conflict through his endless wandering. After rescuing an elf named Puck, Guts can't shake the sweet and naïve sprite, who doubles as both comic relief and a counterpoint to Guts's nihilistic worldview. Fans of classic manga, sword-and-sorcery fantasy, and visceral horror will rejoice at this first volume in a new series of omnibus editions collecting the long-running series, which have inspired an array of video games, TV series, and film adaptations since first appearing in 1988.
VERDICT Intense violence and graphic sexuality collide in what might be the most aptly titled fantasy saga of all time.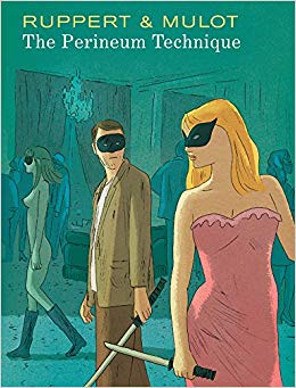 Mulot, Jérôme & Florent Ruppert. The Perineum Technique. Fantagraphics. Mar. 2019. 112p. ISBN 9781683961833. $19.99. Rated: Mature. LITERARY
JH is a successful video artist and self-described sex fiend. After meeting a woman named Sarah on an online dating service, and the two enjoy several virtual hookups, he becomes obsessed with meeting her in person. Eventually she agrees, and the two begin a game of seduction…or is it all just mind games? After Sarah informs JH that she's leaving town for four months and asks him to practice a form of abstinence while she's away, he's not quite sure. Longtime French collaborators Mulot and Ruppert ( Famille Royale) craft a carefully paced, skillfully illustrated meditation on dating in an age of hyperconnectivity in which the ease with which one can cultivate a persona makes real intimacy difficult, if not terrifying. While the work is sexually explicit, Mulot and Ruppert utilize a variety of clever visual metaphors that explore not just what people are doing to each other, but how they feel about each other as well. ­
VERDICT A cleverly presented and provocative exploration of mutual attraction that flirts with satirizing the art world as well.
Remender, Rick (text) & Eric Nguyen (illus.). Gigantic: Library Edition. Dark Horse. Jan. 2019. 136p. ISBN 9781506710297. $24.99; ebk. ISBN 9781506710303. Rated: Teen+. ACTION/ADVENTURE
Five thousand years in the past, an advanced alien civilization creates and populates a new planet teaming with a violent, self-centered populace for the purpose of providing entertainment for the ­galaxy. They call the planet Earth. Now, a 50-foot-tall armored man appears in San Francisco and destroys most of the city doing battle with bizarre beings. His name is Gigantic, one of the most popular celebrities in existence, and with the help of a man grieving the death of his daughter, he's come to save humanity from both its own worst impulses and its alien overlords plotting a cataclysmic finale. Writer ­Remender (Death or Glory, Vol. 1) and artist Nguyen (X-Men; Sandman Mystery) deliver a sf spin on The Truman Show that satirizes consumer culture while remaining an unbelievably fast-paced action adventure that more than lives up to its name.
VERDICT Remender's incredible knack for blending a variety of tones, switching among silly, arch, sentimental, and cynical within the turn of a few pages results in a fascinating, immensely entertaining blast.
Sturm, James. Off Season. Drawn & Quarterly. Feb. 2019. 216p. ISBN 9781770463318. $24.95. Rated: Teen+. LITERARY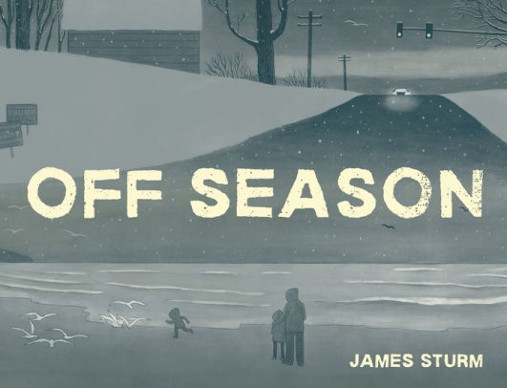 Mark and wife Lisa, passionate supporters of Bernie Sanders, find themselves disoriented and depressed after the senator's presidential campaign comes to an end. Three months later, Lisa has rallied and thrown herself into supporting the Hillary Clinton campaign, but Mark can't help but feel adrift, left behind and more than a little angry, especially after his marriage begins to crumble. Suddenly Mark is tasked with figuring out how to raise two small children on his own, reconnect with his aging parents, and deal with a boss who sports a Bernie bumper sticker on his BMW but seems suspiciously quick with an excuse every time Mark asks for a paycheck. Sturm (The Golem's Might Swing) presents a masterfully illustrated meditation on masculinity, family, and the modern American psyche, delivered with such empathy and insight into the human condition that from page to page readers might forget that all of the characters are anthropomorphized dogs.
VERDICT Many readers will relate to the spiritual malaise Sturm captures here, but it's the story's ultimately hopefully ending that makes this the first truly essential graphic novel to tackle American life since 2016.
Wagner, Richard (text) & P. Craig Russell (text & illus.). The Ring of the Nibelung. Dark Horse. Jan. 2019. 448p. tr. from German by Patrick Mason. ISBN 9781506709192. $24.99. Rated: Teen+. LIT
A dwarf finds a lump of gold from the Rhine and fashions it into a ring possessing incredible power, kicking off a conflict spanning generations. Gods scheme, giants quarrel, a Valkyrie falls out of favor with her father, a hero drinks the blood of a dragon and learns to speak to birds. Not many creators would have the audacity to attempt an adaptation of German composer Wagner's massively influential, incredibly complex four-opera cycle, but Russell (American Gods, Vol. 1: Shadows) isn't like most creators. Long considered an illustrator's illustrator, ­Russell here proves that he deserves to be a household name. Each and every page of this ­Eisner Award–winning volume is absolutely gorgeous, and most of them contain at least one panel that reverberates with uncanny power. ­Extensive notes on ­Russell's process of adapting the opera demonstrate how methodically he approached the project, down to figuring out how to compose pages in order to render musical leitmotifs visually. VERDICT Wagner's work has been a major influence on the novels of J.R.R. Tolkien, but Russell's breathtaking adaptation more than makes the case for this story being worthy of ­being enjoyed on its own.
---
Tom Batten is a writer and teacher whose work has appeared in the Guardian and The New Yorker. He lives in Virginia
---
These reviews were originally published in Library Journal's April 2019 issue.