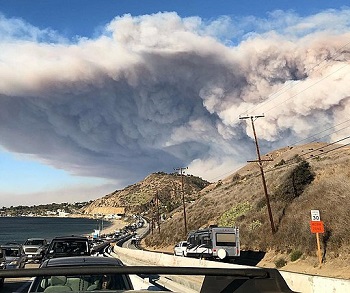 Woolsey Fire evacuation from Malibu on November 9, 2018
The 2018 wildfire season was California's most destructive on record, with more than 7,500 individual fires recorded. In November the Camp Fire, in northern California's Butte County region, and the Woolsey and Hill fires, in Los Angeles and Ventura counties, devastated communities in northern and southern California respectively, destroying thousands of residences and businesses and displacing hundreds of thousands of people. At press time rains across the state were helping to contain the still-active fires, but many evacuated families remain in shelters, hotels, and tents. There are 870 people still unaccounted for.
Libraries in fire areas found themselves playing several roles at once. A number were evacuated, and still more were closed for smoke and debris cleaning even if they did not receive direct damage. Many also served as community gathering places and regional assistance centers—some as soon as they received the all-clear to reopen.
DESTRUCTION IN PARADISE, SMOKE RELIEF IN SF
The Camp Fire in Butte County, which erupted on November 8, is now considered the deadliest wildfire in California history. At press time the fire, which covered an area of about 151,000 acres, had resulted in 79 fatalities and another 17 injuries of civilians and firefighters, with some 700 people still missing. The fire damaged more than 16,000 structures, and essentially destroyed the community of Concow and the town of Paradise.
Although the Paradise branch of the Butte County Library (BCL) System suffered extensive smoke damage, it remained standing, director Melanie Lightbody said—one of the few intact structures in the town. The system's other five branches are open, but not the Paradise library, whose local history collection will need restoration and preservation; in addition, five out of 26 staff members lost their homes. Marin County Free Library director Sara Jones has set up a fundraiser for BCL.
Smoke from the Camp Fire caused hazardous air quality conditions across the Bay Area as it burned into its second week. Residents with heart or lung diseases, as well as older adults and children, were affected by the reduction in air quality. By November 15, the National Weather service was urging people to stay indoors and wear breather masks if they needed to go outside.
Along with a number of other cultural organizations in the area, San Francisco Public Library (SFPL) elected to extend its open hours from Friday, November 16 through Monday to accommodate community members who might not otherwise have access to purified indoor air. Rather than closing at 6 p.m., SFPL's Main Library stayed open until 9 p.m. each night.
"City leadership is urging people to stay indoors," said acting city librarian Michael Lambert. "But there are certain individuals who do not have shelter, so we're focused on being part of the city's resiliency strategy and we're focused on providing shelter for vulnerable populations."
Library employees were suffering from the poor air quality as well, Lambert told LJ, as were many of their children—schools were closed on Friday. But "[they] are committed to public service," he said, "and they're passionate about playing an important role during this crisis, so we have been able to have staff step up…and be here for the community in the time of need."
A number of Bay Area museums offered free admission during that time, and Oakland Public Library kept its doors open later as well.
Rain was expected on Wednesday, November 20, which would help to contain the fire but increase the danger of flash flooding, putting displaced residents without shelter at risk.
DISASTER ASSISTANCE IN L.A.
At press time, the Woolsey Fire, which has also been burning since November 8, has burned nearly 97,000 acres and caused three fatalities across the communities of Thousand Oaks, Oak Park, Westlake Village, Agoura Hills, West Hills, Simi Valley, Chatsworth, Bell Canyon, Hidden Hills, Malibu, and Calabasas. The Hill Fire has been contained since November 15.
Four of Los Angeles County Library's (LACL) 87 locations were evacuated on November 8: Agoura Hills, Westlake Village, Topanga, and Malibu. "It was a mad dash last Thursday, along with the community, to evacuate the building and our staff," director Skye Patrick told LJ. A week later, staff were allowed back into the libraries, where they found no significant damage. Westlake Village and Agoura Hills have some soot and debris that will require remediation, said Patrick, but Topanga and Malibu had resumed operations by Monday, November 19.
The reopened Malibu branch immediately extended its hours through Saturday, November 24, to support an adjacent disaster assistance center (DAC) opened by the county. "We'll also be responsible for providing not only typical library services but we will mobilize additional laptops, PCs, and Wi-Fi," explained Patrick.
Of some 1,600 employees, about 45 had to evacuate, although Patrick was not aware of any catastrophic losses among staff members. "Our staff has been so incredible and so willing and ready to help," she said. Among other efforts, they boxed up books and toys to bring to shelters, although those shelters were emptied before the materials could be delivered. "At this time the DAC seems to be the way that we can assist the community best," noted Patrick.
As for people who want to help the library, she advised, "Hang tight…. Our library system does not need any material—none of our collection was affected in any detrimental way. At this time I would say if they want to help they should donate to the Red Cross or one of those entities." Although most consider Malibu and Topanga wealthy communities, she added, there are income disparities across the county that are highlighted by a disaster like the fire. "The library itself is still standing. It's the people who need help."
EARLY OPENING IN CALABASAS
Employees of Los Angeles County's Calabasas Library, located in the hills west of the San Fernando Valley, were evacuated on November 8 as well. After closing early, recalled city librarian Barbara Lockwood, "City hall said there was a fast moving fire, and they wanted everyone out of the buildings and off the grounds. By early Friday morning, 2 a.m., I started getting texts that people were being evacuated all over town."
During the week the library was closed, one staff member provided updates of wildfire and community information through the library's social media platforms, "which people were really happy about," said Lockwood. "We got a lot of positive responses…for the information, which they weren't getting anywhere else."
Although city management, unsure how feasible local travel might be, asked the library to stay closed until Thursday, November 15, said Lockwood, "Library staff all felt that it was important to open as soon as possible because we did get power back." The building sustained some smoke infiltration, which was remediated by running fans for a few days. Since many in the rural, mountainous community still didn't have Internet or cable, she told LJ, the library, in the center of town, was well positioned to provide those services—so it opened that Wednesday. (City employees ended up being called in that Wednesday, after all.)
In addition to offering Internet access and lending Wi-Fi hotspots for people to take home, the library offers study rooms for people who may have lost commercial buildings to do business. But most important, said Lockwood, the library offered a place for people to convene. "I remember after 9/11, everyone wanted to be at the library just for a sense of community, just to get together and try and feel normal," said Lockwood. "We've had a lot of people who just want to come in and tell their stories, and be with other people."
Community members, she said, are "shell-shocked." These include two employees whose homes were destroyed—but who showed up to work anyway. "I have a great staff," Lockwood told LJ. "Everybody pulled together. Even the people who lost their homes came in—I couldn't believe it. We all support each other and we're all just trying to support the community."
RESILIENCE THROUGH TWO TRAGEDIES
On November 15, the Thousand Oaks Library (TOL) hosted a one-stop assistance center, put together by the Ventura county Human Services Agency, in its Grant R. Brimhall Library. There, fire victims could get help from all relevant agencies representing Ventura and Los Angeles counties, the city of Thousand Oaks, local nonprofits, and state agencies such as the Department of Motor Vehicles, Contractors State License Board, and California Office of Emergency Services.
The library had been closed for cleaning since the fire started, library services director Heather Cousin told LJ, although it had not sustained damage. Most of the work involved using blowers and de-ionizers throughout the building to dissipate any smoke smell from nearby fires, she explained. The library shares a space with buildings that were used as shelters for displaced community members, so "It was really an abundance of caution."
But the library was also a natural spot to convene a community in need. The agencies set up shop in the library's meeting room to offer information on everything residents might need: getting new identification, applying for state and federal aid, debris removal, housing and rental assistance, property assessment, construction permits, public assistance, crisis intervention, and health services. The Federal Emergency Management Agency (FEMA) set up a mobile trailer on site at the library as well, and staff from the U.S. Small Business Administration were on hand to offer financial assistance to those whose homes or businesses were damaged or destroyed. Homeowners' insurance company representatives met with residents in the library's parking lot across the street.
The branch had been given the all-clear on Tuesday, November 13, and then "we had about 24 hours to pull everything together," Cousin recalled. The library staff and IT department worked to set up everything the agencies might need, including a secure Internet connection for filing documents. The assistance center remained open through Tuesday, November 20.
TOL's other location had shut down briefly before the fire, however, because of a separate tragedy. On November 7, a gunman opened fire in Thousand Oaks' Borderline Bar and Grill, killing 12 people, including longtime community members and local college students. A family reunification center was set up at the Thousand Oaks Teen Center, which is adjacent to the Newbury Park Branch Library. "Given that we had the influx of media and families right next door to us," said Cousin, "we closed the library to give them time and space to take care of those needs."
Both branches are back in business, and staff are all safe and reporting back on their experiences. Even in the face of two concurrent tragedies, said Cousin, the community is showing its resilience. "We're already getting better," she said. "I think people didn't realize how strong they really were."
Those impacted by the Hill and Woolsey fires can get updates at venturacountyrecovers.org. Those seeking information and resources on the Butte Fire can go to buttecounty.net.