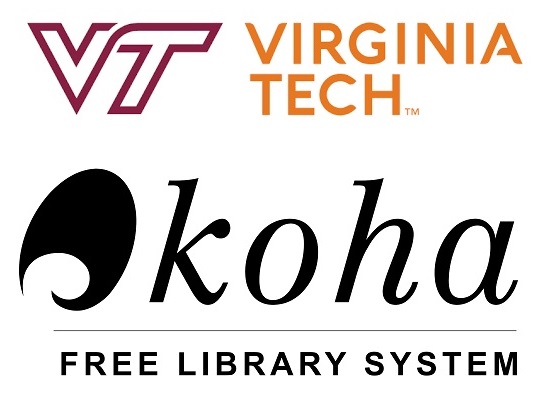 The University Libraries at Virginia Tech (VT) this summer became the first R1 research library to implement the Koha open source integrated library system (ILS), migrating more than 1.5 million holdings from its former Sierra ILS. Integration with the CORAL electronic resources management system and EBSCO Discovery Service (EDS) will enable students, faculty, and researchers to discover all library resources using a single interface. ByWater Solutions has been contracted to facilitate the transition with staff training, migration services, and ongoing hosting and development support.
VT University Libraries Assistant Dean and Chief of Staff Michael Kucsak told LJ that the selection of Koha followed a traditional request for proposal process. Koha has been implemented by a growing number of community colleges and small university libraries in recent years, but historically the open source system primarily has been used by public libraries. The implementation by VT illustrates how much the ILS has grown in terms of functionality and scalability since its initial development almost two decades ago.
Industry consolidation has reduced to a handful the number of commercial vendors serving the academic library market in the United States, with Alma by Ex Libris demonstrating the fastest growing market share. During the selection process, "initially, we were very split, as a library, on what we liked," Kucsak said, with staff preferences typically varying by department or job function. "We didn't have complete buy-in for any system. But we talked about our expectations in terms of 'what must a library system do? Can the systems that we are looking at do it? And, then, what is the justification for going beyond…the baseline? What are the justifications for spending more money for these other systems?'"
A selection committee opted for Koha, Kucsak said, deciding that it had the necessary functionality, and that VT could pay ByWater or other third-party developers to create enhancements or new features as needed. For example, prior to VT's implementation, Koha was not designed to shorten the borrowing period for books that are currently checked out. So an order for a recall feature was included in VT's initial contract, and ByWater's developers added it to the ILS before launch. Similarly, support for ILLIAD has been added, along with additional granularity for staff permissions and tweaks to workflows.
"I think the greater challenge was really identifying all of the things that we had just become accustomed to [versus] this is what the system has to have," he said. "That, to me, is one of the hardest things when you're going to any new system—identifying what is a business requirement, versus something you prefer or like. And the greatest challenge of all is going to a new system, and avoiding trying to make it work like the old system."
Another important factor, he said, was "freedom and flexibility. Not only were we looking at an ILS, we were also reconsidering our discovery tool [ultimately selecting EDS]. And not every system gives you the flexibility to use whatever discovery tool you want. We don't want to be locked in to anything…. One of the systems had a very attractive package when it came to e-resource management, and e-resource integration, but it came with a price—use this system and it works well, use anything else, and it doesn't work at all. We really didn't like that."
There were concerns about being the first R1 university library to implement the system, Kucsak said. But ByWater's largest customer, the Huntsville–Madison County Public Library system (HMCPL) in Alabama, had a roughly comparable number of records/holdings—including a main branch with more than half a million volumes—and circulates about two million items per year.
"We had more bib records…a million and a half to [HMCPL's] million, but that wasn't so great [a difference] as to say this is untested," Kucsack said. "And circulation, to me, is really key. If you can't check out books on day one, you've really failed as an ILS…. [HMCPL] circulates two million per year, and we circulate 50,000 books, and maybe 100,000 objects a year…. When you look at the numbers…we felt very comfortable that [ByWater] would be able to scale with us, if they needed to scale at all."
Kucsak—who began his library career more than two decades ago as a systems librarian—has been watching the growth of Koha since its early days, when it was primarily known as a free ILS solution for small public libraries. Koha's open source nature has enabled it to evolve over the years, with libraries and third-party developers adding new features as needed, many of which are later incorporated into official releases available to all Koha users. With VT now likely to fund the development of features needed by large research libraries via ByWater, Koha appears to be reaching a new frontier in that evolution.
"One of the things that we really like about Koha is that, if we don't like it, we can change it," Kucsak said. "Not just in the ILS world, but frankly, in any [commercial] system—from discovery tools to word processors—you can create a ticket and [ask for a feature or a fix, and] maybe five years down the road they'll implement it if enough people ask for it."
Now, VT can simply pay companies like ByWater for custom development, he noted, adding that based on the fee structure, it will cost "a fraction of the amount of money that we'll be saving every year" by opting for an open source solution versus a commercial system. "ByWater can provide us with hosting, expertise, training, and support services for less than it would cost us to hire a single systems admin."
"There are definitely some things that we are 'taking one for the team'… if other [major research] libraries follow our lead on this," he said. "But I don't know that we accept that there are any limitations right now" regarding how the system can be customized, "and that's exciting."
Proving the viability of Koha, an existing open source ILS, in an R1 academic library environment also has the potential to reorient the ILS/Library Services Platform market, Kucsak said.
"This system was good enough for Virginia Tech on day one, and it's already better today than it was" following implementation a little more than two months ago, with VT-funded features such as recall and ILLIAD support, he said. "That's the beauty of community-driven software development. We're capable of evolving this system, and if more people get on the system, it will evolve faster. But even if it doesn't, and other libraries don't go this route, I would bet…that they are going to buy whatever system they're going to buy for less money" due to a new competitor entering the market.