From King Tutankhamun to North Korea.
Clark, Lloyd. The Commanders: The Leadership Journeys of George Patton, Bernard Montgomery, and Erwin Rommel. Atlantic Monthly. Nov. 2022. 432p. ISBN 9780802160225. $30. HISTORY
de Bellaigue, Christopher. The Lion House: The Coming of a King. Farrar. Nov. 2022. 304p. ISBN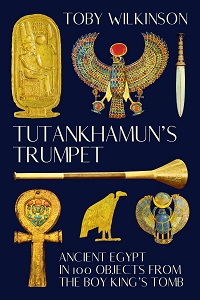 9780374279189. $28. HISTORY
Drury, Bob & Tom Clavin. The Last Hill: The Epic Story of a Ranger Battalion and the Battle That Defined WWII. St. Martin's. Nov. 2022. 416p. ISBN 9781250247162. $29.99. CD. HISTORY
Everitt, Anthony & Roddy Ashworth. Nero: Matricide, Music, and Murder in Imperial Rome. Random. Nov. 2022. 432p. ISBN 9780593133200. $30. Downloadable. HISTORY
Hope, Bradley. The Rebel and the Kingdom: The True Story of the Secret Mission To Overthrow the North Korean Regime. Crown. Nov. 2022. 288p. ISBN 9780593240656. $29. Downloadable. HISTORY
Wilkinson, Toby. Tutankhamun's Trumpet: Ancient Egypt in 100 Objects from the Boy-King's Tomb. Norton. Nov. 2022. 352p. ISBN 9780393531701. $35. HISTORY
Cofounder of the Centre for Army Leadership, British Army, at the Royal Military Academy Sandhurst, Clark weaves together the lives and careers of three consequential Commanders in World War II: U.S. general George Patton, British field marshal Bernard Montgomery, and German field marshal Erwin Rommel. In The Lion House, Orwell Prize–winning historian/journalist de Bellaigue chronicles the rule of Suleyman the Magnificent, the powerful 16th-century sultan of the Ottoman Empire, from the perspectives of those closest to him, e.g., an enslaved Greek turned Grand Vizier and a Russian consort turned beloved wife (15,000-copy first printing). From No. 1 New York Times best-selling Drury and Clavin (e.g., Blood and Treasure), The Last Hill re-creates the efforts of "Rudder's Rangers"—an elite U.S. Army battalion—to take and hold Hill 400 in Germany (200,000-copy first printing). Joined by freelance investigative journalist Ashworth, popular historian Everitt (Cicero, The Rise of Rome) rethinks Nero, the magnet-for-trouble populist ruler who proved to be the last of the Caesars. In The Rebel and the Kingdom, Pulitzer Prize finalist Hope (Blood and Oil) tracks the activism of Adrian Hong, who abandoned his Yale studies in the early 2000s to help usher North Korean asylum seekers to safety and has become increasingly involved in efforts to track and oppose North Korea's government, culminating in an alleged raid on Madrid's North Korean Embassy in 2019. Author of the multi-best-booked, New York Times best-selling The Rise and Fall of Ancient Egypt, Wilkinson commemorates the 100th anniversary of the discovery of Tutankhamun's tomb by chronicling 100 key artifacts, including the silver-shiny Tutankhamun's Trumpet.