These authors come with major awards and a lot of good writing.
Baker, A. Deborah. Over the Woodward Wall. Tor. Oct. 2020. 208p. ISBN 9780765399274. $17.99. DARK FANTASY
Writing as Baker, Seann Mcguire (who also writes as Mira Grant and has Hugo,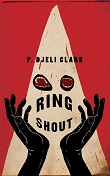 Nebula, Alex, Locus, and Campbell trophies stashed in her closet), sends rock-steady Avery and in-her-own-orbit Zeb across a wall on the way home from school, where they discover a land where trees chatter, queens entrance, and owls and mermaids threaten. With a 50,000-copy first printing; a companion to Middlegame.
Bear, Elizabeth. Machine: A White Space Novel. Gallery: Saga. Oct. 2020. 496p. ISBN 9781534403017. $25.99. SF/SPACE OPERA
Setting her new work in the same universe as her "White Space" series, Hugo/Campbell honoree Bear introduces us to Dr. Jens, who glides around the universe caring for sick aliens. Then she finds two ships locked together, with the shipmind failing to function properly and the crew suffering from an unidentifiable ailment, and suddenly she is facing a terrible truth. With a 50,000-copy first printing.
Clark, P. Djèlí. Ring Shout. Tor. Oct. 2020. 144p. ISBN 9781250767028. $19.99. DARK FANTASY
Sorcerer D.W. Griffith spinning dark thoughts into the hearts of Americans with The Birth of a Nation, and the Klan ready to rise. But bootlegger Maryse Boudreaux has a magic sword (she chases monsters called the Ku Kluxes), and she joins with a sharp-tongued sharpshooter and a Harlem Hellfighter to bring down evil. From Nebula, Locus, and Alex Award-winner Clark; with a 75,000-copy first printing.
danforth, emily m. (text) & Sara Lautman (illus.). Plain Bad Heroines. Morrow. Oct. 2020. 464p. ISBN 9780062942852. $27.99. GOTHIC
Described as comedic horror, this adult debut from the author of The Miseducation of Cameron Post (made into a Sundance Grand Jury Prize–winning movie) opens in the early 1900s at The Brookhants School for Girls, where overenthusiastic fans of shock-inducing memoirist Mary McLane form the Plain Bad Heroines Club and wind up dead in a field. A century later, a book celebrating the school's queer feminist history inspires a horror film adaptation that ends up dangerously blending past and present. With a 50,000-copy first printing.
Donwood, Stanley. Bad Island. Norton. Oct. 2020. 144p. ISBN 9781324001850. $18. DYSTOPIAN
Cult-favorite Donwood works in his monochromatic linocut style to provide the ultimate in the graphic-novel format: there are not words. Instead, an island emerges and draws closer, with bursting flora and fauna eventually invaded by humans with spears, then guns and even worse weapons as smoke billows and metal clangs. Not a story meant to soothe.
Drayden, Nicky. Escaping Exodus: Symbiosis. Harper Voyager. Oct. 2020. 368p. ISBN 9780062867759. $16.99. SF/SPACE OPERA
Continuing where Escaping Exodus left off, Compton Crook Award–winning Drayden shows us the Zenzee, giant creatures who carry what's left of humanity through space. The Zenzee have been driven nearly to extinction through cruel use by their passengers, but new ruler Doka Kaleigh successfully institutes a fairer way of life—and invokes the wrath of his fellow humans, who were sure he would fail. Meanwhile, he does something strictly prohibited: he fails in love with his wife. With a 50,000-copy first printing.
Herbert, Brian & Kevin J. Anderson. Dune: The Duke of Caladan. Tor. Oct. 2020. 416p. ISBN 9781250764744. $27.99. CD. SF/FANTASY
Herbert and Anderson pair up again to continue expanding the world first introduced by Herbert's father, Frank. In what's billed as a new prequel trilogy, the duke of Caladan discovers a plot to betray the Imperium. With a 75,000-copy first printing.
Khan, Ausma Zehanat. The Bladebone. (Khorasan Archives. Bk. 4). Harper Voyager. Oct. 2020. 384p. ISBN 9780062459251. pap. $17.99. FANTASY/EPIC
In this continuation of the series begun with The Bloodprint by human rights lawyer–turned–mystery and fantasy author Khan, female warriors Sinnia, Arian, and the Citadel of Companions search frantically for a magical weapon called the Bladebone. It's the only way to defeat the evil One-Eyed Preacher, now in possession of the Bloodprint and its scary power. With a 35,000-copy first printing.
Liu Cixin. To Hold Up the Sky. Tor. Oct. 2020. 336p. ISBN 9781250306081. $27.99. CD. SF/SHORT STORIES
New York Times best-selling, Hugo Award–winning Liu, one of China's preeminent sf writers, reenvisions the past even as he reconfigures the future in this collection of short fiction. With a 75,000-copy first printing.
Roanhorse, Rebecca. Black Sun. Gallery: Saga. Oct. 2020. 464p. ISBN 9781534437678. $27.99. CD. FANTASY/EPIC
The winter solstice is usually cause for celebration in the holy city of Tova, but this year it coincides with a solar eclipse, which is frightening news for "A god will return/ When the earth and sky converge/ Under the black sun." Now a ship is heading toward Tola with a single, seemingly harmless passenger—and who knows what will happen. From a Nebula, Hugo, Sturgeon, and Campbell finalist; with a 75,000-copy first printing.
Robinson, Kim Stanley. The Ministry for the Future. Orbit: Hachette. Oct. 2020. 480p. ISBN 9780316300131. $28. Downloadable. POSTAPOCALYPTIC
As the Hugo, Nebula, and Locus award–winning Robinson here deals with climate change and the complications of technology, as well as the types of human behavior that lead to crises in these areas, it's no surprise that this postapocalyptic novel is set in the near future. No plot details but a 150,000-copy first printing.
Sapkowski, Andrzej. The Tower of Fools. Orbit: Hachette. Oct. 2020. 464p. tr. from Polish by David French. ISBN 9780316423694. pap. $16.99. Downloadable. FANTASY/EPIC
Polish author Sapkowski, celebrated for his Witcher novels—the basis of what was Netflix's second most watched series in 2019—returns with a different character and different world but the same atmosphere. Set during the Hussite wars, this first in a trilogy features Reinmar of Bielau, forced to flee his home and then to shelter in the Narrenturm, the Tower of Fools. With a 30,000-copy paperback first printing; a hardcover is also promised.
Schwab, V.E. The Invisible Life of Addie LaRue. Tor. Oct. 2020. 448p. ISBN 9780765387561. $26.99. CD. FANTASY/HISTORICAL
A No. 1 New York Times best-selling author of adult, YA, and children's fantasy, Schwab opens her latest work in 1716 France, where young Addie LaRue makes a Faustian bargain: she will live forever, significantly shaping the course of history and art, but will be forgotten by everyone she encounters. Three centuries later, in a little Paris bookstore, a young man remembers her name. With a 350,000-copy first printing.