Friends, family, lovers, a swamp monster, and the nonnegotiable self.
Click here for additional new Prepub Alert columns
Barry, Dave. Swamp Story. S. & S. May 2023. 336p. ISBN 9781982191337. $28.99. CD. HUMOROUS
Stuck in a tumbledown Everglades shack with a nasty ex-boyfriend and an infant daughter, Jesse thinks she's found a way out: she's tripped over a long-lost treasure. Unfortunately, a bunch of bad guys are also looking for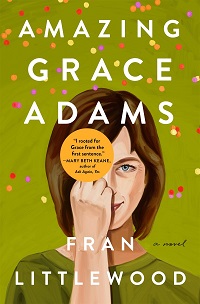 the treasure, even as tourists storm the swamp in search of the Everglades Melon Monster, tricked by Ken Bortle's ploy to shore up his floundering bait'n'beer business. From Pulitzer Prize–winning New York Times best-selling Floridian Barry.
Bauermeister, Erica. No Two Persons. St. Martin's. May 2023. 320p. ISBN 9781250284372. $28. Downloadable. CONTEMPORARY
Though gifted, Alice can't find her voice as a writer until tragedy shatters her life, compelling her to write a stunning debut novel. Among readers who find it life-changing are an unhoused teenager, a grieving widower, a love-hungry bookseller, a risk-taking athlete, and an angry artist frothing to take on the world. From the author of the best-selling novel The Scent Keeper; with a 150,000-copy first printing.
Brammer, Mikki. The Collected Regrets of Clover. St. Martin's. May 2023. 320p. ISBN 9781250284396. $28. Downloadable. CONTEMPORARY
When her grandfather dies alone while she is traveling, Clover commits herself to being a death doula, gently helping people through their last moments of life. But she has no life of her own until a client's final wishes send her cross-country in search of an old love story—and the courage to change. A 100,000-copy debut from Australian author Brammer.
Forrey, Avery Carpenter. Social Engagement. Mariner: HarperCollins. May 2023. 336p. ISBN 9780063294905. $28.99. CONTEMPORARY
Within hours of getting married, Callie Holt knows that she's made a mistake. With her dull financier husband passed out, she eats pizza in their bathtub at a swank wedding venue while scrolling through old photographs on her phone, trying to figure out what went wrong. Could it have something to do with mega-rich friend Virginia and the uncomfortable things she's learned about Virginia's family? A peek at the millennial marriage scene from debuter Forrey; with a 100,000 copy first printing.
Hostin, Sunny. Summer on Sag Harbor. Morrow. May 2023. 432p. ISBN 9780062994219. $28.99. lrg. prnt. CD. CONTEMPORARY
Stung by the betrayal of surrogate father Omar even as she continues puzzling over her biological father's long-ago death, successful financier Olivia seeks renewal by moving to a summer home in SANS (Sag Harbor Hills, Azurest, and Nineveh), a quiet Hamptons enclave for the Black elite since the 1930s. Unfortunately, developers are on their way to SANS, too. Following Hostin's top-selling debut, Summer on the Bluffs, which is being made into a film by Hostin's new production company; with a 200,000-copy first printing.
Lane, Byron. Big Gay Wedding. May 2023. 352p. ISBN 9781250267146. $26.99. Downloadable. LGBTQ+
Barnett Durang's widowed mother knows that he's gay, but she doesn't yet know that he's getting married—at her farm, no less, in a small and not altogether tolerant Louisiana town. And 200 people will be attending. From the author of A Star Is Bored, a debut novel based on his experiences as Carrie Fisher's assistant; with a 60,000-copy first printing.
Littlewood, Fran. Amazing Grace Adams. Holt. May 2023. 272p. ISBN 9781250857019. $27.99. Downloadable. CONTEMPORARY
At age 45, Grace Adams has been feeling stuck in life for quite some time, and now she's stuck in a monster traffic jam. Deciding that she's hit her limit, she abandons her car and starts marching across London, carrying an extravagant cake as a peace offering to her estranged 16-year-old daughter and determined to reassert herself in the world. Preempted in multiple countries and optioned for film; a debut with a 300,000-copy first printing.
Luo, Susie. Paper Names. Hanover Square: Harlequin. May 2023. 320p. ISBN 9781335426888. $27.99. CONTEMPORARY
Chinese-born engineer Tony, now a Manhattan doorman. Tony's first-generation daughter, Tammy, caught between her dreams and her family's ambitions for her. And Oliver, a handsome white lawyer in Tony's building contending with his family's troubled past. As their stories unfold over three decades, they are brought together by a terrible act of violence. Luo debuts with a 100,000-copy first printing.
McCall Smith, Alexander. The Private Life of Spies and the Exquisite Art of Getting Even: Stories. Pantheon. May 2023. 304p. ISBN 9780593700693. $27. lrg. prnt. SHORT STORIES
The author of the popular "No. 1 Ladies' Detective Agency" series returns with a short story collection that's neatly split between spy stories and tales of revenge, though the tone is lighter and funnier than one might expect. A spy dropped into enemy territory must disguise himself as a nun, for instance, while elsewhere an author facing disgrace redeems himself with an act of kindness. With a 100,000-copy first printing.
Sloan, Holly Goldberg. Pieces of Blue. Flatiron: Macmillan. May 2023. 272p. ISBN 9781250847300. $28.99. Downloadable. CONTEMPORARY
After her husband's death in a surfing accident, Lindsey seeks to start over by buying a charming if slightly tattered motel in Hawai'i. Her children adjust quickly—Olivia starts crushing on a local skateboarder, Carlos remakes himself as cool-kid Carl, and little Sena devotes herself to the motel chickens—but Lindsey is overwhelmed by her new business venture until an attractive stranger offers to help. Is he too good to be true? A debut adult novel from New York Times best-selling YA author Sloan; with a 75,000-copy first printing.
Smale, Holly. Cassandra in Reverse. Mira: Harlequin. May 2023. 400p. ISBN 9780778334538. $27.99. CONTEMPORARY
One terrible day, Cassandra Dankworth is dumped by her boyfriend and loses her PR job for not being a people person. By evening, she's delighted when her ex shows up, but the next morning the whole sequence starts again, and she finds herself repeating the same unbearable 24 hours, determined to fix what's wrong with her life until she realizes she's been focusing on the wrong problems. Best-selling YA author Smale, who discovered that she was autistic as an adult, features a neurodivergent protagonist; with a 50,000-copy first printing.
Thayer, Nancy. All the Days of Summer. Ballantine. May 2023. 320p. ISBN 9780593358450. $28. CD. CONTEMPORARY
No word yet on the plot of this latest book from beach-reads queen Thayer, but the setting is again Nantucket, and talk of love, family, and friendship is promised.