One of the biggest takeaways from the pandemic is the sheer number of people whose needs aren't being met by traditional library programs. As libraries seek to expand opportunities for the patrons in their community, technology tools and resources play a critical role in ensuring access to valuable information, items, and services.
"The user demographic of libraries is so diverse," says Talia Richards, marketing director for Springshare. "There's a whole segment of users who never come to the library itself." They might be homebound, she says, or they might be working during normal library hours—or maybe they lack transportation to get to an actual library branch. Using digital tools and platforms can ensure that libraries are reaching these patrons as well.
The right digital tools can make a library's resources more accessible to patrons by giving them a simple way to access materials online, by extending the library's presence to more locations, or by providing after-hours services. The right tools make it easier for patrons to engage with the library in ways that meet their diverse needs.
What's more, new technology tools can simplify the job of librarians, freeing them from labor-intensive tasks or from being tethered to a circulation desk so they can focus on serving their communities more effectively.
"Having a thoughtful approach to the library's digital spaces is just as important as paying attention to their physical spaces," Richards says. "If librarians aren't thinking of those digital spaces, they're potentially alienating a whole segment of their population."
Here are some of the latest technologies that can help libraries extend access to more people and better meet their communities' needs..

LibraryIQ
LibraryIQ is a comprehensive, cloud-based platform for data analysis. Created by librarians for librarians, LibraryIQ pulls data from a library's ILS and other commonly used software tools into a single dashboard to help librarians make better decisions regarding collections management, facility optimization, and strategic planning.


"LibraryIQ is a user-friendly space for libraries to have all their analytics in one place," says Molly Mansfield, a librarian who's also a project manager for LibraryIQ. "It makes the work of running a library so much easier, because you have all those data sources in one place."
Librarians often have to pull data manually from various sources into a spreadsheet if they want to make data-driven decisions—a very time-consuming process. LibraryIQ streamlines this process while giving librarians powerful insights to improve their operations.
For instance, LibraryIQ shows librarians at a glance how their collections are being used, so they can allocate their budgets wisely and either weed out or more prominently showcase items that aren't circulating. What's more, a new diversity, equity, and inclusion (DEI) analysis tool will be available this spring, Mansfield says—helping librarians easily perform diversity audits of their collections.
"We have a selection tool that allows librarians to see all the existing titles within their collection and measure them against different lists within IQ to identify titles for potential purchase," she explains. "Librarians can see reviews of items they might want to purchase, add items to their shopping cart, and send those requests to a vendor. Within that functionality, we're adding DEI indicators. A librarian will be able to choose an indicator, such as gender, and see instantly what percentage of their collection meets that indicator—along with suggested titles they might want to add."
LibraryIQ also provides insight into who uses the library and, perhaps more important, who doesn't. An interactive patron map helps librarians visualize patron engagement with the library across the geographic area they serve. "With LibraryIQ, we have a deeper understanding of library users and nonusers, enabling us to design services that broaden our reach into the community," says Pam Collins, director of the Musser Public Library in Iowa.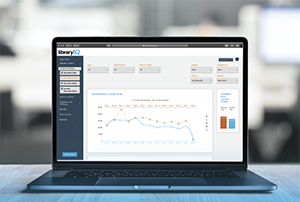 LibraryIQ will be adding new functionality to the platform later this year that will enable librarians to understand common behaviors for 11 different user cohorts, such as parents of young children. Librarians will be able to use this information to determine what types of resources these groups might be interested in, so they can develop new services that will appeal to them and promote existing programs and services more effectively.
"We think that's going to be a home run," says Senior Vice President of Sales Joe McAvoy.
In addition, LibraryIQ enables librarians to identify key goals and metrics and create a customized action plan for improvement, complete with performance tracking to ensure progress. If librarians would like help with this process, LibraryIQ consultants are available to assist..
LibraryIQ is available for an annual subscription based on a library's size, plus a one-time setup fee. The platform is fully configurable for each subscriber. It integrates with all of the leading ILS platforms on the market, including Polaris, Sierra, and SirsiDynix, as well as data services such as Claritas, Counting Opinions, and the U.S. Census Bureau.

Unique Management Services
Founded in 1996 and based in southern Indiana, Unique Management Services helps transform the way public libraries function with materials recovery and patron communication services.
The company's original product, Gentle Nudge®, helps libraries recover overdue books and other materials—along with fines and fees—while preserving the dignity of patrons and maintaining good will. Since the launch of the service, nearly 2,000 libraries across five countries have collectively recovered more than $1.1 billion in assets without wasting valuable staff time.
"This is an issue of equity for patrons," says President of Patron Services Rob Klaus. "Libraries want to make sure those resources are available for everyone to use."
More recently, Unique has broadened its focus to include all forms of patron communications. For instance, the company offers UniqueChat, a live web chat feature that helps libraries engage online more effectively with their patrons. It's a mobile-enabled widget that can be embedded on any page of a library's website to allow for immediate, two-way communication with patrons. The service can be set up to respond automatically to certain types of questions, and it supports hundreds of languages using an automated translation tool.
Librarians can use UniqueChat to answer patrons' questions for themselves, or they can let Unique do this through the company's Patron Services offering. With Patron Services, Unique provides live responses to patron questions through voice calls and web chats, any time from 7 A.M. to 11 P.M. Eastern time.
Another product, MessageBee, enables libraries to send automated notifications to patrons through phone calls, SMS alerts, and rich, engaging emails rather than plain-text messages. MessageBee turns boring ILS-generated email notifications into a patron-engagement tool with simple drag-and-drop design. The product integrates with a library's ILS, as well as marketing tools like Mailchimp®, so librarians can send highly customized messages to specific user groups.
Providing exceptional customer service is important for libraries, Klaus says, because they serve as resource hubs for stakeholders in their communities. Unique's services help libraries provide outstanding customer service without placing more demands on library staff, freeing them to focus on higher-value tasks.
"People now expect things to be convenient. They expect this level of service from the organizations they work with," he notes. "It's about making libraries relevant in the modern age. If you don't have a customer service presence that's ubiquitous, people aren't going to use your library's services.".

MIT Press
MIT Press publishes about 300 books and 40 journals per year on a wide range of subjects, from science and technology to art, design, architecture, economics, and science fiction. Every book is peer reviewed, and many are authored by academics written for a general audience.
From the spring 2023 catalog is More than a Glitch: Confronting Race, Gender, and Ability Bias in Tech by Meredith Broussard, March 2023, ISBN 9780262047654. Broussard—a New York University professor who is one of the few Black female researchers in the field of artificial intelligence—explores the implicit bias encoded in computer systems designed overwhelmingly by white, cisgendered men.
The book takes readers through many examples of how people are being harmed by software that has been developed from an insufficiently diverse pool of individuals. "This is a really important book," says Editorial Director Gita Manaktala. "Academics are aware of these problems with technology, but the general reader is not."
In Technology's Child: Digital Media's Role in the Ages and Stages of Growing Up, March 2023, ISBN 9780262046961, author Katie Davis draws upon empirical research to bring clarity to the role of technology in a child's development from toddler to early adulthood.
Davis is an associate professor at the University of Washington Information School, where she runs a Digital Youth Lab. Her overall conclusion is that technology can support healthy child development when it's self-directed and community-supported; when it's not, it can impede development.
"This book is a useful and nuanced alternative to the more typical 'moral panic' narratives about children and screens," says Acquisitions Editor Susan Buckley. "She's bringing real scholarly knowledge to questions that every parent is asking these days."
Invention and Innovation: A Brief History of Hype and Failure by Vaclav Smil, February 2023, ISBN 9780262048057, looks at several technologies that were touted as the "next big thing" but failed to catch on. Smil—Distinguished Professor Emeritus at the University of Manitoba and best-selling author of more than 40 books—methodically yet humorously dismantles the myths around innovation and reminds us to better align our expectations with reality..
"In 2018, the Harvard scientist David Keith called Smil 'a slayer of bullshit,' and I really think that should be the tagline for this book," says Senior Acquisitions Editor Beth Clevenger.

Gale
Gale is a global provider of research and digital-learning resources based in Farmington Hills, Michigan. Gale is well known for its research databases and primary-source archives sold to public, academic, and K-12 libraries and schools. Founded in 1954, the company has been a division of Cengage Group since 2007.
Through a partnership with the online-learning company Udemy, Gale has been offering a specially curated collection of on-demand courses for the public library market to support professional upskilling since 2020. Gale Presents: Udemy is a subscription-based service that gives library patrons unlimited, simultaneous access to more than 20,000 online courses from Udemy in subjects such as business, technology, and personal development.
With many people looking for more flexible work options, better-paying jobs, or reevaluating their priorities altogether since the start of the pandemic, "Gale Presents: Udemy" is a timely resource that helps public libraries meet a critical need in their communities.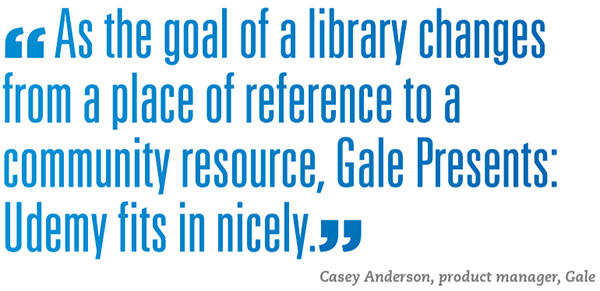 "As the goal of a library changes from a place of reference to a community resource, Gale Presents: Udemy fits in nicely," says Product Manager Casey Anderson.
According to a Cengage survey, two-thirds of workers who quit their jobs during the Great Resignation took an online training course or certificate program to improve their standing in the job market—and 89 percent said this training helped them land a new job.
With Gale Presents: Udemy, library patrons can take courses on topics ranging from cybersecurity and coding to business management, office productivity, and even personal development skills such as mindfulness, general finance, and language learning. The courses all come from the "Udemy for Business" collection.
Many of the video-based courses are as short as a few minutes, although some take several hours to complete. A course that prepares individuals for the rigorous CompTIA technology certification, for instance, involves 200 hours of instruction. Patrons can search for courses by keyword and subject area, and they can filter results by course features, level, language, duration, subtitles, and ratings.
Of the 20,000-plus courses available, more than 10,000 of them are offered in a language other than English. English-language courses include subtitles in more than 15 languages. Transcripts for the videos are also available.
"A lot of work has been put into making the courses accessible for everyone," Anderson says.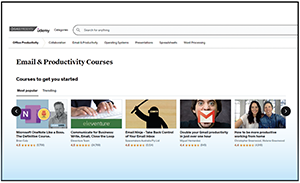 The course instructors include world-class thought leaders, best-selling authors, and award-winning professors who are making advancements in their fields. With apps for both iOS and Android devices, users can download courses to view offline, listen to courses with podcast-style audio, and watch courses using Chromecast or Apple TV.
"The platform is very intuitive to use, so patrons can easily find what they need," says Director of Product Management Jan Murphy. That's important, she notes, as librarians are often pulled in many different directions and have limited time for answering questions.
The Denver Public Library is one of more than 700 public libraries across North America that subscribe to Gale Presents: Udemy. College student Brenna, who's studying data science and statistics, shared how the service helped them obtain a summer internship:.
"The Complete Resume, LinkedIn & Get Your Dream Job Course! taught me how to create an incredible resume, optimize my LinkedIn profile, and hone my networking skills and interview skills," Brenna says. "The technical training courses in Drupal, React, and SQL gave me confidence in my knowledge base. Udemy definitely helped me land my summer internship as a web programmer."

The Quipu Group
Since 2005, the Quipu Group has created custom products and services for libraries that empower staff and patrons through data collection, organization, and communication. An example is ePASS, which helps libraries manage free or discounted passes to museums, theaters, zoos, and other community partners.
The system enables patrons to reserve these passes online according to the terms established by the library and its partners. "Libraries can decide who can reserve passes and when, how many passes they can reserve, and how often," says Cofounder and Chief Librarian Melissa Stockton. Each venue has complete control over the number and type of passes it offers and can restrict passes based on a patron's age, ZIP code, library affiliation, and other factors.
The California and Illinois state library systems have implemented ePASS to simplify the management of cultural experiences for their patrons. "ePASS [allows us] to give our community opportunities to learn, marvel, and dream by providing easier access to museums" and other cultural venues, says Jean Hofacket, a librarian at California's Alameda County Library.
Another product, PITS® (Patron Incident Tracking System), gives librarians an easy way to record incidents and keep track of problematic patrons. Librarians can create incident reports, attach supporting documentation, and manage or automate the suspension of library privileges for specific users.
"We've had a 77 percent increase in sales of PITS within the last two years," Stockton says. She notes that the software enables librarians to see whether they're having trouble at certain branches, during certain times, or with certain incident types, so they can make sound management decisions based on the data.
The Quipu Group has added a number of customization options within PITS® in recent years. What's more, the company has created a seven-member advisory board consisting of customers who volunteer their time on a quarterly basis to give their feedback on product enhancements.
Quipu's first product, eCARD, allows people to register online for a library card and verifies that they live within a library's service area. A companion product, eRENEW, handles library card renewals online. .
All these products are web-based services hosted by Quipu, and all are available to libraries for an annual subscription fee.

D-Tech International
D-Tech was founded in the United Kingdom in 2001 by Marvin Crisp, who has worked in the library security business since he was 17. In 2012, the company opened a U.S. office in New Jersey.
D-Tech's initial success came from developing and selling systems for tracking, managing, and protecting library assets and forecasting demand using electromagnetic and RFID technologies. More recently, the company has also begun designing and manufacturing automated self-service solutions for libraries.
"We focus on how technology can help libraries serve their patrons more effectively," Crisp says.
lendIT is a self-service kiosk for dispensing books, CDs, and DVDs to patrons anytime, anywhere. It extends the reach of a library into community centers, shopping malls, and other locations. A built-in screen allows users to browse the machine's collection and choose materials. The kiosks are available in different sizes, with capacities ranging from 200 to 1,000 items.
holdIT is a self-service locker system for picking up and returning reserved items. Built from durable, weatherproof materials, the system can be placed inside or outside a library branch for 24-7 access. Patrons use their library card to open the locker containing the materials they've reserved, and once they do this, the items are considered checked out.
holdIT is a fully customizable system; libraries can brand the lockers with their own colors, and they can choose their own locker configuration as well. The lockers are available in various sizes, including oversized models for lending games, toys, tools, and other "library of things" materials.
computeIT is a modular, automated locker system for lending laptops, tablets, and other electronic devices to patrons. Available in sizes ranging from 12 to 96 computer bays, the units safely store and charge a library's devices when not in use. Patrons can check out a device with their library card, and libraries can set their own rules and lending periods.
"computeIT can work with any type of device," Crisp says. "Libraries simply let us know what devices they're lending out, and we configure the system accordingly.".
appIT is a fully customizable library app that allows patrons to reserve, check out, return, and renew materials; pay fines or fees; and otherwise interact with the library from the palm of their hand. The app is branded with a library's own branding, so patrons can find it easily within Apple's App Store or Google Play.
"We think this is how people will use their library in the future," Crisp says.

Counting Opinions
Founded in 2004 and based in Toronto, Counting Opinions provides public and academic libraries worldwide with comprehensive, cost-effective ways to capture and manage performance data, so they can measure how well they're serving their stakeholders and see how they're performing in relation to peer institutions.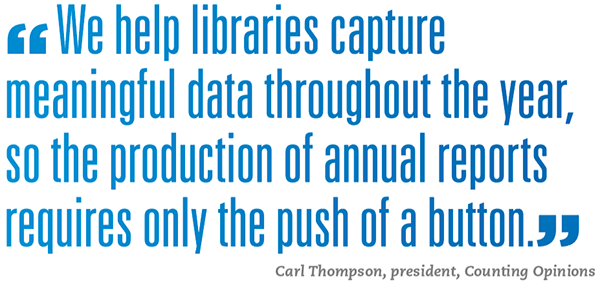 "We help libraries capture meaningful data throughout the year, so the production of annual reports requires only the push of a button," says President Carl Thompson. "We're helping libraries to achieve simplicity and have more confidence in their data."
LibPAS helps libraries capture the periodic performance data required for monthly and annual reports. It streamlines the collection of information from ILS software, HR and accounting systems, and other third-party software tools, saving time and reducing the burden on staff. LibPAS displays this information in easy-to-read reports that include tables, graphs, trends, rankings, and other easily digestible features. These reports help identify a library's strengths and weaknesses, inform decision making, and demonstrate outcomes to key stakeholders.
"We typically replace spreadsheets and homegrown data sources that aren't very easily managed," Thompson says. "Our services include advanced data validation to ensure the quality, consistency, and integrity of the data."
LibSat helps libraries capture qualitative data to measure customer satisfaction. Using LibSat's continuous feedback and monitoring capabilities, libraries can measure shifts in patron sentiments, satisfaction rates, and expectations. LibSat data capture is available in multiple languages to reduce the barriers to participation. The system can capture open-ended responses and includes sophisticated analysis tools to help libraries categorize responses and easily identify key themes.
"LibSat allows libraries to listen to the voices of their patrons, and the ability to capture open-ended comments can be extraordinarily insightful," says Vice President of Sales and Operations Frank Biss.
InformsUs is a web-based tool that helps libraries develop and implement custom forms and surveys. An extension of LibPAS and LibSat, this "no-code" platform enables librarians to take advantage of easy-to-use, drag-and-drop tools for creating forms and surveys that capture data on what patrons think of specific programs and services.
Using InformsUs, "librarians can collect information that helps them determine which programs should be retired, renewed, or expanded," Biss says. "Libraries have limited space and staff, and they're constantly trying to figure out how best to deploy these resources. InformsUs helps librarians make more informed choices about the path they should take forward."available
All of Counting Opinions' platforms are robust and scalable, and they meet ADA accessibility standards, Biss says. They are all fully hosted and available through a customizable web portal..
All three platforms are also tightly integrated, so that data flows seamlessly and automatically between them. In addition, Counting Opinions has built a knowledge-management system into all of its platforms to help users with data definitions. If librarians are new to using the products, Biss explains, they can easily find the information they need to complete a task.
"Our goal is to make sure the data that libraries are using is top-drawer," he concludes.

Communico
Communico began in the U.K. in 2006, expanded to the U.S. in 2012, and moved its worldwide headquarters to Stamford, Connecticut, in 2016. The company offers a comprehensive, cloud-based suite of eight software modules designed to help libraries reach new audiences, better engage with existing customers, and grow the use of library resources.
Create is a content management system that helps libraries build beautiful, responsive websites without a single line of code. Attend helps libraries manage both physical and virtual programs and events, including event registration. Reserve enables libraries to manage and promote meeting rooms and equipment through one intuitive interface. Schedule helps librarians coordinate appointment-based services, such as curbside pickups, tutoring, or career counseling. Broadcast is a digital signage application that turns any device into a digital sign for wayfinding, security, and promotion of library programs and resources. Connect is an intuitive, custom-branded mobile app that lets patrons do almost anything they can do at a library location from their phone. Roam is a mobile point-of-sale solution for staff to help patrons from wherever they are, freeing them from behind circulation or information desks. Interact is a self-checkout tool for patrons.
"Because these modules are all integrated, we are able to provide library patrons with a unified user experience both online and in-branch and save hundreds of hours of staff time by avoiding the duplicate tasks that are required when libraries use multiple software solutions," says Founder and CEO Paul Quelch..
Communico is also developing a new solution to improve users' access to information that will be later in 2023. Called Read, it's an ebook reader that will come preloaded with thousands of open-access ebooks from the Digital Public Library of America (DPLA). Libraries will be able to lend the device to patrons along with ebook titles they've licensed for themselves. "That way, patrons can read ebooks at home without requiring internet access," Quelch says.
Communico recently had five of its products honored with Platinum awards in the 2023 Modern Library Awards from LibraryWorks. "We're known as disruptors in the market, and we're also known for the exceptional service that our support team delivers," Quelch concludes.

Springshare
Perhaps best known for its LibGuides content management system that makes it easy for librarians to curate resources and share information, Springshare is a Software-as-a-Service (SaaS) company whose mission is to help libraries provide great service to their users.
Springshare was founded in 2007 and currently serves more than 6,100 public and academic libraries in 82 countries. Aside from LibGuides, the company offers cloud-based software to help libraries answer patrons' questions 24-7 (LibAnswers); promote and take reservations for programs, services, events, and spaces (LibCal); build stronger relationships with the community (LibConnect); analyze data to support better decision-making (LibInsight); use staff time more efficiently to better serve stakeholders (LibStaffer); and build custom forms, surveys, quizzes, and tutorials (LibWizard).
"When we see a need that's not being met in the market, we aim to fill that gap," says Marketing Director Talia Richards. "Affordability is a big draw for our users; we keep our price point down to ensure that we're delivering value to libraries."
Springshare recently introduced a new Lending Hub functionality within LibCal that helps libraries process unconventional items and materials, from museum passes to Library of Things collections.
With the Lending Hub, librarians can circulate both physical and digital passes to museums, zoos, and other cultural attractions to their patrons according to whatever lending rules they've established. An equipment module allows libraires to create a visual catalog of their Library of Things collections, such as sewing machines or sporting equipment; patrons can add items to their "cart" to reserve them at a local branch..
This spring, the company is introducing a chatbot to LibAnswers, to help automate the responses to frequently asked questions. The chatbot will simulate a live conversation with patrons; however, it won't be driven by artificial intelligence. Instead, it will rely on a series of "if-then" statements to answer patrons' questions in real time—and if it can't answer a question, it will refer the patron to a staff member.
Future enhancements include an incident-reporting tool within LibStaffer and ILS automation within LibConnect, so librarians can send automated notifications and reminders to patrons. "Our goal is to pivot quickly to address the challenges libraries are facing," Richards concludes.

International Library Services
Fred Goodman, founder and CEO of International Library Services, has been providing solutions to extend the reach of libraries for nearly 50 years. He started by designing and building small, portable "street corner" libraries for the District of Columbia Public Library system in time for the country's bicentennial. This led to the creation of the Lending Library, a book-vending machine containing up to 500 books for 24-7 distribution in airports, shopping malls, and other public places when someone scanned their library card.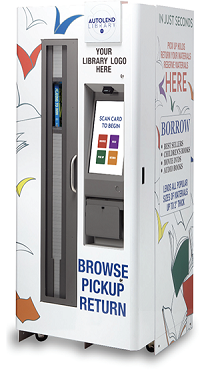 The next generation of this product, the AutoLend® Library, was introduced in 2022. It allows patrons with a library card to borrow and return a wide range of materials, including books, audiobooks, DVDs, video games, and even Wi-Fi hotspots—all from a kiosk the size of a standard vending machine.The AutoLend Library holds up to 228 items and can fit through a standard 36-inch doorway. "It has the smallest footprint of any book-lending machine on the market," Goodman says. Because of its light weight, "it has become extremely popular."
A built-in touchscreen allows users to browse for materials by category, as well as title, author, or genre—and the touchscreen shows pictures of each item so patrons can be sure of what they're borrowing. Custom graphic vinyl wraps are available to brand the machine with a library's own branding. Besides browsing for and checking out items, patrons can place a hold, pick up items on hold, return items they've borrowed, and even download digital content to a tablet or other personal mobile device.
"The AutoLend Library allows librarians to provide what is essentially an unattended library," Goodman says.



COVID forced libraries to find new ways of getting materials into patrons' hands safely and securely, and this lead to the use of lockers for distributing items placed on hold. The Intelligent Locker System enables patrons to pick up items 24/7 using their library card, either inside the library or in another public location.
The locker system is fully customizable. Libraries can configure the system's towers with lockers that are four, seven, or 17 inches tall for distributing nontraditional items. "We've designed it to be extremely easy for the public to use and for librarians to load," Goodman says.
Another product, the Library Media Box, dispenses DVDs, CDs, audiobooks, and video games—like a Redbox system for libraries.
The Library Media Box can be deployed in a remote location or within a library building, as a way for patrons to check out media materials themselves. The product should be familiar to anyone who has previously used a Redbox system, Goodman says; as with Redbox, patrons can see which items are available in the machine before they leave home and can reserve them online. Security is another advantage of the product: These items often disappear from library shelves, but nothing can leave the machine without being checked out first..
All these products support both barcode and RFID technology and integrate with any ILS. "Our key values are making it easy for libraries to reach more people while reducing the amount of work on library staff," Goodman says.
Another product, the ILS Book Sanitizer, is a cabinet that uses UVC lamps to disinfect books and other materials nearly instantly. A tabletop model can sanitize six books in 30 seconds, and a tower version sanitizes up to 20 books in about five minutes.

SciStarter
Founded in 2010 by Darlene Cavalier, SciStarter helps people find ways to get involved in issues they care about by engaging in "citizen science." The website connects interested citizens with scientists who are looking for help with their research projects.
Cavalier was studying the role of citizens in science as she worked toward her master's degree at the University of Pennsylvania when she came up with the idea for SciStarter. "I realized it was hard for people to find opportunities to contribute," she explains.
SciStarter is an online database of research projects for which scientists are seeking assistance from the general public. In some cases, scientists don't have enough data, Cavalier says, and they call on volunteers to help them collect more information. In other cases, they have too much data, and they're recruiting individuals to help analyze the information.
"You may be asked to share your observations following a certain protocol, which is not a heavy lift," Cavalier says. "There aren't enough scientists to be everywhere, and often the people already doing those activities have a very good eye" for details that are useful to researchers.
The SciStarter project finder allows users to search the database by topic, keyword, and location. Although the number of projects listed is constantly changing, it averages between 2,000 and 3,000 opportunities at any given time, Cavalier says.
Millions use the site. Users can also sign up for a free account, and there are more than 150,000 account holders. These registered users have access to additional tools such as a dashboard that tracks their contributions toward science and to receive alerts when new opportunities arise that match their interests..
At www.scistarter.org/library, librarians can find resources to help them create "citizen science kits" with materials that support patrons in becoming citizen scientists, such as binoculars and air-quality sensors. At www.scistarter.org/training, a free module called "Libraries as Community Hubs for Citizen Science" shares best practices for engaging patrons in citizen science and lifelong learning.
"Libraries provide a very important infrastructure for lowering the barriers to participation in citizen science," Cavalier says. "They help provide everything that citizens need to get involved—including awareness of the important role the public plays in science."

Auto-Graphics
Founded in 1950, Auto-Graphics, Inc. provides a fully integrated suite of products that address all facets of library automation. A pioneer of the software-as-a-service (SaaS) model for library automation, Auto-Graphics introduced its VERSO integrated library system (ILS) as a web-based technology in 2001.
VERSO is built on a modular structure that allows libraries to pay for only the services they need. Auto-Graphics offers three different product packages to serve libraries of all sizes and circulations.
An attractive discovery layer within VERSO offers a dynamic, easy-to-use interface featuring both list and gallery views of library resources. Patrons can self-manage their library experience—from placing item holds to setting up active alerts and checking out e-books via Overdrive.
The software also offers robust circulation controls and in-depth usage reporting.
Auto-Graphics also developed one of the earliest software systems for managing interlibrary loans. As the market leader in online resource sharing since 1984, SHAREit is currently used by 17 statewide library systems. Using SHAREit, library staff and patrons can request shared resources from any participating library.
Many resource-sharing tools were built with large library systems in mind, but SHAREit was designed so that even small libraries can participate in resource-sharing networks. "It adapts to the ecosystem, rather than vice versa," says Vice President of Sales and Marketing Albert Flores.
Used together VERSO and SHAREit constitute a fully integrated system with a single interface for managing all library processes. "We offer a total, turnkey solution for public and academic libraries," says Michael Willis, vice president for VERSO sales. .
Another Auto-Graphics product, MONTAGE, is a cloud-based digital collections solution that allows libraries to create their own unique archival collections and share them online quickly and efficiently, with no special staff training required.
With MONTAGE, librarians have full control and flexibility to design workflows and implement review and approval policies around their institution's needs. Archival collections can be searched with a user-friendly interface that gives patrons the ability to share curated content through email and social media. This is especially important with content relating to underserved communities, whose histories are often overlooked.

LaptopsAnytime
Founded in 2008 and based in Dallas, LaptopsAnytimeTM is a leader in supplying automated, self-service kiosks for checking out laptops, tablets, and other digital devices to public and academic libraries. The company manufactures its own kiosks within the United States, and these kiosks manage over six million checkouts per year in more than 500 facilities across six continents.
Within the last few years, LaptopsAnytime has expanded its services to include the dispensing of portable 110-volt chargers to support patrons who bring their own devices to the library. The company also sells a technology kit that turns today's laptop into a full-fledged desktop computer at a fraction of the cost of an actual desktop.
Perfect for meeting the power needs of BYOD users without having to rewire a facility or run extension cords, the ChargersAnytimeTM solution includes dispensing kiosks built specifically to hold and recharge portable 110V chargers, as well as the chargers themselves. A 30-inch-wide kiosk contains 12 or 24 charger bays.
The cordless chargers are about the size of an old VCR cassette tape. They include a three-prong electrical outlet and three USB outlets for charging multiple devices at once, such as a laptop, a cell phone, and a tablet.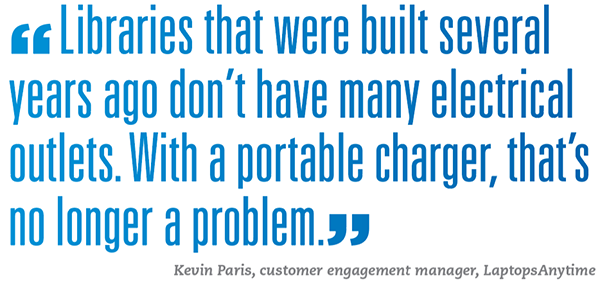 "Libraries that were built several years ago don't have many electrical outlets. Patrons like to sit in their favorite areas, such as a vestibule or an outdoor courtyard, to do their work—and there might not be any outlets available," says Customer Engagement Manager Kevin Paris. With a portable charger, that's no longer a problem. "It's an idea that has really caught on," he adds.
Libraries can also request customized "combo systems" of kiosks that dispense both laptops and portable chargers. For instance, the top row of the kiosk could contain 12 portable charger bays, and the bottom row could contain six laptop bays.
"It's all about providing flexible access to technology and improving the infrastructure," says Cofounder and Vice President Jonathan Ruttenberg. "Libraries can configure the kiosks as they want, and patrons can take the technology and go where they want."
Some patrons would rather use a larger monitor than just a laptop screen. However, making desktop computers available to patrons requires libraries to carve out computer lab space that is dedicated solely to this purpose. With library space at a premium, this can pose a challenge.
LaptopsAnytime's new Extend-ITTM technology kits solve this problem. The kits provide everything patrons need to turn a laptop into a desktop computer, enhancing their experience and giving them more choices in a way that's also more flexible and affordable for libraries.
The kits include a 24-inch monitor, a keyboard, and a mouse. Users simply plug the monitor's USB-C cable into their laptop for a full desktop computing experience. "Older patrons love having a larger screen, and kids love it as well," says National Sales Manager John Kormanik.
LaptopsAnytime's original laptop kiosks now support more than two dozen different types of devices, including Chromebooks, iPads, and most enterprise laptops with screen sizes up to 14 inches—as well as some 15-inch screens. "We're always building around new models to meet the needs of our customers," Ruttenberg says.
The automated kiosks free up time for busy library staff. Instead of checking devices in and out, inspecting them for damage, restoring their original settings between uses, and plugging them in to recharge, librarians can focus on helping patrons while a machine handles all these tasks.
The kiosks are available in six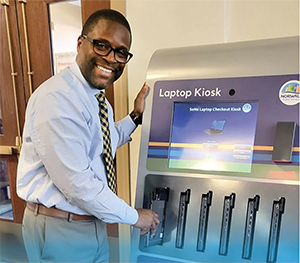 -, 12-, 18-, 24-, and 30-bay units. Libraries can also purchase custom graphics to help brand the kiosks for their institution.
To access a device from the kiosk, patrons simply scan their library card. The machine can be programmed to support a library's local lending policies, and automated notifications help librarians manage their laptop-lending program. For instance, a designated administrator can receive an email alert if a device hasn't been returned on time or if a user reports that a device needs servicing. For additional security, a built-in camera takes a picture of the user any time a device is removed from the kiosk.
When a device is returned to an empty bay in the locked position, it's docked to a power source for automatic recharging. Libraries can also choose to license Deep Freeze or a similar program for restoring the device to its initial state as set by the library.
The devices communicate their presence in the kiosk through an RFID card reader built into every bay, and they also communicate their battery life to the software operating the kiosk. A device can be checked out only if it exceeds the minimum battery life set by an administrator. Another unique feature is that the kiosks distribute laptops to patrons on a rotating basis, so all devices receive similar usage. This helps prevent some devices from receiving more wear and tear than others.
Libraries pay a base fee to purchase the kiosks, as well as a service-and-maintenance contract that allows them to reconfigure the bays every three, four, or five years to coincide with their device refresh cycle..
In the Austin Public Library's new Central Library building, LaptopsAnytime self-service kiosks fit in perfectly with the library's vision for customer service. "As much as possible, we want our staff removed from the routine circulation process, so they're free to roam the library to provide help as needed," says Joe Faulk, APL's director of information technology. "The LaptopsAnytime kiosks are intuitive to use, allowing staff to be confident they can point patrons to the kiosks without worrying they'll need additional help."
Falk adds, "People don't need to sit at a desk with a computer. Let's give them devices and let them use them wherever they want: on the beautiful wraparound porches with ceiling fans, on the rooftop seated in comfortable outdoor furniture, sitting by the window looking out at the park, or people-watching overlooking the lake or Second Street. Once we made the decision to let people use devices anywhere they choose throughout the building, LaptopsAnytime became a natural fit."

Millonex
Founded in 2020 and based in West Chicago, Illinois, Millonex is introducing its first product this year: a modern, intuitive, and affordable ILS called Simplicity.
This fully cloud-based software enables librarians to perform any tasks they can do with a legacy integrated library system, says Chief Operating Officer Matthew Quigley. However, it uses a much simpler interface—and costs a fraction of the price of existing solutions.
Millonex was cofounded by Quigley and his father, CEO Mark Quigley. This father-and-son team have years of experience in designing software for libraries through their other company, Deziner Software. They are the creators of Gale Business: Plan Builder for Gale, a step-by-step online planning tool for starting a business that Gale sells to libraries.
"In meeting with librarians, we heard time and again about their frustration with existing ILSes," Quigley says. "Cost was an issue, usability was an issue, buggy software was an issue."
Once when Quigley and his father were talking with a librarian in Illinois, she held up her phone and said, "I have an iPhone. I don't need to be taught how to use it. It just makes sense. Why can't library software be like that?"
"That was our 'aha' moment," he recalls—and Millonex was born from that conversation.
Because Simplicity was a "greenfield" project, meaning it was created from scratch rather than layering features on top of existing software, it lacks the constraints imposed by prior work, Quigley explains. The result is a streamlined program that people can use without formal training..
"We looked at each and every workflow for the tasks librarians need to accomplish," he says. "We analyzed these processes and asked ourselves: How can we reduce these to the bare minimum number of clicks for a user?"
An example is Simplicity's payment-processing functionality. Instead of taking users to a third-party payment system, the software seamlessly accepts payment for fines and fees at the point of the transaction, using the patron's stored credit card information.
Simplicity leverages modern technologies to improve the user experience and keep costs low. It's built on a state-of-the-art coding platform that automatically checks for bugs, and this reduces development costs. In addition, built-in training videos eliminate the need for formal staff training. "We wanted to make it as simple to buy as to use," Quigley says.

LocalHop
Founded in 2015, LocalHop is an event management platform that provides custom websites, event marketing, web calendars, and registration systems to libraries of all sizes. The company's fully hosted services help connect libraries with their patrons and build a sense of shared community.
LocalHop's Post & Promote service is an easy-to-use web and mobile platform that helps libraries share and promote events such as author readings, book discussions, story hours, and classes. Librarians can promote events on social media, collect registrations or sell tickets, and track and report attendance with LocalHop.
The Community Calendar is a widget that allows users to pull various community events into a single, comprehensive calendar that's updated automatically as new events are added. Librarians can use the service to make their library the go-to destination for insight into what's happening in their community.
A customizable Room Reservation service allows libraries to rent out spaces for community events and process payments through a simple dashboard. LocalHop also recently launched a Communication Portal to help librarians send targeted messages and promotions to segments of their user base.
The company's most recent development is an activity pass feature that allows libraries to distribute free or discounted passes to museums, zoos, and other local attractions. This new feature will be available later in 2023.
All of these services are user-friendly and are highly accessible for everyone. In fact, LocalHop has partnered with accessiBe, a web-accessibility solution for ADA compliance, to optimize its platform for use by everyone. .
Another key differentiator is the quality of support that LocalHop provides. "Once you're a client, you have direct access to a representative for email, phone, or text support," says Product Manager Courtney Bordeaux. "This personal touch is something we take pride in.
"Bloomfield Township Library in Michigan, a LocalHop client, was recognized as one of the top libraries in the country by Library Journal in its 2022 America's Star Libraries feature. Bloomfield Township uses LocalHop's event registration and meeting room reservation software.
"LocalHop has remained in excellent communication with our team, providing in-person training and responding quickly to questions," says Assistant Director Katherine Bryant. "The switch to LocalHop was seamless for our patrons, who only noticed a vastly improved user interface."

Kajeet
Kajeet was founded in 2003 to provide cellular service for families, with robust parental controls built into the network. Today, the company's mission is to help schools and libraries bridge the digital divide by providing Wi-Fi hotspots and LTE-enabled mobile devices for students and other patrons; equipping buses, bookmobiles, and satellite locations with wireless connectivity; and helping libraries, schools, and municipalities build and operate their own private cellular networks.
Kajeet SmartSpots® are mobile Wi-Fi hotspots that libraries can lend to patrons for anywhere, anytime connectivity. Patrons don't need a fixed broadband connection to get online, as the devices use a cellular network to provide Internet service.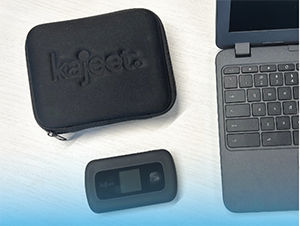 SmartSpots are intended for short-term use by a single person. When Kajeet discovered that many families were keeping them plugged in and using them to provide home broadband access for the entire family, the company introduced a more robust solution for this purpose, called Kajeet HomeWirelessTM. These desk-mounted routers provide five to 10 times more throughput than a Wi-Fi hotspot. Like the SmartSpot, they tap into the cellular network to provide connectivity for patrons.
Kajeet also provides LTE-embedded Chromebooks that libraries can lend to students and patrons as needed. For each of these connectivity solutions, libraries can choose a cellular provider and data plan that works best for their needs. What's more, all of the solutions include Sentinel®, Kajeet's cloud-based management platform that comprises web filtering, security, management, reporting, and analytics. An "auto-suspend" feature within Sentinel allows librarians to disable a device if it's overdue, and "dormant device" alerts let them know whether a device has been checked out but isn't being used, so they can request its return for lending to another patron.
Besides mobile hotspots, routers, and LTE-embedded Chromebooks, Kajeet provides LTE-based connectivity solutions for remote or satellite library locations. For instance, SmartBusTM brings connectivity to vehicles such as school buses and library bookmobiles. Kajeet Connect PrimeTM uses an LTE connection to provide Internet access where a fixed broadband connection isn't available or economically feasible, such as in a remote library branch, a temporary branch, or a pop-up location. And Kajeet's Private Networks division works with libraries and other entities to build their own private 4G or 5G network as an alternative to using public network services.
"We not only build private networks, but we also help customers understand what this entails," says Michael Flood, senior vice president for education. "We can design the network; do site surveys; handle the construction, testing, and validation; and provide ongoing maintenance and operation."
A library's role is to provide access to information, he says, and in an increasingly digital world, this requires home connectivity. Plus, as libraries assume a broader mission of becoming economic drivers for their communities, expanding opportunities for people by helping them attain home broadband access aligns with this larger goal.
"Libraries that were built several years ago don't have many electrical outlets. Patrons like to sit in their favorite areas, such as a vestibule or an outdoor courtyard, to do their work—and there might not be any outlets available," says Customer Engagement Manager Kevin Paris. With a portable charger, that's no longer a problem. "It's an idea that has really caught on," he adds.
Libraries can also request customized "combo systems" of kiosks that dispense both laptops and portable chargers. For instance, the top row of the kiosk could contain 12 portable charger bays, and the bottom row could contain six laptop bays.
"It's refreshing to see what a strong role libraries are taking to ensure their patrons have connectivity not only in the library but at home," Flood says. "The leadership that libraries are taking on this issue is astounding—and we offer a wide range of solutions that can help."

SirsiDynix
Formed by the merger of the Dynix Corporation and the Sirsi Corporation in 2005, SirsiDynix is a well-known producer of integrated library system (ILS) software. Its ILS products, Symphony and Horizon, are used in more than 70 countries.
About 10 years ago, SirsiDynix introduced the BLUEcloud Library Services Platform, a next-generation software program that sits on top of Symphony and Horizon and makes these products easier to use with a modern, streamlined interface, says Chief Marketing Officer Eric Keith.
More recently, SirsiDynix introduced a groundbreaking service that aims to revolutionize a library's approach to managing electronic resources. Called CloudSource OA, the service brings together all the open-access journals and databases currently available within a single user interface—making it simple for users to find this content in one place.
"Libraries are paying huge dollars for premium subscription databases," Keith says. "The dirty little secret is that many of these journal articles are now available for free on the web. We think this is a product whose time has come." .
SirsiDynix doesn't charge for this content; instead, libraries pay a nominal fee for the hosting and front-end access. "It's a fraction of the cost of a premium database," Keith notes.
Because not all journal articles are available through open access, libraries might be reluctant to "cut the cord" entirely and discontinue their subscriptions to premium databases. A brand-new service from SirsiDynix, CloudSource Plus, is intended to remedy that. It provides all the open-access content within CloudSource OA, as well as a mechanism for libraries to purchase the articles their patrons need on an ad hoc basis, if these articles aren't available in an open-access format.
"Now, libraries can save money and take advantage of open access without sacrificing the access they have to subscription-based content," Keith says. CloudSource OA and CloudSource Plus run on any ILS, so libraries don't have to be existing SirsiDynix customers to take advantage.

Solus
Headquartered in the U.K., with offices in the U.S. and Australia, Solus is a software development company that provides highly functional and scalable mobile applications for libraries.
The company's flagship product, Library App, is a customizable mobile app that allows users to manage their library account, pay fines, request items, access digital content, and check out physical items by using their cell phones to scan the items' barcode or RFID tag.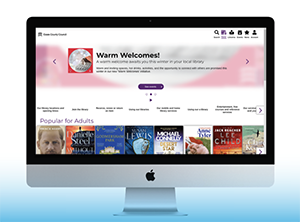 The latest version of the app, released in early 2023, features a streamlined user interface that enables libraries to send push notifications to patrons. It also adds a "Reading Tracker" feature that works like a Fitbit for reading: Users can track the number of e-books, pages, and minutes they've read digital content on their phone. (A kids' version of the app, Planet Library, also enables children to unlock new games and characters within the app as they increase their reading activity.)
Solus brands the app with a library's own branding, and patrons can download it directly from the Apple or Android store. The app is available in more than 40 languages. Libraries also get a content management system template for making changes to the app's content as often as they like, so they can promote their own news and programming within the app.
Another Solus product, eb#1 (Events & Bookings), is a cloud-based platform for managing library programs and events. Library staff can use the platform to schedule and promote events, while patrons can reserve space, make online payments, and request a refund if they can't attend.
The platform includes tools that make it easy for librarians to create flyers to promote their events, complete with stock images and QR codes that take patrons to a landing page, where they can access more information or make a reservation.
"Because the platform is so easy to use, any staff member can use it with no technical expertise required," says Director of Customer Engagement Andrew Johnson. The events platform also integrates with the Library App, creating what Johnson calls a "good symbiosis."
Solus's latest product, which launched in October 2022, is a highly visual discovery platform that can be integrated into a library's website. Called LUCi, it uses an interface that will be familiar to subscribers of Netflix, Hulu, and other video streaming services, complete with content suggestions based on a user's borrowing history. The idea is to make the search process visually engaging and easier for users to navigate.
SPONSORED CONTENT