The Norman Public Library East branch of the Pioneer Library System, OK; Temple University's Charles Library; Westport Library, CT; and Brambleton Library, Loudon County, VA.

Taking the Long View
The new Norman Public Library East branch of the Pioneer Library System, OK, which features flexible spaces inside and an outdoor programming area, is oriented to take full advantage of its site. Clerestory windows bring in an abundance of natural light and accentuate the unbroken prairie views; passive sustainable design strategies include storm water management and a thermally treated exterior. CREDITS: MSR Design, architect; ©Brandon Stengal, photo.

Heart of Glass
Temple University's new 220,000 square foot Charles Library offers contrasts of lines and materials inside and out, starting with a granite slab–clad exterior wrapped around sidewalk-to-roof windows. Large wooden arches, which double as entryways, add drama to the light-filled interior. Cedar and steel finishes add warmth and sleek lines to the three-story domed central atrium, visually connected to upper levels by a central oculus. A 70 percent green roof and perennial reading garden bring nature—and sustainable design—to this Philadelphia campus. CREDITS: Snøhetta. architect; Michael Grimm, photo.
---
Stepping Up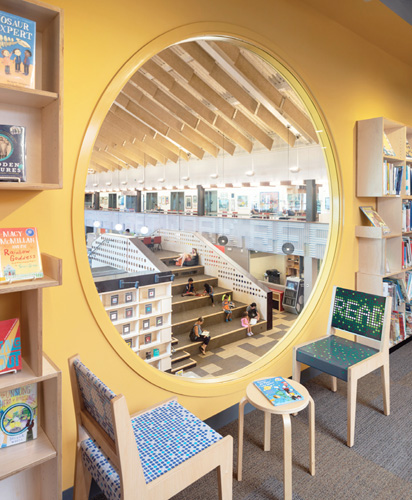 Through the children's portal to the main Westport Library, CT, users can see the grandstand structure featuring carpeted stepped seating. Talk about a perch with prospect! CREDITS: HMA2 Architects, architects; ©Christopher Payne/Esto, photo.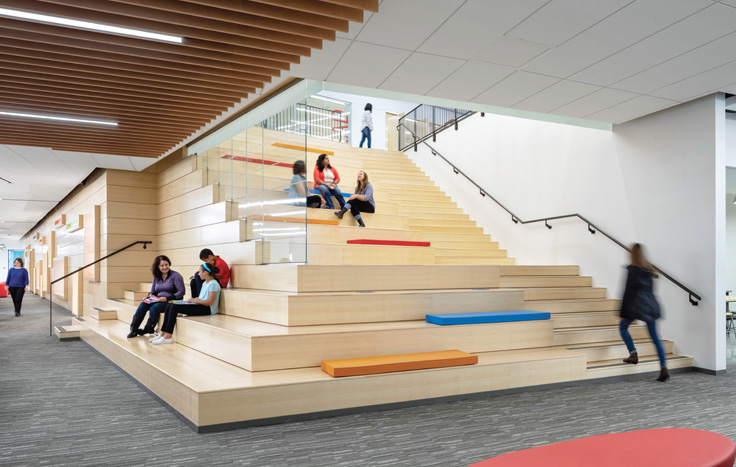 Stairs as seating continue to trend. This grand example with colorful cushion accents at Brambleton Library, Loudon County, VA, connects the two levels with an expansive open feeling. A glass side wall preserves sightlines and provides safety while helping to block noise. CREDITS: HGA Architects & Engineers, architects; ©Paul Rivera photo.