As we head into year three of a worldwide pandemic, it's not surprising that stress and burnout are at all-time highs across many professions and major swaths of the American public. Tellingly, the American Psychiatric Association's "Healthy Minds Monthly" poll from December 2021 found that "more than one in four Americans (26%) or more than 67 million adults say that next year (2022), improving their mental health is on their minds."
Not surprisingly, Americans' high stress levels have contributed to an increased demand for self-help books. "There's been a big uptick in sales since COVID," says Margo Beren, sales manager at New Harbinger. "We like to think that we have the tools people desperately need right now. We're a trusted source and we are filling that need. Our sales speak to that."
New imprint Harper Horizon reports similar success. "Business is strong; we had a few bestsellers right out of the gate," notes vice president and publisher Andrea Fleck-Nisbet. "In the self-improvement space, there's a big emphasis right now on kindness and self-kindness. People are trying to exercise kindness and be a little more forgiving—to other people and themselves."
This year's featured publishers have worked with leading experts in mental health, spirituality, and ancient wisdom to produce a wide-ranging crop of new titles. These books offer vetted advice about subjects including anxiety, depression, anti-racism, spirituality, plus medical challenges like diabetes and Alzheimer's disease. From the latest neuroscience and nutrition to centuries-old mindfulness practices like the Tao, there's a title here for every reader.


New Harbinger
For almost fifty years, Oakland, CA–based New Harbinger Publications has specialized in evidence-based workbooks for readers facing mental health challenges and clinicians seeking professional resources. New Harbinger is 60% employee-owned and has published five titles that sold over one million copies each. The company's booklist features clinically-proven modalities in service to New Harbinger's mission "to reduce human suffering."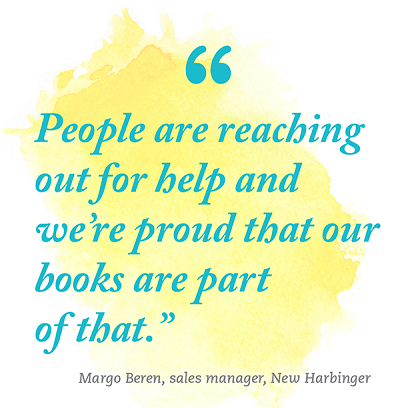 "There was a pandemic of mental illness and anxiety even before COVID," says Beren. "People are reaching out for help and we're proud that our books are part of that. Our authors are on the frontlines of addiction, anxiety, chronic pain, and other issues. They are really amazing folks doing their life's work."
New Harbinger will soon release Living Untethered: Beyond the Human Predicament by Michael A. Singer, March 2022, ISBN 9781648480935. This highly-anticipated book from the author of the #1 New York Times bestseller The Untethered Soul guides readers along their journey to self-realization and unconditional happiness. Singer describes how individuals can heal from past trauma and achieve peace through mindfulness. "Michael shows how to move beyond thoughts and feelings that keep us stuck," says Beren. "We are super-thrilled to bring this book to the table."
The Antiracism Handbook: Practical Tools to Shift Your Mindset and Uproot Racism in Your Life and Community by Thelma Bryant and Edith G. Arrington, April 2022, ISBN 9781684039104, offers tools to examine bias, overcome fear and shame, and advocate for anti-racist policies. Bryant, an ordained minister and president-elect of the American Psychological Association, collaborates with Arrington, a licensed psychologist, to help readers act on behalf of their values.
The Mindful College Student: How to Succeed, Boost Well-Being, and Build the Life You Want at University and Beyond by Eric B. Loucks, April 2022, ISBN 9781684039135, is based on Brown University's popular Mindfulness-Based College program. Loucks teaches how to use diet, fitness, and sleep strategies to cope with anxiety and stress. He identifies three core self-regulation skills necessary to build a good life: self-awareness, attention control, and emotion regulation. "Loucks covers physical, mental, emotional, and spiritual wellbeing," says Beren. "It's the perfect gift for kids going off to college."
The Black Woman's Guide to Overcoming Domestic Violence: Tools to Move Beyond Trauma, Reclaim Freedom, and Create the Life You Deserve by Shavonne J. Moore-Lobban and Robyn L. Gobin, June 2022, ISBN 9781684039340, works within a Cognitive Behavioral Therapy framework to provide practical tools for healing invisible traumas and empowering survivors to thrive. "The Black Women's Health Project determined that domestic violence is the number one health issue facing Black women," notes Beren. "For marginalized communities that need help, this is a super-important book by two Black psychologists who specialize in trauma."
Readers will face life's challenges in a whole new way after completing The Growth Mindset Workbook: CBT Skills to Help You Build Resilience, Increase Confidence, and Thrive through Life's Challenges by Elaine Elliot-Moskwa, March 2022, ISBN 9781684038299. To overcome a self-limiting "fixed mindset," this new workbook provides specific exercises and concrete steps to develop a growth mindset. It includes a forward by Carol S. Dweck, the Lewis and Virginia Eaton Professor of Psychology at Stanford University, who wrote the widely-acclaimed Mindset.


Harper Horizon
In 2019, HarperCollins Focus announced the launch of Harper Horizon, a nonfiction imprint based in Nashville, TN. Vice president and publisher Andrea Fleck-Nisbet acquires author projects and leads the small editorial, marketing, and distribution team. "We want to publish books that improve the lives of our readers," says Fleck-Nisbet. "When readers walk away from the book experience, we want them to have tools in their toolkit to make the world a better place."
One Green Thing: Discover Your Hidden Power to Help Save the Planet by Heather White, April 2022, ISBN 9780785291299, inspired by the author's children, is a family-friendly guide to making personal changes to improve the environment. Environmental activist and consumer advocate Erin Brockovich wrote the forward to this practical blueprint for how to take climate action on a day-to-day basis. Readers can take a personality quiz to determine their "Service Superpower," then review a "21-Day Kickstarter Plan" to begin a daily practice of environmental action.
My Two Elaines: Learning, Coping, and Surviving as an Alzheimer's Caregiver by Martin J. Schreiber with Cathy Breitenbucher, June 2022, ISBN 9780785291695, began as a self-published record of the author's experience caring for his beloved wife. Schreiber, a former governor of Wisconsin, describes their beautiful marriage and how they reacted when Elaine was diagnosed with early-onset Alzheimer's in her early 50's. "Schreiber walks readers through the experience as a trusted guide. Each section provides specific suggestions like support systems for the caregiver or questions for a healthcare provider," notes Fleck-Nisbet.
From WebMD's chief medical officer, Dr. John Whyte, Take Control of Your Diabetes Risk, March 2022, ISBN 9780785240648, is part of the ongoing "Take Control" series, which empowers readers with actionable information to minimize the risks of serious disease. Dr. Whyte explains how food, exercise, sleep habits, and community affect a person's chance of developing diabetes. "If you are pre-diabetic, you can maintain and control your health, so you never become diabetic," says Fleck-Nisbet.
Writer, podcaster, and artist Natalie Lue helps "people-pleasers, perfectionists, and relationship strugglers overcome their emotional baggage so that they can become more of who they really are." She shows readers how to improve self-esteem and create healthy boundaries in The Joy of Saying No, October 2022, ISBN 9780785291695. "The trap of perfectionism can cause paralysis," says Fleck-Nisbet. "This book is about reframing what it means to say no and learning how to say yes to the right things."
Everyday Celebrations from Scratch, by Maria Provenzano, June 2022, ISBN 9780785245780, is a toolkit for creating a sense of occasion for routine family happenings. Provenzano, the DIY expert from Hallmark Channel's Home and Family, combines crafting with innovative menus to celebrate events like a tailgating party, a book club meeting, or even a stellar report card!

"We are primarily publishing for women who are likely professionals. They may or may not have a family and don't have a lot of time," explains Fleck-Nisbet. "Our target readers are juggling a lot of things, but still want to have a life that feels fulfilling." Provenzano shows these busy women how to cherish and celebrate the small, everyday things in life.

Hampton Roads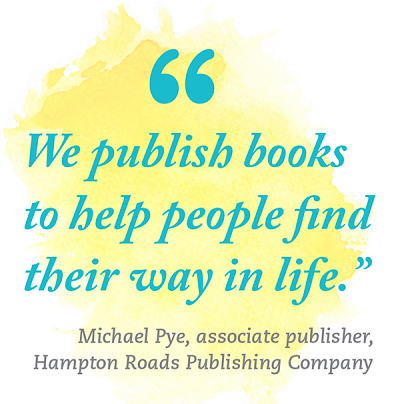 Distributed by RedWheel/Weiser, 33-year-old Hampton Roads Publishing Company publishes a wide range of self-help and wisdom titles including the best-selling "Conversations with God" series by Neal Donald Walsch. "We publish books to help people find their way in life," explains associate publisher Michael Pye. "I'm always on the lookout for authors who see classic wisdom through a new lens."

Jessie Asya Kanzer draws upon wisdom from the 6th Century B.C.E. in Don't Just Sit There: DO NOTHING: Healing, Chilling, and Living with the Tao Te Ching, March 2022, ISBN 9781642970357. Lao Tzu's classic text is the second-most translated book in the world after the Bible. Kanzer discovered a pocket-sized edition of Tao Te Ching after she survived a major car crash. While recovering from her concussion, Kanzer focused on individual verses and experienced an internal transformation.
A descendant of Holocaust survivors, Kanzer immigrated to America from the former Soviet Union when she was eight years old. "What I went through was a loss of identity. For many years I was asking, 'Who am I?'" recalls Kanzer. "The Tao got me through the hardest period of my life. It helped me heal after years of depression, anxiety, and eating disorders."
Kanzer divides her book into three sections: identity, awareness, and creation. Each chapter ends with Tao-inspired spiritual exercises to cultivate simplicity, patience, and compassion. "When things don't go our way, we freak out. The Tao teaches us how to let go of the reins and surrender our need to control everything," says Kanzer. "You don't have to be a spiritual dork like me to love these teachings."


Susan Salenger
For more than 25 years, California-based Susan Salenger wrote scripts and workbooks for corporate training films she produced with her husband at Salenger Films. After she retired, Susan took a UCLA anthropology course, during which she studied women who had undergone hysterectomies. Her final project for that course eventually became Sidelined: How Women Manage & Mismanage Their Health, April 2022, ISBN 9781647424015.
Fueling Salenger's determination to bring her studies and insights to public light was the astounding statistic that women and minorities are 20-30 percent more likely than men to be misdiagnosed annually in the U.S. To delve into why this is so, Salenger interviewed over forty women ages 30–70.
"A lot of women I interviewed were ashamed of being ill. They felt like their illness stemmed from stress, so the illness was like a public acknowledgement of their inability to handle stress," recalls Salenger. "Not one of these women had ever talked to anyone but their doctor about their own health. I thought, 'How lonely!'''
For this book, Salenger also drew upon her own negative experience with a doctor who insisted on exploratory surgery she did not need. "I couldn't figure out why I made that decision," says Salenger. "All I needed to do was get a second opinion and think it through. I did none of those things. I ignored my own gut. Like I write in this book: 'Do what I say, not what I did.'"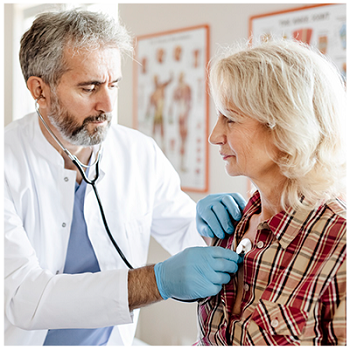 Sidelined combines personal stories and extensive research to examine the ways in which women neglect their own health. Salenger examines how women often place their family's needs ahead of their own and how they hesitate to question their doctors' advice. "We don't want to be rude and hurt the doctor's feelings—so we play nice," Salenger notes.
Salenger includes comprehensive resources in the back of the book to research a hospital or doctor, plus websites for looking up specific medications, symptoms, or diseases. She offers insight into how our culture conditions women not to act in their own best interest. Salenger also explores the gender biases of the medical community and why women are misdiagnosed more often than men.
"I want to give women the tools they need to make more informed decisions about their health," Salenger says. "I want to erase the shame that so many people feel. By not talking, we lose the ability to get support. When we're sick, we all need each other."
Conclusion
During this indisputably stressful time, self-help books are finding a place on more and more bookshelves. From the latest evidence-based modalities to holistic and spiritual approaches to improving mental health, the goal is the same. "They [psychologists] are talking less about treating the symptoms, and more about treating the root causes. if you don't treat root causes, you're not going to get recovery," says New Harbinger's Margo Beren.


SPONSORED CONTENT