From Papyrus to Mussolini's Daughter.
Aslan, Reza. An American Martyr in Persia: The Epic Life and Tragic Death of Howard Baskerville. Norton. Oct. 2022. 352p. ISBN 9781324004479. $30. HISTORY
Figes, Orlando. The Story of Russia. Metropolitan: Holt. Oct. 2022. 336p. ISBN 9781250796899. $29.99.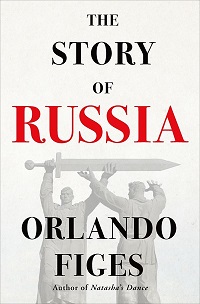 HISTORY
Moorehead, Caroline. Mussolini's Daughter: The Most Dangerous Woman in Europe. Harper. Oct. 2022. 400p. ISBN 9780062967251. $29.99. CD. HISTORY
Sassoon, Joseph. The Sassoons: The Great Global Merchants and the Making of an Empire. Pantheon. Oct. 2022. 432p. ISBN 9780593316597. $35. Downloadable. HISTORY
Vallejo, Irene. Papyrus: The Invention of Books in the Ancient World. Knopf. Oct. 2022. 464p. tr. from Spanish by Charlotte Whittle. ISBN 9780593318898. $35. Downloadable. HISTORY
Author of the No. 1 New York Times best-selling Zealot, religion scholar Aslan resurrects the life of the little-known Howard Baskerville, An American Martyr in Persia who traveled there in the early 1900s, befriending revolutionaries intent on securing democracy and eventually joining them in battle. The Wolfson Prize–winning Figes gives us the history book we need to read now: The Story of Russia, starting with the ancient Rus—Baltic Slavs or Vikings?—and parsing the mythologies that have shaped the country (60,000-copy first printing). Author of the New York Times best-selling "Resistance Quartet," Moorehead offers a portrait of Mussolini's Daughter, who was instrumental in imposing fascism in Italy. A Georgetown professor of history and politics tells the story of his own family, The Sassoons, the Jewish Baghdadi dynasty that built an empire grounded in trade in the 18th through 20th centuries. An award winner in the author's native Spain, Vallejo's Papyrus unearths the fascinating story of books and libraries in the ancient world.