Apps including Craft & Hobby, Creativebug, and Hiveclass, as well as streaming DIY video from OverDrive and hoopla, are helping patrons learn how to do everything from sewing to pickleball
Demand for educational video resources continues to grow. In an in-depth survey by Google's Think with Google division, in partnership with media agency OMG, 4,000 people in the United States aged 18–64 (with 2,000 surveyed before the onset of the COVID-19 pandemic in spring 2020, and 2,000 surveyed during May 2020) were asked about how they use digital video and streaming media. Fifty-eight percent of respondents said that they were using digital video to learn new skills.
In the April webcast "Empowering Communities with Creativity," presented by Craft & Hobby and LJ, Joey Kizer, director of business development for Craftsy@WORK, cited this and several other studies and surveys to make the case that educational videos may help viewers increase retention of content by 25 to 60 percent, with the combination of sound and visual content helping users grasp information more easily.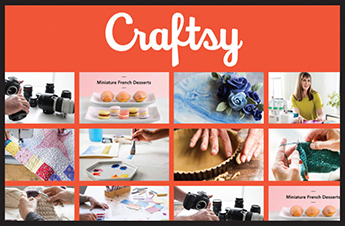 STEP BY STEP

Get Craftsy via hoopla and OverDrive, or Craft & Hobby for unlimited access
GETTING CRAFTY
While there is a lot of educational video content available for free on YouTube and other websites, apps such as Craftsy/Craft & Hobby, Creativebug, and Hiveclass offer professionally produced, curated classes with vetted experts often broken into tiered, multipart courses designed to help library patrons learn the fundamentals of a new hobby, skill, or sport at their own pace, and then progress to increasingly advanced concepts as they become more proficient. The videos can also be used to offer in-person classes on topics for which local instructors may be difficult to find or might exceed a library's programming budget. In addition, these companies offer programming guides, marketing materials, blogs, occasional live online classes, regular updates, and other features to help libraries promote these platforms and keep patrons engaged. Other how-to and DIY streaming content is available to license via OverDrive, hoopla, and more.
Creativebug features thousands of streamable classes and multipart courses in art and design (with subcategories including painting, drawing, ceramics, printmaking, and more), sewing, quilting, paper arts, knitting, crocheting, jewelry making, holiday and party planning, food and home (with subcategories ranging from cooking and cake decorating to furniture upholstering), as well as more than 200 classes and courses designed for kids. The platform is also integrated with the Aspen open-source discovery layer and supplies libraries with MARC records to make its courses easily discoverable when patrons search the library's catalog for books or other content on these topics. And the company offers subscribing libraries discounts on crafting and art supplies purchased at its sister company, Jo-Ann Stores.
With a one-year or discounted three-year subscription priced by population served, libraries can offer all patrons unlimited access to Creativebug's content. "We also add classes every month so it's a constantly growing collection, and we offer public performance rights with the service, so libraries are able to use it as part of their programming," explains Meghan Haddad-Null, senior library account manager for Creativebug.
Craftsy and Craftsy en Español offer thousands of classes and multipart courses on topics including baking, cake decorating, cooking, crocheting, drawing, embroidery, fitness, gardening, home decor, jewelry making, knitting, painting, paper arts, photography, quilting, sewing, weaving, woodworking, writing, and yoga, as well as courses designed for kids. Craftsy's content can be licensed through hoopla or OverDrive, enabling patrons to check out courses, with the library charged on a pay-per-circ basis. But if these courses are drawing significant interest from patrons, libraries may want to consider the company's Craft & Hobby platform, which offers additional content and unlimited access for all patrons for a single annual fee based on a library's circulation.
Craft & Hobby has "more breadth of content [than Craftsy], but it's also a different model," Kizer tells LJ. "Think of it like an all-you-can-eat buffet."
ACTIVE LEARNING
A relative newcomer to the how-to app space is Hiveclass, which bills itself as "the Digital Encyclopedia for youth sports." The platform offers teens and children access to a mobile-friendly streaming database of athlete-led instructional videos on basketball, dance, field hockey, general fitness, gymnastics, lacrosse, pickleball, self defense, soccer, tennis, volleyball, and yoga, as well as recently added courses on swimming/aquatics, strength and conditioning, and mindfulness. All courses are designed with accessibility features for patrons with dyslexia, ADHD, or visual impairments, and all are available in both English and Spanish. Subscriptions offer unlimited patron use of the platform, and pricing is based on the number of a library's branches.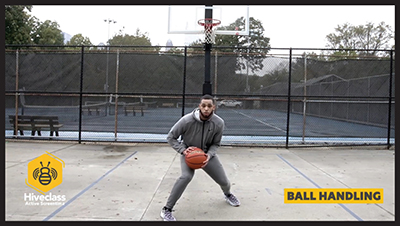 Hiveclass coaches sports skills
"What we've supported since our creation is a learning methodology called 'active learning,' " explains Adam Shafer, business development lead for Hiveclass. "It's a much more personalized, direct approach to learning," he adds, noting that the app is designed to get users up and moving.
"The format of our videos is the first three quarters are instructional, and the last quarter is follow-along," adds Hiveclass CEO and cofounder Joe Titus. "From the inception of the company…we didn't want to be passive content."
In addition to licensing Craftsy courses, OverDrive and hoopla also offer several "how-to," DIY, and DIY-adjacent databases, ebook collections, and streaming media services.
Through OverDrive, libraries can subscribe to
ArtistWorks, which offers self-paced video music lessons for a variety of string and band instruments
Learn It Live, a platform with thousands of streaming classes primarily focused on topics such as health and wellness (including cooking videos) and personal development
Universal Class, which offers courses in more than 30 subject areas ranging from digital photography to gardening to entrepreneurship. Many of the courses also offer continuing education credits.
OverDrive also offers some DIY and how-to streaming content through its Kanopy streaming service, although that platform primarily focuses on films and documentaries. Both hoopla and OverDrive offer The Great Courses, a collection of hundreds of lectures by leading professors and experts, as well as courses on topics ranging from cooking to yoga and from public speaking to how to play chess.
With hoopla, patrons can use one of their allotted monthly borrows on a "BingePass" for The Great Courses or Curiosity Stream—another service with documentaries, interviews, lectures, and how-to content. In addition to other uses, such as access to hoopla Magazines and other content, BingePasses can be used for unlimited access to all streaming content from The Great Courses or Curiosity Stream for seven days. "There's a wide variety of topics [pa-trons] can really dive into, and they can complete a whole course within seven days as opposed to using multiple borrows," explains Kelly Weber, senior marketing manager for hoopla Digital.
Through a partnership with MasterClass announced last November, hoopla also offers how-to streaming content on topics as varied as gardening, wilderness survival, cooking, and magic performance, with new classes added regularly.
LATEST TRENDS IN DIY
Brian Downing, cofounder of Library Ideas, says that there are three different types of DIY content: hobbies and entertainment, skill training, and solving an immediate need such as instructions for home repair. On the company's Freading platform "probably our most popular [DIY] title is Popular Mechanics: How to Fix Anything, and it's a perennial checkout leader," Downing says. Ebooks about hobbies and crafts, however, had the biggest spike during the early stages of the pandemic in 2020, and many patrons appear to have stuck with hobbies afterward, with usage plateauing in the ensuing years after lockdowns and stay-at-home orders ceased.
Several vendors contacted for this story said that sewing content has been popular lately.
"It's gotten really trendy—specifically, knitting, crochet, and sewing," even among teenagers, Kizer says. Citing research that indicates knitting can release the same serotonin levels as meditating, she believes that many people are learning and practicing these skills as a way to relax. "There's a lot of stress relief and…positive mental health benefits that come along with actually creating" and working with your hands, she says. In addition, outdoor hobbies such as gardening and photography gained some momentum during the early days of the pandemic and continue to be popular.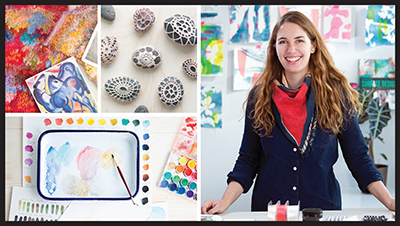 Creativebug's courses range from sewing to cake decorating
At Creativebug, "crochet is one of our most popular craft categories," Haddad-Null says. "We definitely see a lot of interest in crochet, sewing, and quilting." Embroidery, watercolor, and drawing are also very popular, she adds.
Maria Fesz, team lead for public library collection development at OverDrive, also says that sewing and fiber crafts are trending in OverDrive's DIY ebooks, streaming content, and apps, and that outdoor and indoor gardening have been popular since the early days of the pandemic. She also sees "eco-DIY" as an emerging trend—similar in some ways to the decluttering trend popularized by Marie Kondo—with many people interested in learning how to reuse, repair, or repurpose consumer goods to reduce waste and save money. "I feel like that's been a big trend," she says. "A big push for…simple living and minimalism instead of just organization…. It's almost going toward 'how can I live with what I have, maybe get rid of things, and only have the essentials?' "
The decluttering/organization trend is also still going strong on hoopla, Weber says. And currently, hoopla's two most popular MasterClass courses are MasterClass Presents: Neil Gaiman Teaches the Art of Storytelling and Master-Class Presents: Malcolm Gladwell Teaches Writing. "We're really excited about MasterClass, and we think it definitely has a place in the library," Weber says.
GETTING THE WORD OUT
With hoopla's pay-per-circ model, its entire collection of more than 1.3 million ebooks and streaming titles is always instantly available, "so you know pretty much any topic that you're looking for, you're probably going to find something on hoopla," Weber says. Hoopla also provides MARC records to enable subscribing libraries to make its content discoverable in catalog searches. To keep its resources top-of-mind for patrons and make outreach easier for librarians, "at various times during the year, we build collections. One [DIY-relevant] example is national craft month" in March, Weber says. "We promote that in-app, and we give libraries resources so that they can promote it to their patrons as well."
OverDrive's resource center offers libraries marketing materials, training videos, curated lists from OverDrive's staff librarians, and more, with content specific to public, academic, K–12, and professional/special libraries. "It also has a whole collection development list center [where OverDrive identifies] trends that are happening and makes lists for those," says Fesz. "So they are a really good starting point for libraries to shop from or even just to get ideas" for promotions, including for DIY content. Those suggestions could give libraries ideas for promoting adjacent non-fiction and DIY content, she says. For example, a promotion focused on gardening could also point patrons to streaming resources and ebooks about cooking or flower arranging. When people first adopt hobbies, "there's a lot of offshoots that they then get interested in, and I think that's where you can make some really cool lists," Fesz says.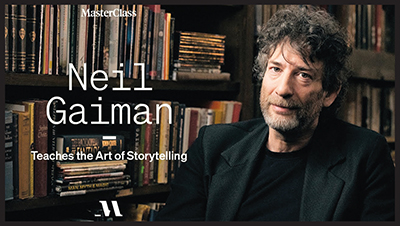 LEARN FROM THE BEST

Last fall, hoopla began offering MasterClass content. Neil Gaiman's course is a patron favorite
Hiveclass offers multiple programming guides, including guides for general programming, teen programming, and seasonal programming for its sports training content. Titus and Shafer note that the company has been very hands-on with new users—to the extent that the app's new strength and conditioning course was developed with one of its customers. "We're here to help you if you need more support on marketing and implementation," says Shafer. Titus notes that, so far, the app is used mostly by individual patrons learning new skills, but that there could be opportunities for libraries to host programs or to work with youth coaches from their communities to develop on-site or offsite training programs that utilize Hiveclass as well.
Like all the vendors discussed here, Craft & Hobby views seasonal events and holidays as major opportunities to promote its DIY and how-to content. In addition to the regular marketing and promotional materials that the company provides library customers, "seasonality pushes are huge for us," Kizer says. "We always send them classes and ideas based on time of the year." Kizer also emphasizes that Craft & Hobby encourages libraries to make its videos available in library makerspaces or at other in-person programs.
Creativebug offers personalized landing pages for its customer libraries, plus digital and print asset toolkits and "curriculum guides for programming librarians, as well as…tools and resources that they can use to support patrons who are interested in using this subscription," Haddad-Null says. She adds that "it's hard to find qualified people in each of the crafts categories" for in-person programming. Even if libraries could find locals qualified to teach all the in-person programs their patrons might be interested in, "their programming budget may not stretch that far, so they're limited by the amount of money that they have to spend." That's where apps and resources such as Creativebug can help fill the gap.
Demand for educational video content seems likely to continue growing. The self-paced nature of video- enhanced instruction welcomes beginners and can offer new challenges to more experienced users, and the breadth of content available on the platforms covered here can enable libraries to offer in-person programs on topics that might otherwise pose a challenge for finding an instructor. For patrons interested in exploring new hobbies or building new skills, these tiered, multipart courses offer an easy and enjoyable way to learn.