Jack Black and Kyle Gass, aka Tenacious D, discuss their latest project, previously released as an animated film and music album. The ribald rock opera Post-Apocalypto finds the pair wandering a postapocalyptic world ruled by monsters, robots, and hate-mongers.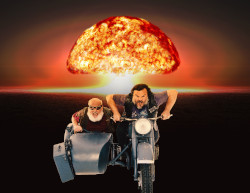 Since 1994, Jack Black and Kyle Gass, aka Tenacious D, have delivered their distinct synthesis of absurdist comedy and heavy metal via a short-lived HBO series, a major motion picture, and a certified platinum album. Their latest project, previously been released as an animated film and music album, is the ribald rock opera Post-Apocalypto (Fantagraphics, Sept.; see review), which finds the duo wandering a postapocalyptic world ruled by monsters, robots, and hate-mongers.
---
LJ : Post-Apocalypto has evolved from an animated web series to a music album to a graphic novel. Did you set out to create a multimedia project, or did you discover along the way that the story was better told in multiple forms?
Black: Kage, do you even remember way back when we started this?
Gass: It's a little fuzzy.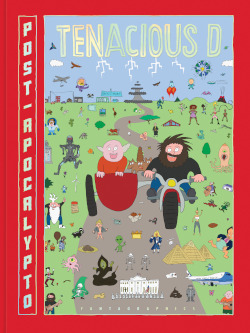 Black: I remember one thing. I remember the inspiration. It was when Trump won the election. He becomes president and then we're like, "We need to do something." From the beginning, we weren't just thinking, "Let's make an album." We were always thinking about a cartoon. We wanted to make a postapocalyptic, action-adventure, musical comedy for our times. That was our goal. When Trump was elected president, it was obvious that the world was going to turn to shit and as we can all see…. We were right. The simple answer to the question is, yes, from the very beginning we were thinking it was going to be animated and always multimedia.
Did the project start as a script or outline of illustrations and then you wrote the songs to go along with the story? Or did you generate songs first, and then create a narrative to link them?
Black: I need narrative. I need the idea before I can start jamming. There was a time where you would just jam and I would just stream off the top of my head. Those days are gone. I need to have a concept. It's my process.
I am narrative-driven. We figured out what the first episode would be. There's the nuking the fridge, the jumping the shark, and the whole world is transformed by this nuclear holocaust. This is the place where Tenacious D is called on a hero's journey.
Gass: It seems like all those tropes were handed to us at the very beginning. It seemed so obvious that all of those things needed to happen. It was really writing itself.
Black: You wish, Kage! The truth is we would talk out the episodes and improvise the dialog, then we would write the songs to fit in the episodes. That's how I remember it and I'm sticking to that story.
Did you read any graphic novels for inspiration before beginning work on the book?
Gass: I read The Road by Cormac McCarthy.
Black: I couldn't make it through that actually, but Kyle did.
Gass: It's very gloomy. All the Mad Max movies were an inspiration.
Black: The film Beyond Thunderdome was the least helpful. We made a little five-minute inspiration reel where we showed all the influences. Of course, the jumping the shark scene with the Fonz in Happy Days. There's the nuking the fridge from Indiana Jones. There's a little bit of The Who's Tommy. In terms of postapocalyptic inspiration, it really comes down to Road Warrior, The ­Terminator, and The Matrix.
Gass: The Wizard of Oz .
Black: You can't really say that's a postapocalyptic motion picture, though.
Gass: That tornado!
Black: That's true, Kage! You're right! But in terms of graphic novels, I did take inspiration from a little graphic novel by a guy named Daniel Clowes. His most recent work, Patience, has postapocalyptic elements to it, and incredible time-travel sequences. I indulged in that book. I love his work whenever he busts out a new ­Fantagraphics masterpiece.
Did anything about the process of adapting Post-Apocalypto into a graphic novel surprise you?
Black: It was really hard to crack the code on it. I kind of gave up after a while. I tried a few times to compile all the drawings and break down exactly how the pages would look. I was thinking, "It's not going to work. It's not going to translate." I said to our genius colorist Michael Molina, "Do you want to take a crack at this? I can't quite figure out how to adapt this into a graphic novel." He was like, "Oh, yeah." He worked on it and showed us a little sample, and it really came to life. It really revealed itself. But it takes a tremendous amount of artistry to make that leap, even when we already had a bunch of drawings and the dialog.
Gass: In the Tenacious D camp, when we face a problem, we give it to a genius.
Did you hope to reach a broader fan base or even gain new fans through the different formats?
Gass: You always want to reach the most people who might want to check it out. I think it might broaden it a little bit. I think there's an audience for this graphic novel. There's a lot of sexy in this comic. I don't know if parents would like it…
Black: That's true. We don't know. We hope so. You follow your inspiration and hope that other people enjoy.
Gass: It's hard to predict the future.
Black: And I do imagine that people will enjoy this version ofPost-Apocalypto. I love my copy of Harry Nilsson's The Point. When I was a kid, he did this album and it had a comic book that went along with the album.
Gass: You've had that idea about Nilsson's The Point for a long time.
Black: It's definitely a throwback.
Gass: To a simpler time.
Black: But a big part of the Post-Apocolypto graphic novel is that you can listen along. On the first page, it gives you directions on how to go to TenaciousD.com and follow along with the music. I think that's going to add a dimension. It's not something people usually do nowadays.
---
Tom Batten is a writer and teacher whose work has appeared in the Guardian and The New Yorker. He lives in Virginia