Debut novelist Sonya Lalli's The Matchmaker's List is a romantic comedy set in her community. Intrigued by the characters and setting, we asked her to tell us more.
At 29, Raina Anand is a single Indian Canadian woman living in Toronto with no desire to marry, but her grandmother Nani has other ideas ("pulling eligible Indian bachelors out of some sort of magical hat"). Debut novelist Sonya Lalli's The Matchmaker's List (Berkley, Jan. 2019) is a romantic comedy set in her community. Intrigued by the characters and setting, we asked her to tell us more.
---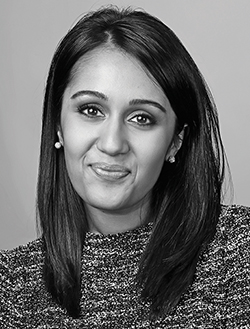 PHOTO BY © MING JOANISA NERD'S WORLD
The Matchmaker's List was released in the UK last year. Are you excited to see it finally hitting North America?
I'm extremely excited. I think I'm most looking forward to walking into libraries and bookshops I frequented as a child and seeing it on the shelves!
We don't often see Canada featured in romances. Why did you choose to set yours in Toronto?
Although I lived abroad for several years, I'm a very proud Canadian and wanted to showcase one of its most eclectic cities. Toronto is vibrant, diverse, and an incredible city to live in, and I thought it would be the perfect setting for the book. In The Matchmaker's List, Raina has reluctantly agreed to let her Nani play matchmaker and set her up on a string of dates. Raina is a modern, ­career-driven woman who lives downtown, and so Toronto's fantastic bars and restaurant scene/nightlife [is] the perfect ­backdrop.
Do you think it is common in Indian diaspora communities to be set up this way?
I think it depends on the community and also on one's definition of matchmaker. Often the "matchmaking" is just a matter of providing informal introductions to people—just like the ones you'd get from girlfriends—then letting the relationship follow its natural course.
South Asian communities in the diaspora are extremely diverse, even within themselves, so I can only speak to my own experiences. In the book, Raina's Nani provided her with a list of men, and although my Nani never played matchmaker for me, I'm sure she would have if I'd asked. Nani is a composite of several of the strong women in my life, but personalitywise, yes, she is very similar to my own Nani: feisty, funny, and inspiring.
My parents didn't have an arranged marriage, and nobody in my family ever tried to set me up—at least, not that I know about. As far as the community I grew up in, Saskatoon, I know of some women and men who were set up by their family or a family friend, while others met their partner in school, through friends, dating apps, etc.
Do you think traditional matchmaking will survive the 21st century, or be totally replaced by online dating?
An arranged marriage is a method of setting up two people who might share common interests and values. Arguably, dating apps and websites can do the same thing; we're able to prescreen a potential date by their profile, the same way a "matchmaker" might assess suitability ahead of a setup. And as readers will see in the book, there are plenty of websites that allow family/matchmakers to get things started—but sometimes there's no substitute for the old-fashioned way.
Raina seems ambivalent about getting married. Do you think more Indian women are forgoing marriage to pursue other life choices?
Part of the reason I wrote this book is because it's disheartening to see the cultural expectations placed on Indian women to get married by a certain age and the expectations that we as women—regardless of our background—can place on ourselves.
Ultimately, it depends on the woman, but I'm glad to see that more and more women—Indian and otherwise—are feeling empowered to make the choices that are right for them, whether that be not rushing into a relationship or marriage, dating outside of their culture, or putting their career first and romance second.
Raina ends up on a lot of dates with incompatible men, sometimes with comic results. Were these scenes fun to write?
We've all gone on bad, even cringe-worthy dates, and it was ­really enjoyable to draw on my own experiences and those of my friends and spice it up bit, turn fun facts into hopefully some funny fiction.
I plan to continue writing romantic comedies. Raina's journey (romantic and personal) is just one of many South Asian women can and have experienced, and so I have plenty more to write about. But I can't speak for all of them, nor would I want to, so I hope to see lots more South Asian and minority women published in the genre.
What do you hope readers will take away from your novel about dating and romance in Indian diaspora culture?
That Indian women fall in love, too! Every one of us has different priorities, values, and goals when it comes to dating and romance, and Raina is representative of just one path. I would also love for this book to fall into the hands of a reader and help empower her to live and love however she wants.—Kathryn Howe
---
This Q&A was originally published in Library Journal's October 15, 2018, issue as part of the Romance Genre Preview "Love Changes Everything."