The Pulitzer Prize–winning playwright discusses his new role at PEN America, succeeding novelist Jennifer Egan, and encourages librarians to join in its efforts.
Ayad Akhtar should be no stranger to Library Journal readers. American Dervish, his debut novel, featured a Pakistani American family's struggle to assimilate in a country often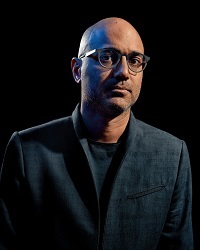 unwelcoming to people from other cultures and was widely praised upon its 2012 publication. Akhtar went on to receive a Pulitzer Prize the following year for his Broadway play Disgraced. And now, at the end of a tumultuous year, Akhtar has written another dazzling novel, Homeland Elegies, and has been chosen as the new president of PEN America, an organization that unites diverse writers and their allies in championing freedom of creative expression around the world.
LJ caught up with the very busy Akhtar to learn his thoughts on the new book and the challenges ahead for PEN America.
You will take the helm of Pen America in December during one of the most contentious times in American history, What do you believe will be the greatest challenges to the organization going forward?
Our public discourse has never been more polarized. I hope that through a combination of continued national outreach, robust programming, and thoughtfulness in our communications that PEN America can model nuance and complexity. Preserving the organization's ability to do that feels like a paramount goal.
Critics of cultural appropriation and censors of unpopular thought on the left and right are more vocal than ever. What initiatives can Pen American implement that might tamp down the negative rhetoric and help us embrace diverse opinion?
Of course, this is connected to the last question, and my answer is really the same. We can support nuance, celebrate it, expound upon it, and model it.
In your New York Times interview with John Williams you said that you were not convinced that literature was the best way to form political opinions, yet your new novel, Homeland Elegies, feels deeply informed by politics. How do you see that as different?
In my discussion with John Williams, I was referring more directly to the act of voting, but yes, guilty as charged! And it's true that Homeland Elegies is a work of deep political engagement. That said, in the book, I am trying to portray a picture of the nation riven by divides and despoiled by rampant individualism. And it's clear that the book is suggesting that the political class of the last half-century is really responsible for the mess we're in. So even there, the book is not suggesting any overt political fealty.
How do you think the social isolation brought on by the pandemic has affected our appreciation for literature and the arts? Are you reading and writing more yourself?
Yes, I have been reading more, which has been wonderful. The isolation is hard, and sometimes that did make it harder to read, oddly. But thankfully, I've found some sort of a daily rhythm, and as always, reading is the highlight of my day!
What can we as librarians and active readers do, if so inclined, to support the mission and goals of Pen America?
Join! No better way to engage with us. And as we continue to open chapters across the country, come. Get involved. Let's stitch the network of amazing libraries in this country together with our growing membership!
Sally Bissell , formerly with Lee Cty. Lib. Syst., Fort Myers, FL , is an LJ Reviewer of the Year.