The sixth annual BookCon, held on Saturday, June 1 and Sunday, June 2, drew crowds eager to celebrate books, fandom, and more. The show grew in both panels and exhibitors, with a varied lineup of pop culture-related sessions as well as lengthy autographing lines on both days.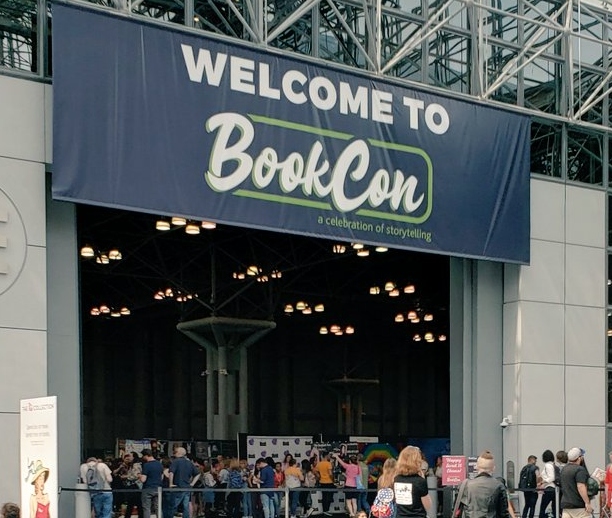 The sixth annual BookCon, held on Saturday, June 1 and Sunday, June 2, drew crowds eager to celebrate books, fandom, and more. While final attendance figures are still being calculated, preliminary numbers according to Publishers Launch show attendance at approximately 21,500, up from 20,000 at past shows. (By comparison, the preliminary number of BookExpo attendees, not including exhibitors, was about 8,260.) BookCon grew in both panels and exhibitors, with a varied lineup of pop culture-related sessions as well as lengthy autographing lines on both days.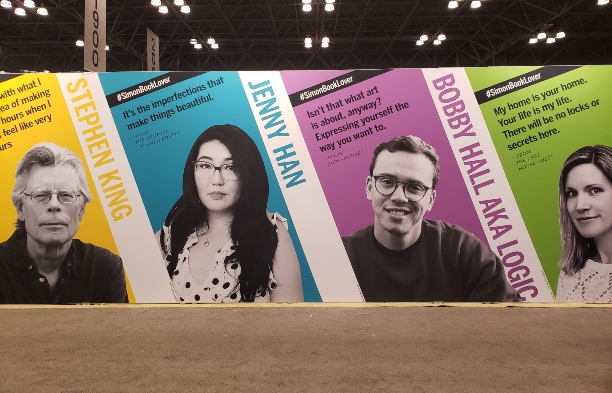 While several panels were well-attended, here are some that drew the most crowds:
Saturday: The Baby-Sitters Club: The Ultimate Throwback and Fast Forward

Ann M. Martin's groundbreaking series The Baby-Sitter's Club is being released on audio for the first time in the summer of 2019. To celebrate the launch, Audible setup a 90s-inspired listening lounge (left) allowing fans of all ages to hear Elle Fanning and others voice their favorite characters. (Fanning narrates the first five books in the series.) Diana Dapito, Senior VP of Content for Audible, moderated a related panel with author Ann M. Martin along with Brittany Pressley, who voices Kristy Thomas; Vanessa Johansson, who narrates Mallory Pike; and Bahni Turpin, who portrays Jessi Ramsey. Audible's Kat Lambrix shared how the project came together—a giant spreadsheet.
Saturday: We Need Diverse Books Presents: Intent Imprints

We Need Diverse Books is a staple of BookCon, and bestselling author Nic Stone, known for her YA novel Dear Martin, moderated a dynamic discussion with Denene Millner (Publisher of Denene Millner Books, an imprint of Simon & Schuster), Namrata Tripathi (VP & Publisher of Kokila, an imprint of Penguin Young Readers), Zareen Jaffery (Executive Editor, Simon & Schuster Books for Young Readers), Stephanie Lurie (Editor-at-Large, Disney-Hyperion), and writer and illustrator Christopher Myers. Panelists discussed the challenges of creating and publishing books with increased representation. After Denene mentioned there is still a lot of pushback, especially in children's literature, Chris added that publishing, as an industry, is good at finding ways to say no, and is often apprehensive about trying something new. Zareen mentioned urgency; there is so much to do in order to make lasting change, while Namrata reminded listeners of the emotional toll of having repeated conversations about the subject. Bookmarks (left) were distributed to all attendees.
Sunday: To All the BookCons I've Loved Before
Bestselling author Jenny Han, author of To All the Boys I've Loved Before (2014), chatted with author and editor Eva Chen about the popularity of her 2018 Netflix adaptation of the same name starring Lana Condor as Laura Jean Covey and Noah Centineo as Peter Kavinsky. Besides giving the audience a preview of the upcoming sequel, which will adapt Han's 2015 book P.S. I Still Love You, Han shared her thoughts on her childhood influences, such as Stephen King, and her parents reading To All their Boys in their native Korean. Han was also thrilled to see Lara Jean cosplay among the audience.
Sunday: A Mashup of Time, Space, and Media: Creating and Adapting Speculative Fiction

N.K. Jemisin (The Broken Earth Trilogy) and Rebecca Roanhorse (Trail of Lighting; Storm of Locusts) chatted about everything from their path to becoming bestselling authors to the gendered roots of sf and fantasy. Jemisin (middle) talked about controversy surrounding the HUGO awards in recent years, and how she was initially taught that men write sf, which is often perceived to be strong, and that women write fantasy, which is often perceived to be weak by comparison. Along with moderator Anthony Rapp (left), both authors explored the lingering stigma of sf as well as how genre fiction doesn't receive the same respect as literary fiction. Roanhorse (right) considers her series to touch on sf, fantasy, and horror; she calls her works speculative fiction for lack of a better catch-all. Responding to a question of whether we should still read classic sf works that are now considered to be harmful, Jemisin said classics both positively and negatively informed her work, and that it is a personal choice whether or not to engage with them.
Social Justice Warriors
Writer and comedian Akilah Hughes moderated a thought-provoking panel with authors Jason Reynolds (Long Way Down), Daniel José Older (The Shadowshaper Series), Morgan Parker (There are More Beautiful Things than Beyoncé), Elizabeth Acevedo (The Poet X), and Damon Young (What Doesn't Kill You Makes You Blacker). Reynolds began, "I write stories for a living and I'm a black man in America so it's impossible for me to separate my work from who I am." He continued, "We need to dismantle the milk-toast idea of allyship. Everyone claims allyship, and all it allows you to do is stand next to a person in pain and recognize their pain...You need to stand in front of people." Young, Parker, and Older described pushback to their works, and how they kept it in perspective. Meanwhile, Acevedo shared that it's not that children of color children don't have interests and dreams; it's just that their interest and dreams aren't always heard.
Similiar to previous years, interactive elements, such as a Post-it note wall asking what the title of your autobiography would be (below left), were a hit. Additionally, the official BookCon shop (below right) was busy throughout the weekend.