This year's round of New Landmark Libraries, our third focused on public libraries, relies on updated criteria to focus on how libraries are co-creating with their communities to inform the design of building projects. Our 2019 NLL series sought projects completed between January 2016 and March 1, 2019, whether extensive renovations or new buildings. Project coordinator Emily Puckett Rodgers, space design and assessment librarian at the University of Michigan Library, received more than 35 submissions from across North America. Five judges reviewed submissions in two rounds. The leadership of six winners and four honorable mentions shines through as landmarks for others to use as benchmark.
TRENDS AT A GLANCE
The shortlisted libraries featured persistent, creative, and inclusive design practices, often spanning many years. Universal design is integrated into every facet of design and execution across new buildings, renovations, and historic preservation efforts. Community-created artwork, often commissioned by the library or executed in partnership with museums, abound. Taking advantage of existing infrastructure was a sustainable and cost-effective solution for many libraries and yielded serendipitous results. Many of the buildings are setting the standard for regenerative design practices that improve local water systems and add energy back into power grids.
Our landmarks feature color palettes, materials, and design features that celebrate and reflect the vernacular aesthetic of their region. Half Moon Bay evokes the coastal landscape with soft hues while the Varina Area Library mimics tobacco sheds in form and use of red brick. These landmarks also key partners in economic and cultural revitalization in communities big and small, pushing the boundaries of what library users can expect. Our 2019 NLL libraries celebrate diversity and bring communities together to share, learn, create, and explore.
DESIGN FOR ALL
We found that landmarks are more fully incorporating principles of universal design into their buildings. From responsiveness to community input to choosing furnishings and finishes, these buildings create solutions for intuitive and simple use, low physical effort, equity and equality in use, and services and spaces at a variety of scales. They all incorporated accessibility into their entrances and parking structures, from adding elevators to redesigning and re-siting entrances in renovated buildings.
Tulsa City-County Library's daytime storage lockers let visitors, including and homeless patrons, store personal items so they can focus on experiencing programming and use resources more easily. Comfort rooms offer a place to nurse, administer medication, meditate, or perform other activities that might otherwise disrupt a patron's ability to seamlessly use the library.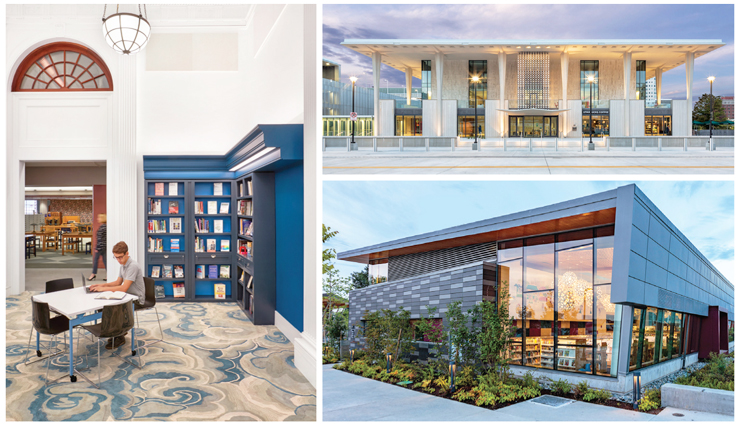 2019 WINNERS

Clockwise from l.: Ives Squared Library, New Haven Free Public Library, CT, photo by Garrett Rowland; Tulsa City-County Library's Central library, photo by Lara Swimmer; King County Library System's Tukwila Library, photo ©Patrick Bennett
Aisles between the Varina Area Library's in-unit LED-outfitted shelves, are extra wide, making access for wheelchair users easier. No shelf is more than six feet tall. Materials are more visible and easier to access for patrons and staff. Spaces are designed with multifunctionality in mind. At the Tulsa City-County Library, a recording studio is designed to double as quiet space for those with sensory sensitivities.
When Union Carnegie County Library began its design process, it became clear the library had an opportunity to create accessible space for patrons as well as social service agencies. The historically renovated building now includes the only fully ADA compliant facilities in the county and offers a place for such service providers to meet with individuals and groups. The result was a preservation-worthy renovation that created a multi-functional, welcoming, accessible, and safe modern facility.
COMMUNITY CO-DESIGN
This year's landmarks committed to community-driven design decisions and have a track record of listening and adjusting to community vision and input. Design sessions for many of the libraries included residents, business owners, social agencies, and city representatives. Multiple workshops and meetings were held to both reveal initial designs and to showcase designs that responded to community input or criticisms.
When the King County Library System (KCLS) began its design process for the Tukwila Library, staff learned from the community that the originally planned 8,000 square feet wasn't going to be enough. Locals worked with KCLS to raise an additional $1 million to increase the footprint by 2,000 square feet. The site anchors Tukwila Village, a mixed use development. Moveable bookshelves and furniture guarantee that programming can be shaped around the community and the topic rather than fixed amenities.
When it came time to renovate the historic building that housed Union County Carnegie Librarystaff and McMillan, Pazdan, Smith Architecture hosted town halls across four municipalities, and worked hard to be inclusive and thoughtful. They included board members in project planning, and consulted with regional agencies.
At the New Haven Free Public Library, Margaret Sullivan Studio createda four-month-long design thinking experience that engaged more than 200community members, entrepreneurs, civic leaders, library staff, and others to co-create the vision and experiences for Ives Squared, a re-imagined reading room that serves as the community's anchor invention space. "As a result, Ives Squared was designed for, by and with the community,",," states City Librarian Martha Brogan.
In the process of creating the Advanced Learning Library in Wichita, KS, library staff applied for and received a grant from the Knight Foundation. Sean Jones, communications specialist for the Wichita Public Library, says the grant "enabled the library to further expand community conversation about the project and to engage community voices generally absent from traditional community meeting models" through online engagement, using artworks as conversation starters, and a "Geek the Library" community awareness campaign.
CIVIC RENEWAL
The previous cohort of Landmark public libraries supported community growth with their designs by increasing access to public transit and by sharing facilities with schools, parks, and recreation centers. This year's cohort illustrates how this trend has evolved and matured. These libraries serve as socio-economic drivers through regenerative infrastructure or siting their buildings in downtown cores of post-industrial cities. Some have invested in renovating existing historic buildings so they can reinvent them as engines of innovation. Others have adapted existing structures to serve as anchors in neighborhood revitalization . These decisions were not simply the most efficient or cost-effective but were driven by community desires and anticipated impact for other institutions, such as area social services, schools, and city governments.
Many thoughtful and elegant solutions have been created to preserve historic elements of renovated buildings, including historic glass display cases, refurbished art deco plaster capitals at Mitchell Street Branch Library, mid-century modern furniture at the Weber Library, and a whimsical slide that serves as an alternative entry to children's areas at the Union Carnegie County Library.
RESOURCE REGENERATION
Half Moon Bay and Dayton Metro libraries designed impactful solutions to strengthening access to local utilities and natural resources. As the largest Zero Net Energy library in the country, and the fourth largest such project in the United States, Half Moon Bay Library produces as much energy onsite as it will use over the course of the year, without carbon-based fuels, through a combination of interventions including photo-voltaic panels, daylighting, and high-performance heating and cooling. The city has no underground storm sewer system so the building has three large bio-retention swales and a bio-retention planter to filter all water before it enters the city's systems. At Dayton Metro Library, designers took advantage of an underground aquifer to route water to the building's chilled water system via a dewatering well and to mitigate high groundwater levels during peak rainstorms. This creative solution results in an 83 percent reduction in cooling energy demand. Automated controls heat and cool these library buildings based on time of day and season, providing increased efficiency. Radiant heated flooring helps distribute environmental comfort more evenly.
Even without LEED certification, many of these libraries followed gold standards in sustainable design. Materials diverted from landfill through reuse or recycling, LED lights and low-flow water fixtures, pervasive use of vegetation and greenery, and extensive use of daylighting are now standard practices. Weber County Library's retrofitted building envelope dramatically decreased energy use and the new color-matched, thermally broken aluminum curtain wall, including high-performance glass, mimics but out-performs the original single-insulated aluminum curtain wall.
PARTNERS IN PLANNING
Partnerships and collaborations baked into the design processyield impactful programming among this year's cohort. In Milwaukee, the Mitchell Street Branch Library is the third project in the library system's long-term facilities plan. By replacing several aging and failing branches with mixed use developments, the library and city are partnering to drive catalytic economic development projects. Through a reliable financing structure, Milwaukee Public Library and developers agree to share ownership of a project through a condominium association. The Mitchell Street neighborhood now benefits from a larger and updated library facility, eight new townhouses, and 52 market-rate apartments on the four floors above the branch, which will help stabilize and strengthen community growth.
When faced with insufficient funds to renovate and operate the expanded historic Carnegie Library, Union County library staff reached out to community partners to bring social services into the design process. The result is a multi-use building in which staff from partner organizations provide operational support, funding, and new forms of collaboration. Patrons and partners have a choice of five different sizes and types of meeting rooms in which to meet, conduct training, and offer a safe and accessible space.
FLEXIBLE BY DESIGN
This cohort of Landmarks evolves the concept of flexibility beyond mobile furniture, movable walls, or raised flooring. Functionality is intentionally designed in layers and packs a programming punch. This multifaceted approach to using physical environments is driven by human-centered design, Continuing a trend we saw emerge in 2015, many new Landmarks offer meeting and event space, complete with kitchens, that can be independently accessed outside of operating hours. The Dayton Metro Library's new building offers a plethora of purpose-designed spaces that are elegantly adaptive, from "messy" and "clean" Opportunity Spaces to technology labs and a recording studio. Of the 280-seat Eichelberger Forum, Executive Director Tim Kambitcsch says: "Rather than create a traditional auditorium that would likely sit empty between uses, a flexible program, performance, and event space was envisioned that converts to casual seating for daily use with comfortable cushions and mobile easy chairs." The space can be opened, closed with a curtain or a door, and offers retractable screens on a side wall.
In response to community feedback to preserve space in Cooper Park and dedicate as much space as possible to public services in the new building, the Dayton Metro Main Library renovated a former brewery to host the library's backroom operations. Now boasting matching colored paneling, the two buildings communicate with one another and create a Library District.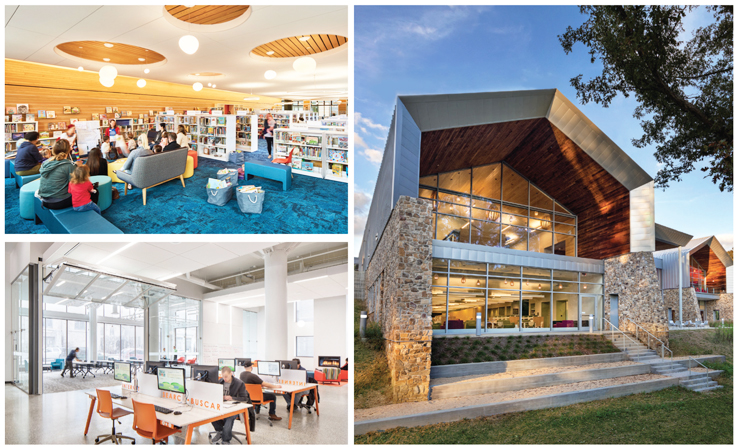 MORE 2019 WINNERS

Clockwise from l.: San Mateo County Libraries' Half Moon Bay Library, photo By Anthony Lindsey Photography; Varina Area Library, VA, photo by Chris Cunningham Photography; Milwaukee PL's Mitchell Street Branch, photo ©Darris Lee Harris
In one of the country's most diverse communities, the Tukwila Library offers "a 'mosaic space'—a place where we envision celebrations and events, performances, contemplation, learning and reading—and that we hope will become a symbol of civic pride and a new gathering center for the community," says Ryan Bussard, design principal with Perkins+Will, the lead architectural firm. To accomplish this, glass doors can close off meeting rooms for resonant events or open up the space to connect it to the children's, teen's, computer, and other areas.
In addition to the more than 25 collaboration spaces of varying sizes and styles, the Advanced Learning Library, in Wichita, KS, offers mobile walls that provide the ability to create temporary "rooms" for personal or group work. The Library's AV Studio provides equipment to create media, housed on a portable desk and easily shared with a conference room in the Research Pavilion to allow oral history recordings.
PEDAGOGICAL POWERHOUSES
If previous landmark libraries showed just how exciting makerspaces can be for generations of learners, these new landmarks show how impactful they can be for skills development and job training, and as engines of innovation. This year's Landmarks feature makerspaces that are varied, distributed throughout the library, and packed with programming, residency programs, and community partnerships. Hands-on and experience-based learning environments yield STEAM-themed gardens and play areas. Children, especially, are encouraged to explore, move, and experience these learning environments that stimulate creativity and problem-solving alongside literacy development.
GoCreate, a makerspace at Wichita State University, provides classes across a variety of makerspaces at the Advanced Learning Library. At the New Haven Free Public Library, the iconic Cass Gilbert reading room has been re-invented as Ives Squared, a 4,700 square foot creation space that activates community-driven innovation. Technology lockers are features of the Studio M Makerspace at the Mitchell Street Branch of the Milwaukee Public Library, which includes a recording sound booth, video production equipment, and computer workstations supporting graphic design, video, and sound editing.
Many libraries also host entrepreneurial programs and offer free space to regional businesses and startups. Dayton Metro Library supports nonprofits and business owners through distinct spaces and services. The LaunchPoint offers meeting spaces alongside collections for career and college readiness, nonprofit management, and small business assistance. Elsewhere in the library, nonprofits and other social services benefit from the Patterson and St. Clair Opportunity Spaces, flexible gathering/activity areas designed to be shared with nonprofit partners .
Using principles of design thinking, Ives Squared offers coordinated spaces and accompanying programming, including certification in tools and technology and a cafe to host networking. The Exchange is the social space for collaboration and co-working. It supports both long- and short-term projects and features modular seating and tables, multiple areas for flexible technology use, and a variety of writable surfaces."
At the Tulsa City-County Central Library, the Pocahontas Greadington Learning & Creativity Center advances innovation in teaching and learning by offering interactive labs, meetings, lectures, and other community events. Six "pavilions" offer connected but distinct learning experiences at the Advanced Learning Library in Wichita, KS. The Children's Pavilion has a play pad with interactive games while two light-up box tables with building materials encourage creativity and collaboration. A STEAM-themed outdoor garden connects learning to the outdoors.
The trend for interactive learning environments that serve the needs of America's diversifying communities is a hopeful one: Multifunctional spaces, innovation and media labs, and sustainable infrastructure have all emerged because of shared commitment among stakeholders and community members to collaborative design and decision-making.
---
2019 Judges
Five judges, led by project coordinator Emily Puckett Rodgers, reviewed applications and represented design expertise in cultural institutions, public and academic libraries, sustainability, and previous NLL winners. LJ thanks them for applying their time and expertise.
---
Eva Poole, Executive Director, Virginia Beach Public Library
---
Mar González Palacios, Associate Director, Special Collections, Robert B. Haas Family Arts Library, Yale University Library
---
Misty Jones, Director, San Diego Public Library
---
Matthew Bollerman, Chief Executive Officer, Hauppauge Public Library
---
Aude Jomini, Senior Associate, Pelli Clarke Pelli
---
Criteria
The judges, along with project coordinator Emily Puckett Rodgers, evaluated the applications against criteria that included (1) community engagement in design, (2) sustainability, (3) functionality, (4) innovation, and (5) beauty and delight.