The members of Nashville Public Library's six-person marketing and communications team draw on each other's strengths for successful multilevel campaigns
Andrea Fanta | Marketing and Communications Manager
Ed Brown | Public Information Officer
Matt Fox | Email Marketing Specialist
Eddie Patton | Designer and Photographer
Allison Price | Digital Content Developer
Lake Summar | Social Media Specialist

The six-person marketing department at Nashville Public Library (NPL) is made up of enthusiastic collaborators—willing to listen, iterate, contribute to each other's strengths, and involve the rest of the library in coming up with great ideas—with a strong leader who inspires creativity and teamwide respect.
Under the direction of Marketing and Communications Manager Andrea Fanta, the team of Public Information Officer Ed Brown, Email Marketing Specialist Matt Fox, Designer and Photographer Eddie Patton, Digital Content Developer Allison Price, and Social Media Specialist Lake Summar collaborate to promote the library's offerings. Two of the largest recent campaigns in recent years have highlighted deeply important issues—voting rights and freedom to read. The team's success in amplifying them, boosting patron involvement, and keeping the conversation going earned NPL Library Journal's 2022 Marketer of the Year award, sponsored by Library Ideas.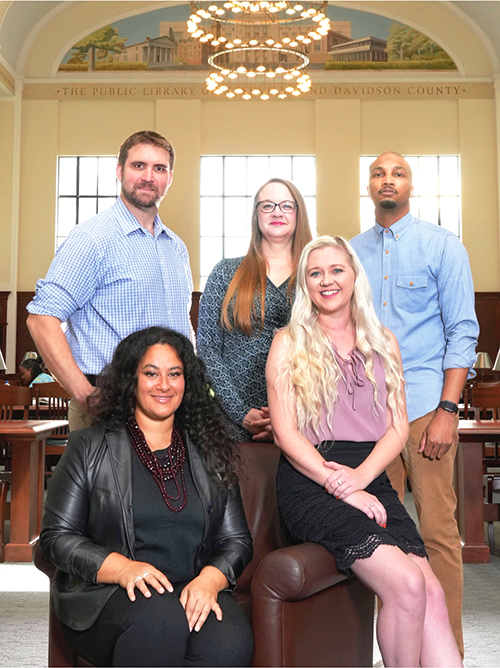 TEAM PLAYERS

Members of NPL's marketing team bring multiple skills to every project (clockwise from lower l.): Andrea Fanta, Ed Brown, Allison Price, Eddie Patton, and Lake Summar (not shown: Matt Fox). Photo by Larry McCormack
ALL-STAR CAST
Many of the current initiatives were begun under former Director Kent Oliver, who helmed the library for 10 years before retiring in July. Oliver is a passionate advocate for literacy, intellectual freedom, and community education and often lent hands-on support to the library's initiatives, from answering email about banned books to throwing out the first pitch at a baseball game.
Fanta, who has worked in NPL communications since 2012, recently took a year and a half hiatus to serve as Nashville Mayor John Cooper's press secretary and speechwriter, from October 2020 until last February, to help cope with multiple citywide crises. She returned to the library to find that her team "just kept everything going. I wasn't surprised, but I was still very impressed and very grateful."
As lead copywriter, Brown refines teamwide content contributions for the webpage, press releases, and social media; he also pitches to media outlets. Patton creates graphics and takes photographs. Price builds marketing content for the website and digital signage. Fox channels email messages to people who want them most. Summar manages NPL's Facebook, Twitter, and Instagram feeds. But, as they all emphasize, each of them has a hand in tweaking copy, design, and concepts, without stepping on each other's toes.
This is possible because Fanta "absolutely believes in every one of us and trusts our judgment, and actually listens," says Price. "It's not a pro forma gesture when she asks for everyone's feedback and input."
In 40 years working in libraries, "I've never seen a library celebrate its customers the way that this team does," says Interim Director Terri Luke. When she stepped into the role in July, the marketing team created an affecting profile introducing her to patrons. "We received an overwhelming number of positive responses from our customers who felt like they could relate to the story," says Luke. "That's the team."
VOTES FOR WOMEN
The Votes for Women campaign began in 2019, looking ahead to the hundredth anniversary of the 19th Amendment's ratification. It was an important piece of national and local history, as Tennessee played a pivotal part in the amendment's passage, casting the last legislative vote needed to sign it into law. NPL has seen great success with its Civil Rights Room and Collection, established in 2003, and felt that a space dedicated to women's suffrage would have similar impact.
The Votes for Women Room was envisioned as a learning lab to highlight history and address key questions: What's next in the ongoing work of women's rights? Whose voices are still unheard? Which barriers still need to be broken? NPL set an opening date for the space for August 2020, to coincide with the ratification's centennial.
No matter how connected the fight for women's suffrage is to contemporary issues of race, gender, and equity—the 19th Amendment enfranchised white women but fell short for their BIPOC counterparts—stirring interest in events that happened a hundred years ago still posed a challenge, notes Fanta. The team's job was to create a clear connection, so that people across the city could see their experiences in the Votes for Women story. "We talked it through and determined that this is not just a history room," says Brown.
That began in 2019 with the launch of a "Read, Remember, Vote" book-to-ballot campaign, which asked residents to register to vote, read Elaine Weiss's book The Woman's Hour: The Great Fight to Win the Vote, and attend her book talk. In two months, 386 people took the pledge, and 542 attended Weiss's event. NPL was also able to use click-throughs to grow its Votes for Women email marketing list by nearly 1,700 names. Coverage appeared in the local Tennessean and nationally, in TIME.
The team decided that an important connector would be "to look at everyday women and see what they care about, how they feel about power," says Brown. "That's where the idea for the Nashville voices series came in."
At the library's request, the 20 women members of the Metropolitan Council of Davidson County—where Nashville is the county seat—contributed to a February 2020 series of online interviews, "Women's Caucus Members Share Their Thoughts on Power." Another series, "Nashville's Voices: Local Women Share Their Thoughts on Power," featured eight trailblazing Nashville women.
Because of its success, NPL is bringing Nashville Voices back to honor the 102nd anniversary of women's suffrage. On August 18, the library broadcast an open call for stories about women of all experiences—teachers, politicians, public administrators, community garden organizers, stay-at-home moms.
"You have to figure out how to connect the dots between what happened then with where we are now," says Fanta. "If you have the boldness and ferocity to raise your hand and say, 'I'm a member of a community and I have something to say, what we want you to hear from the library is: we hear you, we see you, your voice matters, and we're listening."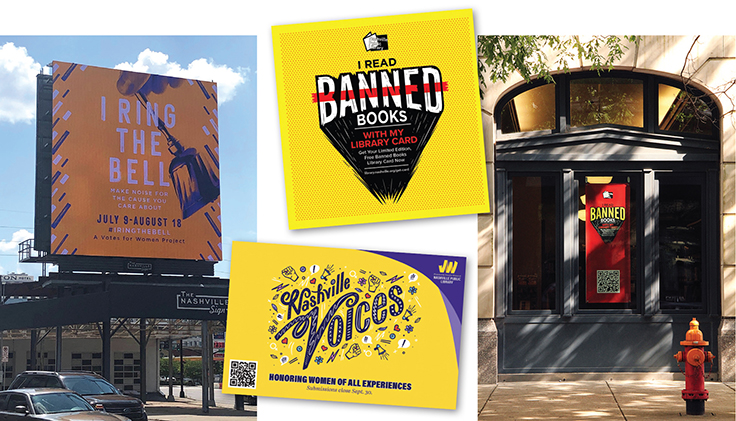 GETTING THE MESSAGE OUT

Successful NPL campaigns include Votes for Women, featuring the "I Ring the Bell" and "Nashville Voices" components; and Freedom to Read, where promotions were repurposed as popular merchandise. Photos courtesy of Nashville Public Library
RINGING IT IN
When the pandemic forced NPL to shut its doors in March 2020, the library had to quickly shift plans for the Votes for Women Room's grand opening, and the marketing team pitched in. First, they arranged a partnership with Nashville's NewsChannel 5 to produce a streaming 30-minute virtual grand opening, featuring Nashville musician Rosanne Cash, Nashville Youth Poet Laureate Alora Young, Mayor Cooper, and Metro Councilmember Nancy VanReece, among others.
A mini-campaign, "I Ring the Bell," helped create buzz. When the amendment was passed in 1920, cities across the country rang bells in celebration, but not Nashville—the vote was still too controversial for the largely conservative city to rejoice. The team shipped hundreds of Votes for Women–branded handbells to local community leaders, asking them to record videos about the causes for which they would ring their bell, and share them on social media. They also asked Nashville's large institutions—churches, universities, and more—to ring their own bells during the final moments of the opening.
The streamed opening was viewed nearly 40,000 times on NPL's website the first day and throughout the following month. More than 5,000 users watched via social media, and over 20 media outlets, including the New York Times, covered the event. Most important, says Fanta, was the feeling of connection generated.
FREEDOM TO READ
"Defending everyone's intellectual freedom is sacred work," says Fanta, and this year that principle has been sharply tested in libraries across the country. Closer to home, this spring Tennessee legislators passed a bill, HB 2666, that would allow the state's textbook commission to approve or reject books in school libraries. At the beginning of the year, two Nashville school boards banned challenged books from their school libraries. NPL's Freedom to Read campaign launched in April, during the same week that Republican state Rep. Jerry Sexton, one of HB 2666's sponsors, stated publicly that he would burn books banned and removed from libraries.
To publicize the campaign, NPL created systemwide Freedom to Read messaging, including information on the library's website that explained what censorship is and isn't, what is behind the recent uptick in both bans and challenges—and the difference between the two—and their history, pointing readers to the American Library Association's list of banned and challenged books.
For the special edition "I Read Banned Books" library card, Patton's aesthetic for the graphics started with the look of vintage horror movies and old propaganda posters in an eye-catching red, yellow, and black color scheme. It was a hit. New and existing customers registered for just over 4,000 cards, and because of the overwhelming response, NPL made the card a permanent fixture.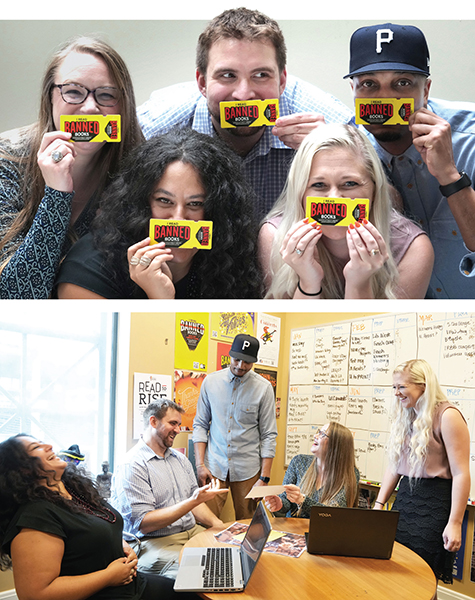 ALL TOGETHER NOW

NPL's marketing team shows off the "I Read Banned Books" library cards (top); marketing meetings involve brainstorming, opinions, and camaraderie (bottom). Photos by Larry McCormack
Many wrote and called from out of state, offering to pay an out-of-area fee for the card. "On the library Instagram, people were asking about the shirt designs," says Patton. Banned Books merch "would be something cool for the patrons that can't come to the library." To meet the overwhelming response, the library created a line of "I Read Banned Books" t-shirts, mugs, and stickers; sales raised an estimated $15,000 that went to the NPL Foundation.
Each of NPL's 21 locations was also encouraged to create its own displays and graphics. "We said, 'We want to make this fun for your community—you know your community better than we do,'" says Summar. "The branches really blew it out of the water as far as making it their own."
Branch displays included creative arrays of challenged titles, a board for visitors to write in reasons to read banned books, brown paper–wrapped books with warning stickers, and posters exhorting patrons to "Free yourself! Read a banned, censored, forbidden, burned, feared book today!"
Social media hits for the campaign reached 13,748 on Instagram, 8,355 on Facebook, and 16,322 on Twitter. Traffic to the library's website increased roughly four times over a two-and-a-half month period. In September, the campaign collateral was repurposed across all branches for Banned Books Week.
CREATING A CONVERSATION
Going into the Freedom to Read campaign, the team understood that it was going to have to involve two-way communication: They would need to listen as well as inform. Price, who spent seven years as a frontline librarian, was cognizant of that fact as she designed the web content. "It made me careful to check my objectivity," she recalls.
Still, Nashville is a Democratic city in a Republican state, and the message was not unanimously accepted. When several residents wrote to express their concerns and objections to the campaign, NPL responded; Oliver drafted each reply with Fox and Brown's help. The reaction to the library's willingness to engage was largely positive. Many correspondents agreed to disagree, or even changed their views, and all appreciated the informed response. Those conversations, Fanta feels, offered metrics of success every bit as revealing as card signups and website hits. "You can't win hearts if you're wagging your finger at people," she says. "We knew we had to start from a very edified, respectful position. And we knew that we had to meet every person who engaged with our campaign where they were."
SMALLER BLASTS, GREATER REACH
In his six years with the library, Matt Fox has streamlined its use of email, targeting customers through their interests and zip codes. For a system the size of NPL, which serves a population of more than seven million, "One messaging stream alone is not going to factor in the very diverse interests and needs of our various patrons," he explains.
The library currently has around 202,000 email subscribers, all of whom get a monthly email roundup. But the team has also created unique newsletters and communication streams for some 30 different departments, working closely with the staff who lead each initiative, to create relevant and consistent content. Getting staff on board isn't difficult, notes Fox, because he keeps the barriers to involvement low.
"We try to make it as easy on them as possible, because people are busy and they don't need one more task on their hands. I tell them, 'Just dump all the copy to me, throw in whatever images you want.' I make it look pretty, monitor their audience list, look at the response rates, and report back to them what's happened. It's very librarian-driven."
Users opt in to receiving email when they get a library card or sign up for programs. Lists can be as small as 70 or as large as 50,000. "No size is too small for us, because we have to grow that audience and that relationship from somewhere," says Fox. Consistence is a major goal; part of building a relationship with patrons means keeping them informed, not just asking them to show up for a big event. Younger users expect to be targeted based on their interests, he adds, and prefer correspondence that's relevant to them.
With this in mind, Fox is able to make sure that email about the library's campaigns reach the right people—in the case of Freedom to Read, building a blanket conversation across the city, and a more concentrated focus for Votes for Women messaging.
Email also goes out from each branch once a month to appropriate zip codes, with branch managers driving content. "This can be as simple as an event listings email, where you just put up five featured events that are happening," Fox says. "Or you can get as in the weeds as having your staff do a monthly book pick or show off some history photos."
VALUES-BASED COLLABORATION
What's the secret to assembling a team that works so well together? Fanta believes it has a lot to do with shared values. "You're already starting off as a talented person, a creative and strategic-thinking person, and that's why you've gone into the marketing field," she says. But when you factor in those who are drawn to an institution like the library, "you're also, then, a deeply conscientious person, and you're very passionate about what you're advocating for. Once you have those two fundamentals, then teamwork and collaboration and a quality product all flow from those things."
"Everybody brings something a little bit different to the table," Price notes, including skills and interests that may not intersect with their job titles—but contribute to the group effort nonetheless.
"We put our heads together, we discuss things," says Brown. "We don't always agree on everything, but we're very respectful." Once a campaign's message has been established, they're encouraged to experiment, he adds, and every iteration goes back to the group for discussion.
These successes extend beyond reaching customers. Community organizations are eager to partner with the library because they have a clear view of what it offers them, and how well it publicizes those partnerships. NPL recently wrapped a campaign with the Nashville Sounds—the city's Triple-A baseball team—for a special edition library card that debuted this summer. A similar partnership with the city's hockey team, the Nashville Predators, offered a line of special edition cards advertising the "Gnashville Public Library."
Marketing is a trust-based arrangement, notes Fox—not only among team members, but with patrons: "How do you facilitate that relationship so when it comes time to say something much larger and have an ask, they're going to perk up and listen and help you out?"
"We're marketing to promote the library—but that's the starting point," says Fanta. "The end point for us, in everything we do, is to keep feeding the ecosystem with work and campaigns that reach our customers and tell them, 'Hey, we're here. And we happen to think that you're fantastic. And we cannot wait until you visit us again.'" —Lisa Peet
---
HONORABLE MENTIONS
LOS ANGELES PUBLIC LIBRARY
Lauren Skinner | Director, PR & Marketing
Jimmy Tokeshi | Assistant Director, PR & Marketing
Keith Kesler | Social Media Librarian
Susan Lendroth | PR Specialist
Justin Pearson | PR Specialist
David Gregory | Graphics Designer
A little more than a year into the pandemic, all 73 branches of the Los Angeles Public Library (LAPL) were still closed to the public. The library planned a special online program during one of its virtual TeenTastic Tuesdays: a performance by local teen punk band The Linda Lindas to celebrate Asian American Pacific Islander Heritage Month. The Asian and Latinx band members, aged 10 to 15, played live from the Cypress Park Branch Library. After the livesteam, the library posted a clip of the band's original song, "Racist, Sexist Boy," to draw attention to the rise in hate crimes against Asian Americans.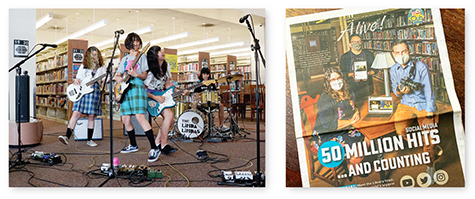 The clip went viral, garnering more than 10 million views across the library's YouTube, Instagram, Twitter, and Facebook, plus more than 100,000 likes and 11,000 comments. It was covered in the Los Angeles Times, New York Times, National Public Radio, Teen Vogue, Washington Post, and Rolling Stone. As a result, The Linda Lindas got a contract with Epitaph Records and appeared on Jimmy Kimmel Live!
In 2022, the library's AAPI Heritage Month Kick-off with The Linda Lindas won two Webby Awards: "Best on the Internet" in the Social Diversity and Inclusion category and the People's Voice category.
While viral popularity is almost impossible to manufacture or even predict, LAPL's marketing team set the stage for success. "For unique unscripted engagements and marketing opportunities...staff know they have a safe space to identify creative, out of the box programs," the team said in a statement. "This alternative model of marketing centers around staff's proactive leadership and risk taking."
Once lightning had struck, the team skillfully built on it. In the 15 months since, mentions of LAPL and The Linda Lindas had a print and broadcast reach of 2.3 billion and online reach of 1.3 billion and a combined publicity value of more than $10.5 million, according to analytics by Cision. Each one spread the image of LAPL as inclusive and vibrant. And while many such impressions may only linger in memory, some have formed new, lasting connections for the library, which has seen a 10,000 person increase in Instagram followers and 3,000 on YouTube. —Meredith Schwartz
---
VIRGINIA BEACH PUBLIC LIBRARY
Christine Brantley | Marketing & Communication Manager
Kevin Carobine | Creative Services Coordinator
Jennifer Lundgren | Media & Communication Coordinator
Nevin Mapp | Marketing & Communication Assistant
Virginia Beach Public Library (VBPL), like many others, helps adult patrons finish their high school diploma for free through Career Online High School (COHS). During the pandemic, staff expected demand to increase. Instead, fewer than half as many prospective students applied than in the prior year. The VBPL marketing team was tasked with designing effective outreach to change that.
The team began by collecting information, including feedback from current and former students and census data. They learned that some areas of Virginia Beach see a percentage of adults over 25 without a high school diploma as high as 16.9 percent, roughly twice the national average. The team decided to focus on those potential students, aiming to recruit 10.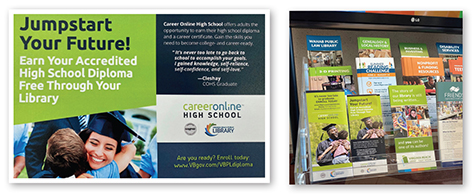 The $5,000 budget was augmented by free collateral: brochures, posters, rack cards, and two standees from the vendor, distributed to library branches. The locations serving the highest percentage of the target audience received the standees. The vendor did not offer a direct mail piece. Rather than create a standalone, the marketing team asked to collaborate on creating a postcard. The library team identified information to include, and graphics staff from both worked on the design, creating one that other libraries that offer COHS can use as well. The budget was spent on printing 9,600 postcards and purchasing a mailing list and postage to reach households with adults 25+ who don't yet have a high school diploma.
The marketing team also used press outreach, social media, and web content, and included an article in the city's weekly newsletter, as well as providing digital materials to the Housing and Human Services departments. The team also prepared frontline library staff for customer questions.
The campaign was a major success, recruiting 46 potential students—more than four times the goal. More than half (52 percent) were also new library users. The campaign will be an annual event.
Strategic use of in-kind support, data-driven targeting, and leveraging existing partnerships let VBPL turn a shoestring budget into a major win that can change lives. As one prospective student said, "I want to pursue my high school education, so that I can feel better about myself and work in a field that I am very passionate about. I'd like to pursue my dream job!" —Meredith Schwartz