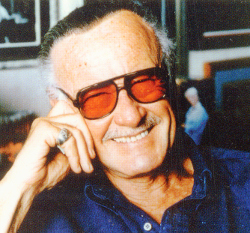 Courtesy of Marvel Comics
With his catch phrases, gigantic grin, and enormous sunglasses serving as his costume, a character as colorful and iconic as any he cocreated (including the Fantastic Four, Daredevil, Black Panther, and the X-Men), Stan Lee, born Stanley Martin Lieber (1922–2018), who died November 12 in Los Angeles, was a huckster and a hustler, a charlatan and a visionary. He served in the U.S. Army Signal Corps from 1942 to 1945. As a child, he dreamed of becoming a serious novelist. He gave us Peter Parker and Ben Grimm and a host of heroes for whom gaining superpowers came at the expense of a normal life and a chance at happiness, who nevertheless stood up to evil and oppression, because if you can, you have a responsibility to do so—a blueprint for being alive as vital as anything found in a novel, a film, or an ancient myth. Lee will be remembered as the man who conceived of Spider-Man, Iron Man, and the Incredible Hulk, which is strange to think about in the first place. Doesn't it seem more likely these characters would have been passed down through the centuries in tattered texts discovered in crumbling temples or else somehow baked into our DNA at birth?
There's a story about Lee that stands out, and this first part at least is reliably true. In 1965, famed Italian film director Federico Fellini requested a tour of the offices of Marvel Comics. From there things get murky, as Stan Lee stories tend to do. In the version of the story Lee related in interviews, Fellini wanted to meet the visionary writer and editor whose creations were just beginning to capture the cultural imagination. The two became fast and lasting friends.
In another version, Lee assumed Fellini was there to sweep him up into the movie business. He'd worked in comics since 1939, seen it boom and bust, but nothing matched the success he felt in 1965, when children couldn't get enough of the stories Marvel produced and college students and the counterculture were calling Marvel's books "pop art." In this rendition of the story, Lee basically said good-bye to his staff, put his affairs in order, and imagined himself living in Rome, writing important films and mingling with movie stars. Fellini arrived, sat down in Lee's office, asked a bunch of questions about Spider-Man, and, after a while, left.
Who knows what actually happened. That's a phrase that might serve as a fitting epitaph. Read a series of interviews with Lee across the decades and watch as stories concerning the evolution of his most famous creations shift and change. Look a little deeper, and you'll discover that his greatest collaborators spent the majority of their lives arguing that their contributions were much more significant and definitive than whatever Stan brought to the table. What's certain is the powerful and enduring influence his work has had on generations shows no signs of abating, as his characters permeate new media and spread across the globe. Who knows, maybe 1,000 years from now someone will discover a tattered Spider-Man comic scattered throughout an abandoned subway tunnel, or a poster featuring Iron Man adorning the wall of a crumbling theater. What will the person making this discovery look like, or in what language will they converse? If they're human in the way we're human, they'll understand, even if they can't read the words, that they're looking at something that speaks fundamentally to who we are. RIP, Stan Lee.
---
Tom Batten is LJ's Graphic Novels columnist and a writer and teacher whose work has appeared in the Guardian and The New Yorker. He lives in Virginia.
---
Below are LJ Reviews of titles spanning the last decade by or about the legendary comics writer.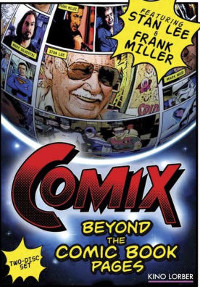 Comix: Beyond the Comic Book Pages. 2 discs. color. 85 min+. Michael Valentine, dist. by Kino Lorber, www.kinolorber.com. 2016. DVD UPC 738329206970. $29.95. LIT
Comic books are now considerably mainstreamed, largely thanks to successful movies based on characters from Marvel and DC, among others. Whether the medium's future will be primarily in electronic or print publishing and distribution, or both, comics and their devotees aren't disappearing anytime soon. Apart from a deficient history of the medium and interviews with renowned writers and artists such as Stan Lee and Frank Miller, those "insights" are all that Comix offers. The material appears to be dated and collected over the last ten years, with seemingly little recent content and nothing on topics such as underground and nonsuperhero comics, gender stereotyping, and the lack of diversity in the industry;past unscrupulous publisher practices and the rise of creator-owned properties are barely mentioned. Bonus features include none-too-illuminating deleted scenes and engaging hourlong interviews with Miller and Lee.
VERDICTComix is a sincere mash note to the medium, but it's only useful to complete newcomers; Superheroes: A Never-Ending Battle is superior and far more comprehensive. Optional, even for comic book fans. Some (oft-censored) profanity and provocative content but suitable for general audiences.—J. Osicki, Saint John Free P.L., NB (LJ 11/15/16)
Lee, Stan & others. Amazing Fantastic Incredible: A Marvelous Memoir. Touchstone: S. & S. 2015. 192p. ISBN 9781501107726. $30; ebk. ISBN 9781501107771. MEMOIR
Lee, the genial, outsized personality at the heart of Marvel Comics for most of its first three decades, has lived the American Dream. His immense creativity, aided by a knack for humorous self-promotion and a work ethic forged during his Depression-era youth, has brought him from poverty to a National Medal of Arts and a star on the Hollywood Walk of Fame. With much hilarity and charm, he narrates his life story here, aided by comics veteran Peter David and lovely, accomplished artwork by Colleen Doran. From his 60-plus-year marriage to the Marvel glory years when he cocreated Spider-Man, the X-Men, the Fantastic Four, and the Hulk to his ambassadorial work for Marvel on college campuses and in Hollywood, the book includes many of the same anecdotes as the 2010 Lee documentary film With Great Power and adds others, such as the time he met Paul McCartney and the time George W. Bush didn't kiss him.
VERDICT One could wish for more detail—how, for instance, could he have left out the Silver Surfer? But this is a lovable account of a lovable character.— Steve Raiteri, Greene Cty. P.L., Xenia, OH (LJ 11/15/15)
Lee, Stan (text) & Jack Kirby (illus.). Thor: Tales of Asgard. Marvel. 2011. 304p. ISBN 9780785151890. pap. $24.99. SUPERHERO
The many short tales collected in this impressive, newly colored volume were originally published as backup stories in the mid-1960s Thor comic. Some, freely adapted from Norse myths, recount the origin and early exploits of Thor's father, Odin, king of the Norse gods, or provide background on other Asgardians such as Odin's scheming adopted son, Loki. Others detail exploits of Thor's youth and his battles alongside fellow gods against giants, trolls, and monsters. Also featured are Thor's first appearance from 1962, a character guide, and a handy reading chronology of Thor collections. With their mythological backdrop, these adventures (illo-dramas, Lee terms them) filled with treachery and heroism provide ample scope for Kirby's bold designs and dynamics and for Lee's grandiloquence. There's humor as well: one episode casts the Fenris Wolf and the goddess Iduna (keeper of the Golden Apples) in a retelling of a familiar folktale. The new coloring, far more subtly shaded than the original, preserves main characters' color schemes but is otherwise entirely reconceived, with a darker palette that better fits the stories' settings.
VERDICT Much fun for heroic fantasy fans; Kenneth Branagh's recent film adaptation of the Thor character will likely mean demand.—Steve Raiteri, Greene Cty. P.L., Xenia, OH (Xpress Reviews, 6/24/11)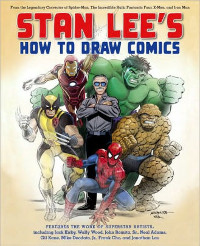 Lee, Stan & others. Stan Lee's How To Draw Comics: From the Legendary Creator of Spider-Man, the Incredible Hulk, Fantastic Four, X-Men, and Iron Man. Watson-Guptill: Crown. 2010. 224p. ISBN 9780823000838. $24.99. COMICS
The legendary Lee's career in comics goes back to 1940. He has created such classic characters as Spider-Man, the Incredible Hulk, Iron Man, Fantastic Four, Daredevil, and X-Men. Much has changed since Lee published How To Draw Comics the Marvel Way in 1978. Here, he includes chapters on creating comics with computer programs and online resources and how to get work in the 21st century. The book begins with a brief history of comics then focuses on action-adventure style, romance, humor, horror, and Japanese manga. This is the one book anyone interested in drawing comics should own. (LJ 11/15/10)
Graham-Smith, Seth. The Spider-Man Handbook: The Ultimate Training Manual. Quirk. 2006. 176p. ISBN 9781594741258. pap. $15.95. COMICS
Why do we like Spidey? According to Spider-Man creator Lee in this volume, the latest so-you-want-to-be-a-superhero guide from the publisher of The Batman Handbook and The Superman Handbook, it's because he's "a guy who's not that different from you." If Peter Parker can do it, the idea goes, so can anyone; as such, this entry is more practical than its predecessors, but still "a work of fiction" that warns readers up front, "don't try this at home." But with clever comic-book illustrations from Barberi, a wry, self-referential sense of humor and a real commitment to the material, this is a great addition to any fan's library. Amid fanciful strategies for "How to Escape When You're a Prisoner in the Enemy's Secret Headquarters" ("he'll leave you with the dimmest guard on the payroll" soon enough) and "How to Tell the Clone from the Original" ("examine their teeth"), there's Worst Case Scenario-type entries like "How to Withstand a Savage Beating" and The Incredibles-style concern over the minutiae of the superhero lifestyle (costumes "fall short in the pockets department," so "a compartmentalized belt or vest is a must"). In addition, Grahame-Smith doesn't skimp on historical trivia, detailing "The Many Looks of Spider-Man," profiling enemies and highlighting his career-making moments in comics. Illustrations. ("Freaky Friday," 12/4/06)
Lee, Stan & George Mair. Excelsior! The Amazing Life of Stan Lee. Touchstone: S. & S. 2002. 256p. ISBN 9780684873053. pap. $16.99. AUTOBIOG
Lee, chief editor and writer of Marvel Comics during the 1960s, played a major role in the creation of prominent superheroes such as Spiderman, the X-Men, and the Fantastic Four. This autobiography recounts his beginnings in the comic book field in the 1940s, his frustration with his career as a comic book writer and editor until he created richer characters in the 1960s, and his success as a spokesman for Marvel Comics since the 1960s. Throughout, the persona Lee created never falters; the tone is warm, straight-talking, and simultaneously confident and insecure the same traits with which Lee imbued his superheroes. Lee has come under attack in recent years for overstating his contributions to the comic book field and for the failure of his Internet company, Stan Lee Media. This book offers something of a rebuttal, with Lee crediting his creative partners fully and portraying himself as a victim in his company's failure. With the success of Michael Chabon's The Amazing Adventures of Kavalier and Clay, which traces the early days of the comic book industry, and the motion picture, Spider-Man, interest in the creation of the comic book industry has increased. We'll be seeing more books like Lee's. Purchase wherever patrons are fans of 1960s Marvel comics.—Stephen Weiner, Maynard P.L., MA (LJ 5/15/02)