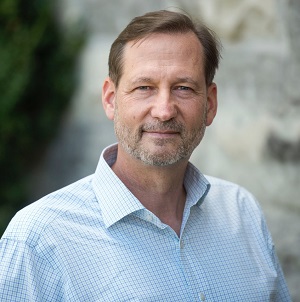 Peter Potter, director of publishing strategy for the University Libraries at Virginia Tech, Blacksburg, was appointed by the Association of Research Libraries (ARL) as visiting program officer (VPO) to advance TOME (Toward an Open Monograph Ecosystem), beginning in January 2019. A joint initiative of ARL, the Association of American Universities (AAU), and Association of University Presses (AUPresses), TOME was established to develop a new model to finance peer-reviewed open access monographs. Under the initiative, participating institutions will provide baseline grants to support the publication of a minimum of three high-quality, platform-agnostic, digital works each year.
LJ: How does the TOME model work?
Peter Potter: TOME is an initiative to create a system whereby academic books can be made available open access. It's an attempt to create, from the bottom up, a group of institutions and presses working together to ensure that payment is made on the front end of publication, rather than publishers having to rely on sales income. At the moment we have over 70 participating university presses, [and] 13 participating universities.
The press gets the up-front money. If a press is participating, they're agreeing to publish this book in an open access format. That doesn't prevent them from turning around and selling the book, which they can do. If there are print sales or ebook sales that they can generate, they should continue doing that.
Contribution from a university is a minimum of $15,000 per monograph. We figured that after this five-year pilot we would come back and revisit that amount to find out if that is actually enough to make this worthwhile for presses. We understand the $15,000 is less than what it typically costs to produce a monograph—Mellon did a study a few years ago in which they said it's actually well over $20,000. But the idea is by making a book open access you're not cutting off sale possibilities. The $15,000 jump-starts the book's availability, it enables the press to go ahead and publish the book [in print format], and then they will see sales that will supplement that.
One of the things that's important is that these are university press peer-reviewed books. We want it to be clear to provosts and department heads and deans that these are not second class books—they are books that a university press would have published anyway on the basis of quality. We didn't want the sales potential of the book to get in the way of that. Sometimes decisions get made for a monograph based upon "we don't think we can sell enough copies," and this is a way to try to address that problem on the front end.
Virginia Tech is one of the participating institutions, and we've had our first book come out under the TOME initiative, by one of our history professors, Donna Agmon [A Colonial Affair: Commerce, Conversion, and Scandal in French India]. It was published by Cornell University Press and it's now available open access. We have several other books currently in production that will be part of the TOME initiative. We're just building the momentum right now.
What will your responsibilities be as VPO?
One of the challenges of TOME has been that it was started by three separate organizations—ARL, AAU, and AUPresses. All of them are working together, but it's kind of a three-headed monster. We all realized that representatives from the three groups and from the participating universities and presses get together periodically to discuss the initiative, but there's been no real [system] at the upper levels to coordinate the activities of all three organizations and to develop a strategy for expanding the TOME initiative. So that's the focus of what I will be doing.
Right now we just have a landing page on the ARL site, so we'll want to develop a website that is fully devoted to promoting what TOME is about. The other thing will be to coordinate with the participating universities and presses to make sure that things are going well, monitor the progress, see where there are issues and things that need to be addressed, and also to recruit new universities to participate in the initiative.
My list of tasks will develop beginning in January when I meet with Judy [Ruttenberg] at ARL and her staff, and as I begin talking to other participants. I want to talk to the participating universities and presses and get a sense of where we need to go, and develop an action plan based on that.
I understand both the library world and the university press world. I do think that a big part of this is communication among the different organizations, and I think I'm in a very good position. I know many of the university press people and I also know many of the library people. Trust among the different participating organizations is important, and I bring a certain amount of credibility based upon my experience.
How are the works to be published chosen?
Each of the participating universities is in charge of determining who they want to participate, or how they're going to select authors. Here at Virginia Tech that's my job, as the director of publishing strategies, to find faculty members who would be candidates.
In most [participating] institutions, they may have a competition where they say, "Twice a year, we're going to accept applications for TOME monograph participants," and decide from the applications. Again, it varies from institution to institution. At a place like Virginia Tech we don't have as large of a book publishing base as, say, the University of Michigan, so we're going out and recruiting. At a place like Michigan or Cornell they may have more interested authors than they can possibly include. Everybody has to figure out their own way for deciding which books are going to be their TOME books.
How will these monographs be publicized and made discoverable?
That's something that I would do [as VPO]—talk with all the institutions and presses and see about coordinating policy. At Virginia Tech we have a little addendum to the author contract that we ask the press and the author to include in their agreement. It basically stipulates that they're going to make open access versions available. One needs to be in the home institution's repository, and it lists other possible places where they could be placed, like Project MUSE Open.
I'm part of a working group within TOME that has been working with Figshare to develop what we're calling a "referatory," essentially a place where all the books are available [and] it connects all of the existing instances of TOME books that are available on other sites. Over the long run we want this to be the place where we collect the usage statistics, impact, all of that. That's in progress. That's being led by Charles Watkinson at the University of Michigan, and I've been a part of that.
The goal is to create more workflow and organization, make sure that we have protocols in place. On the TOME site, for instance we could have model agreements, documentation of what's expected from the presses, that sort of thing. We do want to institutionalize this as much as possible.
One of the problems right now is that open monographs are not really well integrated into the overall information landscape for scholarly publishing, so books kind of sit outside that. We're trying to make sure that monographs are included.
What is the role for academic libraries with a model like TOME?
Here on [the Virginia Tech] campus the library has been the base of operations for administering the TOME program. The library is a logical place on campus to be coordinating this effort because ultimately it is our goal to have more of our content be open rather than having to deal with paywalls and subscriptions—particularly in monograph publishing, [which] seems endangered, given the low sales. When I started in the mid-1980s, we had print runs of 1,000 copies on average, and when I left in 2016 it wasn't unusual to have a print run of 250, 300 copies, and we might not sell all of those. Now, being in a library, I see the library's perspective on that and we would very much like to be part of an overarching infrastructure where books are made available open access, and we can provide that access. Anything we can do to promote that system and support university presses in the process, we want to try to do that.
Is there still interest in augmented digital monographs with interactive features, embedded datasets, and the like?
I do think there's a lot of room for that. TOME's basic mission is to keep the monograph publishing business alive. There have been reports saying that in the humanities, the monograph still is the coin of the realm. So at the very least we want to maintain the ability for scholars to be able to publish monographs. As scholars become more conversant with technology, we want to be able to adapt and have books that are more than just print books made digital.
For instance, here at Virginia Tech Publishing, we just put a book up online that came out of a National Endowment for the Humanities–sponsored conference. We made the book available as a print book, as an online PDF, and there will be an Epub version, and we also have an online site where you can access all the data. The idea is that you can go to the site and actually interact with the data visualizations and see how an author did that work. So it's at the center of what digital humanities scholars are doing. In the long run that's our hope, that this will be more than just supporting straight text monographs.
Where would you like to see TOME go beyond the pilot period?
I'd like to see more institutions participating. I think success will look like more, if not all, of the AAU presses participating.
Our mission is not to perpetuate the TOME way of doing this. There are other open access initiatives out there—the University of North Carolina Press, for instance, is starting one—and our goal is to see the system transformed. If we are kickstarting that but it ends up looking different than the way we're approaching it, we're fine with that. So in the long run it doesn't matter to us so much whether our particular approach works. We'd be happy for there to be another system come along and that takes off.