Register for Library Journal's Day of Dialog.
On May 5, Day of Dialog returns with its next exciting edition. With authors ranging from award-winning novelists like Ian McEwan, Mohsin Hamid, and Elizabeth McCracken to nonfiction stars Ross Gay, Thomas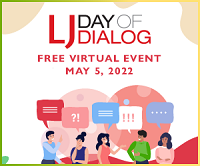 Ricks, and Robert Samuels and Toluse Olorunnipa, coauthors of His Name Is George Floyd, the event promises to be memorable. Librarians can attend panels on dystopian fiction, hot new historicals, and thrilling new thriller authors while also visiting the virtual booths for author chats and giveaways. To see how the day is shaping up, check the program.
To join us, register here.