To the general public, traditional libraries are defined, in part, by a comprehensive print reference collection. What does it take to maintain these collections, and how does the current landscape impact what libraries collect? LJ spoke with publishers and librarians to get their perspective on what makes for a great reference collection, and how to maintain it to serve all information seekers.
KEEPING UP WITH THE TIMES
Publishers of reference material, whether print or electronic, need to carefully balance their releases. Vince Burns, recently retired editorial vice president with ABC-CLIO and Greenwood Press, notes that his team is "mindful of not wanting to flood the library market with new editions," which can put purchasing librarians in "the difficult position of pitting their precious acquisitions budgets against the natural desire to have the most complete and up-to-date collections."
That being said, Burns notes that some reference works on topics with information that has changed deserve, or even require, a new edition. Guns in American Society: An Encyclopedia of History, Politics, Culture, and the Law , first published in 2002, will be released in a new third edition next year. "Obviously, developments in the culture, criminal law, politics, and legislation around this topic have been such that new editions are necessary," says Burns. The work has grown from two to three volumes since its original publication.
Another example is the Encyclopedia of Video Games: The Culture, Technology, and Art of Gaming. "In 2012, video games represented (to most of us) a quirky subculture; now [they are] central to an understanding of the culture wars and much else," says Burns. "Also worth mentioning: Annual video game sales dwarf that of book publishing."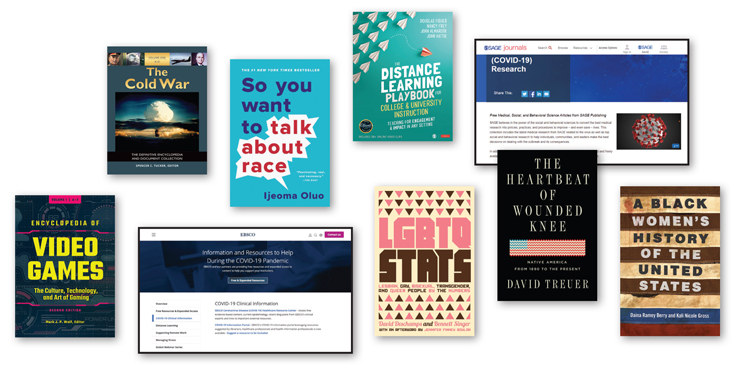 Sometimes the change is not in the subject, but in the scope of the treatment. For example, The Cold War: The Definitive Encyclopedia, an award-winning five-volume work, was published in 2007. "Although the basic events of the Cold War haven't changed significantly since 2007, bringing a massive library of key primary sources to the work, adding new entries where warranted, and updating others, all done under the guidance of world-famous military historian Spencer Tucker, more than warrants a new edition," Burns says.
ADVANCING RESEARCH WITH UPDATED RESOURCES
SAGE Publishing "seeks opportunities to develop—or even help launch—new fields of social and behavioral science study as we build our publishing program," shares Karen Phillips, senior vice president of global learning resources. "We keep a close eye on emerging topics and fast-moving fields," such as education and gender and sexuality studies. SAGE texts are published "on a regular schedule to reflect major sociopolitical events," says Phillips. The company's CQ Press Reference resources publish regularly, depending on factors such as elections and Supreme Court terms. "Our goal is to provide researchers with the information they need to understand developments as they occur over time."
The company recently revised the print titlesThe SAGE Encyclopedia of Journalism,The Sage Encyclopedia of Business Ethics and Society, and The Sage Encyclopedia of Research Design to reflect changes over the past decade. For instance, Journalism covers fake news, WikiLeaks, and inequities faced by female journalists, while Business Ethics looks at fraud and income disparity.
To keep its handbooks dedicated to the social sciences as relevant and authoritative as possible, SAGE commits to an entirely new editorial board for each edition; the company also tries to ensure that at least 80 percent of the material comes from new contributors. "To accomplish this, we have established a constantly growing network of academics researching a wide variety of topics," says Phillips.
EQUITY, DIVERSITY, AND INCLUSION
A major player in the reference database industry, Gale, a Cengage company, offers continuously updated products that "rely on a global network of scholars, subject matter specialists, professionals, and educators," according to Jill Lectka, VP of content strategy and development at Gale. Contributors also review material "for accuracy, bias, balance, and diversity," she says. Given the demonstrations protesting law enforcement brutality in the wake of the death of George Floyd, as well as calls to defund the police, she notes that "Gale has begun to incorporate bias reviews into our editorial processes to ensure we are providing historical perspectives to the collective understanding of social justice issues, like racism, to help shape a better future."
Accordingly, Gale asks subject matter experts and academics with diverse identities to review material, and the company is working toward more inclusive coverage, making sure that biographical material includes those with
LGBTQIA+ identities, women, and people of color. Recently added titles include biographies of Georgia politician Stacey Abrams, transgender actor and activist Leyna Bloom, and Felicitas Méndez, a Puerto Rican activist who fought for civil rights, as well as works by authors grappling with race and racism, such as Ibram X. Kendi (How To Be an Antiracist) and Ijeoma Oluo (So You Want To Talk About Race?). Gale has added topics such as racial profiling, antiracism, the incarceration of people of Japanese descent during World War II, the Trail of Tears, and transgender rights to products aimed at middle and high schoolers.
EBSCO is taking a particularly close look at its LGBTQ+ Source database. "In addition to seeking the feedback of our customers, we are also working with BAGLY (the Boston Alliance of Lesbian Gay Bisexual Queer Youth) and the Asexual Visibility Education Network," says Sara Earley, senior VP of product management. Even the title of the database was up for review, she notes: "Users helped rename this product from LGBT Life with Full Text to a name including a more relevant and popular acronym (LGBTQ+)." Earley adds that EBSCO is "actively licensing content from marginalized and underrepresented groups, including American minority groups, African Americans, and women" across its suite of academic products.
KEEPING UP WITH COVID-19
Though the decision to revise an encyclopedia on the Cold War or video games might take a few years, some topics require more speed—such as the current pandemic. Burns says that a focus on both electronic content and print books has helped ABC-CLIO and Greenwood stay responsive. While ABC-CLIO has upcoming print titles on pandemics in general and COVID-19 in particular, the print publishing cycle can be lengthy; the company's online products help ensure timely, accurate dissemination of information.
Many publishers have been working quickly to add features to existing products. EBSCO now includes new subject headings on its Cumulative Index to Nursing and Allied Health Literature (CINAHL), such as "COVID-19," "COVID-19 vaccines," "social distancing," and "stay-at-home orders."
Because COVID-19 information is in high demand, some companies are choosing to make this content freely available. EBSCO created an open-access COVID-19 portal "that aggregates real-time updates from authoritative sources to provide information on all aspects of the COVID-19 pandemic," says Earley. In addition to news from the World Health Organization, the Centers for Disease Control, and more, users will find maps and digital visualizations. Earley notes, "The portal was created to meet the needs of the health-care information community in a time when information is released at a rapid rate, from all areas of the knowledge ecosystem." EBSCO collects feedback from librarians and other information professionals to surface valuable resources.
Similarly, in February, SAGE created a free collection of COVID-19 research. The company is also fast-tracking articles related to the pandemic, publishing them as open access, and removing article processing charges, and it has removed the subscription gateway to content relevant to COVID. SAGE is also fast-tracking the publication of several print titles that tackle COVID-19 and remote education, such as Together Apart: The Psychology of COVID, The Case for Democracy in the COVID-19 Pandemic, and The Distance Learning Playbook for College and University Instruction.
LIBRARIES AND REFERENCE MATERIALS
What do frontline librarians do to maintain a reference section that best fits their communities? Keeping usage statistics on a non-circulating collection can be tricky, with librarians relying on anecdotal data and date of publication to determine whether a volume keeps its spot in a collection. "We of course remove items that are outdated or no longer published," explains Elizabeth Nerbonne, head of reference services and adult programming with the Rochester Public Library (RPL), NH, "as well as items where the information is duplicated in [our circulating collection] or in freely available digital materials." Otherwise, Nerbonne and other RPL staff simply observe usage of reference materials and weed out the items that "rarely get picked up," she says.

Traditional print reference materials such as medical encyclopedias, legal information, atlases, and pricing catalogs all get updated regularly at RPL. So do historical or cultural encyclopedias or titles with artistic or literary criticism. "I believe it's important [to keep these titles updated] as we learn more about our past," says Nerbonne. "Having a current-day lens is important to hopefully bring forward more inclusive histories and [viewpoints on] art that were left out of previous volumes that were much more Eurocentric." Nerbonne recently acquired the print titles The Heartbeat of Wounded Knee: Native America from 1890 to the Present by David Treuer, A Black Women's History of the United States by Daina Ramey Berry and Kali Nicole Gross (part of the "Revisioning History" series from Beacon Press), and LGBTQ Stats: Lesbian, Gay, Bisexual, Transgender, and Queer People by the Numbers by David Deschamps and Bennett Singer. "We often get positive feedback from our community on our inclusive collection, circulating reference and nonfiction included," notes Nerbonne.
When it comes to considering new purchases, Nerbonne's tight budget plays an important role. "We prioritize our legal collection, local history/genealogy collections, and periodicals like Value Line and Weekly Market Bulletin." These are reference materials that see the most use, are one of a kind, or would be prohibitively expensive for a private user. Nerbonne would love to add products such as CreativeBug or Kanopy to her library's suite of digital resources, which already features popular, highly used products such as Mango Languages and Chilton's auto repair database, "but sadly that is not in our current budget range.... We never want to be in a position where we add something and then the following year have to take it away from our patrons because our budget is cut."
What would Nerbonne's ideal reference collection look like? It would be "mostly available digitally, but still maintain items that are often better to peruse in person; we would be able to have copies of almost everything in reference in our circulating collection as well, so that people who don't have time to browse in our building could [make requests for items] and use them at home." She will always be sure to include a large dictionary and a basic set of encyclopedias for ready reference as "these get used by our patrons all the time."
PRIORITIZING ACCESS IN ACADEMIA
Elana Karshmer, head of information and research services at Florida International University's (FIU) Green Library, Miami, also relies on the "how many times have we reshelved this" approach to evaluating use in the library's physical reference collection. She notes that both prior to the pandemic and currently, print materials don't see a lot of use. However, she says, "some just don't exist electronically. Obscure publishers aren't releasing in digital format." For example, FIU maintains a reference collection to support the university's Latin American and Caribbean Studies program, and she sees people visiting the library solely to access these materials. Karshmer says, "The librarian in charge of that collection is very knowledgeable, so when she lets me know about a needed title, and it's only in print, I trust her and make the purchase."
While closed stacks or other ways of limiting access to the print reference collection could provide more in-depth usage statistics, overall these approaches "are just more difficult and hinder access for everyone," says Karshmer.
As an academic librarian, Karshmer works with professors "who still value print over all else," so she strives to highlight the availability of electronic sources analogous to their print counterparts. With a high concentration of online programs at FIU, Karshmer would much rather purchase digital in order to increase access. "If I can buy [a resource] that exists electronically, then everyone can access it, whereas if I have to buy it in print only a certain group of students can get it." Karshmer is leery of purchasing print reference materials on the chance that "someone might want to use it.... Buying resources that people everywhere can use makes more financial sense to me."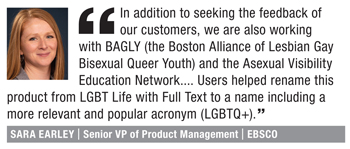 Karshmer is constantly evaluating the library's digital resources "on a rolling basis depending on what our departments need," keeping in touch with the greater library team and university faculty to be as agile as possible by adding new materials or deacquisitioning items.
Budget restrictions play a large part in what electronic resources Karshmer is able to provide, especially in light of the recent decision by Florida governor Ron DeSantis to defund $30 million in the state's budget that had been earmarked for online learning. The cut, a solution to budget shortfalls created by COVID-19, means that FIU and other institutions in the state lost access to a variety of databases at the end of FY 2019/20. "How are we going to replace these things, and what will the impact be on our own budget?" wonders Karshmer.
SUPPORTING A LIBRARY'S MISSION
Holly Hibner, adult and teen services coordinator at the Plymouth District Library, MI, and one-half of the Awful Library Books team, who presents and publishes regularly on best practices in collection development, says above all policies should always come back to "what services your library offers—what is your mission, and how does your collection help your library meet that mission?" Hibner notes that libraries "collect information, not formats," so electronic reference items need to be just as relevant and authoritative as in-print reference material; further, weeding and upkeep policies should take into account electronic sources, too. Digital reference material also needs to be supported by the adequate "equipment, infrastructure, and skill sets" to ensure access.
Hibner echoes Nerbonne's sentiments about ensuring that an equity, diversity, and inclusion (EDI) lens is applied to reference titles. "Just because a book about general algebra in a public library, published in 1980, isn't wrong doesn't mean it's up to today's EDI standards" when it comes to examples used in word problems or the illustrations, says Hibner. While she hasn't conducted a formal diversity audit of any of PPL's adult collections, she notes that "we have a collection development policy and collection management procedures in place that [shape] a diverse collection in the first place. As we weed, for example, [we will] replace items with diverse books, and as we select new materials, [we use] a benchmark for diverse materials and a strong leaning toward diversity." Hibner hopes to "dig into a diversity audit" when library services return to pre-pandemic levels.
While the difference in mission between a public library and an academic library will have an impact on what formats and titles make up a reference collection, Hibner says the bottom line for either is that "library materials are meant to be used. We don't collect books to have books. We collect information to help people answer questions." She adds, "My ideal reference collection is always available in whatever format suits the patron best, at the time and place of their need."
---
April Witteveen is the director of the Crook County Library in Central Oregon.