A tale of inherited trauma, but also inherited hope, told in the matrilineal voices of generations of Chinese women.


What was your inspiration for this novel?
I read an article about a study done at Emory University in 2013, where researchers showed how genetic markers in lab animals, thought to be wiped clean before birth, were used to transmit a single traumatic experience across generations. (Crazy, right?)
That's when I became obsessed with epigenetics, which is the study of how our behaviors and environment can alter the function of our genetic code. It's also the study of how those phenotype changes in our DNA are heritable, affecting subsequent generations.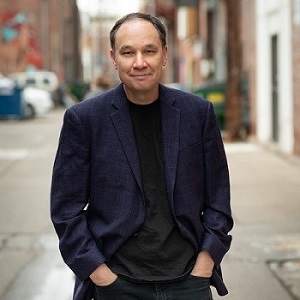 As I began tumbling down this research rabbit hole, I couldn't stop thinking about what we, as humans, might be transmitting. What kind of trauma are we encumbered with at birth and what might we pass down to our own children and grandchildren?
Since I'm a fairly emotive person, the more I read about epigenetics, the more I wondered if it's possible to pass down more than trauma, pain, and negative experiences? Is it possible to pass down positive things as well? What about love?
That's when I decided to write an epigenetic love story.

This novel has six interwoven narratives in different time periods in history. The structure sounds complicated, but when you read the book, it's so seamless. How did you create the structure for this book? How did you keep all the characters and time periods consistent during the writing process?
I wish I could say it was easy and that I juggled six storylines with virtuosic skill and mastery, but I did it the hard way. Chapter by chapter. I even kept track of how many pages were spent on each character. There had to be balance and my protagonist, Dorothy, had to have more pages than the rest. She couldn't get lost in the interwoven, matrilineal drama. She had to shine because her story arc is the most transformative.
As far as managing the personalities of the various characters throughout the book, I really thought of them all as the same person, just genetically expressed at different points in time. While their worlds and experiences are unique, in many ways they are all echoes of Afong.

This book spans hundreds of years of history, from 1836 to 2045. How much research did you do for each time period? Was there anything that you found during your research that surprised you?
I don't know the aggregate of all the weeks and months I dedicated to research, but it was significant. Much of it I did while still searching for the story. I read every book about Summerhill that I could get my hands on. I looked into the Flying Tigers because my great-uncles served in Kunming. The plague outbreak in San Francisco was interesting, in a macabre way, especially during a global pandemic. None of those things, however, seemed weighty enough to carry an entire novel. But as I learned more about epigenetics, the story practically formed itself. By using a future narrative and creating a technology to re-remember the past, all of these other stories that had been percolating in my brain found a home in the book.
As far as surprises go, I couldn't help but notice the symme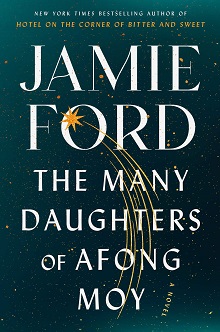 try between epigenetic inheritance and karma. (Stay with me, this is gonna get a little weird). With karma, the general idea is that how you live your life affects your next incarnation. But what if there's no reincarnation and that "next life" is something else? What if that next life is our children? Then it's almost as though karma is the dogmatized version of epigenetics. Or epigenetics is the scientific explanation of karma. Okay, I may have to meditate on this for a few days, or months, or years…
In the 2045 storyline with Dorothy, the effects of climate change are incredibly apparent. Monsoons in Seattle are common, and the characters are unfazed by extreme weather. Why was this an element that was important to include in the story?
When writing speculative fiction, you're building a future reality. Hence, I needed something about the world of 2045 that was believable but also more interesting than, "Real estate prices are higher and traffic is worse." The weather in the Pacific Northwest has been gradually getting more extreme, so it seemed like a fun and terrifying idea to give Seattle a monsoon season (as though it doesn't rain enough already). It's also a larger statement about how Seattleites behave in real life. Sure, the weather is bad, but everyone just rolls with it.

When you first started writing the book, did you always know it would include these six main characters? Or were there characters and time periods that you envisioned that didn't make it into the final book? If so, why?
I became well acquainted with my cast of characters before I began writing the novel. Because I have actual years in each chapter, for the story to work, the genealogy had to line up. I took the time to flesh out each character, including their dates of birth, when they appear in the book, and when they gave birth. Not all of that made it to the final draft, but it was a useful family tree that kept my characters in synch.
In the end, all of my characters happily made it into the book. Though there was a moment when Lai King's inclusion seemed tenuous, but thankfully she fought through it.

The novel's protagonist, Dorothy, undergoes an experimental treatment designed to mitigate inherited trauma. Epigenetic trauma is a topic that is currently being researched and debated. Do you believe that trauma can be inherited? Why was this a topic that you wanted to explore in your writing?
I definitely embrace the science that supports the idea of transgenerational epigenetic inheritance. It's not really a question of if trauma can be passed down, it's more a question of how. In scientific and therapeutic communities, it's generally accepted that this is happening, but geneticists are still trying to figure out (and arguing over) the mechanics.
As far as why I wanted to explore inherited trauma, just take a look around. *waves broadly at the world* Its effects are everywhere. From the generational pain inflicted upon entire communities for hundreds of years, to the misery passed down within a single household. We spend a lot of time and energy treating the symptoms of trauma and not necessarily the root causes. Maybe I'm writing this because I want to re-remember my own past.

The characters in this book are all so dynamic and complex. Was there a character that you related to the most? Was there a character that was the hardest to write for?
The character I could relate to the most was Greta. Not because I'm a tech executive or a programmer, but I am kind of a turbo-geek, or as Greta says, "I'm polynomial in a non-polynomial world." I relate because when you're in the arts you always struggle to fit in. I mean, as a child my parents sent me to poetry camp. So, I was always that kid. (I'm still that kid).
The hardest was Lai King because most of her story takes place on a ship. Not just any ship, but a steam barkentine. What's that? Exactly. It's a sailing ship that also has a steam engine, founded in this liminal space between the old world and the industrial age. I should mention that despite spending a lot of time on the water in my 20s, I now get horribly seasick with even the slightest motion of the sea. That was probably in the back of my mind (and stomach).

How would you describe your writing process? Do you have the entire plot mapped out beforehand? Or do you figure out the story as you write?
I always begin with a premise. In this case it was "If we inherit trauma, what else might we inherit? What atavistic memories are buried in our DNA? Can we inherit the ability to love?"
From there I wrote a synopsis with the highs and lows of each character's story. I don't normally do this, but there were so many timelines that I needed to map out the emotional superstructure of the novel. I think of writing fiction as banking and spending emotional currency with my readers. Sometimes there's a withdrawal at the end, sometimes there's a payoff.
Lastly, for any aspiring writers out there, keep in mind that every book is different and it doesn't get easier. Writing a novel is like climbing Mt. Everest. If you do it once, that's an incredible accomplishment, but if you do it again, while you have some experience under your belt, the mountain doesn't get any shorter. It's always a struggle. But it's a worthy endeavor.

One of the major themes in this book is identity, and how we are influenced by our family and our history. How much does our family history contribute to who we are as a person?
I think it contributes more than we realize. It's easy to look at one's parents and see nurture over nature. But if you look at grandparents, great-grandparents, you begin to see other things in play.
Of course, journeys of identity become more complicated when you're a minority. Which is why Afong is the genetic heart of the novel. Everything about her identity sets her apart, is exploited, and is part of the cage of judgement and expectation she's trapped in. Then generations later we have Dorothy and her ethnic identity is almost an afterthought but she still struggles.

What do you hope that readers take away from this novel?
I think all of us have some sort of underlying trauma, either first-hand, or we grew up in a household where we were a witness to it. Very few of us have perfect, pristine lives, devoid of scars and heartache. I hope readers will be comforted knowing that we're part of a continuum, and good or bad, we are the recipients (and caretakers) of a lot of familial baggage.
I hope readers will be encouraged to live generously, with patience and compassion, passing those things down instead of suffering.


SPONSORED BY