A continuing look at key works by authors both veteran and new.
Daye, Tyree. Cardinal. Copper Canyon. Oct. 2020. 80p. photos. ISBN 9781556595738. pap. $16. POETRY
"If you see me dancing a two-step/ I'm sending a starless code/ we're escaping everywhere," declares Daye (River Hymns), deftly capturing the desire for freedom, as embodied by freedom of movement, that pervades this bright new collection. A poem dedicated to Black Chicago poets observes, "The south truly doesn't want us to go"; constant airport security hassles suggest "to know you can die anywhere/ doesn't feel like flying anywhere." Indeed, flight and particularly bird imagery surfaces throughout, yet there's also a sense of rootedness, of deep community, particularly of Daye's North Carolina community: "My mother will leave me her mother's deep-black/ cast-iron skillet someday." Tying these two themes together, roads symbolize both place and means of departure—"I've lived/ on roads that dragged through America"—and Daye expands his world and ours by taking us on his family's road trips (with homey snapshots). VERDICT Told in limpid language that gets its poetic heft from observation rather than fancy footwork ("if they are not careful their hands/ will stay in the shape of that work"); a fine addition to most collections.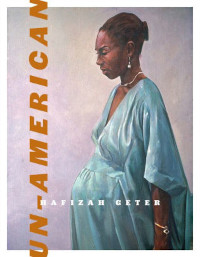 Geter, Hafizah. Un-American. Wesleyan Univ. Sept. 2020. 104p. ISBN 9780819579805. $35; pap. ISBN 9780819579812. $15.95. POETRY
The Nigerian-born daughter of a Nigerian Muslim and a Black Southern Baptist, Geter portrays life at a familial, cultural, and religious crossroads in language that's forthright, affecting, and ringingly lucid, with nail-sharp turns of phrase (her aunts have "smiles hard/ as Baptist pews"). The pain and complexities of Geter's upbringing are immediately evident ("We have so many gods/ and none of them/ can be trusted"), and Geter is excellent at capturing her mother's frustration as she moves from Africa to America ("At night, she prayed to Allah/ for something from America that was more/ than children"). Throughout, Geter portrays her father's struggle with life's indignities and the tragedy of her mother's death from an aneurysm while offering her own challenge to American racism in testimonies to murdered Blacks like Sandra Bland and Eric Garner. Finally, she declares, "My grass-stained knees pledge allegiance/ to a country that belongs to no one I love." VERDICT An eye-opening story of immigration—and of America; for most collections.
harris, francine d. Here Is the Sweet Hand: Poems. Farrar. Aug. 2020. 96p. ISBN 9780374168841. $25. POETRY

"If we could fuck in the open, on the wide-open shore. black/ sand. Would I be the dead woman whose back she clung to," asks Lambda Literary/Audre Lorde winner harris in her new collection (after play dead), summing up the cost of suppressing one's true self. Also at stake: the failure to connect, even when one wants to—the denizens of a sketchy bar look past one another and "put away things// as soon as you ask about them"—and the distorting burden of past and heritage—"The sugar wings of a myth, a guiltless grandfather,…/ with its skin lightened, with its orderly shoes." But a refreshing defiance surfaces with the very first poem, as the speaker proclaims, "The wood is not a negro with tree in the farm-split sand/ …The tree is not a loner type," then roundly asserts what she is: "a black girl is standing on it, over a river rocking." VERDICT Harris renders both strength in solitude and the desire to lean out in a tumble of dense and singing imagery that lands with an impact; one brilliant poem investigates the very nature of language. Strong work for ambitious readers.
Kooser, Ted. Red Stilts. Copper Canyon. Oct. 2020. 88p. ISBN 9781556596094. $22. POETRY
Noteworthy for celebrating life's everyday details, particularly regarding America's heartlands, Pulitzer Prize winner and two-time U.S. poet laureate Kooser returns (after Kindest Regards) with his keen perceptual skills intact. These poems are deceptively simple, with Kooser often volunteering something like "I [was] only happening" past, then pointedly capturing the beauty or significance of a moment. A seemingly snow-filled porch and empty cat's dish signifies the loss of a friend; watching a stranger helping some stranded motorists inspires a feeling of "something common between us, among us,/ around us, within us." And the ordinary can turn magical, as when keyboard-like garbage-truck snow tracks inspire a concert led by a dried-up leaf. ­Octogenarian Kooser suggestively conjures wintry landscapes and sober graveyard scenes, particularly in the book's first half, but he doesn't pump nostalgia. Instead, there's a oneness with life and the poignancy of "a very old woman/…, peering down/ into the past in the bowl of a [tarnished] spoon." And by the end, a gorgeous prairie spring arrives. ­VERDICT Quiet satisfaction for a wide range of readers.
Louie, Diane. Fractal Shores: Poems. Univ. of Georgia. Nov. 2020. (National Poetry). 88p. ISBN 9780820357904. pap. $19.95. POETRY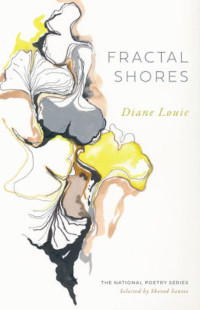 Moving from Paris, where Louie lives with her partner, to the American Southwest, this "National Poetry" series pick offers self-contained moments that nevertheless reveal connection beyond borders. A blanket's image of a bluebird becomes a flock becomes a drone; "We walked on stones the hills once were, the sea the stone once was, the salt, the silt of shells," taking us not only through space but time. One poem actually titled "Only Connect" considers what equates and what doesn't, for while we seek pattern and allow our minds to fill gaps, sometimes we fail; while standing in a gorgeous cathedral, how do we reconcile St. Louis's preachments of peace with his burning of 12,000 holy books of the Jews? Still, the desire persists to link, to seek, to name the sky so that we can know and share it; we don't shake off the metaphorical dust of our passage through life but remain "stunned by meaning we thought we'd left behind." VERDICT Mostly prose poems, these accessible meditations grow in strength with the connections made through reading them.
McCrae, Shane. Sometimes I Never Suffered. Farrar. Aug. 2020. 112p. ISBN 9780374240813. $25. POETRY
In this latest work from National Book Award finalist McCrae ( In the Language of My Captor), a hastily assembled angel whose wings comprise blood, emptiness, and sun is shoved from Heaven by his fellow seraphs. Meanwhile, Jim Limber, the biracial adopted son of Jefferson Davis, resists ascending to Heaven until he's lived a happy life: "If I've earned my reward where is the life where I can spend it." Visiting Davis in Hell, Jim admits that he told the Yankees he was proud to be Davis's son (elsewhere observing bitterly, "they think/ They know how I was treated in the south 'cause/ They know how they would treat me if they could"), but he refuses to help the shameless Confederate president. Instead, he continues his epic meditations, bearing witness like the fallen angel to human cruelty and disingenuousness and defining Heaven as all that Black people have been denied: "What if in Heaven we could have white things// And not be white." VERDICT Original in conception and nearly biblical in tone; highly recommended.
Machado, Aditi. Emporium. Nightboat. Sept. 2020. 104p. ISBN 9781643620299. pap. $16.95. POETRY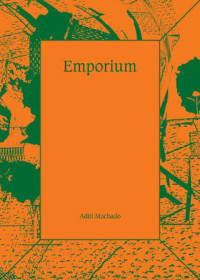 In this gorgeously rendered work from Machado (Some Beheadings), the speaker travels a reimagined contemporary silk route, suffused with a sense of unbelonging ("I came low like low things…barter[ing] my socialisms for some mastic or gâteau"), and arrives at the rich temptations of a vast emporium. "As if I could simply/ stay here with/ the provocations" she mourns, yet she cannot claim dominion over this world of silk and squid, brine and perfume, doctrine and history; she's just another commodity being traded in the marketplace wars ("even money isn't quite like money when silk/ buys me") Just as crucial to her disaffection is the nature of the world itself, which might seem unassailably there—"First a body,/ then an idea, then a word"—but remains elusive and ever-mediated. "I struggle to see/ how each body is separate," she says, "no precision/ that isn't imprecision"—a word that echoes throughout, revealing how we make our "humming, stumbling, humming" way through a landscape we touch but can't quite grasp. VERDICT A Laughlin Award winner; ­stunning work for sophisticated readers.
Majmudar, Amit. What He Did in Solitary. Knopf. Aug. 2020. 176p. ISBN 9780525656517. $27. POETRY
Accomplished poet/novelist Majmudar (Dothead) writes with the observational precision one would expect of the diagnostic nuclear radiologist he is. His explorations here are multilayered. First, he considers the self in solitude: "I have lived out my life/ seeking a self/ in no one else's image," he says at one point, while making the imaginative leap to a prisoner in solitary: "Drawing sustenance, drawing from the well, drawing his family like a treasure map from memory." Second, he writes about our everyday grappling with the world, from the everyday—"Tonight, love, let's rush to the trilling dryer/ and scoop our strange new clothes in our arms"—to the shocking story of a bully turned victim. Third, he articulates the experience of coming of age as a Brown boy in America, where he was born. Yet "English is my native/ anguish," he's got to worry about looking like bomber Ahmad Rahami, and a meditation on invasive species explains how newcomers "make themselves at home and home/ remakes them into natives" yet is suffused with a perpetual outsider feeling. VERDICT Well-conceived, well-crafted work for most collections.
Padel, Ruth. Beethoven Variations: Poems on a Life. Knopf. Feb. 2021. 144p. ISBN 9780593317723. $27. POETRY
As her subtitle suggests, poet/scholar Padel focuses less on Beethoven's grandly thunderous music than on the experiences and psyche of Beethoven himself, much as she did with Darwin: A Life in Poems. (Interestingly, she is a descendant of Darwin, and her great-grandfather studied with one of Beethoven's pupils.) Padel opens with Beethoven's unpropitious upbringing, as he "writes concertos/ pitching the wonders of modulation/ against his father's blows"; later, savvy Mozart is indifferent to the young man's playing until he improvises: "Watch out for this boy. He'll give the world/ something to talk about." The writing deepens with the story, as Beethoven's rise to heroic stature intensifies his world-wariness ("always that splinter of ice in the heart/ protecting the work, and the safety of not/ being loved") and brings the tragedy of hearing loss ("If you can't hear what you're doing/ … where does the newness go?"). Significantly, Padel weaves in her experiences of playing Beethoven with her family, a gracious reminder that his music keeps ringing through our lives. VERDICT A solidly appealing work for fans of poetry, ­classical music, and biography.
Torres, Michael. An Incomplete List of Names: Poems. Beacon. (National Poetry). Oct. 2020. 128p. ISBN 9780807046746. $15.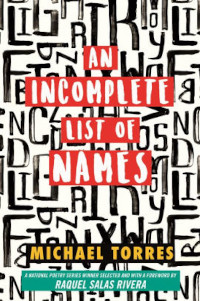 A "National Poetry" series pick, this propulsive first collection is so packed with poems vivifying a Mexican American man's painful split between community and aspiration, the crucial connections of youth and the rocky ride to assimilation, that's it's hard to choose what to quote. "I'm good/ at being American:" he declares, "I// clean up after my dog. I follow the paved/ path/ on runs. Sweat inside expensive sneakers./ I'm a great neighbor, even on morning strolls where I forget my ID and must worry/ about// police who need to make sure everyone is/ who they say they are." Meanwhile, he recalls an upbringing shaped by "Knuckles/ from big brothers asking why you flinched" and the homeboys he misses desperately, caught between worlds and forever feeling doubled. "I'm on a couch/ at the professor's house. And there are two// of me," he confides, and elsewhere he heeds his father's advice and takes two newspapers while paying for one: "one for yourself;/ one for who you cannot be." ­VERDICT A study of crossing cultures ­written with affecting urgency.