Asynchronous program offerings can lead to active engagement
In times of tight budgets and fewer staff members, passive programming—temporary, self-directed activities or exhibits that users interact with in their own time—can answer a library's need to engage patrons with less funding and fewer human resources. Providing a table with coloring books, building toys, or simple crafts has long been a staple in children's areas, and adult programmers have gotten in on the act as well, with offerings scaled up for an older audience but not always more complex. Coloring is as popular with adult patrons as with youngsters, and an area with craft supplies will always find takers.
Simple solutions for self-directed adult activities include tables set up with games; jigsaw puzzles; crossword puzzles; trivia and quizzes; contests and guessing games; and portable crafts like knitting and crocheting. Exhibits and displays can include ways for viewers to offer feedback or reviews: Post-its, a whiteboard, or notebooks. Posted questions can invite patrons to contribute writing, art, or photos to themed physical or virtual bulletin boards. These low-maintenance interfaces keep users entertained and build content for the next viewer, while reinforcing positive library experiences. Programming staff can find ample inspiration from other libraries on Instagram, Twitter, Pinterest, and listservs. While these examples are drawn from public libraries, such programs are used across multiple library settings.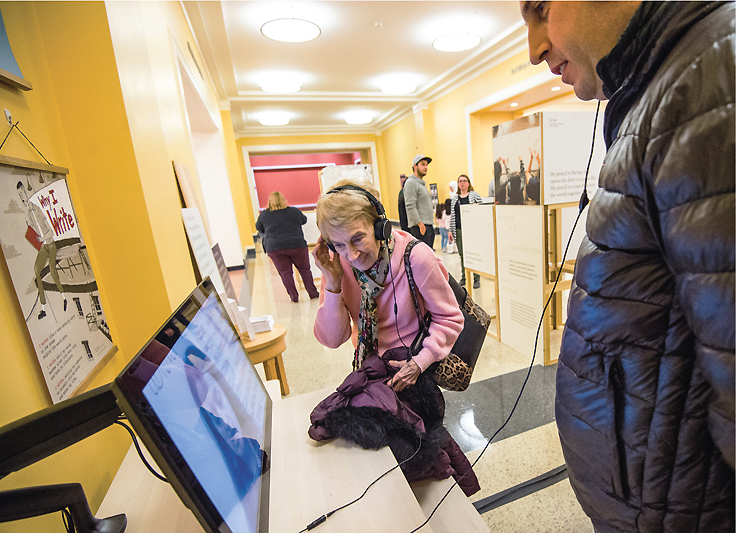 SELF-DIRECTION

Attention-getting programming engages patrons at their own pace. At far left, Lakewood Public Library patrons interact with the Traveling Stanzas: Immigrant Voices exhibit. Photo by Ken Blaze
Many libraries have taken the idea a step further, creating initiatives that don't require active staff interaction or dedicated program hours, but still interest and challenge patrons, address specific community needs, and even contribute to a library's greater mission.
In addition, such activities often reach visitors who might not attend more structured programming. "Self-directed and passive programming is allowing librarians to engage with patrons who aren't likely to engage" otherwise, notes Central Kansas Library System Youth Services Consultant Patty Collins. Whether these visitors are limited by busy schedules or the reluctance to commit to a group, self-directed programming offers an additional level of comfort.
WHAT'S IN A NAME?
In taking the idea beyond games and puzzles, many have rejected the "passive" programming label, preferring "self-directed" or "patron-led."
"Passive programming implies that staff aren't putting a lot of thought into creating it, and that it's also not interactive for those completing the activities," says Janie Hermann, public programming librarian at the Princeton Public Library, NJ. "Self-directed means this is something that people can choose to do or not to do…. Passive means you're taking it in without taking part."
"It kind of demeans the effort that goes into planning and making available these kinds of no-pressure, at-your-own-pace activities," notes Nora Armstrong, division manager for programs and services at the Cumberland County Public Library, NC. "There's nothing passive about putting them together. I use either 'indirect' or 'self-directed,' and I'm trying to get my colleagues to use those descriptors too."
TRAVELING STANZAS
At the Lakewood Public Library, OH, the Traveling Stanzas: Immigrant Voices interactive exhibit addressed contemporary concerns through a cross-institutional collaboration on self-directed programming that was anything but passive—and that helped shape a full traditional programming schedule. The exhibit, created with the help of the Wick Poetry Center at nearby Kent State University, incorporates original poetry written by Lakewood community members, bringing in creative writing tools and activities.
The collaboration with Wicks was key to the program's success, Program Coordinator Molly McGirr Norris tells LJ. Wick developed the Traveling Stanzas initiative as a series of exhibit modules that can be customized by cultural institutions to match their own missions. Lakewood staff worked on the exhibit for over a year before it opened in February, building it with the help of design firm Each+Every, which also helped develop the accompanying iPad app.
The opening was attended by about 125 people, Norris says, including elected officials and local partners. Community members who had taken part in poetry workshops beforehand, from middle-schoolers to adults—some born in the United States and others who immigrated from various parts of the world—read their poems, which were incorporated into the exhibit. "It was one of the most emotional and enlightening things I've ever been to," recalls Norris. "Everybody was hugging and crying afterwards. It was a wonderful celebration of the community and the exhibit itself."
The exhibit, which ran from February 25 to May 15, saw more than 1,800 visitors, who wrote and used the iPad erasure poetry app (in which users start with text and choose what to remove) to create 246 poems, many of which are posted on the program's webpage. It received exceptionally positive feedback, says Norris, and was used as a stepping stone for the following six-month programming period, including writing and citizenship workshops, a multi-day immigration legislation series, and a music series. Out of a total of 30 programs, 24 were for adults and attracted 1,067 attendees.
Traveling Stanzas "was a great jumping-off point to do even more programming," says Norris. "It was more than just 'come in, see the exhibit, think about it a little bit, and then leave.' It was, 'come in, see the exhibit, and then let's all talk about it.'" Lakewood is the only public library to incorporate Wick's initiative so far; Traveling Stanzas will travel to the Library of Congress later this fall.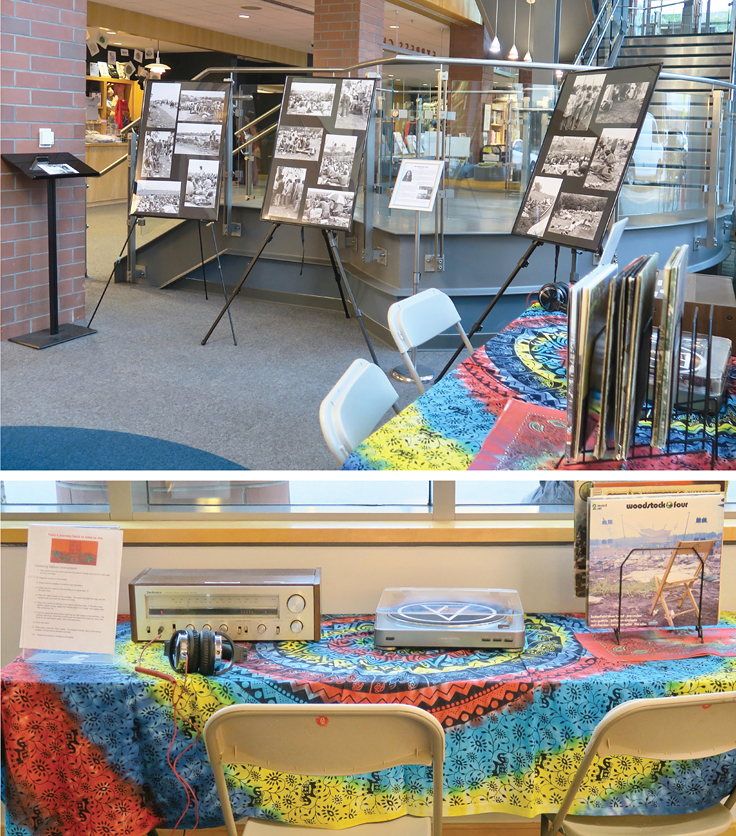 REMEMBERING WHEN

Princeton Public Library's Woodstock anniversary photographs and listening station spark interest and nostalgia. Photos courtesy of Princeton PL
PRIVACY ENABLES EXPRESSION
Not everyone wants to take public ownership of their work, and self-directed programming is ideal for those who want to speak their minds with more protection. At Charlotte Mecklenburg Library (CML), NC, Teen Librarian Kara Hunter's teen book group had been meeting for two years when she decided to give them a public, yet anonymous forum. "They really like to debate different things and talk about their lives and what affects them, and how they're not able to express this normally," Hunter tells LJ.
As part of the CML's community read of Angie Thomas's The Hate U Give, and around the one-year anniversary of the Parkland, FL, school shootings, Hunter mounted monthly displays, "Share Your Voice: Teens Speak Out," for young patrons to discuss the book and how the anniversary affected them. She put out pens and Post-it notes, and teens and tweens were invited to post their thoughts. The only rule: their comments had to be anonymous, although they could include their grade. The idea, says Hunter, was "to have a conversation without having a physical conversation."
Teens did indeed speak out, posting comments that ranged from "What does the govt value more, guns or its children?" to "17 died then. Who's next—me? you?" Comments about The Hate U Give included "We have to voice our opinions and keep history from repeating" and "Knowledge is power. We must never rest on social injustices. Stand for something or fall for anything."
Although this type of anonymous forum would also work for adult discussions of sensitive topics, Hunter feels that it's particularly valuable for younger patrons. "Teens don't always have a platform to express how they feel, or disagree with their environment and society," she says.
REACHING OUT
After reading an article about a shelter in Pennsylvania that had asked community members to write letters to its residents at holiday time, Chriss Jones, library associate at Daniel Boone Regional Library, Columbia, MO, decided to do something similar at the library in 2018. A spate of recent overdoses in the unhoused community had drawn negative attention, says Jones, and "we wanted to make sure that the unhoused population…knew that we do welcome them, that we do want them here."
Around Thanksgiving, Jones set up stations in both the children's and adult areas of the main branch, and in two smaller branches, with blank cards, washi tape, stickers, and gel pens. She set out examples of cards, and instructions asking people to write welcoming notes "telling our unhoused and at-risk community members that we were thinking of them—whether they wanted to write Merry Christmas, Happy Chanukah, thinking of you, happy holidays, whatever." She also posted to the library's social media channels asking interested people to drop by and write a card.
Participation was strong, including by a local scout troop. The library received 357 cards; these were given to area shelters and food banks, which passed them along with their evening food deliveries. The agencies reported that the cards' recipients were touched and happy, and patrons thanked the library for the opportunity to reach out.
TIE-DYED NOSTALGIA
While they can serve libraries' civic agendas, self-directed programs may also simply be about fun. At Princeton Public Library, Hermann partnered with a used record store to set up a listening station in the library. Staff members from the store curated a rotating selection of LPs every two weeks, alternating genres; instructions for how to play records and care for the 1970s-era receiver were prominently posted.
The station has been a hit. "A lot of kids out there these days don't know how a record player even works, and there are a lot of people who are feeling nostalgic for vinyl," says Hermann. Parents come with their children, and curious teenagers come by themselves; some older patrons put on headphones and read.
This summer, for the 50th anniversary of Woodstock, Hermann accessorized the station with a tie-dyed tablecloth, a Woodstock retrospective coffee table book, an exhibit of Woodstock photos taken by a patron, a Woodstock-themed puzzle, and a selection of records by bands who appeared at the festival. The station also helped build enthusiasm for a concert given by a local musicians' collaborative.
KEEPING COUNT
While it's simple to count cards or poems submitted, the nature of some programs can make assessment difficult. Princeton uses Gimlet to track desk stats, says Hermann, so if a librarian helps someone at the listening station or sees people there, they can note it. It's an inexact science, she adds, but in the last year more than 400 people have been counted at the listening station.
Collins, who consults on programming for 54 small libraries throughout central Kansas, offers a few suggestions for harder-to-track programs to ensure a robust assessment. Count handouts, or how many times a kit is checked out, she says—even the number of guesses on a guessing jar can serve as a metric. Write down your methods so that any staff member who takes over can maintain consistent counts in future.
There are a wealth of programs that are simple to implement and take a minimum of oversight—a boon to both patrons and staff. "We have a lot of librarians who are not comfortable being the leader or the teacher," says Collins. "They think if they're not an expert, they can't do it. But self-directed has taken that out. It has increased the level of confidence in programming in the libraries that I work with."
---
Civic Lab: From Passive to Active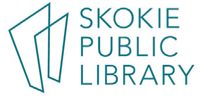 Sometimes the best indicator that self-directed programming is working is when it outgrows its usefulness as an autonomous program and transitions to a fully facilitated initiative. The Civic Lab at the Skokie Public Library (SPL), IL, went through such a process to become an extremely successful series of pop-up programs that exemplify the library's strong orientation toward civic involvement and social justice.
The program's original iteration, the Civic Lab Boutique, launched in 2016 as a non-facilitated program in one corner of the library. It offered a curated list of materials that changed from week to week, covering topics such as housing inequity, LGBTQ issues, reproductive justice, and the Black Lives Matter movement. Questions about each unit, designed to provoke responses, were written on a whiteboard, and visitors were encouraged to submit comments to a mailbox provided for the purpose. But while the subjects elicited interest, says SPL Adult Program Coordinator Mimosa Shah, "it was a static exhibit that didn't get a whole lot of interaction from patrons." When they did respond to the posted questions, they did so on their own, without talking to each other.
Library staff realized that it would be more useful for patrons to have a point person to speak with, both to explain what they were seeing and to instigate conversations between people. Now the Civic Lab has eight dedicated staff members, spread over several departments, who work to help identify potential topics, research resources for handouts, and engage users. Facilitators spend an hour to an hour and a half in the pop-up spaces, and during that time usually have ten to 15 interactions with patrons—including talking about handouts and videos, or introducing them to the games that accompany the exhibits—that each last between five and 15 minutes.
Going forward, Shah hopes to bring the Civic Lab outside the library, to spaces such as neighborhood parks, a local mall, or the village green. There are still static components to the project, she notes. Past topics are listed on the SPL website, along with their associated handouts, and users can dig into subjects through the listed reading resources, podcasts, and videos. While every community's needs are going to be different, Shah says, SPL's Civic Lab benefited most from in-person facilitators. "We found that it really helps to bridge people's connection to the material."
---
Erica Freudenberger is outreach consultant, Southern Adirondack Library System, Saratoga Springs, NY, and a 2016 LJ Mover & Shaker