Listen! And Look! Major music biographies/memoirs, plus a choreographer with a conscience.
Faber, Michel. Listen: On Music, Sound and Us. Hanover Square: Harlequin. Oct. 2023. 336p. ISBN 9781335000620. $30. CD. MUSIC
A multi-prize-winning novelist known especially forThe Crimson Petal and the White and the Whitbread short-listed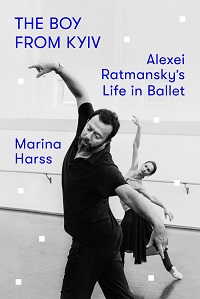 Under the Skin, Faber here plunges into nonfiction, considering how and why we listen to music, the factors (e.g., age, illness) that influence our musical tastes, and the problems inherent in dividing music into good and bad. He's loved all kinds of music his whole life.
Gabriel, Mary. Madonna: A Rebel Life. Little, Brown. Oct. 2023. 800p. ISBN 9780316456470. $38. Downloadable. MUSIC/BIOGRAPHY
A Pulitzer Prize finalist (Love and Capital) whose Ninth Street Women has sold more than 95,000-copies across formats, Gabriel limns the life and cultural significance of Madonna, regarding not just music but female empowerment, queer sensibility, and gay rights. With a 65,000-copy first printing and big publicity tied into her 12th tour, starting in July 2023.
Harss, Marina. The Boy from Kyiv: Alexei Ratmansky's Life in Ballet. Farrar. Oct. 2023. 496p. ISBN 9780374102616. $35. DANCE/BIOGRAPHY
Born in Kyiv and trained at the Bolshoi Academy in Moscow, Ratmansky was named artistic director of the Bolshoi Ballet at the young age of 35, then became resident choreographer at the American Ballet Theatre; in Fall 2023, he joins the New York City Ballet as Artist in Residence. Dance journalist Harss explores not just Ratmansky's ever-rising career and distinctive style, which blends Western and Russian influences, but his outspoken opposition to Vladimir Putin and championing of Ukraine. With a 20,000-copy first printing.
Hermes, Will. Lou Reed: The King of New York. Farrar. Oct. 2023. 560p. ISBN 9780374193393. $35. CD/Downloadable. MUSIC/BIOGRAPHY
Rolling Stone contributor Hermes draws on recent interviews, previously unheard recordings, and the New York Public Library's Lou Reed Papers to create a study of Reed's life and outsize influence. Along the way, he chronicles Reed's working relationships with artists like David Bowie, Andy Warhol, John Cale, and Laurie Anderson and presents New York City as a singular locus of culture. With a 100,000-copy first printing.
Nelson, Willie & David Ritz. Energy Follows Thought: The Stories Behind My Songs. Morrow. Oct. 2023. 384p. ISBN 9780063272200. $50. CD. MUSIC
What better way for an iconic musician like Willie Nelson to celebrate his 90th birthday than to share the stories behind the lyrics of his favorite songs—160 altogether, some not as well known as others but all gems for his fans. Also included: stories about his family, his guitar, and artists he has worked with, from Patsy Cline to Ray Charles to Dolly Parton. With a 150,000-copy first printing.
Norman, Philip. George Harrison: The Reluctant Beatle. Scribner. Oct. 2023. 352p. ISBN 9781982195861. $35. MUSIC/BIOGRAPHY
Author of the million-copy-selling Shout!: The Beatles in Their Generation and a biographer of numerous Sixties rock stars, Norman turns to George Harrison, the least flashy Beatle. He was not considered a composer on par with the powerhouse Lennon-McCartney team but wrote enduring classics like "While My Guitar Gently Weeps"; his solo debut album, All Things Must Pass, has appeared on multiple 100 Best Rock Albums Lists; and he's ranked among the best Sixties guitarists. Norman examines his contradictions and ultimately generous nature.
Robinson, Staci. Tupac Shakur: The Authorized Biography. Crown. Oct. 2023. 464p. ISBN 9781524761042. $35. MUSIC/BIOGRAPHY
Because she knew Tupac Shakur as a young man, author/screenwriter Robinson was asked by his mother to write this biography. What results, the first and only Estate-authorized biography of the legendary artist, draws on private notebooks, letters, unpublished lyrics, and forthright conversations to portray a man shaped equally by art and politics, prophetic in his outlook, wildly successful at a young age, and lost too soon.
Stone, Sly with Ben Greenman. Thank You (Falettinme Be Mice Elf Agin): A Memoir. AUWA: MCD: Farrar. Oct. 2023. 288p. ISBN 9780374606978. $30. CD/downloadable. MUSIC/MEMOIR
A groundbreaker whose famed 1960s–70s songs (e.g., "Everyday People") created a new kind of music that blended Black and white, male and female, funk and rock, Stone was a galvanizing performer who nevertheless leapt out of the spotlight and has remained a mystery to many. Finally, with this first book, he's telling his story. With a 200,000-copy first printing and an introduction by Questlove, who has just launched the imprint AUWA with Farrar's MCD.
Wenner, Jann S. The Masters: Conversations with Dylan, Lennon, Jagger, Townshend, Garcia, Bono, and Springsteen. Little, Brown. Oct. 2023. 304p. ISBN 9780316571050. $30. MUSIC
Following up his New York Times best-selling memoir, Like a Rolling Stone, Rolling Stone founder Wenner revisits his edited interviews for the magazine with Bob Dylan, John Lennon, Mick Jagger, Pete Townshend, Jerry Garcia, and Sonny Bono and adds a new, exclusive interview with Bruce Springsteen. With a 150,000-copy first printing.