Bonoir synthesizes psychological concepts into understandable suggestions; Craddock's advice will help readers to prepare for the unexpected; beneficial for readers who find the concept of ikigai intriguing; a valuable tool for reflection that can be used by readers from all walks of life; a handy, feel-good volume of tips and advice for contented living
Bonoir, Andrea. Detox Your Thoughts: Quit Negative Self-Talk for Good & Discover the Life You've Always Wanted. Chronicle Prism. May 2020. 256p. ISBN 9781452184876. $26.95. SELF-HELP
If you can't change your situation, you can always change your thoughts about it. So says licensed clinical psychologist Bonoir, who writes to those whose worried, negative thoughts get in the way of their moods, relationships, and work. Using cognitive behavior therapy, acceptance and commitment therapies, Bonoir offers tools and techniques for overcoming common mental traps, such as thoughts that urge one to run from discomfort, seek approval over connection, and buy into the myth of arrival. She supports these suggestions through life stories, self-assessments, and practices that help readers neutralize the effects of stress, contradict negative thoughts, and build better habits. VERDICT Bonoir synthesizes psychological concepts into understandable suggestions certain to help any reader reclaim a healthy state of thinking.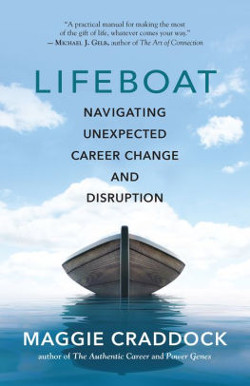 Craddock, Maggie. Lifeboat: Navigating Unexpected Career Change and Disruption. New World Library. May 2020. 224p. ISBN 9781608686841. pap. $17.95. SELF-HELP
Craddock (The Authentic Career) applies stories from the survivors of the Titanic to help professionals manage the storms of the unpredictable and often catastrophic environments such as staff cutbacks, power struggles, and daunting pressure. She poses this practical guide for spotting trouble, managing fear, fostering cooperative teams, and taking simple yet effective action in any crisis, and does this through both historical and current survival stories. VERDICT Craddock's advice will help readers to prepare for the unexpected and to retool their skill set for succeeding in their organization or personal lives. The author's comparison of the lifeboat to the big ship mentalities is particularly helpful in analyzing and managing tough situations.

Feiler, Bruce. Life in the Transitions: Mastering Change in Any Age. Penguin. May 2020. 368p. ISBN 9781594206825. $28. SELF-HELP
Feiler's new book (The Secrets of Happy Families; Walking the Bible) explains that instead of going through life following a series of calibrated progressions, people experience it as a complex swirl of ­celebrations, setbacks, triumphs, and rebirths. The key to thriving through disruptors and lifequakes is to make meaning in times of change. Feiler details a model for life transitions based on thousands of interviews with people from all walks of life and tells readers how to memorialize changes and give up old mind-sets. A helpful bonus is the complete outline for writing one's own story or that of others. VERDICT This highly recommended title couldn't be more timely.

Garcia, Hector & Francesc Miralles. The Ikigai Journey: A Practical Guide to Finding Happiness and Purpose the Japanese Way. Tuttle. Jun. 2020. 224p. ISBN 9784805315996. $15.99. SELF-HELP
From the authors of Ikigai: The Japanese Secret to a Long and Happy Life comes a sequel that goes beyond the concept of understanding and empowering all aspects of ikigai (one's purpose in life). Garcia and Miralles use the metaphor of the busiest train in Japan, taking readers through various stations in the future, past, and present. Along each stop readers are instructed how to develop patience and perseverance, cultivate undivided attention, and tune in to life goals. Ikigai adherents can find their ultimate purpose by listing their attributes in a Venn diagram to point the way to the intersection of what they are good at, what the world needs, what they love, and what they can be paid for to live out their ikigai. VERDICT Beneficial for readers who find the concept of ikigai intriguing.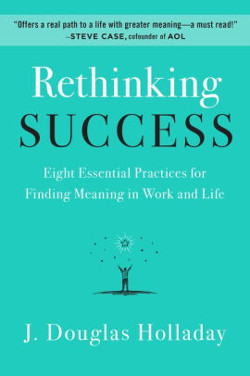 Holladay, J. Douglas. Rethinking Success: Eight Essential Practices for Finding Meaning in Work and Life. HarperOne. Apr. 2020. 240p. ISBN 9780062897886. $27.99. SELF-HELP
Adjunct professor Holladay (Georgetown Univ. Sch. of Business) knows personally the emptiness that often comes with traditional perceptions of success and proposes a holistic approach to defining and reaching achievement in life and business. He introduces eight practices based on research and other leaders' experiences that will help readers live their own stories, regularly express gratitude, define success and failure for themselves, integrate new goals into their lives, and leave a legacy for others. Most applicable are the questions for contemplation, giving readers an opportunity to assess their lives thus far, and make adjustments if need be. ­VERDICT A valuable tool for reflection that can be used by readers from all walks of life.

Louden, Jennifer. Why Bother: Discover the Desire for What's Next. Page Two. May 2020. 360p. ISBN 9781989603123. pap. $16.95. SELF-HELP
For anyone wondering how to get past heartbreaks, career defeats, and other soul-crushing events, Louden (The Woman's Comfort Book; Women's Retreat Book) suggests turning the question of "why bother?" around to find reasons to go on and plan the next step. She presents a six-stage approach to assist readers in moving from feeling envious to wishing others well, self-judging to welcoming all experiences, and dithering to fully committing. Louden's message is backed with numerous examples, pertinent quotes, self-assessments, and links to more resources and information. VERDICT Ideal for those who feel stuck in a negative spiral and wish to move forward.

McGinnis, Patrick J. Fear of Missing Out: Practical Decision-Making in a World of Overwhelming Choice. Sourcebooks. May 2020. 256p. ISBN 9781492694946. $25.99. SELF-HELP
McGinnis's latest (The 10% Entrepreneur) guides readers in finding the power to choose what they desire out of life and the courage to miss out on the rest. He points out that FOMO (fear of missing out) is a highly addictive and destructive way to live, and that FOBO, fear of a better option, is equally harmful and paralyzing. The author outlines a decision-making model that helps them home in on what really matters by tuning out distractions and leveraging technology, thereby living comfortably with the decisions they've made. VERDICT This book's superb advice will appeal primarily to millennials and members of Gen Z.

Masson, Jeffrey Moussaieff. Lost Companions: Reflections on the Death of Pets. St. Martin's. Jun. 2020. 272p. ISBN 9781250202239. $27.99. SELF-HELP
From Masson (What Animals Can Teach Us About the Origin of Good & Evil; Dogs Never Lie About Love) comes a heartfelt book about grieving for one's nonhuman family members. He affirms the need to mourn our pets as well as ways to help them in their final moments by offering stories that allow readers to explore their own responses and reactions to death and find ways to memorialize loved animals. After all, as the author says, "Grieving for an animal is what makes us human animals." VERDICT Highly recommended for all animal lovers who inevitably must deal with the death of their pets. [See Prepub Alert, 12/9/20.]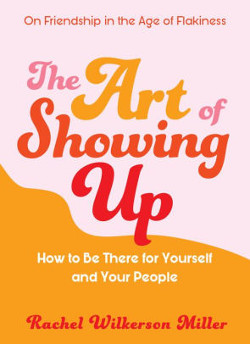 Miller, Rachel Wilkerson. The Art of Showing Up: How To Be There for Yourself and Your People. Experiment. May 2020. 304p. ISBN 9781615196616. pap. $16.95. SELF-HELP
Miller, senior lifestyle editor at BuzzFeed, defines showing up as the core of creating and maintaining strong meaningful bonds with friends, family, coworkers, and internet pals. She begins by suggesting a set of values to uphold when showing up for yourself, such as developing intuition, self-awareness, and vulnerability, and proceeds to provide ways to make and keep connections with others, such as being generous with one's attention, supporting others' goals, and making time for family and friends even though our lives are busy. Advice that is particularly sound includes the "dos and don'ts" of what to say to a friend going through a big life event and how to have a difficult conversation with a friend. VERDICT Excellent tips for forging relationships with others and becoming an even better "old" friend.

Murray, Jill Sherer. Big Wild Love: The Unstoppable Power of Letting Go. She Writes. May 2020. 256p. ISBN 9781631528521. pap. $16.95. SELF-HELP
Geared toward women who are "settling" in relationships and life, this title from TEDx speaker Murray encourages readers to be brave and to let go of what's not working in their lives and embark on a path of potential and fulfillment. The author provides a six-step framework for release from unhappy partnerships, which includes realizing that the relationship will never work, dealing with the aftermath, exploring options, and making plans to move forward. She relates real-life stories, research, and insights into how accessible changing one's life can be. VERDICT Readers who find themselves stuck in bad relationships or situations will savor Murray's advice, as it's relatable and easy to put into practice.
Orman, Suze. The Ultimate Retirement Guide for 50+: Winning Strategies To Make Your Money Last a Lifetime. Hay House. Feb. 2020. 320p. ISBN 9781401959920. $26.99. SELF-HELP
In her newest book, popular TV personality and recognized expert on personal finance Orman (The Nine Steps to Financial Freedom) points out that it's never too late to plan for retirement. Starting with the adage that "the only way to conquer fear is through action," the author lays out strategies, dos, don'ts, and challenges to secure a happy and healthy retirement. She covers everything from where to live, how to help loved ones, how and where to invest, and how to pay oneself during retirement. As readers might expect, she advises them to embrace living below their means, prioritize paying off debt, and create a will, financial power of attorney, and other important end-of-life documents. Of particular help during the current financial climate are tips on how to cope with a bear market in retirement. VERDICT Recommended reading for all and a solid addition to public library offerings.

Peters, Sandi. Aging with Agency: Building Resilience, Confronting Challenges, and Navigating Eldercare. North Atlantic. May 2020. 304p. ISBN 9781623174361. pap. $17.95. SELF-HELP
Having worked in the field of ­gerontology (the study of old age) for more than 30 years, Peters has learned that there is meaning to be found in aging, and that the way to fulfillment is through exploring and developing one's inner world. She begins the book by pulling from the teachings of Carl Jung, Abraham Maslow, and Erik Erikson to discover the effect that relevant archetypes, hierarchy of needs, and life stages have on aging. Peters spends the second half of the book focusing on memory loss and a way to approach it that supports psychological health, as well as opportunities to explore life from a different perspective. VERDICT Abounding with valuable insights into the aging process, this will be enjoyed by readers interested in the subject and general, college-­educated readers.

Stark, Jill. When You're Not Okay: A Toolkit for Tough Times. Scribe. Jul. 2020. 160p. ISBN 9781950354115. pap. $16. SELF-HELP
This snappy little manual comes from the author of High Sobriety, who writes for those who are struggling and receiving negative messages from their inner critic. Based on the author's experiences of getting through down times, the book tells readers how they can give themselves a break by loving their bodies, slowing down, being kind, and embracing various other thoughts and behaviors. Each page offers a simple idea (e.g., unplug, change your perspective, ask for what you need) that one can immediately put into practice. Readers can pick and choose among the various suggestions and implement each into a series of daily readings. VERDICT A handy, feel-good volume of tips and advice for contented living.
---
Deborah Bigelow is Adult Services Librarian, Dexter District Library, MI