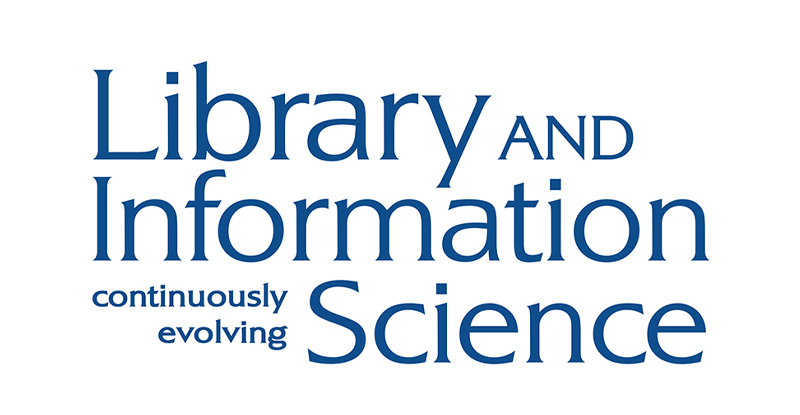 Librarianship is in a state of continuous change—not just technologically, but also culturally. Technology continues to evolve, requiring librarians and other information professionals to stay on top of new platforms for delivering information to library users. Where databases, ebooks, and remote access were once the hot tech topics, today artificial intelligence (AI) has come to the fore, and information professionals need to understand how it might impact libraries.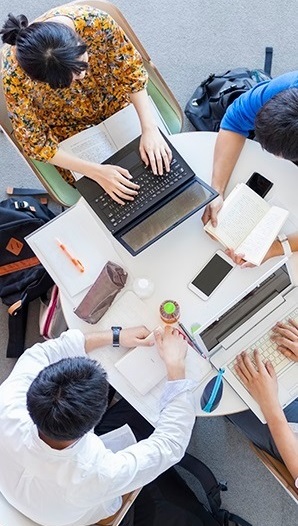 "AI is definitely becoming part of LIS field, from academic dishonesty controversies to creative ways of using AI for the public," says Wooseob Jeong, dean of the School of Library and Information Management at Emporia State University. "We constantly discuss these issues in many of our classes." At the same time, libraries also find themselves increasingly on the front lines of today's culture wars, facing protests and outright book bans.
Despite the need for MLIS programs to provide future librarians with the skills and tools to successfully navigate these issues, perhaps the biggest challenge MLIS students face is basic affordability. "The two major barriers to entry are the high cost of tuition and the need to gain experience while earning a degree," says Sanda Erdelez, director and professor at the Simmons University School of Library and Information Science (SLIS). "Many of these barriers are compounded for students coming from historically marginalized backgrounds."

Here are some of the leading library and information science (MLIS) master's degree programs that are stepping up to meet these challenges.

Emporia State University
Affordable tuition and small class size are the hallmarks of Emporia State University's School of Library and Information Management (SLIM). As the first library science program west of the Mississippi River, Emporia's SLIM has been preparing the next generation of librarians since 1902.
"Affordability is critical for many wish-to-be professional librarians," says Wooseob Jeong, dean of the School of Library and Information Management at Emporia State University. "We continue to build our scholarship endowments and do our best to keep our tuition low."
SLIM's Master of Library Science program is a 36-credit degree program accredited by the American Library Association. Once comprising hybrid in-person/online classes, the COVID pandemic changed the program to fully online asynchronous. "We have optional synchronous enrichment programs such as guest speakers, alumni gatherings, and career discussions," adds Jeong. That said, "We are not an i-school," Jeong emphasizes. "We really focus on librarianship. If you want to be a librarian, come to SLIM!"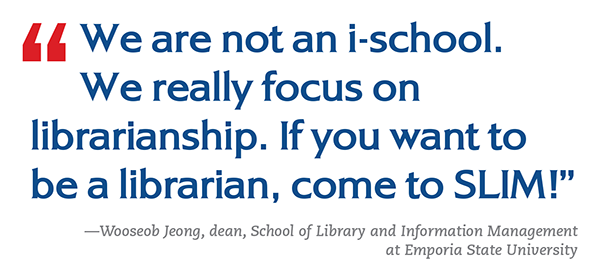 This fall's head count is about 370, with most students in their twenties and thirties. Despite the remote nature of the program, students have access to professors and advisers outside of class.
The program offers a traditional library science curriculum with relevant technology components, in both core courses and electives. Courses are tools-based—focusing on essential basic skills such as how to catalog, classify, retrieve, and repackage information; plan and evaluate information services; and use print and electronic information sources—and application-based—focusing on information transfer, global information infrastructure, library management, and technology.
Electives focus on current issues in the profession, and a "capstone experience" that integrates coursework, knowledge, skills, and experiential learning to synthesize the educational curricula to prepare graduates for entering the field.
Emporia State recognizes that staying on top of technology is only part of preparing the librarians of the future. "Mental health, emotional support, and the social work aspect are all becoming more and more important," says Jeong. As a result, he adds, "we are offering classes such as Empathetic Librarianship, Trauma-Informed Librarianship, and Librarianship and Correctional Facilities."
Many classes involve working with actual practitioners in the field, so SLIM students have extensive opportunities for professional networking. The SLIM program also actively helps its students secure jobs after graduation. In addition to an academic adviser, each student is paired with a designated professional adviser who helps with job placement. The school also sends students weekly job lists, available on the SLIM website, including direct requests from employers. The campus career service also offers virtual options, providing students with virtual mock interviews and other career-advising sessions.
Many graduates of the program have gone on to lead state libraries, state library associations, major academic libraries, and major urban libraries, along with those who lead many small libraries throughout the country. "I believe focusing on librarianship throughout our curriculum really helps, particularly with emphasis on individual information needs, community needs analysis, and outreach," says Jeong.
"Even in this fast-moving technological society—AI is the best example—we still need many caring professional librarians in our communities," adds Jeong. "We will continue to strive to provide quality library science education with affordable tuition and wonderful student services."
Learn more at https://www.emporia.edu/slim.

San José State University
San José State University School of Information (iSchool) is the largest MLIS degree provider in the world. Completely online and asynchronous, the program averages 2,700 active students per semester, most of whom are typically already working in the field, although the program has a growing group of younger students right out of undergraduate studies.
Dr. Anthony Chow, director and professor, identifies three major challenges facing those entering the field today: the perception that libraries are antiquated, the book ban movement, and the increase of technology and digitization. "The SJSU iSchool addresses all three," says Chow. "Our students are empowered with the knowledge and skills to represent the field based on data and measurable impact that is far more powerful than false perceptions. Fighting book bans requires confidence, expertise, and the ability to defend everyone's access to information, [all of] which we provide. Finally, we are situated in the heart of Silicon Valley, and emerging technology and innovation is a primary strength of ours and part of our culture and intellectual DNA."
Indeed, one of the program's slogans is "Information is Everything."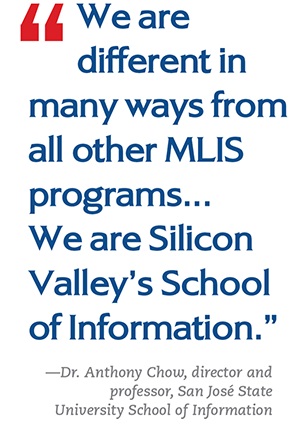 Chow says the school invests about two-thirds of every tuition dollar back into the program, allowing it to have the most diverse and most robust curriculum in the field, centered around 14 career pathways and curriculum themes. "If students want a course, we will hire an instructor to teach it," he says.
"We are different in many ways from all other MLIS programs," adds Chow. "We are Silicon Valley's School of Information, situated in the heart of one of the most innovative and technologically advanced places in the world. We are also by far the largest and most diverse MLIS programs with the distinction of being #1 across all racial categories. Also, because of our size, resources, and interconnectivity with the field, we are at the forefront of both continuously improving our online teaching and many important initiatives in the field."

SJSU's iSchool offers comprehensive career pathways covering all major types of librarianship and information science content areas. Technology is a recurring theme throughout the curriculum.
To help prepare students for a post-iSchool career, the program offers a full-time career counselor who meets with students one-on-one, reviews résumés, and conducts mock interviews. The program also provides access to Skilltype, a library talent management system that lets students get additional training or fill skills gaps based on the needs of specific employers or specific career pathways.
iSchool graduates can be found in most libraries and LIS organizations throughout the country, with some high-profile graduates, including the State Librarian of California and library directors, including the head of Chicago Public Libraries and Sunnyvale Public Library in California.
A point of pride of the program is its focus on students first. "Our students and alumni are part of a family and professional network for life that is 12,000 plus and growing," says Chow. "The quality and success of our students is our top priority.
Learn more at https://ischool.sjsu.edu/master-library-and-information-science.

Simmons University
Ranked 11th in the nation by U.S. News & World Report, Simmons University School of Library and Information Science (SLIS) boasts professors who bring real-world experience to their classroom instruction.
Simmons SLIS is one of the largest LIS programs in the country, with about 700 students representing a mix of ages and backgrounds. The average student age is about 28 and includes students who are right out of undergraduate school as well as those who are returning to continue their education after many years.
The SLIS program can be completed online or on-campus, with on-campus locations in both Boston and South Hadley, MA. Students are free to combine online and face-to-face classes however they like.
The program incorporates both traditional areas of Library and Information Science (LIS) and new technologies. Students take three required courses, but beyond that they can create their own curriculum or choose to concentrate in areas such as Archives Management, Cultural Heritage Informatics, Information Science & Technology, Libraries and Librarianship, or School Library Teacher.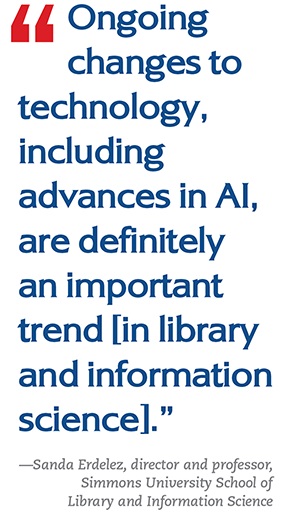 A major emphasis of the program is technology. One of the required courses is Technology for Information Professionals. Students have access to a variety of tech-related electives in areas such as database management, web design and information architecture, programming, data visualization, and more. All courses offer ample opportunities for hands-on experience.
Simmons SLIS makes it a point to stay on the cutting edge of technological trends. "Ongoing changes to technology, including advances in AI, are definitely an important trend," says Director and Professor Sanda Erdelez. "LIS programs will need to educate professionals across all areas, from ICT professionals who can help inform the design of these systems, to the library professionals who will implement them and train patrons in their use, to researchers who will study their impacts and explore the ethics of these systems." LIS faculty also conduct their own research into the best uses of these technologies for teaching and learning.
Other important areas include information infrastructure and algorithms; impacts of mis/disinformation; digitization, including migration and ongoing access; data management and analytics; and information policy. "Globalization is another big trend which will only increase the relevance of cultural competence and international understanding," adds Erdelez.
To help students prepare for job placement, Simmons University has a Career Education Center that offers career counseling, help with job hunting, résumé reviews, and interview preparation; SLIS Student Services supplements these with additional career-oriented workshops. Each spring, SLIS and the Career Education Center offer a SLIS-specific career fair.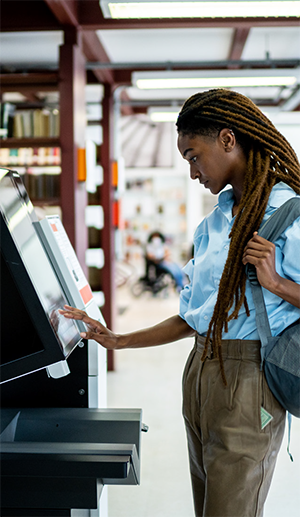 SLIS graduates have gone on to a wide variety of library and information careers in public, academic, and school libraries; special and corporate libraries; and archives. Two high-profile alums include David Ferriero, former archivist of the United States, and Tamar Evangelestia-Dougherty, inaugural director of the Smithsonian Libraries and Archives. Other grads have secured positions at the Library of Congress, the National Archives and Records Administration, and NASA, among many others.
"The two things I am most proud of are our faculty and our students," says Laura Saunders, SLIS associate director and professor. "Both are committed to the field of librarianship and bring a strong sense of ethics and social justice orientation to their work, and both are making important, ongoing impacts to the field."
Learn more at https://www.simmons.edu/graduate/academic-programs/graduate-and-certificate-programs/library-and-information-science-phd.

Dominican University
"The most urgent challenge for library and information professionals entering the field now is learning how to navigate an information landscape that reflects the deep political divides that provokes so much animosity, especially against those of us who stand for diversity of thought, critical reasoning, freedom of expression, and social responsibility," says Don Hamerly, director and professor, Dominican University School of Information Studies (SOIS).
Dominican University SOIS offers a combination of on-campus, online, and hybrid courses. Students can complete the MLIS entirely online or in-person, if they prefer an on-campus experience at a small university. Courses are split equally between online asynchronous and online hybrid, some with scheduled online meetings and others with scheduled in-person, or "hyflex," meetings.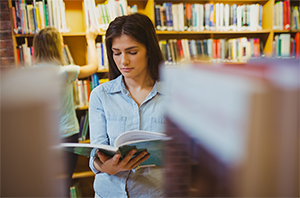 340 graduate students are currently enrolled at SOIS, 300 of whom are pursuing the MLIS. The cohort is evenly divided between recent college graduates and older students with a wide range of professional experience.
To help students with job placement, Dominican University has an award-winning Office of Career Programs and Employer Relations that offers a variety of services and programs to help students transition from graduate school to work. "We also encourage experiential learning in our program through practicums and internships that often lead to positions in the field," says Hamerly. "We're fortunate to be in a rich market in Chicago for graduates seeking careers in the information field."
Graduates of the program have gone on to pursue librarianship careers in academic, public, medical, law, and school libraries as well as in special corporate, nonprofit, and government libraries and agencies.
"I am most proud of our faculty, both full time and adjunct, many of them alumni of our program, who have achieved leadership positions in the field, and their devotion to radical inclusion and students' success," says Hamerly.
Learn more at ischool.dom.edu.

University of Illinois Urbana-Champaign
The School of Information Sciences at the University of Illinois Urbana-Champaign has been ranked No. 1 in the United States by U.S. News & World Report since 1996. Its MLIS program can be completed on-campus, online, or via a combination of the two. The program is highly flexible: after completing two required courses, students can take any of a wide variety of electives that are both "traditional library science" and technologically oriented, allowing students to design a program that best supports their interests and goals.
The current enrollment is 543 students, with about half of the program's on-campus students coming directly from undergraduate college, the other half spanning a wide range of backgrounds and ages, although most are under 30. Online students skew a little older, with many working full-time jobs.
"Our program offers a special opportunity to be grounded in the fundamental skills and values of library and information science and to pursue individual interests and passions," says Maria Bonn, director of the MSLIS program. "Our two required courses provide a solid foundation that students build upon to tailor their program as they learn more about their own aspirations and the needs of the profession."
To help with job placement, the program has staff responsible for both employer relations and career services, with support ranging from individual guidance and assistance with preparing job applications to large-scale career fairs. Many of the program's students also complete practicums and internships, which provide experience and help build a professional network.
University of Illinois Urbana-Champaign MLIS graduates have gone on to careers in libraries of all kinds: research, academic, public, school, and corporate. They also work in archives and museums, government agencies, and nonprofit organizations. Many also pursue corporate careers and have found jobs in settings as diverse as Netflix, Ebay, and John Deere, providing references and information services, managing records, supporting archiving and preservation, and many other things.
"Because of our long history—130 years of LIS education—and longstanding professional leadership, we have a network of alumni that covers the globe and the professional universe," says Bonn. "Our students benefit from mentoring and professional opportunities shared by these alumni.
"I am proud of the quality of the professionals that emerge from our program," Bonn adds. "They are critical thinkers and professional leaders, ready to jump into work. They make the world a better place."
Learn more at https://ischool.illinois.edu/degrees-programs/graduate/ms-library-and-information-science.

SPONSORED CONTENT