From defiant dreams to chaos kings: current issues.
Hershfield, Hal. Your Future Self: How to Make Tomorrow Better Today. Little, Brown Spark. Jun. 2023. 304p. ISBN 9780316421256. $29. Downloadable. PSYCHOLOGY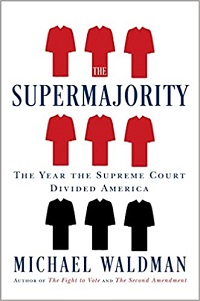 Johnson, Scott C. The Con Queen of Hollywood. Harper. Jun. 2023. 352p. ISBN 9780063036932. $32. TRUE CRIME
Leach, Samantha. The Elissas: Three Girls, One Fate, and the Deadly Secrets of Suburbia. Legacy Lit: Hachette. Jun. 2023. 288p. ISBN 9780306826917. $29. SOCIAL SCIENCE
Mahfouz, Sola & Malaina Kapoor. Defiant Dreams: The Journey of an Afghan Girl Who Risked Everything for Education. Ballantine. Jun. 2023. 304p. ISBN 9780593359761. $28. MEMOIR
Patterson, Scott. Chaos Kings: How Wall Street Traders Make Billions in the New Age of Crisis. Scribner. Jun. 2023. 288p. ISBN 9781982179939. $30. BUSINESS & ECONOMICS
Rothstein, Lean & Richard Rothstein. Just Action: Creating a Movement That Can End Segregation Enacted under the Color of Law. Liveright: Norton. Jun. 2023. 288p. ISBN 9781324093244. $25. SOCIAL SCIENCE/DISCRIMINATION
Waldman, Michael. The Supermajority: The Year the Supreme Court Divided America. S. & S. Jun. 2023. 480p. ISBN 9781668006061. $29.99. POLITICAL SCIENCE
A professor at UCLA's Anderson School of Management, Hershfield illuminates an idea that's recently been in the news: to improve your life now, you need to work harder to imagine and connect meaningfully toYour Future Self (45,000-copy first printing). With The Con Queen of Hollywood, award-winning investigative journalist Johnson expands on his Hollywood Reporter story about the con artist who managed to rip off millions of dollars from people in the entertainment industry (100,000-copy first printing). With The Elissas, Leach presents a cautionary tale centering on best friend Elissa, who was thrown out of private school and sent to a $10,000-a-month boarding school for troubled teenagers, where she bonded with classmates named (eerily) Alissa and Alyssa; Elissa died of encephalitis shortly after graduating, and her two friends subsequently succumbed to drug use (60,000-copy first printing). As a girl in the Taliban-ruled Afghanistan, Mahfouz was denied an education but still entertained Defiant Dreams, teaching herself mathematics at age 16 and sneaking into Pakistan to take the SATs; she eventually escaped to the United States and is now a quantum computing researcher at Tufts University. Patterson's Chaos Kings focuses on the Universa fund to illuminate the activities of high-risk traders who go after so-called black swans—unforeseeable upheavals that can yield billions in profits. Having explained in the nearly million-copy best-selling The Color of Law how U.S. federal, state, and local governments have not just facilitated but actively created segregation, Richard Rothstein teams with housing policy expert (and daughter) Leah Rothstein in Just Action to explain how segregation can be dismantled, focusing on what local organizations can do about securing renters' rights, diversifying exclusively white areas, and more. President of the nonpartisan Brennan Center for Justice at the NYU School of Law, Waldman shows how the U.S. Supreme Court's conservative Supermajority has driven the Court's rulings far from what most people in the country want and what the implications will be.