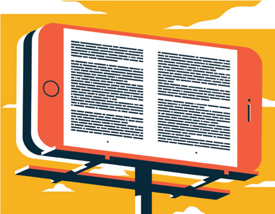 Illustration by Federico Gastaldi/Salzmanart
Public librarians bridge the awareness gap to highlight digital collections
Over the years, public libraries have expanded their electronic collections. The evolution of library interfaces has allowed many physical services to extend into a digital space, empowering patrons to check out ebooks, read magazines and journals, stream movies, listen to audiobooks, and more. The demand for digital collections only continues to grow.
Usage of e-resources "has nowhere to go but up," says Nick Tanzi, assistant director at South Huntington Public Library in Suffolk County, NY, which has a service area of approximately 35,000. "Things are going more and more digital."
Twenty percent of book readers in the United States read more ebooks than print books, and this is even higher among younger readers, according a 2018 report by Statista. These numbers are reflected in libraries' digital collection usage, with OverDrive, the largest e-services distributor, logging 274 million digital checkouts at partnered libraries in 2018—a 22 percent increase over the previous year. With rates such as these, it's easy to think library e-resources can market themselves, Tanzi says.
But despite the abundance of online resources offered at public libraries and their increasing use, a publicity problem persists. Researchers have found that while 90 percent of libraries have ebook lending programs, 44 percent of users 16 and older did not know that their public libraries loaned out ebooks, according to a 2016 Pew Research survey. Ten percent didn't even believe that their local library offered such services.
"When you get to these other, newer services—streaming video and audio and digital magazines—it's safe to assume that an even smaller percentage of patrons know," says Tanzi. "One of the big challenges specific to a digital collection is an awareness gap."
To close that gap, public libraries—of varying sizes, staff availability, and patron demographics—are leading creative efforts to increase circulation and knowledge of e-resources.
TARGET YOUR MESSAGING
Angela Hursh admits that she is not the biggest cheerleader of the traditional newsletter. Instead, one of Hursh's strategies as content team lead in the marketing department of the Public Library of Cincinnati and Hamilton County, OH, involves a robust targeted email campaign that she rolls out regularly to the more than 496,000 active cardholders. Her team uses the service Savannah, developed by OrangeBoy, a platform that caters specifically to libraries' marketing needs.
"They do something no other email platform does, which is to divide your cardholders into segments based on how they use their card," says Hursh. "That's extremely important for targeted email messaging."
She can identify specific audiences among the library's cardholders, such as audiobook listeners, children's book readers, print book readers, digital users at large. "I will then promote, let's say, one of the OverDrive collections," Hursh explains. "I would just email them back with one call to action—a couple of lines about why they might love something on OverDrive."
An email push to the appropriate audience list can surge circulation anywhere from a couple of hundred percent to 7,000 percent, Hursh says. For example, in January, Hursh sent a specialized email targeting avid audiobook listeners to promote three different audiobooks. "One of them was set in Cincinnati, so that was something for us to latch on to," she says. "We got a 5,000 percent increase in circulation for those three books. In three days 399 copies of those titles were put on hold."
Through link tracking, Hursh can tell exactly how many people are clicking on different services, supplying her with more data. Understanding how patrons use e-resources helps create more catered experiences, she explains. It can also help choose what to share from the plentiful e-services on offer.
"We have so much stuff and it's all great, and we want everybody to know about it. So it's hard," Hursh says. She advises libraries looking for a place to start their marketing efforts to hone in on their overall mission: "If I start there, and then look in the e-branch and find things that support those [strategies], that's a great place for me to start to focus my effort and not get overwhelmed."
ASK LIBBY
At Washington County Cooperative Library Services (WCCLS), OR, marketing focuses on a select number of high-quality resources—including OverDrive, Mango Languages, and Kanopy—out of many digital services the system offers its roughly 295,000 active card holders.
"We want the public to see the library as someplace that has products that are living in the 21st century," says PJ Bentley, WCCLS collections and adult services supervisor. "We will cycle through those [quality resources] and promote those more than anything else."
When rotating through the library's offerings, Bentley works with the WCCLS communications team and e-content librarian Courtney Sheedy to keep outreach fresh by highlighting the variety of services within platforms, such as dedicating a specific campaign to Kanopy Kids and another to Great Courses on Kanopy. The team also experiments outside of social media and digital marketing. In 2018, WCCLS took on the persona of Libby, the audiobooks and digital reading library app by OverDrive, in an advice column featured in a quarterly print newsletter distributed to local residents.
Invented user "Flying to Mumbai" asked Libby if they could check out e-resources overseas (yes!), and "Proud Homebody" wanted to know if their summer plans staying at home deep-cleaning and listening to audiobooks would be ruined because their phone was out of storage space (audiobooks can be streamed!). The structure mimicked an FAQ, but had a colloquial tone and format—and the tactic worked.
"That had people asking about the product at libraries and calling about it," says Bentley. "It connected with some folks and got their attention because it was a way of promoting the product that wasn't just, 'Did you know that the library has this?'"
For databases that fall outside of the system's top marketable resources, Bentley and Sheedy are discussing strategies to increase staff awareness of digital collections that are valuable but underutilized.
"We want staff to feel really comfortable," says Bentley. "I feel like making sure staff are good advocates for what the library has is really important."
RECONNECT WITH EARLY ADOPTERS
Sometimes, marketing and outreach unexpectedly become part of an existing library position—requiring staff to learn and build skills on the job.
"Librarians weren't brought up to be salespeople," says Tanzi. "We like to communicate a lot of information to people. Folks' attention spans are going down and you need to almost write a headline."
Language is important in communicating about digital collections, he says, especially as library workers often default to jargon or library lingo. "OverDrive doesn't [necessarily] mean anything to somebody. A lot of the time it's useful to say, 'OverDrive ebooks'" to add clarity and distinguish between platforms that offer similar media formats, he says. Delivering clear, continuous messages can also help get lapsed digital collections users back.
"Typically, with technology, we think of our early adopters as being the really techie people who would be power users," Tanzi says. But that was often not the case for those who first tried out library digital collections in their infancy. "Early on," he notes, "they were pretty difficult to use."
Interfaces were clunky. Selections were limited. Not many devices were supported. Digital rights management and copyright were so tedious that "it was like doing your taxes to check out a book," Tanzi says. For some users who tried tackling digital collections early on, they left and never came back, he explains.
"That's where you need to constantly communicate changes about your digital collection—even if it's an established collection."
UNDERSTAND YOUR COMMUNITY
When the patrons of Worth-Pinkham Memorial Library in Ho-Ho-Kus, NJ, were initially introduced to e-collections, the new formats were met with some reluctance—and confusion. Users most likely "were not fully embracing them because they didn't 100 percent understand what they were," says director Gretchen Kaser.
To make patrons feel more comfortable with the digital collections, Kaser was inspired to integrate different types of educational components into marketing materials. With the help of the youth services librarian, circulation staff, and volunteers, Kaser tried to mentally step into patrons' shoes by learning more about the community.
Ho-Ho-Kus is a suburb just outside of New York City. The majority of the approximately 4,000 residents are commuters, Kaser explains. For the middle-aged adults and parents in the library's service area, "a lot of them are seeing this content on our social media and then downloading these apps to use on their commute to the city on the train or the bus," she says. Older patrons, on the other hand, might not be on social channels. To help them, staff members offer one-on-one instruction at the service desk.
Earlier this year, staff also started sending out a community survey to better understand what users liked and didn't like about the library, and to receive general feedback. But the survey didn't just return information to the library—it also highlighted services to patrons.
"We found that people filling out the survey were aware of the ebooks and audiobooks that we have, but they weren't necessarily aware of the other content that's on [streaming service] Hoopla, like movies or music, or even the magazines on [news and e-content app] RBdigital," says Kaser. "Just by taking the survey they were exposed to that in a way that they hadn't been before."
In a small town, identifying local needs is key. "One thing that we have been doing more of is just word of mouth marketing—trying to do outreach with different groups in town," Kaser says. "We feel that Ho-Ho-Kus is a pretty small community and most people talk to their neighbors. If they get excited about something that we're offering, they tell their friends. We do see interest drummed up that way."
DRIVE ACCESS (LITERALLY)
Fostering community programs and outreach is also one of the core strategies at Memphis Public Libraries, TN. In 2016, the 19-branch system began planning "Start Here," a communications strategy to increase library access and boost programming awareness among prospective and current patrons. Since its launch in 2017, the program has included a website redesign and updates to social media campaigning.
"With digital content you have to reach the people in the digital world, and that's where social media and other outlets come in handy—reaching the digital people where they are," says Virtual Digital Branch Manager Kevin Dixon.
The strategy has also allowed branches to take online e-resources out on the streets by offering technology services in the Start Here mobile tech van, decked out with laptops, a flat-screen TV, and even a 3-D printer. The Start Here outreach team drives to communities that need additional access to library or technology services, such as neighborhoods with concentrations of young or old patrons, or immigrant populations, and assists them on the spot.
All the Start Here van staff are skilled in ebook and database use, says Dixon. "I think some of the best outreach that you can do is to go to different events, and have some tablets available and say, 'Hey, if you want to learn how to check out an ebook, let me show you.'"
Digital collections fit well into the larger role of public libraries, says Dixon. Upon first use, it might seem as though the latest technologies needed to consume library media act could as a barrier, but ensuring that e-collections are available to all users can help bridge the divide and establish equal access. An array of ebooks at patrons' fingertips on their smartphone can ultimately be more accessible than traveling to a physical collection that might be located across town, Dixon says.
"We want to provide equal access, and I think this is what we're moving towards," Dixon says. "In order to maintain that equitable access you need to focus on digital content."
---
Lauren J. Young is digital producer at Science Friday and library associate at Gottesman Libraries at Teachers College Columbia University. She has covered everything from digital preservation and archives to climate change and public health for publications such as Science Friday, IEEE Spectrum, Atlas Obscura, Scholastic MATH, and Smithsonian Online.