National Book Critics Circle winners for titles published in 2018 include Anna Burns, Steve Coll, and Zadie Smith.
"Enthusiasm it not the enemy of intellect," proclaimed Maureen Corrigan, book critic for NPR's Fresh Air, at the National Book Critics Circle (NBCC) awards ceremony held Thursday, March 14 at New York City's New School. Corrigan was accepting her Nona Balakian Citation for Excellence in
Reviewing, but she also summed up an evening that was a celebration not just of books but of the entire critical endeavor.
Presenting the Criticism award to Zadie Smith for Feel Free: Essays (Penguin Pr.), a collection demonstrating that she's as excellent a critic as she is a novelist, NBCC VP of Awards Carlin Romano thanked publishers for continuing to publish criticism in these commercially breakneck times. Christopher Bonanos, winner of the Biography Award for Flash: The Making of Weegee the Famous (Holt) and a magazine editor, celebrated his subject's $5-an-image commitment to capturing life on the outskirts and added that "this whole enterprise depends on fringe people"—i.e., the freelancers—so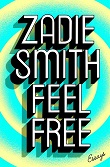 let's "cheer on all the fringe people."
Ada Limón, whose The Carrying (Milkweed) won the Poetry prize, began her acceptance speech with the Muriel Rukeyser quote, "What would happen if one woman told the truth about her life? The world would split open," then went on to accept for all the women who published a book last year, praised Milkweed, Aretha Franklin, and Juana de la Cruz, and concluded, "The real prize is the life you have given me." Nora Krug, whose Belonging: A German Reckons with History and Home (Scribner), a memoir in graphic format, thanked those "who answered questions that had not been answered before" about the Nazi past of her family and German homeland.
Steve Coll won the Nonfiction award for Directorate S: The C.I.A. and America's Secret Wars in Afghanistan (Penguin Pr.), a sequel of sorts to his Pulitzer Prize–winning Ghost Wars: The Secret History of the CIA, Afghanistan, and Bin Laden, from the Soviet Invasion to September 10, 2001. Finally, in one of those excitement-defining moments in the publishing industry, Irish-born Northern Irish Anna Burns won the Fiction award for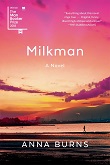 Milkman (Graywolf), the story of one young woman's struggle in society that also won the Man Booker Prize.
Awarded the John Leonard Prize for There There (Knopf), Tommy Orange was pleased not just for himself. "Native American anything never gets any attention, so to have this happen this year and last," he said, referencing the strong reception to his book, "it's a good moment." The prize is given to an outstanding first book in any genre. The recipient of the Ivan Sandrof Lifetime Achievement Award was Arte Público Press, the oldest and largest publisher of Hispanic literature in the United States. Introducing the staff there to accept the award, including founder Nicolás Kanellos, author Sergio Troncoso praised the press for "[making] a community visible that has been, relatively speaking, invisible." For more information on all the winners and finalists, see bookcritics.org.