Mystery publishers are reveling in a surge of genre mashups. Creative pairings combine classic crime thrillers with elements of genres as wide-ranging as horror, romance, dystopian, sci-fi, paranormal, political, and western. New mystery titles also feature historical characters like Elizabeth I and William Shakespeare, and 16th-century Japanese military commanders Araki Murashige and Oda Nobunaga.
Why this influx of genre mashups? Publishers offer ideas ranging from the influence of TikTok to COVID to Gen Z sensibilities to authors just wanting to have fun. "After a certain point, people get bored with the same genres," says Faith Matson, director of marketing and publicity for Oceanview Publishing. "Our mindset changed a lot with the growth of TikTok, which skews younger and favors newer formats and mash-up genres. Cross-mingling is innovative, and young authors do that a lot."
Severn House Senior Brand Manager Martin Brown sees people opening up to more diverse tastes, with more readers crossing genres. "It's a very different book publishing world from what it was five to 10 years ago. Before, publishers wanted authors to stay in their lane. Now publishers, readers, and writers are catching on to the fact that these mashups are really fun," explains Brown. "Plus, during COVID, authors used the lockdowns to do the crazy ideas they'd had for ages."
Helga Schier, editorial director for CamCat Publishing, is also seeing more genre-blending mysteries that mix elements together. "Paranormal mysteries have become very acceptable," says Schier. "I always thought people shrugged off paranormal as some literary side piece. I really don't think that's true anymore."
Read on to discover more titles featuring unique approaches to the time-honored tropes that keep mystery lovers reading.

HarperCollins
HarperCollins is no stranger to the mystery category. In fact, mysteries comprise 5 percent of the publisher's adult fiction catalogue. The new titles from several of its storied imprints—including Harper Books, HarperVia, William Morrow, and Mariner Books—exemplify the variety of mysteries and mystery mashups that are so prevalent this season, from fictionalized true crime to new takes on British cozy classics, to history mystery, and even magical realism mystery. "Readers are looking for escapist mysteries from new perspectives and stories that turn classic tropes on their heads," says Virginia Stanley, director of library marketing.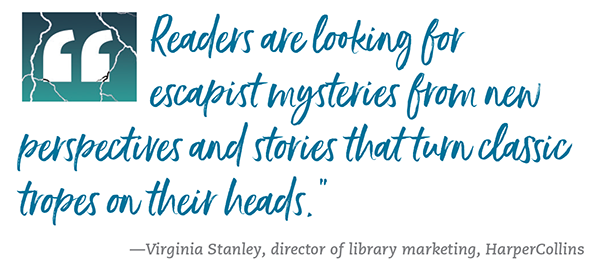 Kill Show by Daniel Sweren-Becker, October 2023, ISBN 9780063321403, explores the widespread fascination with true crime in this debut from Harper Books. Structured as an oral history, this immersive novel covers the decade-old disappearance of a teenage girl from Maryland. The twisty plot includes interviews with the victim's parents, schoolmates, neighbors, and a television producer who exploited the tragedy for ratings. "The novel grapples with our national obsession with streaming true crime shows," says Stanley. "The author is a seasoned television writer, so the book is addictive like binge-watching a hot tv show."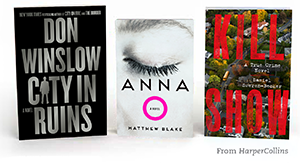 A young writer commits a double homicide while sleepwalking in the psychological suspense story Anna O by Matthew Blake, January 2024, ISBN 9780063314153. Dubbed "Sleeping Beauty" by the tabloids, Anna suffers from Resignation Syndrome, a rare psychosomatic disorder that prevents her from waking. A forensic psychologist and sleep expert who takes on Anna's case is the last hope to discover the truth behind the murders—was Anna truly sleepwalking or is she culpable? "They're calling this the thriller of the year," says Stanley.
Mystery writers, agents, and editors are trapped on a train with a murderer in Everyone on This Train Is a Suspect by Benjamin Stevenson, January 2024, ISBN 9780063279070. Stevenson, an award-winning stand-up comedian and author, tips his hat to Christie in this international bestseller from Mariner Books. The protagonist travels to an Australian crime-writing festival aboard The Ghan, the legendary transcontinental train from Adelaide to Darwin. Six authors turn into five detectives when a fellow passenger meets a violent end. "Fans of Andrew Horowitz and Richard Osman will love this book," says Stanley.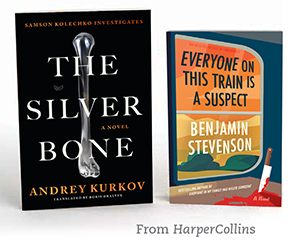 Andrey Kurkov has been called "Kyiv's Stieg Larson" by HarperOne President Judith Curr. In this series opener from HarperVia, Kurkov introduces rookie detective Samson Kolechko in The Silver Bone, March 2024, ISBN 9780063352285. Competing factions and black marketeers are creating mayhem in Kyiv in this work set in 1919. Samson goes to local law enforcement after overhearing two Red Army soldiers hatching a plot. The police hire Samson as an investigator and send him out to solve two murders. "Samson's cases are drawn from the historical archives of the Cheka in Kyiv," notes Stanley. "The author adds touches of magical realism like a severed ear that can eavesdrop."

Severn House
Now an imprint of Canongate, Severn House will mark its 50th anniversary next year. Severn House publishes 80–90 titles each year, three-quarters of which are mysteries and thrillers. "Crime and mystery have been our bread and butter for a long time," says Senior Brand Manager Martin Brown. "As we celebrate our history and look toward the future, we're branching out into genres like horror, sci fi, and urban fantasy."
Past Cr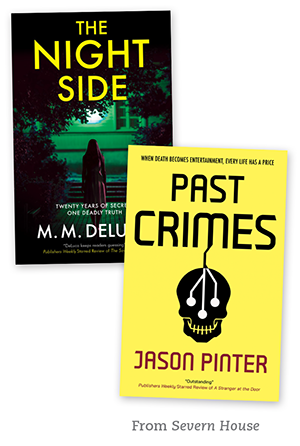 imes by Jason Pinter, February 2023, ISBN 9781448312122, transports readers to the year 2037 when nearly all human interactions happen in the virtual world. Instead of listening to podcasts, true crime fans hunt for clues in Holodeck-like recreations of history's most famous crimes. Cassie West, who convinces grieving families to license their tragedies, suddenly finds herself fighting for survival in both the real and the virtual worlds. "This riveting speculative thriller examines our obsession with true crime," says Rachel Slatter, senior commissioning editor and acting editorial director. "I'll be amazed if I don't see this on Hollywood screens."
Two-time Edgar Award nominee Lee Goldberg blends a present-day police procedural with a late 19thcentury Western in Calico, November 2023, ISBN 9781448310135. Ex-LAPD detective Beth McDade gets a chance to redeem herself in a small city in the Mojave Desert. While investigating a skeleton in a shallow grave, Beth discovers her fateful link to a stranger from the distant past. "This book is a one-sitting read. You can't put it down," says Slatter. "Lee is so talented that you don't notice the writing because you're so busy reading the story."
The Night Side by M.M. Deluca, December 2023, ISBN 9781448312504, features architect Ruby, who returns to her small hometown after her estranged mother goes missing. Ruby left home 20 years earlier to escape her mother, a psychic fraudster who made a career out of ruining people's lives. Now Ruby must determine whether her mother really killed herself or whether the account of her death is just another scam. "Domestic suspense stories are getting beyond the usual husband-wife relationships," notes Slatter. "There's lots of gaslighting to be done between mother and daughter."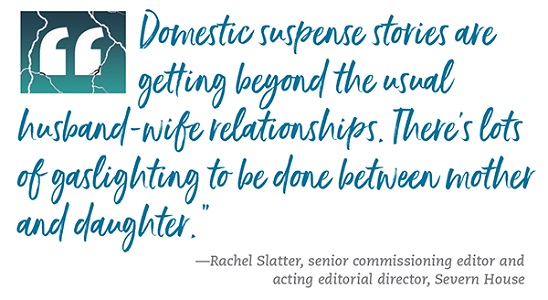 Queen Elizabeth's foes force William Shakespeare to pen a controversial play in The Sister Queens by Justin Scott, February 2024, ISBN 9781448312740. The Virgin Queen has no clear successor to her crown. Her enemies know the Bard of Avon has the power to shape public opinion, so they demand a script that could ignite a civil war. To save his family and his legacy, Will must navigate the dangerous, byzantine corridors of Elizabethan politics. "This very well-researched historical thriller puts you right into the world of London in the 1600s," says Brown. "It's a fantastic, really fun, really gripping thriller."
Z-list celebrities appear on a live-streamed ghost-hunting show in The Holy Terrors by Simon R. Green, February 2024, ISBN 9781448311637. Strange things happen once the doors slam shut at "The Most Haunted Hall in England." Will these terrifying events boost the declining ratings of Spooky Time? This locked-room mystery with a paranormal twist features the trademark humor of New York Times best-selling British fantasy author Green.

Oceanview Publishing
Bob and Patricia Gussin founded Sarasota-based Oceanview Publishing 17 years ago after achieving extraordinary success as doctors and in medical research. They now publish 15–20 mystery-thriller-suspense titles each year, mostly from agent submissions. "Bob and Pat love the company and are having a blast," says Faith Matson, director of marketing and publicity. "We're always trying to change in positive directions, so we're opening our eyes to newer mash-up genres."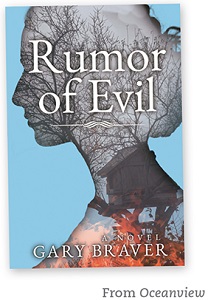 Massachusetts detectives Kirk Lucian and Mandy Wing investigate a reported suicide in Rumor of Evil by Gary Braver, October 2023, ISBN 9781608095933. When they determine that someone staged the hanging, Kirk and Mandy make a list of murder suspects. Bizarre clues lead them to the decades-old death of Vadima Lupescu, a 16-year-old Romany exchange student. Before Vadima died in a suspicious fire, rumors spread that she used special powers to put curses on her neighbors. "The detectives look into discrimination and the social issue of xenophobia," says Matson. "This book definitely has series potential."
Rogue private investigator Rick Cahill risks everything to reunite his family and secure their future in Odyssey's End by Matt Coyle, November 2023, ISBN 9781608094813. After doctors diagnose Rick with a degenerative brain disease, he worries about his daughter's long-term financial stability. So he accepts $50,000 from his longtime enemy to find a missing woman. This tenth book in the "Rick Cahill PI" crime series might be the last. "Even if someone hasn't read the rest of the series, Matt makes it easy to jump in wherever readers are most interested in starting," says Matson.

Yen Press
In recent years, Yen Press has collaborated with its Tokyo-based parent company, Kadokawa Corporation, to publish great works of Japanese literary fiction. These prose fiction titles expanded Yen Press's reach beyond the company's already large audience for manga and graphic novels. Now, Yen Press is expanding into another segment by publishing mystery titles in multiple formats.
"Mystery is a beloved literary genre in Japan," explains Sales and Marketing Director Mark de Vera. "It's an aspect of Japanese storytelling that's not as well known, so we're excited about bringing more of these works into the English-speaking world."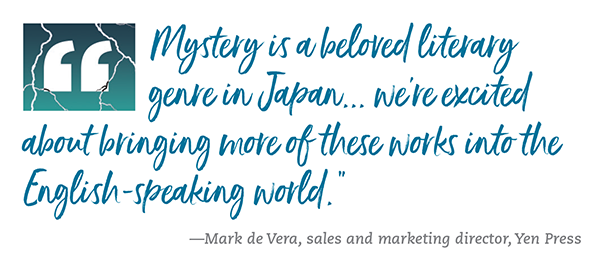 Set in winter 1578, The Samurai and the Prisoner by Honobu Yonezawa, translated by Giuseppe di Martino, July 2023, ISBN 9781975360504, is award-winning author Honobu Yonezawa's English-language debut. A blend of historical and detective fiction, this stand-alone prose novel features a desperate warlord in hiding from his betrayed former ally. When a series of unnerving incidents have him at wit's end, the warlord's only hope might be his prisoner in the dungeon. "The main characters are based on well-known, historical military commanders," notes de Vera. "They appear in a lot of different works of Japanese fiction."
The Japanese "light novel" (ranobe) is a frequently serialized, short prose fiction genre enjoyed by young readers. Associate Professor Akira Takatsuki's Conjecture, Vol. 1: Folklore Studies by Mikage Sawamura, translated by Katelyn Smith, May 2023, ISBN 9781975352974, is a light novel featuring Naoya Fukamachi, a college student with infallible lie-detecting powers. Naoya's essay about a strange childhood experience attracts the attention of his folklore studies professor, Akira Takatsuki. After Professor Takatsuki hires Naoya as his assistant, they set out to investigate unexplainable phenomena like haunted objects and cursed effigies.Takatsuki and Naoya's adventures continue in Vol. 2: The Supernatural Hides in the Cracks, September 2023, ISBN 9781975352998. For this mysterious investigation, the professor and Naoya's latest client claims to have contacted a missing classmate's spirit while playing a fortune-telling game. Later, Naoya advises a famous actress about ghosts and readers learn more about Takatsuki's enigmatic past.
Yen Press has also published a manga version of Associate Professor Akira Takatsuki's Conjecture (Vol. 1) featuring art by Toji Aio, August 2023, ISBN 9781975361174. "This series received a live-action-drama adaptation for television in 2021, so fans of Asian drama will be familiar with these characters," says de Vera.

CamCat Publishing
CamCat Publishing was founded in 2019 by serial entrepreneur Sue Arroyo (CamCat is her seventh company). Launched for "the love of story," the independent publisher's company specializes in mysteries and thrillers, science fiction and fantasy, romance, and more.
But "Sue felt that mystery/thrillers were the best examples of stories that engage readers," says Editorial Director Helga Schier. "We call what we publish 'Books to Live In'—immersive reading experiences that allow readers to escape their own lives, walk in other people's shoes, and explore new worlds."
Gail Lukasik's memoir, White Like Her, described how she learned her mother was African American, not white as she'd been told. Lukasik continues with the theme of earth-shattering secrets in The Darkness Surrounds Us, September 2023, ISBN 9780744302899. This historical mystery follows Nellie Lester, a nurse who flees Chicago during the height of the 1918 Spanish flu epidemic.
Sh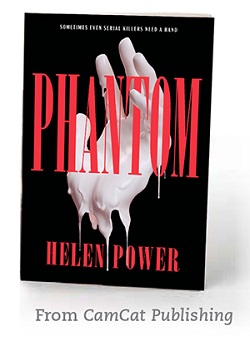 e accepts a nursing position in a desolate Michigan mansion on its own island, convinced the island holds the clues to her mother's past. When the previous nurse's frozen body is unearthed, Nellie wonders if her family's past is connected to the dead nurse and a mysterious local religious group that disappeared 24 years earlier. "Gail is a wonderful writer," says Schier. "You'll want to cuddle up in a blanket when you read this."
Regan "Roz" Osbourne sells her left hand for a million dollars in Phantom by Helen Power, October 2023, ISBN 9780744302660. Racked with phantom limb pain, Roz enrolls in an experimental drug trial with a spooky side effect: Roz connects psychically with her erstwhile appendage, which is now being used by Chicago's Phantom Strangler. In this futuristic thriller, more secrets emerge during Roz's psychiatry appointments. "This novel has always reminded me of Guy de Maupassant's The Hand," says Schier. "Do paranormal events cause the killings, or does the person 'wearing' the hand harbor murderous instincts without knowing it?"
After surviving a car crash, Kay Smith awakes from a coma with amnesia in Lest She Forget by Lisa Malice, December 2023, ISBN 9780744307153. Kay's psychiatrist is convinced that the memory loss is connected to her horrific flashbacks and nightmares. Kay digs for clues to her past and realizes everyone around her has deadly secrets to hide. Is Kay falling in love with the one person she shouldn't trust? Memories, suspicions, and headline-screaming murders push Kay to choose between uncovering the truth or perpetuating a horrendous lie. "It's The Bodyguard meets Momento meets Mulholland Drive," says Schier.
SPONSORED CONTENT