Adult fiction is posting solid gains even as the overall book market dips after a blockbuster 2021. According to NPD BookScan, in the week ending September 24, 2022, a 17.3 percent increase in adult fiction print unit sales bucked the overall 4.2 percent drop compared with the same week last year. Mystery publishers attribute much of their recent success to a robust demand for traditional cozies. "Cozies are definitely blowing up right now," observes Oceanview Publishing CEO Bob Gussin.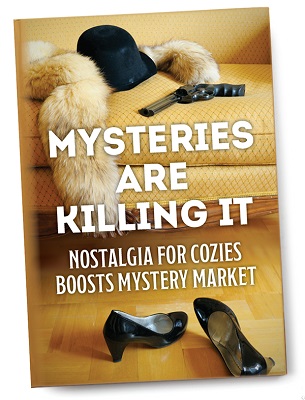 As 21st-century global turmoil persists, readers are finding a safe harbor in mysteries. "People love consistency, familiarity, charm, and humor. That's the type of stuff that warms readers' hearts and makes them want to come back time and time again," says Crooked Lane Books Publisher Matt Martz. "We've seen support for medium-boiled mysteries—not too gory, gritty, or dark. You might come to a crime scene, but they're not going to overdo it."
Publishers also noted growing interest in underrepresented voices and diverse sleuths like three Filipina domestic workers or a Cuban American cooking-show star. No matter the setting, readers continue to take comfort in the classic elements of the cozy mystery. "Traditional, small-cast, locked-door-style mysteries are very popular right now," echoes Virginia Stanley, director of library marketing for HarperCollins.
"I still watch a lot of Agatha Christie when I want to veg out. I like doing crime fiction in the past. Writing about right now is stressful," says creator Ed Brubaker. "It's such a strange time for humanity. It's much better to look at the 1980s. Escapism is a really valid thing."

Crooked Lane Books
Founded in 2014, Crooked Lane Books publishes approximately 80 books each year out of the company's New York City office. "We have a broad mandate in crime fiction from A to Z," says Publisher Matt Martz. "We publish light cozies, traditionals, historicals, psycho-suspense, serial killers, espionage, and all points in between. Our readers also want underrepresented voices, so we are looking to deliver that however we can."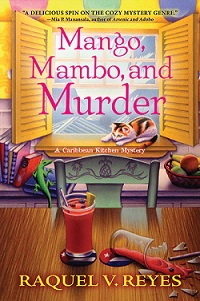 Cuban American cooking show star Miriam Quiñones-Smith finds a dead body in her front yard in Calypso, Corpses, and Cooking by Raquel V. Reyes, October 2022, ISBN 9781639101061. The bodies pile up, as Miriam plans Caribbean food trucks and a calypso band for the Women's Club gala in Coral Shores. Mystery lovers and foodies will savor this second book in the "Caribbean Kitchen" mystery series. "Raquel lived in Miami, so she brings her own experiences and authentic sense for the characters to the book," notes Martz. "It's a great read full of life and culture."
Private investigator and former jockey Sid Halley returns to the horse-racing world in Hand's Down by Felix Francis, November 2022, ISBN 9781639102945. Sid answers a call for help only to find a torched stable yard, dead horses, and his friend's body. Sid soon discovers a corrupt conspiracy at the center of British horse racing. "Felix took over this character from his father, Dick Francis, about nine years ago," says Martz. "Felix used to visit Queen Elizabeth once a year to bring her a copy of his next book."
The Nightmare Man by J.H. Markert, January 2023, ISBN 9781639101702, features Ben Bookman, a best-selling author and wealthy heir, writing a horror novel at his ancestral mansion. Meanwhile, local detectives discover families butchered in scenes that mirror Ben's novel. Ben becomes the prime suspect as he explores his grandfather's forbidden room of books without words. "The Nightmare Man delivers full-blown horror for fans of Stephen King," explains Martz. "It's like a black lightning bolt shot off in the other direction, while everyone else was writing cozies."

HarperCollins
Founded in 1817 by James and John Harper, HarperCollins remains one of the world's leading English-language publishers. HarperCollins continues building on its legacy by publishing great books across all mystery genres. "We do a very good job at ticking the boxes for the wide variety of readerships out there," says Virginia Stanley, director of library marketing. "The popular Christie-ish books are already on our list in addition to thrillers and police procedurals."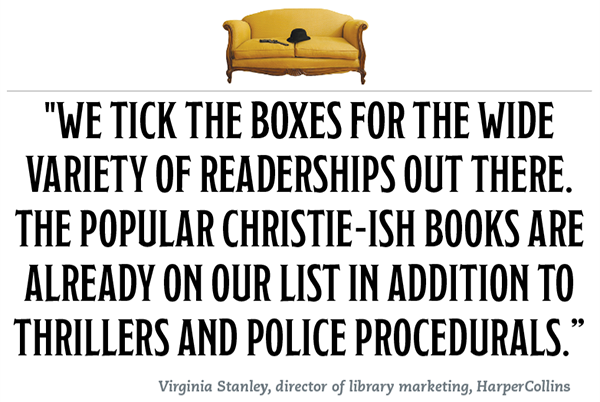 Three Filipina women in Singapore join forces to solve a murder mystery in Now You See Us by Balli Kaur Jaswal, March 2023, ISBN 9780063161603. Corazon, Donita, and Angel are part of the wave of domestic workers sent to Singapore to be cleaners, maids, and caregivers. They leap into action when another Filipina maid is accused of murdering her employer. "This well-plotted story is set in one of the wealthiest cities in the world," says Stanley. "Readers will find humor along with real elements of social justice, women's rights, and identity."
Set during a Boston summer heat wave in 1974, Mary Pat Fennessey desperately searches for her missing daughter in Small Mercies by Dennis Lehane, April 2023, ISBN 9780062129482. Mary Pat has always lived in the housing projects of "Southie," the traditional Irish American enclave. Her daughter goes missing on the same night a young Black man is found dead on the subway tracks. Mary Pat's questions agitate Irish mobsters while the city's school desegregation triggers violent conflict. "This book is so good," says Stanley. "Reading this gave me the same feeling I had reading [Lehane's] Mystic River."
Actress Meribel Mills moves cross-country to evade a stalker in With My Little Eye by Joshilyn Jackson, April 2023, ISBN 9780063158658. Meribel, a single mother approaching 40, relocates to Atlanta after receiving disturbing letters from an unhinged fan. As the letters become more perverse, Meribel realizes that her life is in danger, and she must protect her family. "Gods of Alabama really put Joshilyn Jackson on the map," says Stanley. "This new book tackles topics like single motherhood and the fine line between love and obsession."
Going Zero by
Anthony McCarten, April 2023, ISBN 9780063227071, introduces readers to FUSION, a surveillance system created by a Silicon Valley wunderkind for the CIA. To test the system, 10 Americans have been offered a $3-million prize if they can evade FUSION. One of them is unassuming Boston librarian Kaitlyn Day. This librarian exceeds the experts' expectations and plays the game for deeply personal reasons. "Anthony McCarten is a four-time Academy Award–nominated screenwriter from New Zealand," Stanley notes. "Going Zero is a throwback to the classic Michael Crichton technothrillers."
How to Kill Men and Get Away with It by Katy Brent, May 2023, ISBN 9780008536695, depicts Kitty Collins on a twisted yet hilarious killing spree. Kitty acquires her taste for revenge after pushing a man who followed her home from the nightclub; he died after falling onto his own broken wine bottle. Once she gets started, Kitty doesn't stop fighting the patriarchy one murder at a time. For fans of My Sister the Serial Killer and Killing Eve, this book is award-winning British journalist Brent's debut novel.

Severn House
Severn House began publishing out-of-print titles by popular authors in 1974. Now an imprint of Canongate Books, Severn House publishes genre fiction titles from crime and mystery to thrillers, sagas, historical fiction, and romance. Last year, Joanne Grant become Severn House's new publisher. She says, "Over this last year I've been working to bring Severn House firmly into the 21st century while keeping true to its original roots. Libraries continue to be Severn House's main market. It's one of the things that make us so unique and successful."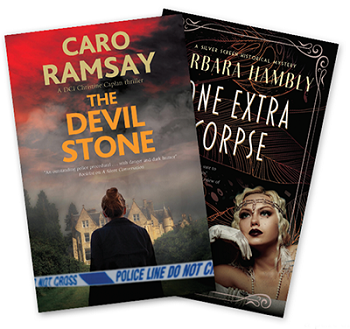 Burglars find a brutally murdered family inside a Scottish mansion in The Devil Stone by Caro Ramsay, December 2022, ISBN 9781448309740. DCI Christine Caplan makes her debut in this police procedural set in a spooky Highland village. Was a family heirloom the motive for a ritualistic killing? Caplan arrives from Glasgow to investigate the murders and the missing, mythical devil stone. "Caro has been working with us for a while, so we're very pleased about this opportunity to launch a new series," says Grant. "It's always exciting to see what a writer will bring to the table."
Murder by Definition by Con Lehane, December 2022, ISBN 9780727850898, is set in and around the New York City Public Library Main Branch at 42nd Street and Fifth Avenue. Crime fiction curator Raymond Ambler finds hints of a sinister NYPD cover-up among the papers of a hard-boiled crime writer. The curator's investigation leads him to mobsters and renegade cops in the sordid underground of 1990s New York City. "It's a brilliant love letter to librarians," says Senior Brand Manager Martin Brown.
Exonerated former inmate Frankie Dast helps a Mexican family track down their teenage daughter's murderer in The Long Way Out by Michael Wiley, January 2023, ISBN 9781448309849. Set in a poverty-stricken Florida town, Frankie's investigation becomes more urgent when a second murder victim is discovered. "This book speaks to a part of America you don't always see," notes Grant. "The themes of immigration and race are handled subtly and well."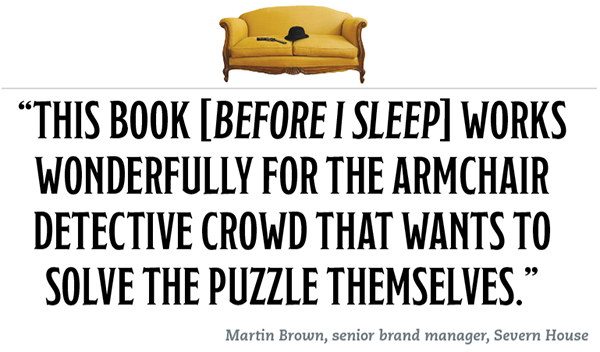 Before I Sleep by Cynthia Harrod-Eagles, February 2023, ISBN 9781448306190, features a mature woman with a happy home life who goes missing on her way to a pottery class. The clock is ticking as DCI Slider retraces the missing woman's steps and uncovers her dark past. Set in the Shepherd's Bush neighborhood of West London, Before I Sleep is the 24th book in the "Detective Inspector Slider" mystery series. "Cynthia writes funny scenes with snappy dialogue, then turns on a dime to a gripping, twisty thriller," says Brown. "This book works wonderfully for the armchair detective crowd that wants to solve the puzzle themselves."
One Extra Corpse by Barbara Hambly, March 2023, ISBN 9780727850799, is the second book in the "Silver Screen Historical Mystery" series, set in 1920s Hollywood. In this story, British widow Emma Blackstone moves to Hollywood to assist her silent movie-star sister-in-law, Kitty. When a frightened film director calls, Emma and Kitty travel to an extravagant movie set and make a shocking discovery. "It's a fascinating evocation of that old Hollywood glamour with the seedy underbelly of 1920s Los Angeles," notes Brown.

Image Comics
Celebrating its 30th anniversary, Image Comics is one of the largest American publishers of comics and graphic novels. Creators retain their rights and creative control, so some of the industry's best talent publish with Image Comics. In October 2013, Image Comics signed a contract with writer Ed Brubaker and artist Sean Phillips to publish any comic they create—without the duo having to pitch it.
"Image Comics had never entered into an exclusive publishing agreement with talent before Ed and Sean," says Publisher Eric Stephenson. "The stories they've created together over the last twenty years are among the most groundbreaking works in recent comics history."
Brubaker previously worked for DC Comics and Marvel on superhero comics like Batman, Catwoman, and Captain America. In 2006, Brubaker and Phillips launched their first creator-owned series, "Criminal," which won the 2007 Eisner Award for Best New Series. They have continued to create both stand-alone graphic novels and series like "Reckless," featuring troublemaker-for-hire (aka private investigator) Ethan Reckless.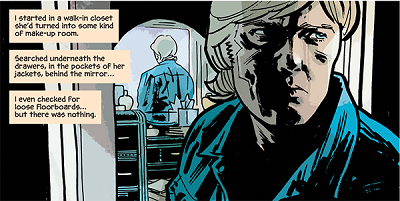 Reckless by Ed Brubaker and Sean Phillips, color by Jacob Phillips, December 2020, ISBN 9781534318519, introduces readers to Ethan Reckless, who worked as an FBI informant while studying at UC Berkley. Years later, he copes with both regrets and mild brain damage from an explosion suffered at that time. "The FBI recruited Ethan to blend into student groups like the Weather Underground," Brubaker explains. "The first book explores Ethan's guilt over that."
Friend of the Devil, May 2021, ISBN 9781534318366, features a Vietnamese American librarian who hires Ethan to track down her missing stepsister. "I researched the old Santa Monica library and got photos from the archivist there," says Brubaker. "If you're a private investigator in the 1980s, you're probably going to the library a lot."
Destroy All Monsters, October 2021, ISBN 9781534319240, recounts a forgotten chapter in Los Angeles history, when the Interstate 105 construction created pockets of high crime in south central Los Angeles. "This construction project cut through neighborhoods and left abandoned houses where criminals dumped bodies," Brubaker explains. Ethan investigates a crooked real estate mogul, as Anna, his sidekick, contemplates a future of her own.
Anna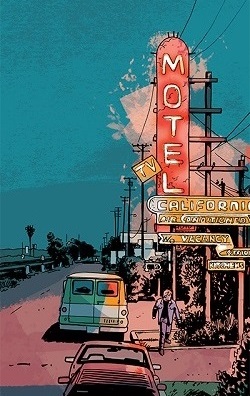 gets her own adventure in The Ghost in You, April 2022, ISBN 9781534322080. An Elvira-type actress inherits a famous Hollywood murder house. She asks Anna to investigate weird nightly noises while Ethan is out of town. "Rarely do we see the sidekick take over like Anna does," notes Brubaker. "Sean loves drawing this nerdy, weirdo, punk-rock chick."
Set in San Francisco after the 1989 earthquake, the fifth book in the series is Follow Me Down, October 2022, ISBN 9781534323421. A missing girl is hunting down people from her past for revenge. Ethan follows her through Northern California and Nevada to stop her from ruining her life. "Ethan goes very dark when he's on his own," says Brubaker. "He realizes that this girl had a life-changing revelation before going on her crazy, violent quest."

Oceanview Publishing
After extraordinary careers in medicine and medical research, Bob and Patricia Gussin founded Sarasota-based Oceanview Publishing in 2006. Bob retired from Johnson & Johnson as chief scientific officer before becoming Oceanside's CEO. Patricia practiced medicine, worked as J&J's worldwide vice president of consumer pharmaceuticals, and is now a New York Times best-selling author. "Having stumbled into publishing, I love it," says Bob Gussin. "Pat and I are enjoying this as much as we enjoyed our first careers—and if we make a mistake now, nobody dies."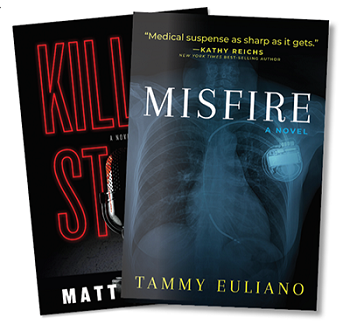 Hacked technology triggers heart attacks in patients with implanted defibrillators in Misfire by Tammy Euliano, January 2023, ISBN 9781608095223. Euliano, a University of Florida professor of anesthesiology, showcases her medical expertise in this second title featuring Kate Downey. Kate discovers someone is exploiting cloud-based connections to remotely stop patients' hearts in this hybrid medical/tech thriller. "Part of our success is getting people like lawyers and doctors to write about their background experiences," explains Gussin. "They know what they're writing so it feels real."
Killer Story by Matt Witten, January 2023, ISBN 9781608095247, features a young journalist who starts a true crime podcast to save her job at a failing newspaper. She delves into the cold case murder of an alt-right YouTuber she once knew. Her show becomes a podcast ratings winner, but her unethical investigation backfires with serious consequences. In addition to novels, Witten achieved success writing for television shows like Law & Order, CSI: Miami, House, and Pretty Little Liars. "Matt writes fast-paced, attention-grabbing stories," says Faith Matson, director of marketing and publicity. "Once you pick this book up, you don't want to put it down."
SPONSORED CONTENT