A few years ago, Melissa Thom attended Nerd Camp for the first time. "I was hooked," she says. "It's such a high-energy day where educators, librarians, teachers, illustrators, and authors are all there to nerd out about books. And it's such an amazing model—it's a free event, and everybody is there because of the pure joy of books and reading and literacy."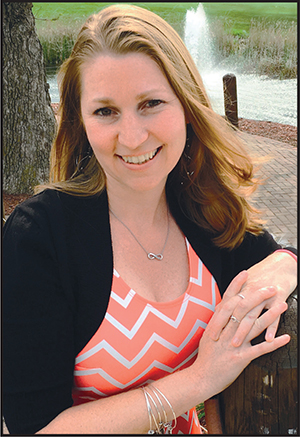 CURRENT POSITION
Librarian, Bristow Middle School, West Hartford, CT
---
DEGREE
M.ED Educational Psychology, University of Connecticut, Mansfield, 2015; M.ED Elementary Education, Northern Arizona University, Flagstaff, 2008
---
AWARDS
UConn Outstanding Educator Award, 2020
---
FAST FACT
Thom loves to sew and makes #LiteracyInspiredCrafts. She opened an Etsy shop called Joyful Making.
---
FOLLOW
Twitter and Instagram @MsThomBookitis; Facebook melissathomjoyfullearning; melissathom.com
---
Photo courtesy of Melissa Thom

Literary Nerdery
A few years ago, Melissa Thom attended Nerd Camp for the first time. "I was hooked," she says. "It's such a high-energy day where educators, librarians, teachers, illustrators, and authors are all there to nerd out about books. And it's such an amazing model—it's a free event, and everybody is there because of the pure joy of books and reading and literacy."
A few years later, she became president for the Connecticut Association of School Libraries (CASL). She'd attended other Nerd Camps in the meantime, and thought she was in a position to make one happen in her community.
Planning began in fall 2019 for a June 2020 event. Initially it was to be held at a local school, but moved online as the pandemic shut things down. However, that deterred neither Thom nor participants. "We had 250 educators sign up that first year," Thom says. It also turned into an international event, with one author, Adaobi Tricia Nwaubani, logging in from Nigeria.
Thom also organized a donation drive for participants that raised $1,600 in the first year. Funds were used for the Diverse Book Grant administered by CASL, which gave out $500 grants to school libraries with no funding. That process continued into Nerd Camp's second year, which was also virtual. The 2022 event is planned as a hybrid virtual/in-person event.
When she's not nerding out, Thom is sharing her learning through a wide variety of articles, podcasts, webinars, blogs, social media, and conference presentations. She also organized a statewide advance reader copy share. "Her passion for all things library, books, and reading is a force to be reckoned with," says nominator Library Media Specialist Shannon McNeice.